Bird of the month? Take your pick!Edit
Choosing a Bird of the Month for April is tricky, since there were several candidates, each seen by a number of observers:
The first contender was a Hoopoe that surprised three Brent Birders when it flew east across Brent Reservoir on the 6th. Shortly afterwards it was picked up at Walthamstow Reservoirs, although sadly its presence was not immediately made public. However, early the next morning a few members of the local birding group managed to see it before it disappeared. A week later another Hoopoe (or the same?) was seen at Beddington Farmlands.
A Penduline Tit was at Tyttenhanger GPs on 16th and 17th April. It was the first in the London area since one at Rainham in February 2013.
On the morning of the 24th two Black Kite were seen over Bromley, and birders reported single birds over five other sites in central and east London. Two days later one was over South Norwood. Earlier in the month a Black Kite had also passed over Wanstead.
A Red-rumped Swallow was at Rainham Marshes on the 27th, and another (or probably the same) showed itself around Nazeing GP over the next three days.
London's long-staying rarities finally depart Edit
London's three long-staying passerine rarities all finally disappeared during April:
The first to go was the Little Bunting that had been lurking at Walthamstow Reservoirs since mid-January. It was last seen on 5th April.
Next to disappear was the American Horned/Shore Lark. This bird had spent a few days at Staines Reservoir in November and then reappeared in January for a longer stay. Its final appearance was on 14th April, shortly after DNA testing of a feather had confirmed that it was indeed a Nearctic bird (although the precise subspecies was not identified).
Early in April Richmond's overwintering eastern race Lesser Whitethroat was (to no-one's surprise) genetically confirmed as a Siberian Lesser Whitethroat (Curruca curruca blythi). The bird remained faithful to the same few suburban back gardens until reported for the last time on the 22nd.
And the rest Edit
Another London long-stayer was the female Garganey that had settled in at Darlands Lake in March. After spending six weeks there, it was seen for the last time on 25th April. Gargs were also reported briefly from four other sites during the month.
The Great (White) Egret that arrived at Rainham Marshes on 28th March was seen almost daily until 14th April. Great Egret were also reported from four other sites during the month.
A Manx Shearwater seen distantly at Staines Reservoir on the 4th was the first in London since last September (a more usual month for this species in London).
Hawfinch were still being seen across London six months after the massive eruption last October. In early April small numbers were still being reported from some of the main winter sites, but by mid-month they were only being seen on the move. The last Hawfinch to be reported was one seen briefly on a SE London garden feeder on the 17th.
April also saw first-of-the-year reports for many summer visitors and passage migrants, although there was nothing noteworthy enough to record here. Since the expert bird photographers who use this wiki have not bothered to upload any images, I shall refer readers to my own mediocre images (see below) of migrant Blackwit and Yellow Wag at Brent Reservoir on 28th April.
Furthermore, in an attempt to shame our skilled bird-snappers into uploading some of their own captivating images, I am also sharing the only other bird pic submitted this month — a spot-the-Jay photograph by a recent newcomer to this wiki. Welcome, Hd7000, whoever you are.
(Contributed by Andrew Haynes, who accepts full responsibility for any errors. Historical information is mainly based on archived reports on this wiki and on 'The Birds of London' by Andrew Self.)
---
Monday 30th April 2018Edit
Alexandra Park: 5 Swallow Wood Green Res am (Bob Watts); 5 Swallows still 11.15, Greylag (Greg Smith)
Boxer's Lake, Enfield: 2ad Grey Heron & 2 chicks in nest, 2 Canada Goose pr & 1 gosling, 2m Mandarin Duck, f Mallard & 5 ducklings, 9 Tufted Duck 5m 4f, 2 Grey Wagtail pr, 2 Long-tailed Tit (Robert Callf)
Brent Reservoir: pr Little Ringed Plover, Swift, 130+ Swallow, 28 House Martin, 12 Sand Martin, Blackcap, song flight Whitethroat, Sedge Warbler, Reed Warbler (Andrew Verrall)
Brockwell Park Ponds: f Mallard & 2 ducklings, 10 Tufted Duck 5m 5f courtship behavior in at least one pair (Keith Chambers)
Hampstead Heath: Hobby briefly over the Men's Pond ,where 2 Swallows were feeding 1100h, also 4 Black-headed Gulls N all 1st summers, Red Kite NW over Parliament Hill, where later a Common Buzzard battled the wind and mobbing Crows to go N but eventually gave up and drifted SW (Pete Mantle)
Hyde Park and Kensington Gardens: c15 Swift, 3+ House Martin, 8 Swallow, 3 Mandarin, 1 Little Grebe, 2 Blackcap, 1 Sedge Warbler nr Diana Memorial, 1 Little Owl leaf yard (Charlie Farrell); Hobby, 2 Sand Martin, Common Whitethroat (N.P.Senior); Wheatear - Female on Parade Ground and surrounding tree stakes 3:30pm. 10+ Housemartins 7am onwards over Serpentine (Malachi Yarker)
Kensal Green Cemetery: pr Stock Dove (Francis O'Sullivan)
KGV Res: 12 Yellow Wagtail, 4 Wheatear, Dunlin, Little Ringed Plover, 2 Arctic Terns, 25 Common Terns, c300 Swallow esp by pumphouse channel, 30 House Martin, 2 Hobby (Andr4ew Middleton)
London Wetland Centre: Kittiwake, Hobby, Common Sandpiper, Ringed Plover, 6 Yellow Wagtail, 5 Whinchat, 2 Wheatear, Jack Snipe, 2 Dunlin, 4 Redshank, Shelduck (Simon Fogg, WWT website)
Lower Chingford: 2 Shelduck, 100+ Swallow, Lesser Whitethroat (James Palmer)
Mayflower Park: 3 Willow Warblers, 3 Whitethroats (Danny Ramsay per Bob Smith)
Nazeing Mead: RED-RUMPED SWALLOW still showing well down to 20m on W side of small pit to W of Nursery Road 2.30-3.30pm at least, 150+ Swallow, 250+ House Martin, 30+ Sand Martin, 2 second-summer Mediterranean Gull N, 2 Shelduck S, Peregrine (Simon Papps & Roy Woodward); the Red-rumped Swallow continued showing on the eastern pit at Nazeing GP as y'day evg until at least 1930 down to 3m or less, 1-2 Arctic Tern were on the middle pit (Adam Wilson)
Richmond Park: m Whinchat, m Wheatear (S.Read); Common Sandpiper, 2 'Commic' Tern flew off high NW, 20+ Sand Martin, 110+ House Martin, 10+ Swallow (J.Wilczur); by 18.00 many more Swallows in the mixed flock of hirundines over the Pen Ponds combined flock 300+, Red Kite W 18.05 (S Czapski)
Ridgeway, Mill Hill: Raven SW 12:23 (Samuel Levy)
Staines Reservoirs: 1 Whimbrel n basin early am, 30 Arctic Tern n basin by mid-am, 70 mostly Common Tern s basin, 77 Commic Tern still by midday, 14 Arctic Tern still s basin 16.00, also 25 Common Tern & 1 Arctic Tern on s basin, 1 Bar-tailed Godwit s/p & 1 Black-tailed Godwit w/p together on w bank of n basin late-pm, 3 Common Sandpiper, 3 Little Ringed Plover on causeway bank, 1 Wheatear, 5 Yellow Wagtail w end n basin mid-pm, 1 Hobby (Bob Warden early-am, Ken Purdey mid-am, Peter Alfrey late-am, Dom Pia mid-pm, Franko J Maroevic late-pm)
Wanstead Flats: Willow Warbler, 3 Lesser Whitethroat, Meadow Pipit, 2 Skylark, 3 Little Grebe (Nick Croft/Simon Raper); after drying out - Hobby, Sparrowhawk, 2 Swallow (Nick Croft)
Westbourne Park: grand union canal - 2 Grey Wagtail, pr Egyptian Geese (Francis O'Sullivan), 3 recently fledged Blackbird (Charlie Farrell)
Sunday 29th April 2018Edit
Alexandra Park: 2f Northern Wheatear playing fields & filter beds, 2-4 Egyptian Goose incl pr in tree on golf course, 3 Swallow, m Common Whitethroat (APOG Birders); 1 Swift, 4 Swallows, Red Kite over cricket pitch (Greg Smith)
Amwell NR: f Wheatear fr viewpt (Herts BN)
Bedfont Lakes CP: Spotted Flycatcher, Peregrine Falcon (S. Fordred)
Barking Bay: 56 Shelduck, 13 Teal, 6 Egyptian Geese, 4 Oystercatcher, 1 Ringed Plover, 1 Grey Plover, 1 Common Sandpiper, 14 Black-tailed Godwit, 86 Bar-tailed Godwit 50 downriver in three flocks & 36 NE in one flock, 5 Whimbrel 2 on mud & 3NE, 2 Yellow-legged Gull, 17 Common Tern, 2 Arctic Tern, 2 Swift, 2 Skylark, 60 Swallow W, 12 Yellow Wagtail, 7 Wheatear, 3 Blackcap, 11 Whitethroat, 2 Sedge Warbler, 5 Reed Warbler, 3 Cetti's Warbler, 6 Linnet (N.P.Senior)
Barnes Common: 8 Blackcap, 3 Chiffchaff, 2 Swift, pr Kestrels (Adrian Podmore)
Brent Reservoir: Wheatear on p/f, 8 Yellow Wagtail, 6 Greylag Geese, Snipe, Linnet over (Brent Birders)
Crayford: juv Glaucous Gull, 2 Iceland Gulls juv & 2w, and 2 first-winter Caspian Gulls commuting betw Jolly Farmers & recycling centre (Richard Bonser, Jamie Partridge & Dante Shepherd)
Crossness: 20+ Bar-tailed Godwits downriver past the outfall at 9.20am, Black-tailed Godwit and Hobby over the paddocks (Richard Bonser, Jamie Partridge & Dante Shepherd)
Foots Cray Meadows: 4 Barn Swallows 2pr at 5 Archers Lake 4pm - poss'y the Loring Hall pairs back (Patrick English)
Fairlop Waters: 2 Reed Warbler,2 Sedge Warbler,6 Willow Warbler,Yellow Wagtail,White Wagtail (Steve Bacon)
Greenwich Peninsula: Oystercatcher, 4 Egyptian Goose, f Peregrine, Linnet, Whitethroat (Richard Green)
Greenwich Peninsula Ecology Park: pr Tufted Duck, Common Tern, Lesser Whitethroat, Blackcap, 2-3 Reed Warbler (Richard Green, John Bushall)
Hilfield Park Reservoir: 2 Arctic Tern, 2 Yellow Wagtail, Wheatear (Tony Blake)
Holyfield Lake: Holyfield Weir - imm Goshawk over goose_field then W towards R Lee 9.35am - this is not a breeding area (Ken Murray)
Hyde Park: 12 Swifts, 19 Swallows, 1 House Martin, 1 Sand Martin, 2 Reed Warbler, 1 Grey Wagtail, Mistle Thrush, Song Thrush, 3 Blackcap, 2 Nuthatch (Joe Beale)
London Wetland Centre: 4 Whinchat 2m, 20 Yellow Wagtail mid-am, 5 Wheatear 3m, Common Sandpiper, Little Ringed Plover, Lesser Whitethroat, 4 Redshank, 17 House Martin, Swift, 3 Swallow, 2 Shelduck, 2 Red-crested Pochard (WWT website); 1 Ringed Plover, 1 Dunlin - wader scrape pm (Mike Wheeler)
Margravine Cemetery: Whitethroat (Nathalie Mahieu, John Boorman)
Mayflower Park Wetlands: Whitethroat, 3 Reed Warblers singing and a male Blackcap (Isaiah Rowe)
Nazeing GP: RED-RUMPED SWALLOW n pit still at 0730 (Neville Smith); R-rS remained over n pit until c0925 and was over eastern pit TL3867106798 from at least 1800-1837 (several observers); also a Hobby (Adam Wilson)
North Sheen Rec: Chiffchaff - first site record 8.45 (Peter Hart)
Oxleas Woods: Treecreeper, Willow Warbler, 10+ Blackcap, 4 Chiffchaff, 3 Nuthatch, 6 Great Spotted Woodpecker, 2 Jackdaw, Green Woodpecker, 2 Jay, Song Thrush (Tim Rymer)
QE2 Res; [permit only] 31 Bar-tailed Godwit N 9.30 and S 9.55; 12 Yellow Wagtail; 1 'Blue-headed' Yellow Wagtail ssp flava; 2 Wheatear, 4 Whimbrel N, 4 Common Sandpiper and 1 Dunlin (Chris Turner)
Rainham RSPB: 12 Whimbrel, 9 Bar-tailed Godwit purfleet scrape, Turtle Dove SE (BirdGuides)
Richmond Park: 35 Bar-tailed Godwit over 12.15 (H.Bradshaw); 3 Red Kite, Common Sandpiper (S.Read); 8 Mute Swan pr & 6+ young, 4 Pochard 2pr, m Red-crested Pochard, 50+ House Martin, 10+ Swallow, Yellow Wagtail, Linnet over (J.Wilczur, S.Woolfenden)
Staines Reservoir: incl Little Ringed Plover still, Hobby am (Dom Pia tweet)
Thamesmead: 80 Swallow, 10 Sand Martin, 25 House Martins, 2 Swifts and a Lesser Whitethroat on Southmere (Richard Bonser, Jamie Partridge & Dante Shepherd)
Totteridge Valley/Darlands Lake: Egyptian Goose, 5 Mandarin Duck, 3 Teal, Grey Heron, 9 Herring Gull, 9 Lesser Black-backed Gull, 9 Swallow, 10 Chiffchaff, 14 Blackcap, 18 Common Whitethroat, 22 Starling, m Reed Bunting, 2 Bullfinch, 3 Linnet (Samuel Levy & Simon Worsfold); 2 Sparrowhawk, Red Kite, 4 Coot, 44 Stock Dove, Swift, 22 Rook, 2 Goldcrest, 2 Lesser Whitethroat, 3 Song Thrush, 5 House Sparrow, 18 Goldfinch (Samuel Levy); 2 Whinchat, Buzzard in owl_field early am (Simon Worsfold); 4 Teal 2pr Darland's Lake, 2 Grey Heron, Common Buzzard with missing primaries poss'y shot, Alexanderine Parakeet with 8 Rose-ringed Parakeets in flight over owl_field (Bob Husband MHPS/RSPB Birdwalk)
Tyttenhanger GPs: Grasshopper Warbler still 0900 (Rick Flesher tweet)
Walthamstow Marshes: 5 Wheatear ssp leucorhoa in horse paddocks furthest from riding centre (J.Murray)
Walthamstow Reservoirs: pr Oystercatcher, 2 Common Sandpipers, Hobby, 2f Wheatear, 2 Yellow Wagtails, 300-400 Swallow 10-12pm (Lol Bodini, Terry Rawlings)
Wimbledon Common: 1 Willow Warbler Ladies Mile (Adrian Podmore); 1-2 Firecrest [pr I think] seen & h - m singing v strong & loud in holly bushes near cemetery/Queensmere, 2 Grey Wagtail Queensmere, 2 Nuthatch (P. Redmond); 2 Hobby over the windmill SW mid-am (Les Evans-Hill)
Walthamstow Reservoirs: 36 Bar-tailed Godwit N (BirdGuides)
Waring Park, Sidcup: f Sparrowhawk (Patrick English)
Westbourne Park: m Red-crested Pochard grand union canal (Francis O'Sullivan)
Woodberry Wetlands: 2 Shelduck, 2 Linnet, Whitethroat, 5 Reed Bunting (Chris Farthing)
Wormwood Scrubs: 4 Blackcap, 3 Chiffchaff, 3 Whitethroat, 2 Lesser Whitethroat, Kestrel (David Jeffreys)
Worcester Park: Whinchat on horse field west (Bob Smith)
Saturday 28th April 2018Edit
Alexandra Park: Sedge Warbler singing between middle and lower platforms, 2 Northern Wheatear m & f car park near cricket pavilion, 23 Swallow, Swift, Little Egret, Greylag (APOG)
Amwell NR: Gt Hardmead L - Little Ringed Plover & 3 Common Sandpiper on island, Dunlin s/p below viewpt (William Bishop via Herts BC)
Berrylands: Stn - Hobby W 17:45 (Nick Tanner)
Blenheim Gardens-Brixton: 5 House Sparrows (Michael Mac)
Braeburn Park Crayford: Greenfinch, Male Blackcap, Whitethroat, Great Spotted Woodpecker (Harry Halstead)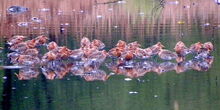 Brent Reservoir: Spring Bird Count — incl 53 Black-tailed Godwit dawn to 06:41, 3 Little Ringed Plover, 2 Common Sandpiper, 5 Black-headed Gull, 6 Common Tern, 2 Stock Dove, Cuckoo, 80 Swift, 125 Swallow, 4 Yellow Wagtail on mud and rafts for several hours, White Wagtail briefly on raft, 3 Cetti's Warbler, 2 Garden Warbler, Lesser Whitethroat — 71 species by 16:50 (Brent Birders)
Brockwell Park: Common Whitethroat in brambles by BMX track, Peregrine, 2 Blackcap, Greenfinch singing/display flight, House Sparrows (Michael Mac)
Bushy Park: 4 Wheatear 2f hawthorn lodge area & 1m 1f off Lime Ave (David Taylor tweet)
Canons Farm: 10 Wheatear tart's field (David Campbell via CFBW blog)
Crayford Marshes: Bearded Tit, Whimbrel, 4 Lesser Whitethroat, Cuckoo, Sedge Warbler, 5 Reed Warbler, 5 Common Sandpiper, 16 Common Whitethroat, 3 Common Tern, 2 Chiffchaff, 3 Blackcap. (Kev Jarvis)
Crossness: Black-tailed Godwit, Common Sandpiper, 3 Redshank, 1st-summer Yellow-legged Gull, 30 Common Tern, 7 Swifts, 2 Swallow, male Wheatear (John Archer, Richard Bonser)
Fairlop Waters: Red Kite, Yellow Wagtail, 2 Common Tern, 2 Common Sandpiper, Wheatear, Lesser Whitethroat, Swift, Sand Martin, Swallow, House Martin, Shelduck, Red-legged Partridge, Reed Bunting. (Alan Thomas/Neil Twyford); also Hobby, 150+ Swallows, 2 Lesser Whitethroat (Dan Barrett tweet)
Fishers Green: 2 Nightingales around national grid substation (Jan Dobbie, Pete Lambert, LNHS/LBC birders)
Friday Lake: rh Smew still (Jan Dobbie, Pete Lambert, LNHS/LBC birders)
Gallion's Reach: Little Ringed Plover, 14 Common Tern, 4 Wheatear (Charlie Clark)
Greenwich Ecology Park: 2 Common Tern, 2 Grey Wagtail, 4 Reed Warbler, 2 Blackcap, Lesser Whitethroat, Garden Warbler, Willow Warbler, Chiffchaff (John Bushell & Conrad Ellam) First time we've had six Warbler species in the park
Hall Marsh Scrape: Little Egret, 2 Little Ringed Plover (Jan Dobbie, Pete Lambert, LNHS/LBC birders)
Harrow: Peregrine on Morrison's roof 18.30 (Alex Massey)
Holyfield Farm: Pink-footed Goose w Greylags still, Whinchat (Jan Dobbie, Pete Lambert, LNHS/LBC birders)
Hyde Park: 2 Swift (Jan Farmer)
Island Barn Reservoir: Black-tailed Godwit c/r, 5 Common Sandpiper, 2 Arctic Tern thru (Chris Turner tweet)
Ladywell Fields: Red Kite pm (Rebecca Hendry tweet)
Lamorbey Park: Spotted Flycatcher, male Wheatear, 2 Swallow (Ian Stewart)
London Wetland Centre: Shelduck, 4 Redshank, 40 Sand Martin main lake, 2 Swallow NW, 10 Cetti's Warbler, 2 Willow Warbler, 4 Chiffchaff, 7 Sedge Warbler, 8 Blackcap (WWT website); 1 Common Sandpiper, 1 Black-tailed Godwit, 8 Wheatear, 1 Whinchat, 10+ House Martin (C. Ellis); Sandwich Tern (Kathy Peacock); Jack Snipe (Simon Fogg); 3 Swift (Shailesh Patel); 2 Common Tern (Martin Honey et al,); 1 Little Ringed Plover am, 45 House Martin 9am, Peregrine CC Hosp and over Thames (Angus Innes)
Lonsdale Road Reservoir, Barnes: Mallard pr & 13 downy young, pr Shelduck, pr Egyptian Goose, 10 Tufted Duck, m Pochard, Common Sandpiper, 4 Black-headed Gull nests, pr Common Tern plus one upriver, Sandwich Tern upriver 10.10, 4 Swift N, 3 House Martin SE/N, 3 singing Blackcap, singing Chiffchaff, 3 singing Reed Warbler, 3 singing Cetti's Warbler. (R.Kaye)
Mayflower Park: Reed Warbler, Common Whitethroat (Bob Smith)
Mid Lea Valley: Cheshunt - excellent LNHS/LBC bird walk led by Pete Lambert incl Cuckoo, Peregrine, Swift, 8 species of Warblers incl Garden Warbler [more listed under site names] (Jan Dobbie) Administrator please correct entries for LBC walk that have been changed. It was held on Saturday 28th April 2018 not to-day 30th April. (JD) Done - sorry for the error.
Molesey: 1 Spotted Flycatcher in tops of River Thames towpath trees opposite Chelsea & Lambeth Reservoir former pumphouse late am, 1 Hobby over (Franko J Maroevic)
Pimlico Gardens: 2 Common Sandpiper, Yellow-legged Gull 2cy, 2 Common Tern W, Arctic Tern NW (N.P.Senior)
Morden Hall Park: 95 Black-tailed Godwit NW 0715 (BirdGuides)
Nazeing GP: RED-RUMPED SWALLOW initially feeding over n pit 1810 it relocated to s pit before heading over the Lea Navigation to Broxbourne GP 1925. By the time I got round to Admirals Lake [part of Broxbourne GP] the hirundine flock had bunched up again and headed W/NW, also a Hobby here (Adam Wilson)
Oxleas Wood:,Hobby, CommonBuzzard,Chiffchaff,2Blackcap(m),Jackdaw.Stockdove 2Goldcrest,2Greatspottedwoodpecker,Nuthatch(Ron Turner)
Pimlico Gardens: 2 Common Sandpiper, Yellow-legged Gull 2cy, 2 Common Tern W, Arctic Tern NW (N.P.Senior)
Purfleet: Bar-tailed Godwit, 2 Arctic Tern, Hobby (Fraser Simpson tweet)
QE2 Res: Bar-tailed Godwit in but caught by Peregrine 10min later (Dave Harris tweet)
Regent's Park: 2 Common Sandpiper on the other side of the Water Rail ditch from 1030 - 1200, 20+ House Martins (Callum Farrell-Morris)
Richmond Park: Tree Pipit - Sawyers Hill (J.Wilczur); Cuckoo, 2 Ring Ouzel (S.Read); 2 Whinchat, 10 Wheatear, Lesser Whitethroat, 3 Willow Warbler, Hobby (Richmond Park Bird Group); Little Owl, 3 Swift, 20+ House Martins and 4+ Swallow, Reed Bunting and a Treecreeper (Isaiah Rowe)
Rye Meads RSPB: 1m Wigeon, 2 Common Tern, 2 Shelduck, Swallow, Cuckoo (heard from Draper Hide 10am & Warbler Hide 11am) (Eduardo López-Salas); 2 Cuckoo fr draper hide (Allan Meadows via Herts BC)
Seventy Acres Lake: Hobby chasing hirundines (Jan Dobbie, Pete Lambert, LNHS/LBC birders)
Shrewsbury Park, SE18: Willow Warbler, Chiffchaff, Green Woodpecker (Tim Rymer)
Staines Moor: 2 Whinchat, 1 Wheatear (Michael Robinson)
Staines Reservoirs: 5 Ringed Plover on causeway bank till 08.30 when flew off, 2 White Wagtail, 2 Arctic Tern, amongst 40+ Common Tern by mid am. (Bob Warden et al per FJM); also 2 Black-necked Grebe still, Common Sandpiper early-am (Dave Kenrick tweet)
Stanstead Innings: Common Sandpiper, c25 Sand Martin, c150 Swallow, c50 House Martin, 2 Whitethroat (Jane Free via Herts BC)
Totteridge Valley/Darlands Lake: 6 Canada Geese with 4 goslings, 2 Egyptian Geese, 3 Mandarin Duck, 2 Teal, 5 Coot, 10 Mallard & 17 ducklings, Black-headed Gull, 13 Lesser Black-backed Gull, 5 Herring Gull, 76+ Stock Dove, 22 Rook, Nuthatch, 2 Treecreeper, Goldcrest, 7 Chiffchaff, 3 Blackcap, 9 Common Whitethroat, 9 Starling, Pied Wagtail (Samuel Levy)
Trent Park: Cuckoo singing male Williams Wood 10:30 (Stephen Witherford per RM Callf)
Tyttenhanger GPs: 96 Black-tailed Godwit main gp 0600 then SW when flushed by Sparrowhawk 0615 (Rick Flesher); 2 Black-tailed Godwit singles 0645 & 0825 (RF tweets); Grasshopper Warbler sang briefly 0840 (Andrew Steele tweet)
Victoria Tower Gardens: Blackcap, Garden Warbler (Dave Morrison tweets)
Walthamstow Reservoirs: Annual Patch Watch - 78 species, no real surprises other than first AWPW day record of Coal Tit singing down by the Pitch'n'Putt and Black Redstart on the back paddocks of Lea Bridge riding centre, Little Ringed Plover, Common Sandpiper, Snipe - No Godwits, hundreds of Swallows and handfuls of Martins, plenty of Swifts, Hobby, Common Terns and Arctic Terns [number pls?] through, 5 Yellow Wagtails, 7 Wheatear, usual Warblers (Walthamstow Birders)
Wanstead Flats: 49 Swallow N by 0730, 3 Wheatear (James Heal tweet); Whinchat Alexandra L (Jonathan Lethbridge tweet); up to 6 Wheatear (Tony Brown tweet)
West Molesey: c200 Swift late aft (Chris Turner)
Worcester Park: 3 Northern Wheatears on horse fields (Bob Smith)
Friday 27th April 2018Edit
Alexandra Park: 2 Swift, 4 Swallow 0830 Wood Green Res (Bob Watts); 6 Swallow (Alan Gibson per Bob Watts)
Amwell NR: Arctic Tern Gt Hardmead L still 0600-0630 then N (Barry Reed via Herts BC)
Canons Farm: Hobby & 11 Swallow thru, Sedge Warbler singing farmyard, m Ring Ouzel south of farmhouse, 6 Wheatear tart's field (CFBW BG blog); Whinchat tart's field (David Campbell via Surrey BN)
Cassiobury Park: area - Hobby NW 1305 (Ian Bennell tweet)
Crayford Marshes: Cuckoo, 4 Whimbrel, 2 Common Sandpiper, 5 Swallow, 4 Common Whitethroat, 2 Lesser Whitethroat, 3 Blackcap, 2 Oystercatcher, Wheatear, Bar-tailed Godwit, Greenfinch, 6 Skylark, 4 Common Tern and Little Owl (Donna Zimmer, London Bird Club and Bexley RSPB walk)
Gallions Reach: Little Ringed Plover (Charlie Clark)
Grovelands Park: 3 Little Grebe incl pr, 2 Great Crested Grebe pr displaying, 6 Barn Swallow, Grey Wagtail, 4 Song Thrush, 3m Blackcap, 3 singing m Goldcrest, 13 Magpie (Robert Callf)
KGV Res: s basin pm - Black Redstart, 4 Wheatear, Yellow Wagtail, c100 Swifts, 40 House Martins, 30 Swallows, 2 Common Sandpipers, 2 Oystercatchers, chasing a Hobby, 2 Arctic Terns (A.Middleton)
London Wetland Centre: Pheasant, Common Sandpiper, 6 Redshank, Swallow, 2 Willow Warbler, Garden Warbler, Yellow Wagtail (WWT website)
Motspur Park: Little Egret over, Red Kite W (Bob Smith)
Pimlico Gardens: Whimbrel ENE 17:12 (N P Senior) post restored
Rainham RSPB: 9 Arctic Tern 8 adults W upriver 0815 & 1 over Wennington later, Tree Pipit E 0835, Hobby ad fr Shooting Butts Hide, Yellow Wagtail f over river walk, 23 Common Tern river, 16 Whimbrel W upriver, 1 Bar-tailed Godwit, 7 Ringed Plover, 3m Cuckoo, 1 Grasshopper Warbler reeling, 3 Marsh Harrier 2m 1f, 25 Swift, 8 Ring-necked Parakeet N, 1 Bearded Reedling, 17 singing Cetti's Warbler, 21 singing Reed Warbler, 13 singing Whitethroat. 73 species seen 0645-1430 (Niall T. Keogh)
Regent's Park: Yellow Wagtail N 1002, 2 Sedge Warbler, Reed Warbler, Willow Warbler (Bob Watts, Tias Little, Dave Johnson)
Richmond Park: Hobby N, Common Tern, 100+ Swallow, 10+ Sand Martin. 5+ House Martin, 4 Wheatear (J.Wilczur, Friday Bird Group)
Queen Mother Reservoir: 6 Whimbrel 2 on n bank 0600-0610 then NE & 4 NE 0620 (Andy Tomczynski via Berks BN); Whimbrel high NE 0905, f White Wagtail n bank 1000 (Derek Barker via Berks BN)
Rye Meads RSPB: Cuckoo (Vicky Buckel via Herts BC)
Staines Reservoir: incl 2 Black-necked Grebe still, Little Ringed Plover, c40 Common Tern, Arctic Tern, c400 Swift, Wheatear, Yellow Wagtail (Dom Pia tweet)
Totteridge Valley/Darlands Lake: 7 Mallard & 11 ducklings at Darlands, 4 Teal, 2 Cormorant over, 2 Coot, 60+ Stock Dove mainly S, 22 Rook, Coal Tit, 2 Goldcrest, 8 Chiffchaff, 6 Blackcap, 9 Common Whitethroat, 2 Bullfinch (Samuel Levy)
Stave Hill: Spotted Flycatcher (Richard Page-Jones tweet)
Tyttenhanger GPs: Grasshopper Warbler reeling again as Wed 0815-0830 & 1115-1130 (Rupert Evershed via Twitter/Herts BC)
Wanstead Flats: 2 Whimbrel W over Alexandra L 0835 (Twitter); 2 Shelduck, m Pochard, 17 Swallow, 2 Linnet, 4 Meadow Pipit, 3 singing Skylark (Nick Croft)
West End nr Essendon: Cuckoo, Lesser Whitethroat, Whitethroat, Whinchat, Yellow Wagtail (per Herts BC)
Wimbledon Common: Garden Warbler, Snipe and 2 Greenfinches (Adrian Podmore)
Woodberry Wetlands: Tree Pipit, Little Egret, Common Pochard x Tufted Duck hybrid (Chris Farthing & Tony Butler)
Worcester Park: Common Swift (Bob Smith)
Thursday 26th April 2018Edit
Alexandra Park: Yellow Wagtail N 0810, 2-3 Northern Wheatear g/c & cricket scrub, Swift, Swallow, Linnet, distant Kite SW presumed Red, Willow Warbler (APOG Birders)
Black Park: 8 Mandarin Duck, Raven (C Lamsdell)
Brockley & Ladywell Cemeteries: Sparrowhawk, 2 Green Woodpecker, singing Blackcap (Keith Chambers)
Crayford Marshes: Marsh Harrier, 2 Buzzard, 2 Oystercatcher, Bar-tailed Godwit, Common Sandpiper, 20 Common Tern, Little Owl, Kestrel, 4 Swallow, 2 Lesser Whitethroat, 4 Whitethroat, 2 Wheatear (Donna Zimmer w Ian Stewart tweet)
Greenwich Peninsula: Peregrine, Lesser Whitethroat (Richard Green, Joe Beale)
Greenwich Peninsula Ecology Park: 10 Swallow, 8 Sand Martin, 2 Grey Wagtail, 4 Blackcap up to 2pr, 2 Reed Warbler, Chiffchaff (Richard Green, John Bushall, Joe Beale)
Ellenbrook Fields: 1-2 Wheatear at mounds (Rupert Evershed tweet)
Hanwell: belated report of Wood Warbler singing Manor Court Rd pm (Eugene Dillon-Hooper tweet)
Harmondsworth Moor: Little Grebe, Reed Warbler, Whitethroat, Mallards 2 broods & Coot with 2 chicks [name pls?]
Harringay: [N15] 7 Swallow low W 20:15 (Harringay Birder)
Hyde Park: 2 Swift and 6 House Martin over Serpentine mid-am and a Reed Warbler singing from reedbed at the eastern end of the lake (Bill Haines)
lslington: Essex Rd - Hobby low over 2:30pm (Andrew Peel)
Kilburn: 5 Swallows NW over Winchester Ave 1300 (Pete Mantle)
KGV Reservoir: 2 Yellow Wagtail, 1 Northern Wheatear, 2 Arctic Tern, 32+ Common Tern, 2 Common Sandpiper, 2 Oystercatcher, 3 Buzzard, 80+ Swift, 12+ Swallow, 16+ Sand Martin, 8+ House Martin, pr Grey Wagtail, f Sparrowhawk. 2 visits 6-7am & 1-2pm. (Davey Leach).
Ladywell: Swallow W over Ermine Rd 19.00 (Keith Chambers)
London Wetland Centre: Shelduck, Pheasant, Dunlin, Green Sandpiper, 6 Redshank, 20 Swallow, 4 Willow Warbler, 3 Chiffchaff, 8 Sedge Warbler, 10+ Reed Warbler (WWT website)
Mayflower Park: Reed Warbler, Common Whitethroat (Bob Smith)
Oxleas Wood:2 Jackdaw, Common Buzzard, Raven, Hobby,6 Blackcap, 2 Sparrowhawk, Grey Heron 4 Kestrel,2 Mistle Thrush, 3 Goldcrest, 5 Great spotted woodpecker, 4 Stock dove, 7 Swallow, Nuthatch, Willow warbler,2 Song thrush, Green woodpecker(Ron Turner]
Rainham RSPB: RED-RUMPED SWALLOW feeding fr serin_mound mid-aft Found by Andy Tweed and seen by three other observers 14.00-15.20 [AM] (BirdGuides); also Short-eared Owl, Barn Owl, 2 Marsh Harrier 1m1f, 2 Kestrel, Buzzard, 2 Cuckoo, m Whinchat, m Wheatear, lots of singing Reed Warbler, Sedge Warbler and Common Whitethroat. 63 species recorded (Alex Massey)
Richmond Park: Common Sandpiper - Lower Pen Pond (P.Pentek)
Ridgeway, Mill Hill: Swallow N 08:00 (Samuel Levy)
Shrewsbury Park: Willow Warbler, 10 Blackcap, 4 Chiffchaff, Nuthatch, Great Spotted Woodpecker, 2 Green Woodpecker, Collared Dove, Mistle Thrush, Song Thrush (Tim Rymer)
Sidcup: Main Rd - 4 Swallow n 1 pm (Conrad Ellam)
South Norwood CP: BLACK KITE W 1648, Hobby (Paul Moss via John Archer)
Staines Reservoirs: 1 Great Northern Diver early am then flew off 06.52 (Bob Warden per FJM); Whimbrel, 60 Swift, 20 Common Tern (Thomas Gibson)
Stanwell Moor: Hobby, 3 House Martin (Dom Pia tweet)
Swanley Park: Common Sandpiper, Mallard & 7 ducklings, 4 Coot, 4 Egyptian Geese, 5 Greylag, Swallow, Blackcap, Mistle Thrush fledged 4 yg, Green Woodpecker, Great Spottted Woodpecker (Andy Meaton)
Teddington Lock: Sparrowhawk 0900 (Mike Foster)
Tooting: Swallow darting betw houses 1239 Trinity Road SW17 (P. Redmond)
Tooting Commons: 2 Peregrine chasing each other 18:00, Grey Wagtail by lake (Alan Wilkinson)
Walthamstow Reservoirs: Dunlin, 2 Oystercatcher, 4 Common Sandpiper, 2 Wheatears (Walthamstow Birders)
Wanstead Flats: 4 Willow Warbler, 4 Sand Martin, Swallow, f Wheatear still, Kestrel, Sparrowhawk, 3 Meadow Pipit (Wanstead Birders)
Wanstead Park: 3 Willow Warbler, Hobby, Kestrel (Nick Croft)
West Norwood Cemetery: Swallow flying below tree height, Chiffchaff, Blackcap singing, Tawny Owl - fresh pellet indicates presence (Michael Mac)
Whitehall: Sparrowhawk low over Downing St towards St James's Pk (Tom Jordan)
Woodberry Wetlands: Common Sandpiper, 4 Red-crested Pochard, Little Egret, 2 Shelduck, 2 Swift, Swallow, Peregrine, Sparrowhawk (Chris Farthing & Tony Butler)
Worcester Park: Northern Wheatear on horse fields (Bob Smith)
Wednesday 25th April 2018Edit
Alexandra Park: Red Kite W 1415, 2 Northern Wheatear filter beds, Yellow Wagtail E over g/c 0840, 2 Willow Warbler, 7 Black-headed Gull N (APOG Birders)
Amwell NR: Great Egret Gt Hardmead L [arr'd from Rye Meads NR 1605 then N 1800 but ret'd 1825 & roosted on isl nearest viewpt], Arctic Tern on post fr viewpt 1725-1910 at least (Barry Reed/Ron Cousins tweets); also on lake - Common Sandpiper, Hobby, Raven, Grasshopper Warbler (Barry Reed/Sue Reeks via Herts BC)
Brent Reservoir: Garden Warbler singing behind main hide (Andrew Self); Common Sandpiper, Lapwing, pr Little Ringed Plover mating, Swift, 2 Swallow, 8 House Martin, 2 Sand Martin (Andrew Verrall)
Brookmill Park: 2 singing Blackcap (Conrad Ellam)
Broomfield Park: 3 Swallow N over former carriage drive 14:29 (Katy McGilvray)
Clapham Old Town: Orlando Rd - 2 Swallow over houses, 3 Grey Heron higher up all heading toward Battersea Park, no Swifts yet, but plenty Ring-necked Parakeets in residential areas these days their display involves going up really high in groups (Michael Mac)
Deptford: 2 Swallows W High St (Mike Paice)
Dollis Brook: Red Kite over Finchley GC 0700 (Samuel Levy)
Epsom Downs: Swallow 2pm (Julie Drewett)
Gallions Reach: Whimbrel, Common Tern, Swallow (Kevin J McManus)
Gunpowder Park: 2 Shelduck N, 2 Goosander, 3 Gadwall, 2 Little Grebe, 2 singing Skylark, Sand Martin, singing Cetti's Warbler, singing Reed Warbler, 2 singing Whitethroat, 2-4 Bullfinch (Simon Papps)
Hampstead Heath: Mandarin, Chiffchaff, Treecreeper (Toby Mylett)
Hilly Fields: 2 Blackcap, Willow Warbler, Mistle Thrush (Tom Moulton)
Ladywell Fields: 3 Mistle Thrush, 3 singing Blackcap, singing Chiffchaff, Willow Warbler, Grey Wagtail, Nuthatch (Keith Chambers)
Lamorbey Park: 2 singing Blackcaps, singing Chiffchaff, Stock Dove, Peregrine over; also 4 Speckled Wood, 1 Holly Blue and 1 female Orange Tip butterflies (Eric Brown)
Leatherhead: Randalls Way - 3 Sand Martin n, 2 Swift circling over J9 of M25, 1 Common Buzzard, f Kestrel, 2 Blackcap (Neil Batten)
London Wetland Centre: 2 Common Sandpiper, Yellow Wagtail, Shelduck, 5 Sedge Warbler, 4 Reed Warbler, m Pheasant, 5 Redshank (WWT website); 2 Swallows wader scrape (Martin Honey)
Margravine Cemetery: singing Song Thrush (Nathalie Mahieu)
Mayflower Park: Common Buzzard soaring N (Bob Smith); 1 Common Whitethroat singing, 1 male Blackcap and a Reed Warbler (Isaiah Rowe)
Mudchute Farm: 2 Swallows, Lesser Whitethroat, Whitethroat, Willow Warbler, Chiffchaff, 4 Blackcap, Song Thrush, Mistle Thrush (Sean Huggins)
Orchard Estate: Swallow w 9.00 (Conrad Ellam)
Oxleas Wood:3Greatspottedwoodpecker,3Nuthatch,2Treecreeper,Chaffinch,5Blackcap(2fm),Swift 8Stockdove,Willowwarbler,2Goldcrest,3Coaltit,2Chiffchaff,Sparrowhawke,2Hobby,2Kestrel,GreyHeron SongThrush(Ron Turner). ?????
Rainham Marshes: Ferry Ln & stone barges & RSPB reserve - 3 Whimbrel, 1 Common Sandpiper, 3 Wheatear, 1 Whinchat, 1 Cuckoo, 1 Grasshopper Warbler, 1 Barn Owl in box, 4+ Swifts, Whitethroats everywhere, lots of Common Terns flying up the Thames plus 2 on Aveley pool (Mike Wheeler, Nick S)
Richmond Park: Swift, 5 Swallow, 8 Sand Martin, Kingfisher, Skylark, many Blackcaps, 4 Chiffchaff, 3 singing Willow Warbler, Buzzard (P Pentek); mixed flock of hirundines feeding over Pen Ponds in blustery conditions - 35+ Swallows and 35+ Sand Martins 15.50 (Stefan Czapski)
Rye Meads RSPB: Great Egret in 1st meadow 1335 (Barry Reed tweet); GE departed for Amwell NR 1555, Whinchat meadow 1540 (Vicky Buckel tweets)
Shrewsbury Park: Cuckoo h 06:35, 6 House Martin, 2 Greylag Goose over, Jackdaw, 6 Blackcap, 2 Chiffchaff, Green Woodpecker, Great Spotted Woodpecker (Tim Rymer)
Snaresbrook/Leyton Flats: 3 singing Willow Warbler, 2 Swallow through, 2 Egyptian Goose, 2 Pochard, Nuthatch then I had to leave (Stuart Fisher)
Staines Reservoir: Great Northern Diver ad sp north basin still, 2 Black-necked Grebe south basin (Staines birders); Whimbrel circling high & calling 1455, 150+ Swift (Dom Pia tweet); no sign of GND 15:45-16:20, Red Kite, 2 Black-necked Grebe showing very well close to west end of causeway, 100+ Swift, Swallow, Sand Martin, House Martin all present in modest numbers (James Hudson)
Totteridge Valley/Darlands Lake: f Garganey still, 2 Red Kite, 4 Buzzard, 2 Kestrel, 4 Teal, pr Coot at Darlands, m Mandarin, 8 Rook, Bullfinch, good numbers of singing Chiffchaff, Blackcap and Whitethroat (John Colmans)
Trent Park: Willow Warbler singing male feeding in sallows along 'Gully', f Great Spotted Woodpecker drumming on lamp post cover Snakes Lane (Robert Callf)
Tyttenhanger GPs: main gp - Grasshopper Warbler reeling intermittently from main gp reedbed [fence edge] till 1100 at least, Wheatear on 'beach' (Rupert Evershed/Simon West tweets); no sign GW late-pm (Rick Flesher tweet)
Walthamstow Reservoirs: 2 Wheatear, 7 Common Sandpipers, plenty of Sand Martins & House Martins, Swifts and 3+ Swallows N (Walthamstow Birders)
Wanstead Flats: 1-2 Ring Ouzel, f Wheatear, Willow Warbler, 8 Swallow, Sand Martin, Red Kite, 2 Common Buzzard, Sparrowhawk, Kestrel, 2 Meadow Pipit, White Wagtail, 3 Skylark (Wanstead Birders)
Wanstead Park: 5 Little Grebe, singing Goldcrest, 3 Gadwall (Nick Croft)
Westbourne Park: 3m Red-crested Pochard grand union canal (Francis O'Sullivan)
Wimbledon Common: 2 Snipe and 1 Meadow Pipit on Plain c8.30am (Les Evans-Hill)
Woodoaks Farm: 4 Wheatear 2pr by rubble heap (Geoff Lapworth via Herts BC)
Worcester Park: Peregrine Falcon on pylons (Bob Smith)
Wraysbury GP: Cuckoo (Chris Lamsdell)
Tuesday 24th April 2018Edit
Alexandra Park: Willow Warbler, 2 Black-headed Gull N, Greylag pr Wood Green Res (APOG Birders)
Banstead Downs: Cuckoo singing near prisons (Josh Burch)
Beckton Creekside NR: 10+ Blackcap, Chiffchaff singing, 2 Reed Bunting, 2 Reed Warbler, 4 Whitethroat, 6+ Cetti's Warbler (Charlie Clark)
Black Park: 5 Mandarin Duck, Raven (Chris Lamsdell)
Brent Reservoir: 4 Reed Warbler, 3 Cetti's Warbler, 21 Blackcap, 12 Chiffchaff, Willow Warbler, Reed Bunting, 7 Swift, 7 Barn Swallow, 29 House Martin, 3 Little Ringed Plover, 2 Common Sandpiper, Common Snipe, 3 Egyptian Goose, Great Black-backed Gull, 3 Black-headed Gull, Peregrine (Magnus Andersson)
Bromley: 2 BLACK KITE reported drifting high W early-pm (BirdGuides)
Brookmill Park: Song Thrush carrying food, singing Willow Warbler, 3 singing Blackcap (Conrad Ellam)
Bushy Park: Cuckoo woodland gardens 7.00am, 4 Reed Warblers (Tony Duckett).
Camden Town: BLACK KITE (RBA report posted 0935)
City of London: BLACK KITE SW fr leadenhall bldg am (BirdGuides report posted 0950)
Clerkenwell: Peregrine soaring over Spa Fields Park 12:30 (Dan Fletcher)
Denham: Cuckoo west of canal bets Deep Lock & Savay L (Dan Pinkham)
Finchley: gdn N3 - 2 House Martin, Grey Heron (Samuel Levy)
Fitzrovia: BLACK KITE circling high SW 08:52-08:54 over Eastcastle St W1 (Des McKenzie tweet)
Gallions Reach: Red Kite, Whimbrel, Reed Bunting, no black kites today (KJM)
Greenwich Peninsula Ecology Park: 4 Common Tern, 2 Sand Martin, 2 Blackcap, Reed Warbler, Willow Warbler, Chiffchaff, 2 Linnet (Richard Green)
KGV Reservoir: Goldeneye, 2 Oystercatcher, 2 Common Sandpiper, 5+ Arctic Tern, 30+ Common Tern, Great Black-backed Gull, 100+ Swift, 10+ Swallow, 12+ House Martin, 4 Sand Martin, Yellow Wagtail (Simon Papps); Hobby (A.Middleton)
London Wetland Centre: 5 Redshank wader scrape & main lake, 2 Swallow reservoir lagoon, 4 House Martin main lake, 5 Reed Warbler reedbed/main lake/wildside, 3 Sedge Warbler reedbed & wildside, 6 Blackcap wildside/reservoir lagoon/south route, 1 Peregrine perched on hospital, 1 Pheasant wader scrape (WWT website); 1 Little Ringed Plover grazing marsh then main lake, 1 Reed Warbler and 1 Sedge Warbler sheltered lagoon, 4+ Chiffchaff, Cetti's Warbler and Willow Warbler (Martin Honey); Swift flying over main lake towards carpark 10:05. Resighted pm flying over grazing marsh. (Sue Barry)
Mayflower Park: Common Buzzard distant, Lesser Whitethroat, 3 Barn Swallows N (Bob Smith)
Mudchute Farm: Sedge Warbler, Whitethroat, Lesser Whitethroat, 2 Willow Warblers, 2 Chiffchaffs, 5 Blackcaps, Mistle Thrush (Sean Huggins)
Putney Heath: highlights from this morning's transect incl. 1 Buzzard, 3 Willow Warbler and 2 Whitethroat (Les Evans-Hill)
Queen Mother Reservoir: m Ring Ouzel [dull plumage - poss 1s] on n bank 0700 (Derek Barker via Berks BN)
Richmond Park: m Cuckoo calling Conduit Wd (P.Pentek)
St James's Park: Common Sandpiper at the edge of Duck Island south side and Common Buzzard drifting NW from 14:15 (Frank Nugent)
Selsdon Woods: BLACK KITE N (Roy Weller per KJM tweet posted 0953)
Staines Reservoir: 3 Little Ringed Plover, 40+ Common Tern, 100+ Swift pm (Dom Pia tweet)
The Ridgeway, Mill Hill: Swallow N, 2 Blackcap, Chiffchaff (Samuel Levy)
Trent Park: Lesser Whitethroat singing m in bramble betw Ride Wd & lower lake (Robert Callf); also 3 Common Buzzard, Red Kite, 5 Barn Swallow, Kestrel, 2 Mistle Thrush, 2 Song Thrush, 3 Pied Wagtail, 2 Red-legged Partridge, 5 Blackcap, Chiffchaff, 2m Mandarin, 2 Common Whitethroat, 2 Goldfinch, Stock Dove (Pete Lowman, Bob Husband). For the sake of recording purposes how many of these birds were actually at Vicarage Farm? Please attribute the records to the correct site - R Callf
Walthamstow Reservoirs: BLACK KITE W 0825 (Jamie Partridge). pics here.
Wimbledon Common: Red Kite and Peregrine over Thatched Cottage 1-1.10pm (Les Evans-Hill)
Woodberry Wetlands: Red Kite east of site heading S 07:47 - we are fairly sure this one really was Red, 2 Shoveler, Linnet (Chris Farthing & Tony Butler)
Worcester Park: Peregine on pylons (Bob Smith)
Monday 23rd April 2018Edit
Alexandra Park: Yellow Wagtail 0728, Common Whitethroat m, 2m Willow Warbler, 5 Barn Swallow, Redwing middle platform still, 13 Pochard 11m 2f and hybrid drake Aythya Boating Lake, Common Buzzard seen earlier in Crouch End flying over Alexandra Park with crow harassing 1223 (APOG Birders)
Bankside: [SE1] 1 Willow Warbler in birches by Tate Modern (G Sawtell)
Brentford: 2 Common Tern perched at lock, 1 Red Kite W over M4 (Michael Robinson)
Brent Reservoir: 3 Common Sandpiper (Andrew Self); pr Little Ringed Plover still displaying, 2 House Martin, 2 Barn Swallow feeding over water (Andrew Verrall). Spring bird count is Saturday 28th April — everyone welcome.
Crayford Marshes: m Whinchat, m Marsh Harrier, Cuckoo, 3 Lesser Whitethroat, 7 Reed Warbler, 14 Common Whitethroat, 4 Blackcap, 2 Chiffchaff, 2 Oystercatcher, 3 Common Tern, 5 Cetti's Warbler (Kev Jarvis)
Crouch End: Buzzard over 12:15 (Sam Jones)
Dollis Brook: 2 Mandarin Duck in trees off Brent Way (Samuel Levy)
East India Dock NR: 2 Little Ringed Plover, 2 Oystercatcher (Paul Hyland)
Fisher's Green: 3+ Cuckoos, 3 Nightingales, 1-2 Garden Warblers, 7 Common Terns (Quentin Given)
Foots Cray: 5 House Martins over Cray Road (Patrick English)
Forest Hill: Church Rise - Peregrine flew over 12.00, also 2 Collared Dove (Keith Chambers)
Golders Green: [NW11] 2 Red Kites high over E 09.34 (James Levy)
Heathrow: Red Kite, Buzzard, 2 Cetti's Warbler, 2 Reed Warbler, Lesser Whitethroat (Adam Cheeseman)
Leatherhead: Stn - 1 Swallow sw 18:20 (Neil Batten)
Mayflower Park: Lesser Whitethroat, Reed Warbler (Bob Smith)
Mudchute Farm: House Martin, 2 Lesser Whitethroats, Willow Warbler, 6 Blackcap, singing Song Thrush, 2 Mistle Thrush, Pheasant (Sean Huggins)
Rammey Marsh: Grasshopper Warbler reeling and showing well 6am, 1 singing Garden Warbler, 2 displaying Common Whitethroat, 2 Swallows over N (Davey Leach)
Ridgeway, Mill Hill: f Peregrine drifting NW 14:00 (Samuel Levy)
Staines Reservoirs: 2 Bar-tailed Godwit NW by mid am, 1 Great Northern Diver, 31 Common Tern, 1 Mediterranean Gull, 70 Swift (Dave Morris per FJM)
Staines Moor: 7 Wheatear 3m nw cnr, 2 Lesser Whitethroat n end (Peter Carlill, Neil Bostock) 2 Grasshopper Warblers (C Lamsdell)
Stanwell: 50+ Swift overhead 1105 (Jim Sweetland tweet)
Stoneleigh Station KT17: 1 Willow Warbler, 1 Blackcap, 1 Chiffchaff (Neil Batten)
Swanscombe Marsh: 6 Chiffchaff, 8 Reed Warbler, 8 Lesser Whitethroat, 5 Cetti's Warbler, 7 Blackcap, 10 Common Whitethroat, 2 Song Thrush, 2 Sedge Warbler, 17 Shelduck, 1 Skylark, 14 Linnet, 2 Little Egret, 1 Cuckoo, 10 Greylag Goose inc pr with young, 6 Gadwall 3pr, 9 Canada Goose, 11 Jackdaw, 1 Water Rail h, 1 Marsh Harrier, 1 Reed Bunting, 5 Swallow 6.30-10.30 (Roger Keith)
Trent Park: 2 Treecreeper pr courtship-feeding Rough Lot (Robert Callf)
Uxbridge: Riverside Way - Cuckoo, Sedge Warbler, 3 Red Kite, 2 Buzzard, House Martin over, Swallow over, Little Egret over, 4 Kestrel over, singing Goldcrest, Common Whitethroat (Stuart Fisher)
Walthamstow Reservoirs: Hobby, c30 Swifts both foy, 4 Wheatears, 4 Common Sandpipers, 10 Swallows (Walthamstow Birders).
Wanstead Flats: 4 Red Kite, Common Buzzard, 4 Sparrowhawk, Kestrel, 4 Wheatear, Willow Warbler, 10 Common Whitethroat, 5 Lesser Whitethroat, 20+ Swallow, 2 Sand Martin, 13 House Martin, 1c Rook, 3 Linnet, White Wagtail, 3 Meadow Pipit, 4 Skylark, Gadwall, 2 Shelduck, 2 Pochard, 4 Little Grebe, 2 Black-headed Gull (Wanstead Birders)
Wanstead Park: Kestrel, Lesser Whitethroat, 2 Common Whitethroat, 2 Swallow, 2 Little Grebe (Nick Croft/Simon Raper)
Waterloo: Peregrine hunting and being harried over Waterloo Railway station at lunchtime (Eugene Dillon-Hooper)
Woodberry Wetlands: Common Sandpiper, 2 Shelduck, Sparrowhawk, c15 Reed Warbler (Chris Farthing)
Worcester Park: Common Whitethroat, Northern Wheatear, Willow Warbler (Bob Smith)
Wormwood Scrubs: 2 Common Whitethroat, 3 Chiffchaff, 3 Blackcap, 3 Linnet, 1 Kestrel (Charlie Farrell)
Sunday 22nd April 2018Edit
Acton Town: Red Kite over station (Keith Chambers)
Alexandra Park: Lesser Whitethroat, Common Whitethroat Cricket Scrub (APOG Birders)
Banstead Woods: f Redstart opp Park Fm 1020 (Ian Ward per CFBW BG blog)
Brent Reservoir: Common Tern, Common Sandpiper, 3 Snipe, 2 Cetti's Warbler, 2 Swallow (Andrew Self); plus Lapwing, 2nd Common Sandpiper, 2 Common Whitethroat, 2 Egyptian Goose (Brent Birders); 2 Common Sandpipers still, Reed and Cetti's Warblers early p.m.; 7+ sp. of butterfly on the wing - plenty of Orange Tip and Holly Blue (Des McKenzie via Twitter)
Brockley Nature Reserve: singing Chiffchaff, singing Song Thrush (Keith Chambers)
Brookmill Park: Stock Dove, 2 singing Blackcap (Conrad Ellam)
Clapham Common: Swallow, Willow Warbler, 2 Chiffchaff (Nick Rutter)
Crossness: male Whinchat in 1st paddock on left 17.40, sum plum Bar-tailed Godwit west of outfall, 12 Black-tailed Godwit, 4 Redshank, 15 Common Tern, female Wheatear, Lesser Whitethroat, 4 Whitethroat, 3 Sedge Warbler, Reed Warbler (Richard Bonser)
Eastcote, Field End Rec: 4 House Martin, 2 Swallow over, Green Woodpecker, 2 Song Thrush (Tim Rymer)
Finchley: Garden N3 - 6 House Martin, 2 Swallow (Samuel Levy)
Fisher's Green: 3 Common Tern, Cuckoo, Nightingale, Common Whitethroat, Garden Warbler (James Palmer) 8 Common Tern, Cuckoo, 2-3 Nightingale, Lesser Whitethroat, 6 Sedge Warbler, 2 House Martin, Swallow (Matt Evans)
Golders Hill Park: 7 Mandarin (Toby Mylett)
Hampstead Heath: Common Whitethroat returned to territory in brambles by Hedge 2; 5 Chiffchaff, 8 Blackcap, Willow Warbler (Matt Evans).
Hilfield Park Reservoir: 1 Common Sandpiper, 2 Reed Warbler, 1 Garden Warbler, 1 Willow Warbler heard (Tony Blake).
KGV Reservoir: 2 Shelduck, Garganey, 2 Little Gull, Common Sandpiper, Kingfisher, 12+ Swift, Northern Wheatear, Common Redstart, 2 Cetti,s Warbler, 5 Whitethroat, 3 Lesser Whitethroat, 2 Sedge Warbler (Neville Smith). 2 Oystercatcher, Whimbrel, Hobby, 3 Wheatear (A.Middleton, Mike Messenger)
Kingston Bridge: 7 Sand Martin, 1 female Red Crested Pochard (Neil Batten)
Lamorbey Park : 4 Tufted Duck , pr Blackcap, singing Chiffchaff (Mike Amos).
Lower Clapton E5: 4 Swift through high NE, Peregrine circling overhead (Alastair Dent)
Mayflower Park Wetlands: 3 Blackcap (2m1f) and 1 Song Thrush (Isaiah Rowe)
Morden Hall Park: f Whitethroat north meadows briefly, m Reed Warbler back on territory, Garden Warbler, 6 Blackcap, 3 Chiffchaff, Kestrel, Peregrine, pr Tufted Duck + early m Banded Demoiselle. (Arjun Dutta)
Nazeing, Lodge Farm: Brambling, Cuckoo, 2 Wheatear, 7 Yellowhammer, Kestrel, 2 Common Buzzard, 8 Red-legged Partridge, 12+ Skylark, 2 Reed Bunting, 3 Common Whitethroat, Lesser Whitethroat (Martin Shepherd)
Olympic Park: m Whinchat, f Ring Ouzel, 3 Wheatear, Lesser Whitethroat singing, 5 Common Whitethroat, 7 Blackcap, Willow Warbler, Reed Bunting, Cetti's Warbler, 4 Gadwall (Stuart Fisher)
Rammey Marsh: Grasshopper Warbler, 2 Lesser Whitethroat (Neville Smith)
Richmond: SIBERIAN LESSER WHITETHROAT still in back gardens of Selwyn & Pagoda Avenues. (Birdguides per FJM)
Richmond Park : female Wheatear (S Woolfenden)
Roxeth Recreation Ground HA2: 1 Lesser Whitethroat & 2 Blackcap seen. Garden Warbler, Willow Warbler & Chiffchaff heard (Michael Robinson)
Sidcup: Local Peregrine over Station Road 5pm (Patrick English)
St. John's Wood: Red Kite S/SW 15:45 (via Twitter with pic Des McKenzie)
Staines Moor: 8 Common Buzzard, 8+ Chiffchaff, 20+ Blackcap, 3 Barn Swallow, 6 Lapwing, 3 Red Kite, 3 Cetti's Warbler, 4 Common Whitethroat, 4 Sedge Warbler, 2 Little Egret, 10+ Kestrel, Sparrowhawk, 2 Common Tern, Kingfisher, Willow Warbler, Grasshopper Warbler, Hobby (Nick Baker, Sebastian Sattin)
Staines Reservoirs: 9 Little Gull on s basin 18.30 at e end, 1 Black-necked Grebe, 21 Common Tern incl 9 on KG VI Res gantry. 2 Oystercatcher, 2 Little Ringed Plover, 1 Swallow W (Franko J Maroevic)
Stoneleigh: [KT17] f Common Whitethroat singing from cherry tree in The Glade (Neil Batten)
Totteridge Valley/Darlands Lake: 2 Greylag, 2 Egyptian Geese, Mandarin Duck, f Garganey still, 12 Teal, 4 Sparrowhawk, 3 Red Kite, 8 Common Buzzard, 4 Coot, m Cuckoo (Owl Field), 4 Swift, 2 Kestrel, 2 Hobby, 22 Rook, 18+ Swallow, 6 House Martin, Coal Tit, 2 Nuthatch, singing Treecreeper, Goldcrest, 23+ Chiffchaff, 22+ Blackcap, 1 poss 2 Garden Warbler, 4 Lesser Whitethroat, 12+ Common Whitethroat, 2 Mistle Thrush, Yellow Wagtail, 4 Pied Wagtail, Linnet. also Holly Blue, Speckled Wood, Orange Tip, Small Tortoiseshell, Comma, Green-veined White, Brimstone, Small and Large White, Peacock butterfly (Totteridge Valley Birders et al).
Walthamstow Marshes: early am - 24 Blackcap, singing Garden Warbler amongst c15 B'cap at n end, Lesser Whitethroat, 4 Sedge Warbler (Stuart Fisher)
Walthamstow Reservoirs: 5 Wheatear, 3 Common Sandpipers, 2 Red Kite, 3 Buzzards, 2 Oystercatcher (Walthamstow Birders)
Wanstead Flats: Cuckoo, 10+ Swift, 2 House Martin, 4 Swallow, Reed Warbler, 4 Wheatear, Buzzard, 2 Sparrowhawk, Kestrel, Littlle Owl (Wanstead Birders)
Wanstead Park: Reed Warbler, singing Goldcrest (Nick Croft)
Wood Farm, Stanmore: 1 Lesser Whitethroat, 5 Whitethroat (Tony Blake).
Wraysbury GP: 2 Cetti's Warbler, Grasshopper Warbler (C Lamsdell)
Saturday 21st April 2018Edit
Alexandra Park: Ring Ouzel reported near cricket scrub (RBA); 2 Swallow, Greylag (APOG Birders)
Amwell NR: Arctic Tern S (BirdGuides)
Battersea Park: 2 Mistle Thrush (Alison Nolan)
Brent Reservoir: 5 Common Buzzard, Red Kite, Lapwing, 4 Little Ringed Plover, 2 Snipe, Common Sandpiper, 2 Great Black-backed Gull, Arctic Tern, Common Tern, 2 Swift, Cetti's Warbler, 2 Reed Warbler, 2 Common Whitethroat, 25 Blackcap, Willow Warbler, 9 Chiffchaff (Brent Birders)
Broxbourne Woods: 3 Buzzard tussling with large falcon, presumably Peregrine (Jon Agar)
Bushy Park: Curlew called twice 0900 (Mike Foster)
Claybury Park: Red Kite, pr Buzzard, 3 Lesser Whitethroat, 5 Common Whitethroat. (Joe and Alexander Dickens, Laura White)
Colliers Wood: 2 Egyptian Goose very unusual here, 2 Stock Dove, 3 Blackcap, 1 Chiffchaff; 1 Banded Demoiselle, 5 Holly Blue, plus other standard butterflies incl 3 Orange Tip (Keith Bates)
Colney Heath: 6+ Willow Warbler, Garden Warbler, Lesser Whitethroat, Whitethroat (Dan Fletcher via Herts BC)
Copped Hall Estate: Red Kite, 6 Buzzard, Garden Warbler, 3 Lesser Whitethroat, 12 Yellowhammer, 4 Linnet, 6 Common Whitethroat, 5 Skylark (Chris Baldwin)
Crossness: incl Oystercatcher, 30 Black-tailed Godwit, Kestrel, Cetti's Warbler, 6 Reed Warbler, Lesser Whitethroat, 6 Whitethroat, 3 Wheatear (Donna Zimmer tweet)
Danson Park: Red Kite over 12:15 (Patrick English)
Dungeon Hill: 2 Swallow, Wheatear, Lesser Whitethroat, 3 Whitethroat (Ian Ward tweet)
Enfield Playing Fields: Lesser Whitethroat (Phil Rhodes)
Finchley: Garden N3 - 4 Common Buzzard mainly NW, Red Kite SE, Sparrowhawk SE, Kestrel E, 2 Swallow E, Singing Blackcap, Singing Goldcrest; Holly Blue, Orange Tip (Samuel Levy)
Fisher's Green: Nightingale (probably 2 singing), 3 Garden Warbler, Cuckoo, 2 Common Tern (Phil Rhodes)
Gutteridge Wood: 3+ Common Whitethroat (Martin Musselwhite)
Hampstead Heath: Cuckoo h am nr Beech Mount (Pete Mantle per John Weston)
Ingrebourne Valley: m Garganey fr viewing area, 13 Common Buzzard, 8 Red Kite, 3 Common Tern (Dave Morrison/Shaun Harvey tweets)
Kensington Gardens: m Whinchat & m Northern Wheatear Buck Hill on mowed central area 0645 (Des McKenzie tweet)
Lamorbey Park: 7 Tufted Duck, c18 Canada Geese, Peregrine, 3 Herring Gull, Great Spotted Woodpecker, Song Thrush , 3 singing Blackcap, Chiffchaff (singing high from the tall pine), 3+ Singing Goldcrest, Nuthatch, 60+ Carrion Crow on school fields (Mike Amos).
London Wetland Centre: Shelduck, 2 Pintail, Red-legged Partridge, Pheasant, 2 Little Ringed Plover, 2 Common Sandpiper, 4 Redshank, 9 Chiffchaff, 8 Blackcap, 2 Wheatear, 2 Yellow Wagtail (WWT website)
Lower Clapton E5: Common Buzzard circling very low over Powerscroft Rd 1900 (Alastair Dent)
Mayflower Park: 2 Common Buzzards soaring high, Reed Warbler (Bob Smith)
Mossops Creek, Brimsdown: 3 singing Cetti's Warbler (A.Middleton)
Parkland Walk: Little Egret low over roof tops towards Highgate Wood 1500 (Bob Watts)
Ponders End Lake: 2 Oystercatcher (A.Middleton)
Priest Hill: 2 male Ring Ouzel, 3 Lesser Whitethroat, 7 Common Whitethroat, 2 Chiffchaff, 1 Blackcap, 1 Kestrel, 3 male Pheasant (Neil Batten)
Purfleet: 22 Shelduck, 5 Shoveler, 2 Gadwall, 2 Teal, 2 Red Kite, Buzzard, pr Oystercatcher, Whimbrel, Sandwich Tern, 17 Common Tern, Arctic Tern (Fraser Simpson tweet)
Rainham: Hobby, Cuckoo, Swallow, Sparrowhawk, Jackdaw, 2 Heron, all garden flyovers (Richard Harrison)
Rainham RSPB: 2 Red Kite NW 1215, 2 Mediterranean Gull over target pools (Jonathan Wasse tweet); Red Kite, 3 Marsh Harrier, Hobby, 3 Oystercatcher, 2 Mediterranean Gull, 5 Lesser Whitethroat (Tom Jordan); also Whimbrel, 2 Swift, Short-eared Owl, Sedge Warbler; Cuckoo % Whitethroat nr concrete barges evg (Chris Ruis tweet)
Richmond: SIBERIAN LESSER WHITETHROAT still in back gardens of Selwyn & Pagoda Avenues. Parking charges apply Mon - Sat. Park only in visitors bays. (Franko J Maroevic)
Richmond Park: Whinchat, 2 Wheatear, 2 alba Pied Wagtail (H.Bradshaw, P.Pentek); Common Tern (S.Woolfenden)
Rotherhithe: 8 singing Blackcap, singing Goldcrest, 2 singing Chiffchaff, Mistle Thrush in Russia Dock Woodland (Richard Bonser)
Staines Moor: 4 Little Egret, Grasshopper Warbler, Lesser Whitethroat, 7 Wheatear (Dom Pia tweet); also 2 Kingfisher, 2 Cetti's Warbler, Sedge Warbler, Whinchat (Tim Rymer tweet)
Staines Reservoirs: Great Northern Diver still on n basin at e end early am (Bob Warden per FJM); 2 Oystercatcher, 2 Little Ringed Plover, 7 Common Tern evg (Dom Pia tweet)
Stanwell Moor: Kingfisher, Cetti's Warbler, Grasshopper Warbler, Common Whitethroat (Tim Rymer)
Stratford, Olympic Park: m Black Redstart near Westfield, pr Little Ringed Plover, singing Lesser Whitethroat, 3 Common Whitethroat, 2 Reed Warbler, 9 Blackcap, 2 Cetti's Warbler, 5 Gadwall, Shelduck, 2 Sand Martin (Stuart Fisher)
Teddington: 2 Red Kite over Broad St pm (Richard Attewell tweet)
Trent Park: 2 Grey Heron incl leucistic bird, 4 m Mandarin Duck, 2 Eurasian Teal m f lower lake, 1 singing m Common Whitethroat, 2 singing m Goldcrest (Robert Callf)
Totteridge Valley: Whinchat, 2 Raven, Garganey [f still], 3 Teal, 4 House Martin, 4 Swallow, Lesser Whitethroat, 5 Common Whitethroat, Linnet, Lapwing (Ian Ellis)
Tyttenhanger GPs and Willows Farm: Greenshank main gp still 0700, Swift fishing lake 0820 (TyttGP tweets); f Siskin Willows Fm L (Andrew Steele via Herts BC)
Walthamstow Reservoirs: 2 Wheatear, 2 Common Sandpiper, 5 Buzzard, first pr of Common Terns back on Lockwood raft (Walthamstow Birders)
Walton on the Hill: 18+ Swallow through and around Wildwood riding centre 16:00 to 17:00 (Neil Batten)
Walton Reservoirs: Greenshank (Chris Turner tweet)
Wanstead Flats: Little Ringed Plover, Common Sandpiper, House Martin (first returning bird over the colony), 5 Swallow, 5 Lesser Whitethroat, 6 Common Whitethroat, 3 Meadow Pipit, 4 Yellow Wagtail, 2 Common Buzzard, 2 Sparrowhawk, Kestrel, Gadwall, 4 Little Grebe, 12 Black-headed Gull through east, young Rook, 8 Linnet, pr of Reed Bunting (Wanstead Birders)
Wanstead Park: 2 Lesser Whitethroat, 3 Common Whitethroat, Common Buzzard, Sparrowhawk, 6 Little Grebe (Wanstead Birders)
Woodford Green: c12 Swift high over forest slowly NE 16.53pm my earliest ever by c6 days (Ken Murray)
Wormwood Scrubs: Whinchat, 2 Common Whitethroat, 8+ Blackcap, 2 Chiffchaff, 2 Song Thrush, 4+ Linnet, 6+ Greenfinch, Kestrel; Brimstone, Small Tortoiseshell and Small White butterflies (Bill Haines)
Wraysbury GP: Oystercatcher, 2 Garden Warbler (C Lamsdell)
Friday 20th April 2018Edit
Alexandra Park: Greenland Wheatear m nr sparrow bush southern end p/f 0700 but presumably flushed fairly quickly and same or another male 0850 flew to Lower Slopes (APOG Birders)
Amwell NR: 2 Mediterranean Gull Gt Hardmead L island 1645 (William Bishop tweet)
Bow Creek: 2 Oystercatcher, Cetti's Warbler (Alex Massey)
Brent Reservoir: Common Tern, pr Little Ringed Plover, Sedge Warbler, 2 Reed Warbler, 10+ Blackcap, 6+ Chiffchaff, 3 Cetti's Warbler, Res 1st of yr Common Whitethroat (Oliver Simms -from Log); pr Little Ringed Plover and Tern still pm feeding on flies over water, 7 Black-headed Gull dropped in to feed on flies over water; 2 Orange Tip, 2 Peacock, 2 Small Tortoiseshell, 2 Speckled Wood, 2 Small White, Green-veined White, 100+ Yellow Dung Fly (Andrew Verrall)
Brixton: Willow Warbler singing Lambert Rd (Tony Stones)
Crayford Marshes: Marsh Harrier, 3 Oystercatcher, Whimbrel, 3 Common Sandpiper, Kestrel, 15 Common Tern, Little Owl, 2 Swallow, 2 Wheatear, 2 Lesser Whitethroat, 3 Whitethroat (Donna Zimmer & Ian Stewart)
Dollis Brook: Grey Wagtail, 2 singing Blackcap (Samuel Levy)
Dungeon Hill: incl Sparrowhawk, Buzzard, Kestrel, 2 Lesser Whitethroat, 3 Whitethroat, 5 Wheatear, Linnet (DH blog)
East India Dock Basin NR: 1 Little Ringed Plover, 8 Shelduck, 1 Egyptian Goose, 1 Blackcap, 1 Cetti's Warbler (Charlie Farrell)
Ellenbrook Fields: Red Kite, Lesser Whitethroat, 4+ Whitethroat (David Wheatcroft per Herts BC)
Fishers Green: Nightingale singing & showing occasionally nr National Grid substation, also 4 Common Tern, 2 Cuckoo, 8 Chiffchaff, 4+ Sedge Warbler, 2 Lesser Whitethroat, 3-4 Whitethroat, 6 Blackcap am (Jim Anderson tweet)
Friday Lake: rh Smew still & calling Cuckoo (J.Murray)
Gallion's Reach: 3 Lesser Whitethroat, Blackcap, Willow Warbler, Common Sandpiper (Charlie Clark); also Greenshank, Little Ringed Plover, Yellow Wagtail, Wheatear, 5 Common Tern, 2 Sand Martin, 4 Common Buzzard (Kevin J McManus)
Grovelands Park: 2 Great Crested Grebe pr nest building, 2 Cormorant, 2 Mute Swan pr incubating, 2 Egyptian Goose pr, m Mandarin Duck, m Common Pochard, 6 Tufted Duck 3m 3f, 8 Stock Dove, 4 Swift, Green Woodpecker, 3 Great Spotted Woodpecker, Pied Wagtail, 5 Blackcap singing, Chiffchaff singing, Goldcrest singing, 3 Nuthatch, 2 Treecreeper pr nest building, m Chaffinch singing, m Brimstone, m Orange-tip, 3 Holly Blue (Robert Callf)
Hogsmill Open Space: 2 Mistle Thrush, 2 Blackcap mf, 6+ Chiffchaff 2 seen & several singing, 2 Tufted Duck, 2 Grey Wagtail, 1 Nuthatch at nest and 1 Swallow over (Isaiah Rowe)
Kilburn/West Hampstead Borders: Blackcap singing in garden by railway embankments just south of Mill Lane Bridge here for the summer (Andrew Verrall)
KGV Reservoir: s basin - 2 Little Tern 1 over calling 06.40am & 1 roosting w Common Terns, 2 Arctic Tern, 12+ Common Tern, pr Garden Warbler behind sailing club, 2 singing Lesser Whitethroat, 3 Sand Martin 6.30-7.15am; m Wheatear at lunchtime, pr Buzzard, only Common Terns 1-2pm (Davey Leach)
King George VI Reservoir: poss Roseate Tern on gantry late-am [permit only - view fr Staines Reservoir causeway] (BirdGuides); no sign 3pm (Dom Pia tweet)
Leg o Mutton NR: 1 Common Tern, 4 Egyptian Geese, 2 Blackcap, 3 Reed Warbler, 3 Cetti's Warbler, 2 Chiffchaff, c50 Tufted Duck, c10 Pochard, 2 House Martin, 2 Teal, c30 Black-headed Gulls, 1 Grey Wagtail Barnes bridge [observer?]
Little Woodcote: Little Owl, 2 Swallow, Whitethroat foy, Wheatear (Ian Jones tweet)
London Wetland Centre: m Pheasant, Little Ringed Plover, 4 Redshank, 7 Swallow N, 7 Chiffchaff, 2 Sedge Warbler, 5 Reed Warbler, 8 Blackcap, 3 Wheatear grazing marsh, 3 Yellow Wagtail 2 grazing marsh & 1W (WWT website); 3 Wheatear (Shailesh Patel tweet)
Loughton: 3 Swift soaring overhead 1455 (RSPB NE Ldn Grp tweet)
Lower Clapton: [E5] our first Swift of the year over Powerscroft Rd 1900 (Alastair Dent)
Mardyke Valley: Great Egret SE over A13 early-am (BirdGuides)
Mayflower Park: 3 Common Buzzards soaring high, Reed Warbler singing (Bob Smith)
Pinner Park Farm: 2 Wheatear, Lesser Whitethroat, Little Owl (Dan Pinkham)
Richmond: SIBERIAN LESSER WHITETHROAT ssp blythi still in back gardens of Selwyn & Pagoda Avenues. Parking charges apply Mon-Sat. Park only in visitors bays. (Franko J Maroevic)
Richmond Park: Ring Ouzel (J.Wilczur); Yellow Wagtail over (M.Lewis); m Pheasant, 2 Red Kite, 7+ Buzzard, Kingfisher, 3 Swift, 2 Swallow, 10+ Wheatear incl 5 Greenland types, 5 Stonechat, Reed Warbler, 4 Common Whitethroat, Linnet over, 10 Reed Bunting (J.Wilczur, P.Pentek, Friday Bird Group); Curlew heard calling distantly over southern cnr of Park c12.50 - full 'song' not just a flight call (Stefan Czapski)
Ruxley: Honeydale Fm - 3 Wheatear in horse fields nr fm (Jack Headley tweet)
St James's Park: Swallow (Frank Nugent)
Staines Reservoir: 9 Black Tern s basin (Paul Boult via Surrey BN); no sign of terns but Little Ringed Plover, Little Gull, 2 Wheatear, Yellow Wagtail 3pm (Dom Pia tweet); Great Northern Diver back on n basin 1545 (Jim Sweetland per TS tweet)
Stoneleigh: Stn KT17 - 1 singing Lesser Whitethroat, 1 Blackcap, 1 Chiffchaff (Neil Batten)
Streatham Common: 2m Wheatear by playground 2.30pm (Peter Newmark)
Swanscombe Marsh: 3 Arctic Tern on river, 2 Cuckoo, singing Nightingale, Wheatear, Yellow Wagtail, 19 Cetti's Warbler, 6 Reed Warbler, 2 Sedge Warbler, 3 Lesser Whitethroat, 9 Common Whitethroat, 11 Blackcap, Willow Warbler, 7 Chiffchaff, 2 Rook (Andrew Self)
The Ridgeway, Mill Hill: Sparrowhawk N 08:50, singing Blackcap, Grey Heron (Samuel Levy)
Totteridge Valley: 1 Wheatear, 1 Lesser Whitethroat, 2 Common Whitethroat, 20 Blackcap, 7 Swallow; 6 Orange Tip, 2 Brimstone (Tony Clancy)
Tyttenhanger GPs: Greenshank main gp south-side bay nr cormorant_tree 1150, also 4 Little Ringed Plover, Green Sandpiper h, Redshank h, 2 Great Black-backed Gull (TyttGP tweet); 3+ Red Kite, Oystercatcher & 4 Little Ringed Plover main gp, Reed Warbler, 2 Lesser Whitethroat, 4 Whitethroat (per Herts BC); Greenshank main pit still 1925 in ne cnr by small sand bank (Simon West tweet)
Waltham Abbey: Monkhams Hall - Cuckoo 09:20 then NE 09:30 (Martin Shepherd)
Walthamstow Reservoirs: Whinchat, 4 Wheatear, 3 Red-crested Pochard, Red Kite, Oystercatcher (Walthamstow Birders)
Wanstead Flats: 3 Wheatear, 5 Lesser Whitethroat, 5 Common Whitethroat, Willow Warbler, 4 Meadow Pipit, 5 Skylark, Red Kite, 2 Buzzard, 2 Sparrowhawk, pr Kestrel, 3 Reed Bunting, 3 Linnet, 20+ Greenfinch, Gadwall, 4 Little Grebe, 4 Black-headed Gull, 3 Swallow, 2 Little Owl (Wanstead Birders)
Wanstead Park: 2 Willow Warbler, 2 Lesser Whitethroat, 2 Common Whitethroat, Kestrel, 6 Little Grebe (Nick Croft/Tim Harris)
Wapping: Hermitage Riverside Memorial Gdn area - 4 Greylag Geese, Grey Wagtail (Alex Massey)
West Thurrock Marshes: Whimbrel (Andrew Self)
Wimbledon Common: 4 Buzzard circling high over thatched cottage, 1 prob Arctic Skua also circling high c2.10pm heading E - very distinctive tail (Les Evans-Hill)
Woodberry Wetlands: Whinchat, Sedge Warbler, 3+ Reed Warbler, Willow Warbler, 2 Linnet, 2 Teal (Chris Farthing & Tony Butler); 2 Common Whitethroat (Dave Clark)
Worcester Park: Common Buzzard S over observer's garden (Bob Smith)
Wormwood Scrubs: 1 singing Common Whitethroat, 8 Blackcap, 4 Chiffchaff, pr Linnet, m Kestrel, 2 Egyptian Goose over (Charlie Farrell)
Thursday 19th April 2018Edit
Alexandra Park: Ring Ouzel f briefly p/f perimeter 0820 then flew to trees behind cricket scrub & no further sign, Northern Wheatear female briefly g/c, Willow Warbler sparrow bush late aft flew towards Nighhtingale Lane (Gerry Rawcliffe per Bob Watts). Little Egret flew from Tunnel Res 0650, pr Greylag Wood Green Res (Bob Watts)
Amwell NR: 2 Little Gull fr viewpt 0630 (Ron Cousins tweet); Grasshopper Warbler seen reeling from reedbed bramble to left of lower viewpt 0700 (Allan Meadows tweet); 4 Common Tern gt hardmead lake (Allan Meadows via Herts BC)
Belhus Woods CP: Nightingale at rear of huntshill lake 0700 (Alan Shearman per ELBF/BirdGuides); Sparrowhawk, 2 Buzzard, Water Rail, 2 Common Tern, Cuckoo, Kingfisher, f Woodlark W 0720, 2 Cetti's Warbler, 8 Willow Warbler, 24 Chiffchaff, 2 Sedge Warbler, 3 Reed Warbler, 32 Blackcap, Lesser Whitethroat, 2 Whitethroat, Nuthatch, Redstart, Bullfinch, 2 Reed Bunting (Alan Shearman per ELBF FB)
Brent Reservoir: Common Sandpiper, Reed Warbler singing, 2 Cetti's Warbler, Red Kite, c20 singing Blackcap, 10 singing Chiffchaff, c150 Herring Gull on main res; Brimstone, Holly Blue, Peacock, Green-veined White, Orange Tip (John Colmans)
Brockley Nature Reserve: singing Blackcap, singing Chffchaff (Keith Chambers)
Brockwell Park: 2 singing Willow Warbler, 2 singing Blackcap, 4 Jackdaw still around ancient oak [of which there is only 1 here unlike Richmond Park] for 1st year (Michael Mac)
Brookmill Park: Kingfisher, Stock Dove, Song Thrush, 3 Blackcap, Chiffchaff (Tomos Brangwyn & Conrad Ellam)
City of London: 2 Swift past leadenhall bldg (BirdGuides)
Ealing: [W13] Swallow N straight through low over garden late am (Bill Haines)
Finchley: gdn N3 - f Sparrowhawk, singing Blackcap, singing Goldcrest, House Sparrow calling 19:30 [2nd gdn record & 1st since July 2013] (Samuel Levy)
Fishers Green: Nightingale singing by gate to National Grid substation (J.Murray)
Friday Lake: rh Smew still (BirdGuides)
Golders Green: [NW11] f Blackcap in gdn (James Levy)
Greenwich Ecology Park: 4 Common Tern (Richard Green tweet)
Greenwich Park: Little Egret over, Willow Warbler, Lesser Whitethroat; Speckled Wood, Holly Blue (Joe Beale tweet)
Heathrow: 4 Wheatear 2m 2f (Adam Cheeseman)
Hounslow Heath: Buzzard, Red Kite, Lesser Whitethroat, Whitethroat, Willow Warbler, Chiffchaff & Blackcap (Paul Boult)
Hyde Park: 2 House Martin (Ray Crouch)
KGV Reservoir: Little Tern, Sandwich Tern, Arctic Tern, 15+ Common Tern, Little Gull, Oystercatcher, Common Sandpiper, Sand Martin (Simon Papps & Ian Lycett)
Lamorbey Park: 2 singing Blackcap, singing Chiffchaff, singing Goldcrest (Mike Amos)
Leyton: Lea Bridge Stn - dead Lesser Whitethroat on platform 1 (D Beadle)
London Wetland Centre: Shelduck, Oystercatcher main lake, 3 Snipe, 5 Redshank, Swallow, 3 Willow Warbler, 5 Sedge Warbler, 6 Reed Warbler, Garden Warbler sheltered lagoon, Yellow Wagtail marsh (WWT website); 2f Wheatear and 1m Pheasant wader scrape, 2 Pintail m f reservoir lagoon, numerous Blackcap m & f and Chiffchaff, plus 3+ Willow Warbler southern route (Martin Honey & B. Page)
London Zoo: 2 Sparrowhawk, 1+ Buzzard, Swallow, 4 Blackcap, Coal Tit [micro patch 1st], 2 Red-crested Pochard (Sam Jones)
Mayflower Park: Red Kite S, Sedge Warbler singing whereabouts was the the sedge warbler Bob thanks (Bob Smith); m Blackcap; 2 Red-Eared Sliders (Isaiah Rowe) Hi Isaiah it was in the brambles between the pool where you saw the sliders and the pool right of that nearest the buildings. Just heard it briefly at 10.30. Hopefully it will stay on [Bob]
Moor Lane nr Rickmansworth: Common Tern flying along canal TQ065939 (Anna Marett via Herts BC)
North Weald Flood Meadows LNR: North Weald Common - m Ring Ouzel [leucistic] (Martin Redfern per ELBF FB) [new site for LNHS gazetteer TL499039]
Rainham Marshes: 3 Grasshopper Warbler reeling Enclosed Bay [1 from dog roses by f/p c100m from small c/p] 0815, 4 Ring Ouzel along riverwall 0800 (Ralph Vaughan tweets); Garden Warbler (Andy Reid, Ian Plume per ELBF FB); 11 Little Egret, 3 Marsh Harrier, Buzzard, Whimbrel, Bar-tailed Godwit, 2 Greenshank, 2ad Mediterranean Gull, 40 Common Tern, 4m Grasshopper Warbler, 5 Lesser Whitethroat, 12 Whitethroat, 5 Ring Ouzel 3m2f, pr Stonechat, 2 Wheatear, Yellow Wagtail, Corn Bunting (per ELBF FB)
Richmond Park: Sedge Warbler singing by Pen Ponds (P.Pentek)
Roding Valley Meadows LNR: 2 Buzzard, 2 Treecreeper, Willow Warbler, 5 Chiffchaff, 18m Blackcap, 4 Whitethroat, 3 Reed Bunting (Barry Jones per ELBF FB)
Rye Meads RSPB: Mediterranean Gull on island fr draper hide 1610 (RSPB tweet)
Sevenoaks WR: Common Sandpiper (Mathew Bournat tweet)
Seventy Acres Lake: Cuckoo south end of lake (J.Murray)
South Croydon: 2 Swift over Woodcroft Rd 17:15 (Croydon Birders)
Staines Moor: Hobby, 3 Sedge Warbler, Lesser Whitethroat, 4 Whitethroat, 2f Wheatear (Robert Martin tweet)
Staines Reservoir: Black-necked Grebe, Little Ringed Plover, Common Sandpiper all on s basin am (Dave Carlsson tweet)
Stanstead Abbotts Lakes - N lake: 2 Oystercatcher, Common Tern (Jane Free via Herts BC)
Stanwell Moor: 2+ Cetti's Warbler, 6 Chiffchaff, Sedge Warbler, 12+ Blackcap (Robert Martin tweet)
Stocker's Farm: Cuckoo h 1000 (Charlie Ramsey via Herts BC)
Stocker's Lake: 19 Little Egret, 2 Common Tern (Geoff Lapworth via Herts BC)
Teddington: 2 Swift over stn 8.00am (Ian R Watson)
Ten Acre Wood area: 2 Lesser Whitethroat, Common Whitethroat, 4 Linnet, 14+ Pheasant, 2 Skylark, Lapwing, 2 Reed Bunting, 2 Chiffchaff, 4 Blackcap (Deiniol Owen)
Tooting Commons: Kestrel W 13:20 (Alan Wilkinson)
Tower Hamlets Cemetery Park: m Goldcrest singing, 5+ m Blackcaps (BoB Watts)
Trent Park: 2 Eurasian Teal pr upper lake, Treecreeper singing Nature Trail (Robert Callf); also Common Buzzard, 9 Blackcap, 3 Chiffchaff, Willow Warbler, 2 Common Whitethroat foy, Garden Warbler foy and earliest since I have been recording here, 4m Mandarin, pr Tufted Duck (Pete Lowman)
Tyttenhanger GPs: fishing lake - Little Egret, Common Tern 0645; main gp - 2 Oystercatcher, 2 Little Ringed Plover, Snipe, Green Sandpiper, 2 Redshank, Kingfisher, 2 Lesser Whitethroat, 3+ Whitethroat, Yellow Wagtail (Rupert Evershed tweets)
Walthamstow Marshes: 3 Lesser Whitethroat 2 singing m in hedges alongside side and rear paddocks, Common Whitethroat singing NE cnr Lammas Meadow, Sedge Warbler singing Bomb Crater Field 09:00-09:30 (Alastair Dent)
Walthamstow Reservoirs: 4 Wheatear, 4 Sedge Warbler, 5 Reed Warbler, 6 Lesser Whitethroat, 2 Whitethroat, 1 Yellow Wagtail, 9 Sand Martins, 1 Common Sandpiper, 2 Sparrowhawk, 3 Great Spotted Woodpecker, 6 Shoveler (Daniel Whitelegg); Painted Lady butterfly (Chris Farthing)
Wanstead Flats: m Wheatear, 2 Yellow Wagtail, White Wagtail, 3 singing Meadow Pipit, 4 singing Skylark, singing Reed Bunting, 2-3 Linnet, 5 Lesser Whitethroat, 4 Common Whitethroat, 2 Little Owl, 4 Buzzard, 2-3 Sparrowhawk, Kestrel, Pochard, 3 Gadwall, 2 Shoveler, 4 Little Grebe (Wanstead Birders)
Wanstead Park: Buzzard, 8 Teal, 2 Shoveler, 5 Little Grebe, singing Goldcrest, Lesser Whitethroat, Common Whitethroat, 20+ singing Blackcap (Nick Croft)
West Harrow: Common Buzzard north 11.30, Red Kite south-east 13.10, Tawny Owl calling 23.00 (Alex Massey)
Woodberry Wetlands: Snipe, 2 Teal, Reed Warbler, 2 Linnet (Chris Farthing)
Wormwood Scrubs: f Ring Ouzel 0800 (Mike Waller tweet)
Wraysbury GP: 4 Shelduck (C Lamsdell)
Wednesday 18th April 2018Edit
Alexandra Park: pr Treecreeper, 4 Egyptian Goose, Willow Warbler (APOG Birders)
Bankside: [SE1] 1 Chiffchaff singing outside Tate Modern, 1 Blackcap singing nr The Anchor (G Sawtell)
Dollis Brook: Grey Wagtail, Blackcap, Coal Tit, 2 Mandarin Duck upstream 07:03, Pied Wagtail, Mistle Thrush; 2 Comma (Samuel Levy)
Edgwarebury: Cuckoo calling 11.50, pr Sparrowhawk displaying, 2 Swallow back at farm, pr Long-tailed Tit nest-building, m Reed Bunting, Little Owl, 2 singing Skylark, pr Linnet, Lapwing seeing off Kestrel & Carrion Crows, 41 Stock Dove; Peacock butterfly (Fay Broom & Bob Husband)
Fairlop Waters: Sedge Warbler, 8 singing Willow Warblers, 9 Shelducks (Alan Bell)
Gallions Reach: Buzzard, 8ad Mediterranean Gull upriver, Common Tern [v few so far] (Gary A James per EBwS BN)
Holly Hill Farm: Red Kite, Kestrel, Red-legged Partridge, m Skylark singing, Pied Wagtail, 2 Lesser Whitethroat incl singing male in song flight - despite what some books state seen this species in song flight on several occasions So have I [Ken Murray], Willow Warbler singing, no sign of yesterday's Black Redstart (Robert Callf)
KGV Reservoir: m Smew still on s basin, 2 Common Sandpiper, 8+ Common Tern, 3 Sand Martins, 2f Goldeneye, 2 singing Lesser Whitethroat, 1 Yellow Wagtail over n basin - 7am, 1 singing Willow Warbler, 3 singing Chiffchaff, 5+ singing Blackcap, pr Teal 6.30-7.40am (Davey Leach); later-am 2 Whimbrel on causeway, 3 Little Gull, 3 Wheatear (Martin Shepherd); Dunlin; Clouded Yellow (Chris Farthing) Also Tony Clancy and Geoff Crabtree reported all these.
Ladbroke Square Gardens: [Communal/Private Notting Hill] 2+ singing Blackcap, Willow Warbler, Coal Tits, Goldcrest, Great Spotted Woodpecker, singing Goldfinch; butterflies - Small White, Brimstone and 1 Orange Tip (Angus Innes)
Ladywell Fields: Kingfisher, 2 Mistle Thrush, Blackcap, Chiffchaff and Song Thrush; 2 Brimstone, Small Tortoiseshell, Small White (Tom Moulton/Sue Gore/Judith Simmons)
Leatherhead: Randalls Way - 1 Common Buzzard distantly, 1 Chiffchaff, 2 Blackcap (Neil Batten)
Leyton Marsh: 3 Common Whitethroat and Willow Warbler (GH) full name pls?
London Wetland Centre: Shelduck, male Pheasant, 3 Buzzard E 1040, 5 Redshank, Whimbrel, f Redstart, 3 Willow Warbler, 5 Sedge Warbler, 4 Reed Warbler, 10 Blackcap, Lesser Whitethroat (WWT website)
Mayflower Park Wetlands: 1 Red Kite harassed by crows then NW, 2 Peregrines circling high, 1 Chiffchaff, 1m Blackcap, 1 Song Thrush; Red-Eared Slider terrapin (Isaiah Rowe)
Mudchute Farm: Lesser Whitethroat, Chiffchaff, 4 Blackcap, Great Spotted Woodpecker (Sean Huggins)
North Finchley: Buzzard and Sparrowhawk over during 30 mins back garden birding (John Colmans)
North Mymms Park: Whitethroat (per Herts BC)
Palmers Green: [N13] Red Kite low & fast N 12:44, Common Buzzard circling high drifting N then E 12:47 Both over Eaton Park Road. (Katy McGilvray)
Panshanger Park; singing m Whitethroat (Murray Brown via Herts BC)
Rainham RSPB: 3 Marsh Harrier, Buzzard, 3 Short-eared Owl (John Humble et al per ELBF FB); 7 Whimbrel, Bar-tailed Godwit, Dunlin, Greenshank, 40 Common Tern, Grasshopper Warbler, 3 Lesser Whitethroat (Howard Vaughan, Andy Reid per ELBF FB)
Richmond Park: Buzzard, Red Kite, Hobby, 3 Wheatear, m Whinchat, Common Whitethroat (P Pentek)
St James's Park: 2 Blackcap, 1 Chiffchaff (Andrew Self); 2 Common Buzzard soaring 14:30, 6 Blackcap 4m 2f; Holly Blue (Frank Nugent)
Staines Reservoir: Goosander rh, 9 Shoveler, 6 Pochard, 3 Arctic Tern, 2 Common Tern, Wheatear (Tom Jordan)
Stanwell Moor: Lesser Whitethroat & pr Bullfinch car field evg (Tony Sweetland tweet)
Stoneleigh: Stn KT17 - 2 Blackcap, 1 Chiffchaff (Neil Batten)
The Warren, Copped Hall: Nightingale (Peter Vaughan per ELBF FB)
Tooting Commons: 3 Willow Warbler, Chiffchaff, Blackcap, Red Kite E 16:35 (Alan Wilkinson)
Totteridge Valley/Darlands Lake: Mandarin Duck, f Garganey, 10 Teal, Grey Heron, Sparrowhawk, 2 Common Buzzard, 2 Coot, 57+ Stock Dove, 22 Rook, 6 Swallow, 2 Nuthatch, 10 Chiffchaff, 10 Blackcap, 3 Lesser Whitethroat, Common Whitethroat, Wheatear owl_field, 2 Linnet; Holly Blue, Peacock, Comma, Orange Tip, Brimstone (Samuel Levy)
Tufnell Park: [NW5] Red Kite low W over Dartmouth Park Rd towards Gospel Oak 15:57 (Tim Blackburn)
Tyttenhanger GPs: main gp - 2 Little Ringed Plover, Snipe, Green Sandpiper, Lesser Whitethroat, 5+ Whitethroat; fishing lake - Common Gull, 2 Great Black-backed Gull; tytt fm - m Whinchat bean crop behind fm. Flew towards paddocks 1215 (Rupert Evershed tweets); Whimbrel main gp on sand spit briefly 1025 (Steve Blake via Herts BC); 5 Little Ringed Plover evg (Simon West tweet)
Walthamstow Marshes: am - 3+ Chiffchaff and many Blackcap, Lesser Whitethroat by north paddock, 2 Sedge Warbler in Bomb Crater field, Skylark over; Sedge Warbler in Horseshoe Coppice; 5 Rook 1ad over & 4imm on Filter Beds; 3+ House Martin, 3+ Sand Martin (Paul Whiteman)
Walthamstow Reservoirs: 8-9 Buzzards 3 displaying north of Lockwood & 5-6 S, Red Kite E, Willow Warbler s end of Lockwood, 4 'commic' Terns N over Engine House (Paul Whiteman)
Wandsworth Common: Garden Warbler, 10 Blackcap, 4 Willow Warbler, 2 Chiffchaff, 4 Shoveler, Sparrowhawk (Nick Rutter)
Wanstead Flats: Ring Ouzel, f Wheatear, Willow Warbler, 5+ Lesser Whitethroat, 2 Linnet, 2 Common Buzzard, Kite [presumably Red], 3-4 Sparrowhawk, Kestrel, 3 Gadwall, 4 Shoveler, Pochard, 4 Little Grebe, Common Gull [no sign Caspian], 4 Meadow Pipit, 6 Skylark, Swallow (Wanstead Birders)
Wanstead Park: Lesser Whitethroat, Common Whitethroat, 5 Little Grebe, 2 Gadwall (Nick Croft)
West Horndon: Osprey N 0730 (Rob Burgess per ELBF FB)
West Norwood Cemetery: singing Blackcap [3 on Sunday], Nuthatch making almost hawk like sound, f Sparrowhawk; Red-tailed Bumble Bee surprised no Song Thrush here (Michael Mac)
Wildhill: Cuckoo, Lesser Whitethroat (per Herts BC)
William Girling Reservoir: relief channel - Greenshank, 3 Green Sandpiper, Shelduck, 6 Teal, 25 Sand Martin, Little Egret (Chris Farthing)
Wimbledon Common: Lesser Whitethroat on Mounds, 2m Wheatears on Plain, Red Kite low over Plain, 2 Buzzards (Adrian Podmore)
Woodoaks Farm: Lesser Whitethroat, 2 Wheatear (Roger Harbird via Herts BC)
Woodberry Wetlands: Reed Warbler, 2 Willow Warbler, 2 Linnet (Chris Farthing)
Tuesday 17th April 2018Edit
Alexandra Park: Northern Wheatear briefly early aft g/c, 5+ Chiffchaff, 2 Greylag (APOG Birders)
Bankside: [SE1] 2 Chiffchaff singing by Tate Modern 09:00 (Reuben Braddock)
Battersea Park Lake: 4 singing Blackcap, f Sparrowhawk, 3 Gadwall [right down now - always used to be at least 20 all year round], m Pochard, pr Mandarin, 2 Greylag, 5 Canada Geese, 5 Egyptian Geese; 10 Terrapins (Michael Mac) Note for moderator/site manager - Battersea Park is listed on South London when it is actually in Inner London - any chance of changing it? Thanks. MM - I'm not admin but you cd always change it & include a note to them.
Bookham Common: pr Raven circling to ne of Common then NE 1130 (P Hambrook via Surrey BN)
Brent Reservoir: Reed Warbler, 21 Blackcap, Willow Warbler, 8 Chiffchaff, 3 Cetti's Warbler, 1 Swallow, 4 Snipe, 2 Little Ringed Plover, 2 Nuthatch (Andrew Self); later 3 Little Ringed Plover, Black-headed Gull, m Peregrine over hide, m Kestrel (Andrew Verrall)
Brookmill Park: 2 Blackcap m f (Conrad Ellam)
Cassiobury Park: 1-2m Mandarin, 5 Chiffchaff, Blackcap, pr Bullfinch moorhen_alley am (Ralph Darvill tweet)
Charlton: [SE7] Hawfinch at gdn fdr briefly am (Jane Ruthven tweet)
Dollis Brook: Cormorant, Coal Tit, Goldcrest, 2 Blackcap, Grey Wagtail; also 2 Comma and lot's of Bee-fly's. (Samuel Levy)
East India Dock Basin: 2 Little Ringed Plover, Cetti's Warbler, 2 Blackcap, 3 Shelduck, 2 Teal (Paul Hyland)
Ellenbrook Fields: Cuckoo calling in sw cnr nr Notcutts, Willow Warbler singing (David Booth tweet); 5+ Willow Warbler, m Ring Ouzel flushed then high E (Andrew Steele via Herts BC )
Gallions Reach: juv Iceland Gull, Lesser Whitethroat, 2 Wheatear (Kevin J McManus); also 2 Common Tern, m Ring Ouzel (Gary James via EBwS BN)
Holly Hill Farm: Black Redstart f/imm on and around pile of builders rubble 13:23-13:35 viewed fr public path (Robert Callf)
Ingrebourne Valley: Common Tern, 4 Lesser Whitethroat, 2 Common Redstart, Yellow Wagtail, 2 Bullfinch, Siskin (Dave Morrison tweet)
Leatherhead: Stn - 1 Blackcap, 1 Chiffchaff. 4 Egyptian Geese S 18:25 (Neil Batten)
London Wetland Centre: 2 Shelduck, 2 Pintail, 2 Jack Snipe, 5 Redshank, 2 Common Tern, 4 Willow Warbler, 6 Chiffchaff, 2 Sedge Warbler, 10 Blackcap (WWT website); m Wheatear, pr Sparrowhawk, Kestrel (Bill Haines)
Mardyke, Stifford-Aveley: incl 2 Gadwall, 2 Tufted Duck, Little Grebe, 2 Little Egret, Sparrowhawk, 3 Buzzard, Woodcock, 3 Snipe, 15 Black-headed Gull, Lesser Black-backed Gull, Barn Owl, Tawny Owl, 3 Kingfisher, Skylark, 7 Cetti's Warbler, 2 Willow Warbler, 24 Chiffchaff, Reed Warbler, 26 Blackcap, 2 Reed Bunting (Alan Shearman per ELBF FB)
Mayflower Park: Northern Wheatear W (Bob Smith)
Mudchute Farm: Swallow, 2 Chiffchaff, 2 Blackcap, Jackdaw, Ring-necked Parakeet (Richard Harrison).
Olympic Park: Little Ringed Plover (JW Davies)
Orsett Fen: incl 4 Red-legged Partridge, 2 Grey Partridge, 4 Pheasant, 4 Buzzard, Peregrine, 16 Skylark, 2 House Martin, 5 Cetti's Warbler, Willow Warbler, 5 Chiffchaff, Lesser Whitethroat, 14 Blackcap, 2 Yellow Wagtail, 2 Meadow Pipit, 18 Linnet, 10 Yellowhammer, 2 Reed Bunting (Alan Shearman per ELBF FB)
Panshanger Park: Snipe, Cuckoo h (Murray Brown via Herts BC)
Rainham Marshes: 2 Whimbrel, Bar-tailed Godwit, Black-tailed Godwit, 7+ Arctic Tern downriver 11:00-11:45, 2 Common Tern, 2 Wheatear, Sedge Warbler, 3 Swallow (James Hudson); Black-necked Grebe 13:10 Aveley Pools (BirdGuides); also m Redstart, Lesser Whitethroat, 9 Whitethroat, 61 Common Tern (Howard Vaughan via ELBF FB); Cuckoo (RSPB via ELBF FB)
Richmond: SIBERIAN LESSER WHITETHROAT ssp blythi reported on Birdguides. Any observer's name please ? (FJM)
Richmond Park: Buzzard, 5 Greylag Geese, Hobby, 8 House Martin, Meadow Pipit, Red-crested Pochard, 2 Stonechat, 3 Wheatear (Friday Group members); Skylark singing Lawn Field, Swallow W over Pond Slade 14.35 (S Czapski)
St James's Park: 1 singing Willow Warbler, 1 singing Chiffchaff, 4 singing Blackcap (Frank Nugent)
Sevenoaks WR: 2 Shelduck, 0 Black-necked Grebe, 3 Little Ringed Plover, Sand Martin (Mathew Bournat tweet)
Staines Moor: Common Sandpiper R Colne s end nr stone bridge, 3 Willow Warbler, 6 Blackcap, 2 Whitethroat, 2 Wheatear m f (Robert Martin tweet)
Staines Reservoir: 5 Common Scoter, 2 Black-necked Grebe s basin, Great Northern Diver s/p n basin am (Dave Carlsson tweet); also 2 Little Ringed Plover (Dom Pia tweet); 3 Arctic Tern s basin pm (Mike Wheeler)
Stanwell Moor: 6 Lapwing [poss 3pr], 2+ Cetti's Warbler, 3 Willow Warbler, Grasshopper Warbler reeling at border w Staines Moor nr nest box am, 4 Blackcap (Robert Martin tweet)
Stocker's Lake: 15 Egyptian Goose, 13 Little Egret, 2 Oystercatcher, Common Tern, c12 Swallow, 12 House Martin, Cetti's Warbler (per Herts BC)
Swanscombe Marsh: 5 Blackcap, 7 Chiffchaff, 1 Jay, 4 Canada Goose, 5 Lesser Whitethroat, 2 Common Whitethroat, 5 Cetti's Warbler, 1 Sedge Warbler, 2 Reed Warbler, 1 Reed Bunting, 1 Little Egret, 14 Greylag Goose inc pr & 8 goslings, 12 Shelduck, 4 Teal, 5 Gadwall, 3 Common Tern, 1 Kestrel, 2 Linnet, 2 Skylark, 2 Marsh Harrier; butterflies - 5 Small Tortoiseshell, 1 Orange Tip, 4 Peacock, 1 Brimstone, 2 Green-veined White 8.30-11.30 (Roger Keith)
Totteridge Valley/Darlands Lake: f Garganey still, 3 singing Lesser Whitethroat, Swallow, 12 singing Blackcap, 9 singing Chiffchaff, 4 Buzzard, Kestrel, 8 Teal, 13 Rook, Egyptian Goose, 3 Coot incl pr on Darlands; also Brimstone, Comma, Small Tortoiseshell (John Colmans)
Trent Park: Common Buzzard, 3 Blackcap, 3 Chiffchaff, 2 Teal m f upper lake, Treecreeper, 5 Mandarin 3m 2f (Pete Lowman)
Tyttenhanger GPs: PENDULINE TIT still briefly early-am but departed high NE 0650 (Rupert Evershed tweet); 4 Little Ringed Plover, Green Sandpiper, Whitethroat, c6 Tree Sparrow, Yellow Wagtail (Alan Gardiner via Herts BC; White Wagtail main gp (Terry Smith via Herts BC)
Victoria Park: Great Crested Grebe, Red-crested Pochard, 15+ House Martins over western lake (Harry Harrison)
Walthamstow Filter Beds: Wheatear, Grey Wagtail, Meadow Pipit (per ELBF FB)
Wanstead Flats: Caspian Gull 2cy, Great Black-backed Gull 2cy, 70+ other Herring Gull, 12+ Lesser Black-backed Gull, Common Redstart, 5 Wheatear, 2 Willow Warbler, 5 Lesser Whitethroat, 3 Common Whitethroat, 2 Kestrel, 3 Sparrowhawk, 5 Meadow Pipit, 6 Skylark, 2 Pochard, 4 Linnet (Wanstead Birders)
Wanstead Park: Buzzard, m Reed Bunting, Kingfisher, 2 Teal (Nick Croft)
Woodoaks Farm: m Wheatear on rubble heap (Geoff Lapworth via Herts BC)
Monday 16th April 2018Edit
Alexandra Park: Treecreeper pr nr Conservation Pond, 2 Common Buzzard, 8+m Blackcap, m Greenland Wheatear, female-type Northern Wheatear g/c 1730-1920 at least (APOG Birders)
Bankside SE1: Willow Warbler in birches by Tate Modern (Reuben Braddock)
Brent Reservoir: pr Little Ringed Plover, 4 Common Snipe, Red Kite E, Swallow just 1 feeding for awhile over rafts, 2 Stock Dove pr doing a prolonged display over nearby South Bank, 3 Cetti's Warbler, 15 Blackcap 14m f, 8 Chiffchaff; also Speckled Wood in sunshine between hides and 110+ Yellow Dung Fly aka Golden Dung Fly behind hide many mating (Andrew Verrall)
Copped Hall Estate: 2 Red Kite, 8 Buzzard, Sparrowhawk, Kestrel, Bullfinch, 17 Linnet, 14 Yellowhammer, 2 Lesser Whitethroat, 2 Common Whitethroat, 7 Blackcap, 4 Red-legged Partridge, 3 Green Woodpecker; Hare (Chris Baldwin)
Crayford Marshes: 3 Lesser Whitethroat, 3 Whitethroat, Willow Warbler, 5 Blackcap, Common Buzzard, 6 Common Tern, 2 Oystercatcher, 4 Cetti's Warbler, 3 Chiffchaff (Kev Jarvis)
Fairlop Waters: 3 Barnacle Goose on driving range, 120 Canada Goose, 60 Greylag Goose, flock of 11m Pied Wagtail, 1 Swallow, 2 Chiffchaff, 1 Willow Warbler, 2 Green Woodpecker (Charlie Farrell)
Finchley: gdn N3 - f Sparrowhawk, Red Kite (Samuel Levy)
Leatherhead: Randalls Way - 1 Common Buzzard e over, 1 singing Chiffchaff (Neil Batten)
London Wetland Centre: 6 Redshank & Greenshank scrape, 4 Swallow, 5 Chiffchaff, 6 Willow Warbler, 3 Sedge Warbler, 11 Blackcap, Meadow Pipit NW, Linnet (WWT website); Snipe, Jack Snipe, Red Kite at 10.30 (Simon Fogg)
London Zoo: Buzzard, Peregrine both over Primrose Hill 1330 (Sam Jones)
M25 J9: 1 Common Buzzard circling (Neil Batten)
Malden Rushett: 1 Common Buzzard circling over crossroads (Neil Batten)
Mayflower Park: Red Kite S, 2 Willow Warblers (Danny Ramsay per Bob Smith)
Millfields: [E5] dead adult Mute Swan in canal next to Prince of Wales pub (Marcin Kempa)
Richmond: SIBERIAN LESSER WHITETHROAT ssp blythi still in back gardens of Selwyn & Pagoda Avenues. Parking charges apply Mon-Sat. Park only in visitors bays. (Franko J Maroevic)
Richmond Park: 6 Buzzard, 3 Sparrowhawk, 3 Hobby, Common Tern, pr Red-crested Pochard, pr Gadwall, 2 Wheatear, House Martin (P Pentek); 2 Wheatear 1m 60 acre & 1m Pond Slade both late-pm (Mike Lewis per FJM); 2 Red Kite 1 W over Pond Slade c17.35 & another a few min later (S Czapski).
Roxbourne Park: Sparrowhawk, 4 Blackcap, 3 Chiffchaff, 2 Green Woodpecker, Collared Dove, Great Spotted Woodpecker, Cormorant over, 3 Greenfinch, 3 Song Thrush (Tim Rymer)
Staines Moor: 6+ Blackcap, Whitethroat, Bullfinch, Cetti's Warbler, 2 Red Kite, Buzzard, Sparrowhawk, 2 Little Grebe, 2 Little Egret (Peter Carlill)
Teddington: Common Sandpiper on Trowlock Is 0900 (Mike Foster)
Tooting Commons: pr Sparrowhawks soaring over Graveney woods (D Peers); 1 Common Sandpiper at lake, 1 Red Kite and 1 Common Buzzard W 10:25 (Alan Wilkinson)
Totteridge Valley/Darlands Lake: Egyptian Goose, Mandarin Duck, f Garganey still, 10 Teal, Grey Heron, 3 Sparrowhawk, 4 Common Buzzard, Red Kite, 3 Lapwing, 23 Stock Dove, 2 Kestrel, 22 Rook, Swallow, 2 Goldcrest, 7 Chiffchaff, 13 Blackcap, 2 Mistle Thrush, 2 Pied Wagtail, Tree Pipit flushed from trees at Folly Farm then N, 4 Bullfinch, 8 Linnet (Samuel Levy)
Tower Hamlets Cemetery Park: 3m Blackcap (Bob Watts)
Trent Park: m Mandarin Duck, 2 Eurasian Teal pr upper lake, 2 Tufted Duck pr lower lake, m Sparrowhawk, 3 Common Buzzard, f Kestrel, 2 Stock Dove, 3 Green Woodpecker, 2 Great Spotted Woodpecker, 7 Chiffchaff, 3m Nuthatch, Treecreeper, singing m Greenfinch, 2 Bullfinch pr; Adela reaumurella (Robert Callf): also Red Kite, 7 Blackcap, 6 Mandarin 5m f, Goldcrest, Song Thrush, Chiffchaff, Common Buzzard (Pete Lowman)
Tyttenhanger GPs: PENDULINE TIT 11.25 in reedmace on main lake causeway. Can't seem to upload my photos. Steve should put them on the Herts site. Visited twice over an hour. Showing well 1450-1505 at least. Relocated 1915 north [field] edge of main gp nr life buoy TL196052 (TyttGP/Rupert Evershed tweets); also female Marsh Harrier over, 3 Lesser Whitethroat, 2 Willow Warbler, Little Ringed Plover, 2 Oystercatcher (Jo Edwards and Steve Blake)
Walthamstow Marshes: rear paddocks - Wheatear, 50+ Linnet, Mistle Thrush, Fieldfare (JW Davies); 25 Stock Dove, 1 Fieldfare eve'g (Marcin Kempa)
Walthamstow Reservoirs: No5 - 2 Arctic Tern, Common Tern till 4.30pm, small flock House Martin, Red Kite S over Filter Beds then WSW over Walthamstow Marshes; Lockwood - 4 Swallow, 8 Sand Martin (Matthew Cunningham): 2m Wheatear, Red Kite, Lesser Whitethroat, pr Sparrowhawk, Jackdaw, Rook - Lockwood 08.30-09.50 (Lol Bodini)
Wanstead Flats: Ring Ouzel, 2 Wheatear, Lesser Whitethroat, 4 Common Whitethroat, 3 Swallow, 2 Redpoll, 3 Linnet, 4 Meadow Pipit, 5 Skylark, Red Kite, Common Buzzard, 3 Sparrowhawk, Kestrel, 2 Little Owl, 3 Gadwall, 8 Shoveler (Wanstead Birders)
Wanstead Park: 2 Teal, 5 Gadwall, 8 Shoveler, 2 Little Grebe, Linnet, Nuthatch (Nick Croft)
West Finchley Station: Swallow N 12:58 (Samuel Levy)
Winchmore Hill: [N21] 1 Chiffchaff singing behind Sainsbury's 10:15 (Katy McGilvray)
Woodberry Wetlands: Great Black-backed Gull, Peregrine, 2 Linnet, 3 Red-crested Pochard, 2 Teal (Chris Farthing)
Worcester Park: Little Egret on horse fields (Bill Reid per Bob Smith)
Sunday 15th April 2018Edit
Alexandra Park: Swallow N, 2 Linnets over filter beds (Bob Watts)
Beddington Farmlands: Hoopoe [50 year local blocker], female Bufflehead [escape] (Peter Alfrey, BFBG) pics[1]
Bedfont Lakes Country Park: 1 singing Grasshopper Warbler (Patty Briggs)
Botany Marshes: 1 Raven, 4 Cetti's Warbler, 2 Chiffchaff, 1 Blackcap, 10 Shelduck, 3 Shoveler, 1 Little Egret (Charlie Farrell)
Brent Reservoir: drake Red-crested Pochard, 2 Little Ringed Plover, Green Sandpiper, 3 Cetti's Warbler, 2 Lesser Redpoll (Brent Birders)
Ewell: Court House - Red Kite high 11am (Julie Drewett)
Greenway: Kestrel, 2 Blackcap, 5 Linnet (Harry Harrison)
Heathrow: behind Polar Pk - 4+ singing Skylark, calling Pheasant, singing Chiffchaff, 2 Pied Wagtails, Common Buzzard, Red Kite (Wendy Marks)
Hilfield Park Reservoir: 6 Little Gull [5 ad & 1 2cy], 1 Sedge Warbler (Tony Blake)
KGV Res: female Common Redstart (Mike Messenger); Hawfinch E, Yellow Wagtail, Turtle Dove, Wheatear, 2 Little Gull, 2 Arctic Tern, Oystercatcher, Whimbrel, 5 Brent Goose (Tony Clancy, A.Middleton) pics
Lamorbey Park: 5 Tufted Duck, 6 Herring Gull, Great Spotted Woodpecker, singing Song Thrush, singing Blackcap, singing Chiffchaff, possible Willow Warbler, singing Goldcrest, Nuthatch, Jay, pr Jackdaw on school fields (Mike Amos)
London Wetland Centre: Jack Snipe, Wheatear, Yellow Wagtail N, male Pheasant, Shelduck, 2 Reed Warbler, 4 Sedge Warbler, 7 Redshank, 2 Pintail, 2 Wigeon, 8 Snipe, 8+ Blackcap, 3 Willow Warbler, 5 Chiffchaff (WWT website)
Mayflower Park: Peregrine, Cormorant, f Reed Bunting (Bob Smith)
Mayesbrook Park: 17 Mute Swan, Greylag Goose, 5 Mallard, 3 Pochard, Cormorant, Buzzard, Black-headed Gull, 22 Herring Gull, Collared Dove, 6 Ring-necked Parakeet, 22 Carrion Crow, Great Tit, 3 Chiffchaff, Wren, 16 Blackbird, 2 Mistle Thrush, House Sparrow, 3 Goldfinch, Pink-footed Goose, 15 Egyptian Goose, 7 Shoveler, 30 Tufted Duck, 2 Grey Heron, Coot, 2 Lesser Black-backed Gull, Woodpigeon, Green Woodpecker, Magpie, Blue Tit, Swallow, 3 Blackcap, Starling, 2 Song Thrush, Robin, 3 Chaffinch (Alan Shearman) AS - many thx for numbers - on this news page for LNHS data purposes grateful if you cd pls place each total before the species name thx
Rainham Marshes RSPB: Jack Snipe ouzel_field, Bar-tailed Godwit with roosting curlews (Ian Bradshaw); Whimbrel stone barges (Frank Nugent)
Rainham village: Red Kite (Richard Harrison)
Ranelagh Gardens: Wheatear, Willow Warbler, 2 Hawfinch NW (N.P.Senior)
Richmond Park: Buzzard, Red Kite (P. Redmond)
South Norwood CP: Cuckoo 1st since 2012 (Croydon Birders)
Staines Reservoirs: 12 Common Scoter on S basin, 3 Black-necked Grebe, 1 Pintail, Sandwich Tern over then S 12.20, Little Gull ad arr'd 12.30, 3 Common Tern, 2 Little Ringed Plover, 1 Redshank, 1 Lapwing, no sign of American Horned Lark (Bob Warden, Dom Pia et al per FJM)
Stanwell Moor: 4 Cetti's Warbler (singing males), Yellow Wagtail (C Lamsdell)
Swanscombe Marsh: 4 Swallow, c10 House Martin, 3 Marsh Harrier, Water Rail, 2 Chiffchaff, 1 Blackcap, 1 Skylark, 8 Shoveler, 1 Pochard (Charlie Farrell)
Ten Acre Wood area: Kingfisher, Peregrine, male Wheatear, 3 Skylark, 2 Red Kite, Buzzard, Kestrel, 3 Chiffchaff (Deiniol Owen)
Totteridge Valley: Belmont Farm - 12 Canada Geese, 2 Mandarin Duck, 2 Red-legged Partridge, 2 Sparrowhawk, Common Buzzard, 2 Swallow, Nuthatch, Goldcrest, 2 Blackcap, 2 Pied Wagtail (Samuel Levy)
Walthamstow Marshes: 1 Lesser Whitethroat, 2 Stock Dove, 1 Little Egret over (Rhys Evans)
Walton Reservoirs: 17 Brent Goose over then SE, 1 Glaucous Gull juv, 2 Wheatear (Chris Turner)
Wanstead Flats: 3-4 Lesser Whitethroat, Common Whitethroat, Brambling, 14 Linnet, 2 Redpoll, Reed Bunting, 8 Meadow Pipit, 6 Skylark, Red Kite, 5 Common Buzzard, 3 Sparrowhawk, Kestrel, Little Owl, 3 Swallow, 2 Shelduck, 10 Shoveler, 3 Gadwall, 2 Little Grebe, 2 Fieldfare, ad Rook (Wanstead Birders)
West Harrow: Linnet briefly on main allotment site was an unexpected patch tick, also Buzzard and Sparrowhawk soaring above (Alex Massey)
Worcester Park: Garden KT4- 1 Red Kite thermalling then S and 3 Common Buzzards past woodlands ave (Isaiah Rowe)
Saturday 14th April 2018Edit
Alexandra Park: Lesser Whitethroat singing from hawthorn perimeter to p/f, Rook briefly on pitches, Willow Warbler, 2 Linnet, Redwing (APOG Birders)
Amwell NR: ad Little Gull fr viewpt 0740 (Ron Cousins tweet); also Yellow Wagtail (Allan Meadows)
Barking Bay: 51 Shelduck, 6 Oystercatcher, 2 Avocet, 4 Ringed Plover, 1 Curlew, 2 Whimbrel ENE, Iceland Gull 2cy downriver, Yellow-legged Gull 3cy, 12 Common Tern, 1 Black Tern downriver, 4 Sand Martin, 3 singing Skylark, 8 singing Meadow Pipit, 14 Wheatear incl 9+ leucorhoa types, 4 Whitethroat, 3 Lesser Whitethroat, 2 Sedge Warbler, 2 Cetti's Warbler, 2 Chiffchaff (N.P.Senior)
Brent Reservoir: Little Egret, 8 Herons in roost incl pr on nest, pr Wigeon, Little Ringed Plover, Green Sandpiper, Lapwing, 4 Snipe, raptor movement - 4 separate Red Kite, 11 Common Buzzards over most in group 5, 3 Redwing, Willow Warbler, 4 Cetti's Warbler, 6+ Chiffchaff, 10+ Blackcap, Lesser Redpoll W; 2 Noctule Bats flying over N.Bank areas pm, Brimstones, Orange Tip m, Peacock (Brent Birders)
Canons Farm: 4 Hawfinch E (Steve Gale tweet)
Cassiobury Park: 1-2 Red Kite, 2+ Buzzard, 1 Sparrowhawk, 3 Mandarin Duck, 5 Chiffchaff, 13 Blackcap, 12+ Coal Tit, 8+ Nuthatch (Charlie Farrell)
Chigwell: M11 - Common Buzzard, Red Kite (Barbara Miller)
Clapton: [River Lea E5] 4-6 Sand Martins using drainage holes along walkway visible from opposite The Capital ring path along river (Ernest Thomason)
Crayford Marshes: 2 Buzzard, Kestrel, Greenfinch, Chiffchaff, Little Owl, 4 Meadow Pipit, 8 Skylark, 2 Oystercatcher, 4 Gadwall, 3 Wigeon, 4 Common Tern, Black Redstart, Fieldfare, Redwing, Pied Wagtail, 2 Great Crested Grebe, 2 Cetti's Warbler, Whitethroat (Donna Zimmer)
Crossness: 7 Common Scoter, 2 Sparrowhawk, Common Buzzard, 2 Kestrel, Peregrine, 40 Black-tailed Godwit, 2 Skylark, 6 Cetti's Warbler (George Kalli)
Croxley Common Moor: Lesser Whitethroat in scrub opp concrete bridge (Chris Sharp tweet)
Dover House Road PF: f Ring Ouzel still NW corner by tennis courts, also Red Kite E, 2 Linnet S (Rupert Kaye)
Dungeon Hill: Lesser Whitethroat singing 0840 (Ian Ward tweet)
Ellenbrook Fields: Curlew over, 6 Willow Warbler, Lesser Whitethroat, Common Whitethroat (Laurence Drummond tweet); Cuckoo (John Yates via Herts BC)
Enfield Island Village: Lesser Whitethroat (Martin Shepherd)
Enfield Lock: Oystercatcher S over house calling late aft (Martin Shepherd)
Finchley: gdn N3 - 2 Common Buzzard NW, 2 Red Kite W, f Sparrowhawk, singing Blackcap (Samuel Levy)
Greenwich Peninsula: 2 Peregrine, Buzzard, Wheatear f, Whitethroat, Jay seen with nesting material (Richard Green, John Bushall, Martin Hallam)
Greenwich Peninsula Ecology Park: Green Woodpecker, 2 Sand Martin, 2 Chiffchaff, up to 6 Blackcap, 2 Lesser Whitethroat (Richard Green, John Bushall, Martin Hallam)
Halfway Reach: 7 Common Scoter on Thames by ford car park opp crossness outfall 1230 (Mike Amos tweet) [new site for LNHS gazetteer TQ491812]
Hampstead Heath: 11 Fieldfare dropped into tree tops on Parliament Hill then N, 5 Linnets N/NW, Siskin W, 5 Song Thrush, 5 singing Willow W, pr Teal at back of High No1 pond (Pete Mantle, Dave Porritt)
Hyde Park/Kensington Gardens: Wheatear m southern end of Parade Ground 11am - flew up into lone plane tree (Dave Jordan); ad Mediterranean Gull high SW 1100, 10 Willow Warbler, 9 Chiffchaff, 18+ Blackcap, Linnet over (Des McKenzie tweets)
Ingerbourne Valley: 2 Red-legged Partridge, 1 Yellowhammer, Sparrowhawk, 3 Blackcap, 2 Kestrel, Willow Warbler singing (Jack Headley tweet)
Juniper Hill: 4+ Crossbill NW over hill 0730 (Ed Stubbs tweet)
KGV Res: 14 Little Gull mostly adult, drake Smew, 7 Common Tern, 4 Sand Martin (Ian Lycett)
Lilly's Wood, Orpington: 10 Chiffchaff, 15 Robin, 27 Blackbird, 45 Blue Tit, 32 Great Tit, 67 Woodpigeon, 14 Blackcap, 4 Yellowhammer, 15 Wren, 6 Chaffinch, 30 Ring-necked Parakeet, 6 Magpie, 7 Dunnock, 1 Greenfinch, 5 Song Thrush, 2 Stock Dove, 1 Common Buzzard, 4 Goldfinch, 1 Sparrowhawk, 2 Treecreeper, 5 Bullfinch, 3 Carrion Crow, 6 Nuthatch, 3 Great Spotted Woodpecker, 2 Collared Dove (Jamie Fletcher)
London Wetland Centre: 2 Pintail, Goldeneye, Jack Snipe, 8 Snipe, 4 Redshank, 4 Willow Warbler, 5 Chiffchaff, 4 Sedge Warbler, 7 Blackcap (WWT website); Lesser Whitethroat (Simon Fogg); 3 Reed Bunting, 16 Blackcap, 8 Cetti's Warbler, Sparrowhawk, Red Kite and Buzzard all am flyovers reliably reported (Angus Innes)
Mayesbrook Park: Pink-footed Goose still present, Sedge Warbler nr boathouses, Mallard & 2 ducklings (G. Harding)
New river and Myddelton house estate: Swallow and 10 Redwing (Brian Dawton)
Ponders End Lake: an interesting Aythya female maybe a Ferruginous Duck or close hybrid, quite nervous & secretive at times, bright rufous colours don't come out well in distant images, bright white wing-bar & undertail coverts (A.Middleton) pics
Priest Hill: f Wheatear, 4 Blackcap, 2 Chiffchaff, 4m Pheasant (Neil Batten)
Rainham RSPB: 7 Common Scoter, juv Iceland Gull stone barges, Willow Warbler behind main c/p, Black-necked Grebe on Aveley Pool, Great White Egret, plus 2 Avocet, Ringed Plover & Short-eared Owl on Aveley Bay (Simon Worsfold, Tom Bell, Frank Nugent); Grasshopper Warbler by marshland discovery zone (BirdGuides); 3 Iceland Gull roosting stone barges jetty 1040 (Jonathan Wasse tweet); 2m Redstarts, photographed with 3 Wheatear feeding on shoreline debris by Aveley bay; also Grasshopper Warbler reeling in nearby bush & 2 Whimbrel calling overhead (J.Murray); Hobby Wennington Marshes, Corn Bunting (Sean Huggins)
Putney Heath: 1f Redstart reported "...showing well in the trees on the hill near the [Wimbledon Common] windmill." (J Reeve per The Wimbledon Commons Ranger's Office via Les Evans-Hill)
Regent's Park: 4 Common Buzzards, Common Snipe, 35 Redwings, Firecrest, Lesser Whitethroat, 2 Sedge Warblers, 4 Willow Warblers, 7 Linnets (Tony Duckett)
Richmond: SIBERIAN LESSER WHITETHROAT ssp. blythi still in back gardens of Selwyn & Pagoda Avenues. Free parking on Sundays (Bob Watts, Franko J Maroevic)
Royal Albert Dock: 3 Common Tern (Charlie Clark)
Shadwell Basin: 2 Eurasian Jays (Roman Werpachowski)
St Albans: Hawfinch in gdn in St Stephens (Chris Hocking via Herts BC)
Sewardstone Marsh: Lesser Whitethroat, Reed Warbler, 2 Willow Warbler (Martin Shepherd)
Staines Moor: 2 Ring Ouzel still 0645 (Tony James tweet); 2 Ring Ouzel, 2 Wheatear, Cetti's Warbler, Tufted Duck, 2 Chiffchaff, Little Egret, Stock Dove, Green Woodpecker, Kestrel, Jay 07:00-08:00 (Tim Rymer)
Staines Reservoir: 14 Common Scoter [10 s basin & 4 n basin], 3ad Little Gull, Dunlin (Dom Pia tweet); AMERICAN HORNED LARK still 09:45 (Tim Rymer) will the horned lark become a pet Confirmed by DNA results, from a feather, by Martin Collinson, as of Nearctic origin and possibly one of the western races. (Roger Morton)
Stanwell Moor: Cetti's Warbler, 2 Blackcap, 5 Chiffchaff, 3 Song Thrush, Grey Heron 06:40-07:00 (Tim Rymer)
Swanscombe Marsh: 4ad Little Gulls on river, 4 Mediterranean Gull over, 2 Arctic Tern, 5 Common Tern, 2 Red-legged Partridge, Red Kite, Common Buzzard, 12 Turnstone, Wheatear, 17 Cetti's Warbler, 2 Sedge Warbler, 14 Blackcap, Common Whitethroat, 2 Lesser Whitethroat, 12 Chiffchaff (Andrew Self)
Tooting Commons: 1 Red Kite high E 15:45 (Alan Wilkinson)
Tottenham East Marsh: singing Willow Warbler, Lesser Whitethroat, Red Kite over - 9-10am (Lol Bodini)
Totteridge Valley/Darlands Lake: 2 Egyptian Geese, f Garganey still, 10 Teal, 5 Cormorant, Lapwing, 43 Stock Dove, 22 Rook, 3 Swallow, 2 Coal Tit, 3 Nuthatch, singing Treecreeper, Goldcrest, 17 Chiffchaff, 16 Blackcap, 2 Lesser Whitethroat, Common Whitethroat, Redwing, Yellow Wagtail, 4 Pied Wagtail, Reed Bunting, Meadow Pipit, 6 Linnet; raptor movement mainly NW - 7 Sparrowhawk, 5 Red Kite, 26 Common Buzzard, Kestrel; Comma, Small Tortoiseshell, Orange Tip, Peacock (Samuel Levy, Tony Clancy, Nigel Taylor) Belmont Farm: m Barn Owl seen 9pm (Belmont Farm staff per Samuel Levy)
Tower Hamlets Cemetery Park: Willow Warbler singing near The Dell (Paul Barham per Bob Watts)
Trent Park: 2 Eurasian Teal m f upper lake, 2 Tufted Duck m f lower lake, m Green Woodpecker, 2 Great Spotted Woodpecker, 6 m Blackcap, 2 m Nuthatch, Treecreeper singing, Chaffinch singing (Robert Callf); also 4 Common Buzzard, 10 Mandarin 9m,f, 3 Pied wagtail, 4 Mistle Thrush, Small Tortoiseshell.(Pete Lowman).
Trent Park GC: m Goldcrest singing, m Chaffinch singing (Robert Callf)
Tyttenhanger GPs: Curlew flew from main gp to fishing lake 0730 (TyttGP tweet)
Wallington: private gdn - 4 Hawfinch SE am, prob Osprey NE ac12:30pm - that kind of day when you lose it in the sun through both camera and binoculars (Arjun Dutta)
Walthamstow Marshes: 1 Sedge Warbler nr s entrance to wetlands, c10 Blackcap, 5 Linnet (Rhys Evans)
Walthamstow Reservoirs: 2 Common Buzzard, 2 Red Kite, Little Ringed Plover - Lockwood 10-11am (Lol Bodini) Wheatear flitting around the edge of No4 then N c2pm (Andrew McCafferty)
Walton-on-the-Hill: 2 Common Buzzard and 1 Sparrowhawk at Wildwoods Riding Centre p.m. (Neil Batten)
Wanstead Flats: 2-3 Ring Ouzel, 36 Fieldfare, 17 Redwing, 3 Wheatear, m Brambling again on Alex, Siskin, 3 Linnet, Common Snipe, Woodcock, 2 Willow Warbler, 2 Common Buzzard, 3 Sparrowhawk, 2 Kestrel, Peregrine Falcon, 4 Meadow Pipit, 5 Skylark, 3 Little Owl, 3 Gadwall, 6 Shoveler (Wanstead Birders)
West Putney: Huntingfield Rd SW15 - 3 Sparrowhawk incl a migrant high SE, Red Kite W, 16 Buzzard various directions, Rook NE, Crow a presumed migrant very high SE, 7 Linnet S/E (Rupert Kaye)
Woodberry Wetlands: Sedge Warbler, 2 Linnet, 2 Willow Warbler, 3+ Reed Bunting, Kestrel (Chris Farthing)
Wormwood Scrubs: 8 Blackcap, 7 Chiffchaff, 6 Linnet, m Kestrel, 1 Meadow Pipit (Charlie Farrell)
Worcester Park: Garden KT4- 1 prob Goshawk NE 13:41 (Isaiah Rowe); Common Buzzard high N, Little Egret on horse fields (Bob Smith)
Wraysbury GP: Little Egret, Oystercatcher, 4 Shelduck, Whitethroat (C Lamsdell)
Friday 13th April 2018Edit
Alexandra Park: 2 Fieldfare, Redwing, Barn Swallow, Greylag Goose, Willow Warbler (APOG Birders)
Boxer's Lake, Enfield: 2 Grey Heron & 1 nest w yg, m Mandarin Duck, m Gadwall - unusual only my second record here, 2 Shoveler m f, 7 Tufted Duck 4m 3f, 2 ad Lesser Black-backed Gull, f Pied Wagtail, Song Thrush, m Blackcap singing, 2 Willow Warbler singing, 2 Goldfinch (Robert Callf)
Blackheath: Point Hill - 1 m Kestrel (Mike Paice)
Brent Reservoir: Little Ringed Plover, Snipe, Swallow, Sedge Warbler, 2 Cetti's Warbler, 2 Willow Warbler, 7+ Chiffchaff, 10+ Blackcap (Andrew Self); no sign of LRP later, but Green Sandpiper, 4 Snipe, 2f Sparrowhawks circling above Bridge, 2 more Swallows, 4 House Martins, 1 Sand Martin, 5 Herons incl 2 on one nest (Andrew Verrall)
Clerkenwell: Peregrine probable m soaring w Lesser Black-backed Gulls 2:15pm (Dan Fletcher)
Cornmill Meadows: 10 Teal, 10 Shoveler, Lapwing, Water Rail, 3 Little Egret, Kingfisher, Swallow, 2 Sedge Warbler, 2 Willow Warbler, 10+ Chiffchaff, 7+ Blackcap, 2 Raven circling high overhead mobbed by Rooks, Grey Wagtail, 2 Linnet, Reed Bunting (Simon Papps)
Dover House Road PF: f Ring Ouzel still in NW corner by tennis courts often elusive (Rupert Kaye)
Finchley: gdn N3 - m Blackcap, m Brambling, 6+ Stock Dove (Samuel Levy)
Greenford: [UB6] Red Kite low over mobbed by 2 parakeets (Neil Anderson)
Hogsmill Open Space: 1 Little Egret perched in trees above river 08.40 (Neil Batten)
Hollyoak Wood Park; Mistle Thrush, 2 Jay, 2 Coal Tit, Grey Heron, Blackcap (Eric Brown)
Kelsey Park: 2 Black Swan pr mated while I was in the park, 10+ Mandarin Duck (Ian Young)
KGV Reservoir: 1 Whimbrel N over n basin 07.05am, m Scaup & Little Ringed Plover on n basin, 2 Arctic Tern & 8 Common Terns on s basin, 2 singing Sedge Warbler, singing Willow Warbler, pr Goosander, 7 Goldeneye 3m, Green Woodpecker, 20+ Sand Martin, 12+ Swallow, 5 singing Blackcaps, 2 singing Chiffchaff (Davey Leach)
Leyton Marsh: 3 Sand Martin (Alastair Dent)
London Wetland Centre: m Shelduck on wader scrape [female possibly in nest box], 2 Pintail grazing marsh, 4 Redshank grazing marsh and wader scrape, 4 Snipe wader scrape and grazing marsh, 2 Jack Snipe wader scrape, 2 Reed Warbler reedbed and behind dulverton, 4 Sedge Warbler reedbed/main lake/nr peacock_hide, 5 Willow Warbler wildside/south route/sheltered lagoon, 7 Chiffchaff wildside/west route/sheltered lagoon, m Redstart E.bund in NE cnr, Glaucous Gull main lake then reservoir lagoon, 2 Great Crested Grebe m f displaying, Goldeneye reservoir lagoon, m Peregrine over sheltered lagoon, 3 Mandarin 2m f, m Great Spotted Woodpecker on feeders, 2 House Martin, 2 Swallow, numerous nesting Sand Martin (Simon Fogg, Martin Honey, WWT website); m Yellow Wagtail on grazing marsh c12.00 (Nick Moll)
Margravine Cemetery: 2m Blackcap 1 singing (Nathalie Mahieu)
Notting Hill: singing Willow Warbler in Pembridge Villas (Pete Mantle)
Pimlico Gardens: Common Tern W (N.P. Senior)
Queen's Park, Kilburn: f Peregrine with prey over Harrow Rd (Charlie Farrell)
Rainham RSPB: Black-necked Grebe (Tom Bell via London Birds FB)
Richmond: The Eastern race Lesser Whitethroat has now been confirmed as a genetic blythi ssp. [Martin Collinson twitter] Still present in back gardens of Selwyn & Pagoda Avenues. (Michael McCarthy per FJM)
Richmond Park: 4 Buzzard, 1 Lesser Redpoll, 10 Reed Bunting, 3 Skylark, 10 Stonechat, 3 Swallow, 3 Wheatear (Friday Bird Group)
Roxbourne Park: Red Kite drifting N, Mistle Thrush, Chiffchaff, 2 Great Spotted Woodpecker, Green Woodpecker (Tim Rymer)
Ruislip Woods: 6+ Hawfinch 3 close to The Waters Meet 10:10 & 3+ down from Wiltshire Ln entrance 10:40 (Richard Francis)
Rye Meads RSPB: 2 Garganey pr on distant flood fr Lapwing hide until 15.15 at least (Murray Orchard via Herts website)
Sevenoaks Wildfowl Reserve: 8 Black-necked Grebe, 1 Sparrowhawk, 3 Little Ringed Plover, 2 Great Spotted Woodpecker, 1 Willow Warbler, 1 Firecrest (Jack Headley tweet)
Staines Moor: 2m Ring Ouzel, 1-2 Whinchat, 6 Wheater, 6 Reed Bunting, 10+ Skylark, 20+ Meadow Pipit, Water Pipit, Linnet, Redshank, 2 Little Egret, 10 Lapwing over, 4 Shelduck over, 2 Cetti's Warbler, 10+ Chiffchaff, Willow Warbler, 6 Blackcap, Great Spotted Woodpecker, Green Woodpecker, 3 Sand Martin, Swallow, 8 Buzzard circling S, 3 Red Kite, Hobby, 4 Kestrel, 2 Pheasant (Nick Baker)
Stave Hill: 5m Blackcap singing, 2 Chiffchaff, 1 Willow Warbler singing, 1 Sedge Warbler on Globe Pond am (John & Janet Cadera)
Swanscombe Marsh: 4 Chiffchaff, 5 Cetti's Warbler, 15 Gadwall, 7 Shoveler, 8 Shelduck, 9 Greylag Goose, 4 Canada Goose, 1 Peregrine Falcon, 1 Wheatear, 1 Little Egret, 2 Linnet, 1 Skylark, 13 Turnstone, 22 Redshank, 1 Dunlin, 2 Oystercatcher, 1 Green Woodpecker h, 1 Meadow Pipit, 2 Marsh Harrier, 5 Great Crested Grebe roosting on river, 4 Ring-necked Parakeet, 1 Water Rail h, 4 Tufted Duck, 6 Common Tern feeding on Thames off St Clements buoy, 2 Pochard, 2-3 Grey Heron on nests (Roger Keith)
Totteridge Valley/Darlands Lake: 15 Canada Geese, 2 Egyptian Geese, 3 Mandarin Duck, 10 Teal, Cormorant, 2 Coot, 2 Lapwing, Kestrel, 22+ Rook, Raven over Darlands, 3 Nuthatch, singing Willow Warbler, 18 singing Chiffchaff, 14 singing Blackcap, 7 Redwing, Song Thrush, 15 Starling, 2 Pied Wagtail, 2 Meadow Pipit, 2m Reed Bunting, 6 Hawfinch, 7 Siskin, 3 House Sparrow, 4 Linnet (Samuel Levy)
Tower Hamlets Cemetery Park: Common Snipe low N 1240 was an unexpected patch tick, 2m Goldcrest, 2m Blackcap yesterday (Bob Watts)
Trent Park: Mute Swan 1s over, 2 Eurasian Teal m f upper lake, 2 Tufted Duck m f upper lake, m Kestrel, 8 Moorhen lower lake, 2 singing male Willow Warbler lower lake, 3 m Nuthatch, 5 Goldfinch (Robert Callf)
Trent Park Equestrian Centre: 2 m Barn Swallow, 13+ House Sparrow 7m 6f (Robert Callf)
Tufnell Park: [N7] Red Kite over Huddleston Rd 16:30 - first I've had here (Reuben Braddock)
Wallington Garden: Red Kite S 13:10 (Arjun Dutta)
Walthamstow Marshes: Ring Ouzel m on Lammas Meadow TQ354874 10:00 feeding on ground then chased into thicket by Blackbirds, 6 Stock Dove and c20 Linnet on rear paddocks (Alastair Dent)
Walthamstow Reservoirs: m Ring Ouzel 2cy still 100-200m south of engine house, pr Teal, Yellow Wagtail No1, 3 Goldeneye m 2f No5, c50 Hirundines of all 3 species [species estimates pls?] No4/No5 causeway, 12 White Wagtail, 1 Yellow Wagtail, 6+ Brambling betw No2 & 3 mostly behind Fisherman's Hut, Willow Warbler by Engine House, Common Sandpiper and Green Sandpiper on Lockwood, many Chiffchaff and Blackcaps around (Walthamstow Birders)
Wanstead Flats: Tree Pipit doing sub-song [present all day at the viz mig point], 10 Meadow Pipit, 5 Skylark, 10 Linnet, Common Whitethroat, Willow Warbler, Peregrine Falcon, Kestrel, Red Kite, Shelduck, 2 Teal, 3 Gadwall, 14 Shoveler, 3 Pochard, 20+ Tufted Duck, 2 Swallow, 2 Little Grebe (Wanstead Birding)
Westminster: Common Buzzard high S over Westminster Abbey 15:00 (Frank Nugent)
Woodberry Wetlands: Whitethroat, 2 Linnet, 2 Willow Warbler, 2 Shelduck, Snipe, 5+ Reed Bunting (Chris Farthing)
Woodford Green: Black Redstart in my small NE London garden (Tony Brown) A few photos on the my blog here
Worcester Park: Garden KT4- 2 Sparrowhawk thermaling then high N and 1 Little Egret S (Isaiah Rowe)
Thursday 12th April 2018Edit
Alexandra Park: 2 Willow Warblers, 4 Swallow, 3 House Martin, Sand Martin Wood Green Res 1730, Greylag (APOG Birders)
Bankside SE1: Blackcap (f) still, singing Chiffchaff (Reuben Braddock)
Belair Park: singing Willow Warbler, Chiffchaff, Little Grebe (Dave Clark)
Brent Reservoir: 5 singing Willow Warbler, Sand Martin, 5 Snipe (Andrew Self); Nuthatch, Coal Tit and Chiffchaff in Cemetery, Greylag Goose (Andrew Verrall)
Claverhambury: 3 Red Kite late aft 2 behaving as a pair (Martin Shepherd)
Dollis Brook: Totteridge Station - Barnet Lane: 3 Singing Chiffchaff, 1 Singing Blackcap (Samuel Levy)
Dover House Road PF: 2 f Ring Ouzel nw corner elusive at times 08.00 (Rupert Kaye) [new site for LNHS gazetteer TQ225742]
Finchley: gdn N3 - m Blackcap (Samuel Levy)
Greenwich Peninsula Ecology Park: Little Grebe, 6 Blackcap 5m, Chiffchaff, 2 Reed Warbler, 4 Sand Martin (Richard Green, John Bushall)
Hackney Marshes: 5 Stock Dove by cricket squares, 8 singing Blackcap, 4 singing Greenfinch 07:00-08:00 (Alastair Dent)
Hampstead Heath: Lesser Whitethroat singing (very briefly) in hedge above bandstand, also a Redpoll NW 1600 (Pete Mantle)
Heathrow: 4 Wheatear 2m,2f (Adam Cheeseman)
Holyfield Hall Farm: Pink-footed Goose, Yellow Wagtail & 2 Swallow (J.Murray)
Iver: 3 Little Egret (Chris Lamsdell)
KGV Res: 1 Brent Goose, 2 Common Scoter, drake Smew, 3 Common Tern, 1 Little Ringed Plover, 1 Willow Warbler (I Lycett)
London Wetland Centre: Jack Snipe, 4 Sedge Warbler, 5 Willow Warbler, 6 Chiffchaff, 5 Blackcap, 4 Redshank, Reed Warbler, 3 Swallow, 3 Pintail - 2 Ring Ouzel (m & f) WWT website/Simon Fogg et al). 1 House Martin, 15+ Sand Martin (Bill Haines).
Margravine Cemetery: Sparrowhawk w Starling kill (Nathalie Mahieu).
Mayflower Park: male and female Reed Buntings (Bob Smith)
Millfields E5: 2 Kestrel (m&f) in orchard, Peregrine with prey on pylon 16:30 (Alastair Dent)
Pinner The Croft Park 8 Goldfinches,pr Chaffinches , Green Woodpecker, 2 Coal Tit (N Barratt)
Regent's Park: 2m Wheatear on the muddy patch east of area 37 at 08.30 though then flushed by dogs (Tim Blackburn)
Richmond: Eastern race Lesser Whitethroat still in back gardens of Selwyn & Pagoda Avenues. Parking charges apply Mon - Sat. Park only in visitors parking bays. (Franko J Maroevic)
Richmond Park: 1 m Ring Ouzel flying south over Gorse enclosures to Sidmouth Wood (Hugh Bradshaw)
St James's Park: 1-2 singing Willow Warbler, 1 singing Chiffchaff and 4 singing Blackcap (Frank Nugent).
Roding Valley Meadows NR: 2 Gadwall, 15+ Tufted Duck, 3+ Green Woodpecker, 2 Swallow, 5+ singing Chiffchaff, 8+ singing Blackcap, singing Willow Warbler, 2 Grey Wagtail (Simon Papps)
Southfields (Girdwood Road, SW18): 1m singing Blackcap in back garden (Martin Honey)
Staines Moor: 2m Ring Ouzel still nr butts (Birdguides); also m Whinchat, 5 Wheatear, Hobby (Tony Clancy)
Staines Res: 12 Common Scoter still, 10+ Swallow to 0730 (Gordon Shaw, Bob Warden); AMERICAN HORNED LARK still causeway, 2 Common Tern, 2 Little Ringed Plover (Tony Clancy)
Thames Barrier Park: 26 Teal, 2 Grey Plover until pushed by tide, Little Gull ad E, 2 Yellow-legged Gull 2cy 4cy, Wheatear, 2 Blackcap, 9 House Sparrow, 3 Linnet (N P Senior)
Totteridge Valley/Darlands Lake: Lapwing, Sparrowhawk, 9 Chiffchaff, 4 Blackcap, 4 Rook, 11 Teal, 2 Egyptian Goose (John Colmans)
Trent Park: 4 Eurasian Teal 2m 2f, 2 Common Pochard m f, 9 Tufted Duck 5m 4f, m Kestrel, 2 Blackcap, 4 Chiffchaff, Willow Warbler singing by lower lake, Nuthatch, 11 Goldfinch (Robert Callf)
Vicarage Farm: [private site viewable fr Trent Pk] m Northern Wheatear, 3 Mistle Thrush, 2 Song Thrush, 7 Pied Wagtail, Kestrel, Meadow Pipit, m Pheasant, 2 Starling, Stock Doves, Blackcap, Chiffchaff flycatcher_cnr (Pete Lowman)
Victoria Embankment Gardens: 4 Blackcap, 1 Willow Warbler (N P Senior)
Walthamstow Reservoirs: scores of hirundines [estimated nos. pls?] of all 3 species mostly over No4 but spread around, 8 Brambling behind Fisherman's Hut on No4 but also on northern island on No3 and along closed footpath betw No1/No2/No3 Reservoirs, 2 Willow Warblers, many Chiffchaff and Blackcaps around site, 8 White Wagtails on No4/No5 causeway, 1+ Sandwich Tern SW late am, Oystercatcher around E Warwick Is, 1 Teal E Warwick; eveg 2 Yellow Wagtail, Greenshank over No4, Ring Ouzel again south of Engine House (Walthamstow Birders)
Woodberry Wetlands: 2 Linnet, Lesser Redpoll, 3 Red-crested Pochard, Willow Warbler, Sand Martin, 4 House Martin, 3 Swallow (Chris Farthing & Tony Butler)
Wanstead Flats: m Brambling still, 2 Linnet, pr of Wheatear, 2 Redwing, Yellow Wagtail, 8 Meadow Pipit, 2 Swallow, 5 Skylark, 16 Shoveler, 3 Gadwall, 2 Teal, 3 Pochard, 20 + Tufted Duck, 2 Little Grebe, eastern sounding Chiffchaff again nr Alex (one also in the OSW) (Nick Croft) Fieldfare (Bob Vaughan)
Worcester Park: 2 Little Egrets (Bob Smith)
Wednesday 11th April 2018Edit
Alexandra Park: Linnet heard, 2 Willow Warblers, Swallow (APOG Birders)
Bankside SE1: Firecrest in birches at e end of Tate Modern, very vocal; Blackcap (f) near Founders Arms 13:00 (Reuben Braddock)
Bentley Priory: 3 Hawfinch next to path at n end close to Spring Meadow 13:50 (Richard Francis)
Blackheath, Vanbrugh pits: singing Blackcap (Mike Paice)
Brent Reservoir: Sedge Warbler, Willow Warbler, 18 singing Blackcap, 10 singing Chiffchaff, 3 Cetti's Warbler (Andrew Self); 13 Pochard, 3 Common Snipe, 13 Swallow N, also a hybrid Canada Goose, orange bill and legs (Magnus Andersson, Andrew Verrall)
Brockwell Park: female Brambling round bottom pond then flew, pr Blackcap (Michael Mac)
Finchley: Garden N3 - M Blackcap (Samuel Levy)
Greenwich Park, by deer enclosure: singing Blackcap (Mike Paice)
Hackney Marshes: pr Blackcaps, Kingfisher (J-P Elmes); 9 Stock Dove, Green Woodpecker (Alastair Dent)
Holland Park: drumming Great Spotted Woodpecker, 3 Song Thrush, singing Blackcap, Chiffchaff, 2 Goldcrest, Yellow Wagtail N, 15+ Meadow Pipit N (Simon Papps)
Hyde Park/Kensington Gardens: Yellow Wagtail NE, 16 Meadow Pipit N, 1 Barn Swallow, 4 Song Thrush dropped in, 10 Blackcap, 1 Whitethroat, 7 Chiffchaff, 2 Willow Warbler, Firecrest male south side of Serpentine Bridge, 2 Lesser Redpoll W, Brambling E (N P Senior)
Lamorbey Park: Willow Warbler singing (Ian Stewart)
Leatherhead, Randalls Way: Singing Blackcap by Howden's Joinery (Neil Batten)
London Wetland Centre: Female Black Redstart, male Ring Ouzel (found by M. Lewis) (WWT website/Twitter, Martin Honey) Also 11 Chiffchaff, 1f Sparrowhawk, 10 Cetti's Warbler, 8m 1f Blackcap, 3 Willow Warbler, 2m 1f Reed Bunting, 1m 1f Jay nest building, 9 Common Snipe, 3 Jack Snipe, 3 Redshank, 2 Swallow heading N, numerous Sand Martin incl local nesters, 4 Wigeon, 1m Shelduck, 1m 1f Mandarin, 4 Stock Dove, 1 GSWoodpecker, 3 Siskin (Martin Honey) Also: Goosander 1 - redhead in to main lake c1315, landed and then not seen again, Little Gull 1 (2nd summer- not an adult- different bird to previous days?), House Martin 4-5 (Sam Jones)
Mayflower Park Wetlands: 3 Chiffchaff, 2 male Blackcap, 1 Grey Heron and 1 Cormorant (Isaiah Rowe)
Mayesbrook Park: Pink-footed Goose, Sand Martin (3), Sedge Warbler, Willow Warbler, Chiffchaff (4), Blackcap (4), Grey Wagtail, Sparrowhawk, Great Spotted & Green Woodpecker, Great Crested Grebe, Egyptian Goose (8+). (Alan Shearman)
Millfields E5: Peregrine on pylon 09:00 (Alastair Dent)
Morden Cemetery: 2 Little Owls(Bob Smith, Bill and Janis Reid)
Raynes Park: Pied Wagtail outside Waitrose (P. Redmond)
Richmond : Eastern race Lesser Whitethroat still in back gardens of Selwyn & Pagoda Avenues. Parking charges apply Mon - Sat. Park only in visitors bays. (Franko J Maroevic) - Genetically confirmed as Siberian Lesser Whitethroat S. c. blythi (Thom Shannon)
RSPB Rainham Marshes: 5 Chiffchaff, 2f 7m Blackcap, 14 Cetti's Warbler, 32+ Curlew, 44 Shelduck, 16 Common Tern, 14 Sand Martin, 2 Willow Warbler, 4 Oystercatcher, 3 Swallow, 11 Bar-tailed Godwit, Great White Egret, 6 Great Crested Grebe, 32 Tufted Duck, 5 Whimbrel, 253 Wigeon, 120 Shoveler, 15 Common Snipe, 20 Grey Plover, 3 Dunlin, Wheatear, 4 Sedge Warbler, 7 Little Egret, 12 Reed Bunting, Reed Warbler, Common Buzzard, m Stonechat, 17 Pochard, 2m 1f Marsh Harrier, 4 Little Grebe, Stock Dove, 2 Ruff, 4 Pintail, Jack Snipe, 2ad Med Gulls, m Ring Ouzel, 7 Black-tailed Godwit, Short-eared Owl (Samuel Levy et al)
Ruislip Woods: 5 + Hawfinch down from Wiltshire Lane entrance 09:10 (Richard Francis)
Shortwood Common: Red Kite (Adam Cheeseman)
Staines Moor: 2 Ring Ouzel (males), Whinchat (Birdguides)
Staines Reservoirs: 12 Common Scoter still on S basin early am, 4 Little Gull, 2 Yellow Wagtail on causeway. (Bob Warden per FJM) No sign of AMERICAN HORNED LARK but Water Pipit, 3 Little Gull and 12 Common Scoter (Jack Headley tweet) If individuals keep deleting published sightings I will not bother to enter any future records on this site!!! The Horned Lark was on the west end of the causeway early aft, also seen was the Sandwich Tern. (Roger Morton)
St Paul's: Blackcap singing in cathedral gardens 7.30am (Ian Bradshaw)
Trent Park: 2 Grey Heron incl leucistic bird, 3 Mandarin Duck 2m f, 4 Eurasian Teal 2pr upper lake, 4 Tufted Duck, 3m Blackcap, 6 Chiffchaff, Willow Warbler sub-song lower lake, Goldcrest, 3m Nuthatch, Treecreeper (Robert Callf)
Vicarage Farm: [private site viewable fr Trent Pk] 3 Northern Wheatear 2m f flycatcher_cnr & horse field, 6 Pied Wagtail, 5 Mistle Thrush, 6 Song Thrush, m Pheasant, Green Woodpecker (Pete Lowman) What time were these sightings, please? - R Callf. Hi Robert - They were present at about 16;00 hours and i watched them for about thirty minutes. They were still present when i left. rgds Pete
Walthamstow Marshes: Paddocks: 1 Brambling (f) with 24 Linnet on rear paddock N of the one with two small elders, 2 Shelduck, 2 Lesser Black-Backed Gull, 2 Little Egret, 1 singing Willow Warbler; Bomb Crater Field: 2 Meadow Pipit over, 1 Kestrel, 1 Reed Bunting; Leyton Marsh: 2 Sand Martin 09:30 – 10:30 (Alastair Dent); Redstart in Horseshoe Thicket 15:30 (Michael Pattinson)
Walthamstow Wetlands: M Ring Ouzel near old hide, then near Engine House till 18:40 at least; 6 Brambling still behind fishermen's hut, assorted hirundines. Also M & F Wheatear on Lockwood early, and C Sandpiper, 14 White Wagtails and 1 Yellow Wagtail (Walthamstow Birders). Lockwood @18.00: Brent Goose, drake Wigeon, 3 Swallow, m Wheatear (Lol Bodini).
Wanstead Flats: m Brambling. 3 Wheatear (2m), 20 + Song Thrush, Mistle Thrush, 2 Redwing, Common Whitethroat, eastern sounding Chiffchaff on Alex, 30 + Meadow Pipit, 7 Skylark, 2 Swallow, 15 Linnet, 17 Shoveler, 5 Gadwall, 3 Pochard, 2 Little Grebe, 2 Little Owl (Nick Croft)
Wanstead Park: 7 Siskin, 2 Redpoll, Linnet, 3 Little Grebe, 4 Swallow (Nick Croft)
West Norwood Cemetery: Chiffchaff, f Sparrowhawk, Green and Great spotted Woodpeckers; cemetery is undergoing tree and undergrowth removal preparing to bid for up to £7 million redevelopment grant, to make it more attractive for the public to look round at weekends, bizzarre or what? (Michael Mac) If they did that, I wouldn't be seen dead in the place!
Wimbledon Common: 3 Meadow Pipit on the Plain am (Les Evans-Hill)
Woodberry Wetlands: 2 Linnet (my first ever here), Snipe, 4 Swallow, Sparrowhawk (Chris Farthing)
Wormwood Scrubs: 4 Chiffchaff, 2 Blackcap, pr Linnet, 2 Redwing (Charlie Farrell)
Worcester Park: 3 Little Egrets (Bob Smith) 1 Peregrine on pylons (Isaiah Rowe)
Tuesday 10th April 2018Edit
Alexandra Park: Swallow E over Wood Green Res 0740 (Bob Watts)
Amwell NR: Mediterranean Gull 1s S & Sandwich Tern 0650 (Barry Reed tweet); ST still 0730 (Ron Cousins tweet); ST flew off early-am (Barry Reed via Herts BC)
Brookmans Park: Brambling, 14 Siskin (per Herts BC)
Brookmill Park: Great Spotted Woodpecker, Song Thrush, 2 Blackcap male & female (Conrad Ellam)
Crayford Marshes: Sedge Warbler, 2 Whitethroat, 2 Peregrine, 12 Common Tern, Green Sandpiper, 3 Common Sandpiper, 3 Blackcap, 4 Chiffchaff, Little Egret, 9 Cetti's Warbler, 3 Great Crested Grebe (Kev Jarvis)
Dagenham Chase: 3 Shelduck, 12 Shoveler, 4 Gadwall, 4 Wigeon, 10 Teal, Sparrowhawk, Buzzard, Water Rail 5 Lapwing, 3 Snipe, Green Sandpiper, 2 Common Tern, Kestrel, Peregrine, 8 Sand Martin, 5 Swallow, House Martin, Cetti's Warbler, 3 Willow Warbler, Whitethroat, pr Bullfinch, 3 Siskin, 3 Reed Bunting (Vince Halley-Frame per ELBF FB)
Fairlop Waters: Arctic Tern main lake west end on blue buoy TQ455906 (Steve Bacon per LEBF FB); Red Kite (per ELBF FB)
Finchley: Garden N3 - 6 Stock Dove, Common Buzzard W 13:05, Chiffchaff, Blackcap. (Samuel Levy)
Hendon: Female Sparrowhawk over RAF Museum 2:30pm (Dan Fletcher)
Hilly Fields Park, Enfield: 6 Nuthatch 5m f (Robert Callf)
KGV Reservoir: Red-throated Diver am (Stuart Hamilton per ELBF FB); pm - 2 Common Tern, 10 Common Scoter, 3 Goldeneye, 1 Goosander, 3 Wigeon, 4 Yellow Wagtail, 3 Arctic Tern, 1 Little Gull (Tony Clancy, Mike Messenger)
Ladywell Fields: Little Egret, Mandarin Duck m, Great Spotted Woodpecker, 2 Song Thrush one singing, Nuthatch, singing Chiffchaff, 2 Collared Dove. (Keith Chambers)
London Wetland Centre: male Redstart [Ldn foy] sheltered lagoon by peacock_tower pm, 2 Little Ringed Plover, Water Pipit in almost full summer plumage, Rock Pipit, 2 Jack Snipe, 2 Pintail, 5 Snipe, 4 Redshank, 18+ Sand Martin, 7 Swallow, 2 House Martin, 3 Willow Warbler, 10 Chiffchaff, 2 Sedge Warbler, 10+ Blackcap, Water Rail (WWT website)
Mardyke, Stifford-Aveley: 4 Gadwall, 4 Teal, 2 Tufted Duck, 5 Little Egret, 2 Buzzard, Kestrel, Kingfisher, Skylark, 5 Cetti's Warbler, 2 Willow Warbler, 15 Chiffchaff, Reed Warbler, 20 Blackcap, 3 Yellow Wagtail, 2 Pied Wagtail, Reed Bunting (Alan Shearman per ELBF FB)
Mayflower Park: 1 Redwing (Bob Smith); 1 male Reed Bunting, 1+ Chiffchaff and a male Blackcap (Isaiah Rowe)
Olympic Park: Osprey circling over copper box arena 1035 then NE (Jack Wright tweet)
Rainham RSPB: Great White Egret still, 2 Wheatear (per ELBF FB)
Raynes Park: Mute Swan flying E over Richmond Road gardens 0815, Sparrowhawk circling 1412 then SE (P. Redmond)
Regent's Park: Yellow Wagtail, pr Wheatears, Sedge Warbler, 2 Willow Warblers, 4 Chiffchaff, 8m Blackcaps, 1f Reed Bunting.(Tony Duckett).
Richmond: Eastern race Lesser Whitethroat still in back gardens of Selwyn & Pagoda Avenues. Parking charges apply Mon - Sat. Park only in visitors bays. (Franko J Maroevic)
Sevenoaks Wildfowl Reserve: 8+ Egyptian Goose, 4 Little Ringed Plover, 1 Snipe, 1 Kingfisher, 1 Sand Martin, 6+ Swallow, 1 House Martin, 3 Pied Wagtail. (Jack Headley tweet)
Sleapshyde: 2 Little Egret by rain pool in horse field nr A414 TL195064 (Steven Pearce via Herts BC)
St James's Park: Jackdaw (Toby Mylett)
Staines Moor: pr Ring Ouzel NW cnr on top of mature hawthorns on left just before sign for butts pond, 3 Redshank, 15+ Linnet, 10+ Skylark, 5 Reed Bunting, 1 Cetti's Warbler (heard), 1 Kestrel, 1 Red Kite, 1 Green Woodpecker, 1 Fieldfare, 2 Chiffchaff (Adam Bolton); 2 RO still 1315, also Buzzard, 4 Chiffchaff, Wheatear (Jim Sweetland tweet); 2m RO still nw cnr of Moor 1500 (Dom Pia tweet); 3 Ring Ouzel 2m f nw cnr by butts pond pm (Bob Waller per Lee Dingain tweet)
Staines Reservoirs: 1 Great Northern Diver sum plum on N basin 09.00, 12 Common Scoter still, 2 Arctic Tern, 4 Little Gull early am (Bob Warden per FJM); 3 Little Ringed Plover, 2 Black-necked Grebe, AMERICAN HORNED LARK still, 2 Arctic Tern, Common Tern, 2 Little Gull and the 12 Common Scoter still present mid day but no sign of the GND (John Edwards); Curlew SE 10:15 and 3 Little Gulls (2 ad & 1 imm) and small number of hirundines 10+ Swallow, 2-3 Sand Martin through (Bill Haines)
Stave Hill: Red Kite over (Richard Page-Jones), 2 Willow Warbler, 2 Chiffchaff, 6 Blackcap, 3 Jay, Song Thrush, Great Spotted Woodpecker (John Cadera & Richard Page-Jones)
Stoneleigh Station KT17: 1 singing Chiffchaff, Carrion Crow sitting on nest, 13 Ring-necked Parakeet (Neil Batten)
Strayfield Road, EN2: 2 Barn Swallow back on territory (Robert Callf)
Swanscombe Marsh: 24 Greylag Goose, 2 Egyptian Goose, 5 Chiffchaff, 2 Blackcap, 3 Greenfinch, 10 Shelduck, 2 Canada Goose, 3 Cetti's Warbler, 2 Skylark, 8 Gadwall, 4 Shoveler, 1 Marsh Harrier (m), 1 Song Thrush, 1 Little Egret, 3 Grey Heron, 1 Yellowhammer, 1 Green Woodpecker, 5 Swallow, 1 Wheatear, 37 Redshank, 10 Turnstone (Roger Keith)
Tooting Commons: 1 Buzzard S, 1 Sparrowhawk, 2 Green Woodpeckers (Alan Wilkinson)
Totteridge Valley/Darlands Lake: 17 Canada Geese, 2 Egyptian Geese, f Garganey, 12 Teal, Sparrowhawk, 3 Common Buzzard, 2 Coot, Lapwing, 42 Stock Dove, 22 Rook, Swallow, 2 Nuthatch, 4 Goldcrest, 9 Singing Chiffchaff, 2 Singing Blackcap, 2 Song Thrush, 65 Starling, 2 Pied Wagtail, 2 Linnet. (Samuel Levy)
Trent Park: Common Buzzard, Red Kite, 3 Blackcap, Chiffchaff, Goldfinch, 2 Teal m f upper lake, 5 Mandarin 4m f, 4 Tufted Duck 2m 2f, also Muntjac crossing Ferny Hill Road (Pete Lowman)
Tufnell Park N7: 1 Blackcap (m) on Huddleston Road 09:20 (Reuben Braddock)
Tyttenhanger GPs and Willows Farm: 2 Little Ringed Plover & Green Sandpiper main gp, 2 Oystercatcher willows fm lake (TyttGP tweet); Sedge Warbler main gp (per Herts BC)
Walthamstow Wetlands: Sandwich Tern, 2 Yellow Wagtails, 4 White Wagtails No4/No5 causeway, 2 Fieldfare, Redwing, 6 Swallow, c20 House Martins, Wheatear, Water Rail (Walthamstow Birders); 5-6 Bramblings in willows near cafe 11.30 (Quentin Given); 2 Brambling later behind Fishermen's Hut (Terry Rawlings); 2 Fieldfare, 2 Mistle Thrush, 2 Kestrel (Daniel Whitelegg)
Wanstead Flats: Yellow Wagtail, 14 Meadow Pipit, White Wagtail, 6 Swallow, f Wheatear still by barrage balloon hitches, 5 Shoveler, 4 Gadwall, 3 Pochard, 2 Little Grebe, 4 Skylark, Kestrel, Little Owl, 2 Siskin, 26 Linnet (the majority going north), 2 ad Black-headed Gull west (Nick Croft/Marco Johnson)
Wanstead Park: 2 Siskin, Nuthatch, 3 Little Grebe, Pochard (Nick Croft)
Whitewebbs Park: 5 Treecreeper incl one singing male (Robert Callf)
Woodberry Wetlands: Swallow, Lesser Redpoll, 5 Red-crested Pochard, 2 Willow Warbler, 2 Shelduck (Chris Farthing & Tony Butler)
Worcester Park: 2 Little Egrets (Bob Smith); 3 Little Egrets on horse field 14:15 onwards, 1 Song Thrush and a Meadow Pipit (Isaiah Rowe)
Monday 9th April 2018Edit
Bayhurst Wood: 6+ Hawfinch at s edge 09:50 (Richard Francis)
Betchworth Quarry: 2 Hawfinch (David Stubbs tweet)
Bramblehall Wood: 3 Hawfinch early-am - big clear-out (Steve Gale tweet)
Brockwell Park: 4 Jackdaws one carrying nest material around - not resident here, 1 Swallow, Black Swan reported (Michael Mac)
Brookmill Park: Great Spotted Woodpecker, Song Thrush, Blackcap (Conrad Ellam)
Crayford Marshes: 39 Common Scoter, pr Goosander, 10ad Kittiwake all on Thames, Whitethroat, 3 Swallow, 18 Common Tern, 3 Common Sandpiper, 5 Blackcap, Chiffchaff, Curlew, 3 Oystercatcher, 6 Cetti's Warbler (Kev Jarvis)
Dartford Marshes: 2 Goosander (per Kent OS)
Hogsmill Open Space: 1 Little Egret, 4 Blackcap 2m 2f, 3+ singing Chiffchaff, 1 Nuthatch and 5 Grey Wagtail 2pr (Isaiah Rowe)
KGV Reservoir: 8 Common Scoter, Sandwich Tern, 3 Common Tern, 2 Common Buzzard, 2 Little Ringed Plover, 15+ Swallow, 15+ House Martin, 20+ Sand Martin, White Wagtail, 2 Cetti's Warbler, Sedge Warbler, 3 Blackcap, Reed Bunting (Neville Smith)
Laleham Park: Thameside - 2 Oystercatcher [prob pr] TQ050678 (Jeremy Soane via Surrey BN)
London Wetland Centre: Little Gull main lake (Simon Fogg); also Little Ringed Plover, 6 Snipe, 3 Redshank, 15 Sand Martin, 20 Swallow, 10 House Martin, 5 Willow Warbler, 4 Chiffchaff, 6 Blackcap, Yellow Wagtail Disturbance to the grazing marsh and reservoir lagoon today due to contractors undertaking a full site water vole survey (WWT website)
Mile End: Antill Rd E3 - m Blackcap in gdn (Harry Harrison)
Oxleas Wood:2Greatspottedwoodpecker,2Nuthatch,Goldcrest,4Coaltit,Greenwoodpecker,Stockdove Jackdaw,Kestrel(fm)3Blackcap(m)(Ron Turner).
Queen Mother Reservoir: Sandwich Tern 0715, 2 Arctic Skua briefly 0645 (Andy Tomczynski via Berks BN)
Rainham Marshes: Great Egret still on purfleet scrape, Grey Plover, Ringed Plover, Short-eared Owl (Andy Tweed per ELBF FB); 42 Common Scoter [same as Crayford flock] on Thames late-am at least and 2 Goosander (Andy Tweed, Dominic Mitchell et al); 2 Yellow-legged Gulls both 3cy nr stone barges, 18 Common Terns, singing m Common Whitethroat barges c/p (Dominic Mitchell)
Richmond: Eastern race Lesser Whitethroat still in back gardens of Selwyn & Pagoda Avenues. Parking charges apply Mon-Sat. Park only in visitors bays. (Franko J Maroevic)
Silvertown: Common Sandpiper on Thames foreshore by Woolwich Ferry (Conrad Ellam)
Staines Reservoir: 12 Common Scoter 6m 6f [10 s basin & 2 n basin] by 1005; 3+ Little Gull, Common Tern & Little Ringed Plover 0930 (Paul Ward tweets); also 4 Goldeneye, 2 Black-necked Grebe & AMERICAN HORNED LARK still (Jim Sweetland tweet); 12 CS still pm (Dom Pia tweet); Little Gull 1w 1535, 2 Common Tern 1555 (Neal Moister tweet); 4 Black-necked Grebe still (Tony Cummins via Surrey BN); also Common Sandpiper n basin, 2 Arctic Tern s basin, 26 Pied Wagtail causeway (Lee Evans tweet)
Tooting Commons: 3m Willow Warbler (Peter White tweet)
Totteridge Valley/Darlands Lake: 17 Canada Geese, 2 Egyptian Geese, 8 Teal, 2 Cormorant, Grey Heron, Little Egret, 3 Common Buzzard, 2 Coot, 20 Black-headed Gull, 43+ Stock Dove, 2 Kestrel, 22+ Rook, Coal Tit, Nuthatch, Goldcrest, 5 Chiffchaff, 2 Song Thrush, Mistle Thrush, 170+ Starling, Reed Bunting (Samuel Levy)
Trent Park: 2 Eurasian Teal pr upper lake, 2 Common Pochard pr lower lake, 6 Tufted Duck 3m 3f, Common Buzzard, Green Woodpecker, f Great Spotted Woodpecker, 4m Blackcap, 6 Chiffchaff, 6 Nuthatch incl 2pr, Treecreeper, 8 Chaffinch (Robert Callf)
Walthamstow Marshes: 2 Shelduck, 5 Snipe (J-P Elmes); rear paddocks - Little Egret, 2 Blackcap, 17 Stock Dove, Kestrel, Green Woodpecker (JW Davies)
Walthamstow Reservoirs: Common Scoter 9.45 on Lockwood (David Bradshaw, Terry Rawlings); Scoter gone by 1.15pm, Sandwich Tern, Red Kite, c10 Swallow (Lol Bodini); still 4 Goldeneye on No5, Green Sandpiper, Common Sandpiper, 9 Blackcap 8m f, 5 Chiffchaff, 25+ House Martins, 8 Meadow Pipit, 1 Kestrel, 12 Shelduck, 1 Common Sandpiper (Daniel Whitelegg)
Wanstead Flats: Black Redstart reported but not confirmed, f Wheatear, 2 Redwing, Red Kite, singing Willow Warbler, 5 Shoveler, 4 Gadwall, 15 Tufted Duck, 2 Pochard, 2 Little Grebe, 3 Meadow Pipit, 3 Skylark (Nick Croft)
Wanstead Park: 2 Teal, Pochard, 3 Little Grebe, Sparrowhawk, Kestrel, 7 Herring Gull on Ilford GC (Nick Croft)
Worcester Park: Little Egret 3 on horse field (Bob Smith)
Sunday 8th April 2018Edit
Amwell NR: Common Tern in 0630, Little Gull in 0710, 2 Redshank in 0730 (William Bishop tweets); Arctic Skua [Ldn foy] SE 0900 (Barry Reed tweet); 2 Little Gull late-aft (Laurence Drummond per Amwell Birding tweet); 10+ House Martin (LD tweet)
Brent Reservoir: 11 Shoveler, 2 Green Sandpiper pm, 7 Common Snipe, 60+ Swallow, 3 House Martin, 6 Sand Martin, 3 Little Egret, 8 Blackcap, 6 Chiffchaff, 3 Cetti's Warbler, pr Reed Bunting (Brent Birders)
Brockwell Park: 4 Common Scoter low W c4.30pm (Michael Mac)
Brookmill Park: 2 Song Thrush, 2 singing Blackcap (Conrad Ellam)
Broomfield Park: 4 Egyptian Goose 2pr, 2 Mandarin Duck pr, 6 Shoveler 3m 3f, 21 Tufted Duck 13m 8f, 2 Grey Wagtail pr, 2 Goldcrest pr displaying (Robert Callf)
Bushy Park: Woodland Garden - Lesser Spotted Woodpecker m, 6 Redpoll (R Dunne)
Copped Hall: Estate - Red Kite, 22 Yellowhammer, 19 Linnet, 2 Bullfinch, 8 Skylark, 8 Red-legged Partridge (Chris Baldwin)
Crayford Marshes: Swallow, 4 Blackcap, 2 Chiffchaff, 9 Cetti's Warbler, 29 Redshank, 4 Oystercatcher, 3 Meadow Pipit, 4 Skylark (Kev Jarvis)
Dollis Brook: Kingfisher, Grey Wagtail (Samuel Levy)
Fairlop Waters: m Yellow Wagtail, 7 House Martins, 2 Sand Martins, 3 singing Willow Warblers (Alan Bell); also 8 Shelduck, 3 Shoveler, 12 Teal, 2 Snipe, Little Owl, 9 Swallow, 20 Chiffchaff, 6 Blackcap (Steve Bacon per ELBF FB)
Gallions Reach: 2 Curlew, 2 Bar-tailed Godwit, 3 Black-tailed Godwit, Green Sandpiper, 20 Redshank, 5 Common Tern, Arctic Tern, 2 Chiffchaff, 5 Blackcap [Gary James via EBwS BN)
Greenwich Peninsula Ecology Park: Little Grebe, Swallow, Sand Martin, Chiffchaff, Blackcap (John Bushall)
Hackney Marshes: 5 singing Blackcap (Alastair Dent)
Hampstead Heath: Willow Warbler singing from Sanctuary Pond (Pete Mantle)
Haringey: Old fountain in front of Town Hall - 1 Grey Wagtail (Mavis Pilbeam)
Hilfield Park Reservoir: 9 Common Scoter flock of 8 & wintering bird, 1 Goldeneye, 1 singing Willow Warbler, c10 Swallow, 2 House Martin (Tony Blake)
Holmethorpe SPs: 4 Sandwich Tern Mercers L 0620 then SW, m Ring Ouzel briefly am The Moors TQ289513 (BirdGuides); pr Common Scoter Mercers L c4pm (Gordon Hay per Dave Harris tweet)
Hyde Park/Kensington Gardens: Sandwich Tern SE, 5 Chiffchaff, Willow Warbler, 6 Blackcap (N P Senior)
Ingrebourne Valley: Swallow, 6 Willow Warbler, Wheatear (Paul Hawkins tweet)
Island Barn Reservoir: 2 Common Scoter, 2 Little Gull, 5 Swallow (Chris Turner)
KGV Reservoir: 2 Common Scoter, Little Gull, Arctic Tern, Common Tern, Sandwich Tern 1030, 2 Peregrine copulating, 3 Common Buzzard, Dunlin, 2 Little Ringed Plover, Redshank, 2 Wheatear, 3 Cetti's Warbler, Willow Warbler, 5 Blackcap, 4 Reed Bunting (Neville Smith)
Ladywell Fields: Kingfisher, Song Thrush, Blackcap (Conrad Ellam & Anita Gwynn)
London Wetland Centre: Kittiwake until c11am, Brambling, 2 Jack Snipe, Goldeneye, 4 Pintail, Sedge Warbler, 11 Swallow, 20 House Martin, 3 Dunlin (Simon Fogg, Oscar Dewhurst, Peter Gray); also Buzzard, Little Ringed Plover, 7 Snipe, 6 Redshank, 6 Willow Warbler, 7 Chiffchaff, 2 Sedge Warbler, 8 Blackcap, Yellow Wagtail (WWT website)
Nazeing GP: 5 Common Scoter, 2 Common Tern (Adam Wilson)
Orsett Fen: 2 Sparrowhawk, 4 Buzzard, Barn Owl, 2 Kestrel, 2 Peregrine, Raven, 21 Skylark, Cetti's Warbler, 6 Chiffchaff, Sedge Warbler, 6 Blackcap, m Ring Ouzel, 4 Yellow Wagtail, 16 Linnet, 17 Yellowhammer, 9 Reed Bunting (Alan Shearman per ELBF FB)
Panshanger Park: Cuckoo calling in woods s of broadwater TL281128 (Christine von Hagen via Herts BC)
Priest Hill, Ewell: 2 singing Chiffchaff, 3 male Pheasant, 1 Sparrowhawk (Neil Batten)
Rainham RSPB: dark- [per SH] or intermediate- [per JH] phase Arctic Skua on Thames at Ferry Ln 1505 - flew off 1530 (Shaun Harvey/Jack Headley tweets); Great Egret still, Short-eared Owl flew toward Wennington, 10 Common Tern downriver, Wheatear pm (JH tweets); Iceland Gull still, 2 Arctic Skua [1 dark- & 1 intermediate-phase] on river (Howard Vaughan tweet); 4 Arctic Tern above Thames on Kent side nr R Darent barrier 1610 (JH tweet); Sandwich Tern (Chris Ruis tweet); 2 Kittiwake both 1w (Davey Leach per ELBF FB); also 6 Little Egret, 5 Marsh Harrier 3m2f, 2 Buzzard, Water Rail, 3 Curlew, 30 Common Tern, 20 Sand Martin, 7 Swallow, 2 House Martin, Willow Warbler, 6 Chiffchaff, Sedge Warbler, 4 Blackcap, 2 Wheatear (per ELBF FB/RSPB blog)
Raynes Park: Sparrowhawk m on garden fence 0900, Coal Tit (Paula Redmond)
Richmond: Eastern race Lesser Whitethroat still in back gardens of Selwyn & Pagoda Avenues. No parking charges on Sunday. (Franko J Maroevic)
Roding Valley Meadows LNR: Red Kite (Andy Tweed per ELBF FB)
Ruislip Lido: 2 House Martin, 2 Swallow, Willow Warbler, 3 Chiffchaff, 2 Blackcap, Hawfinch (Nigel Dodd)
Ruislip Woods: 6 Hawfinch down from Wiltshire Ln entrance 09:30 (Richard Francis)
Rye Meads RSPB: fr draper hide - Shelduck, Little Grebe, Green Sandpiper, 3 Redshank; Little Ringed Plover fr gadwall_hide 1225 (Emily Leonard tweets); Yellow Wagtail (RSPB tweet)
Sevenoaks Wildfowl Reserve: pr Common Scoter east lake 1245 (Graham Saxby per Mathew Bournat); pr CS still roosting by spit 1445 & Green Sandpiper both fr tyler hide (Mathew Bournat tweets); 2 Egyptian Goose & gosling, pr Common Scoter fr bench betw Tyler & Sutton hides), 2 Little Ringed Plover 18:30-19:20 (Jack Headley tweet)
Staines Moor: m Ring Ouzel n end early-am (Dave Kenrick tweet); RO still 1000 but mobile betw the butts & bonehead ditch (Dave Carlsson tweet); RO still in scrub s of butts 1415, Wheatear am (Dom Pia tweets)
Staines Reservoir: 2 Arctic Terns, 2 Common Terns, 2 Little Gulls mid-am (Roger Morton); also 2 Goldeneye, 4 Black-necked Grebe still, 3 Little Gull, AMERICAN HORNED LARK still (Jonathan Nasir tweet); 1 White Wagtail (Bob Warden et al); 3 Common Scoter s basin 1615, 3 Grey Plover NW 1440 (Ken Purdey per Dom Pia tweets); Little Ringed Plover (Tim Rymer); 3 Common Scoter 2m f still present 1915, also 2 Oystercatcher, 3 Little Gull, 2 Common Tern (DP tweet)
Stanstead Abbotts Lakes - N lake: 5 Common Scoter 3m 2f 0800, Kingfisher, 5 Sand Martin, 22+ Swallow, 2 House Martin, Sedge Warbler (Jane Free via Herts BC); 5 CS still 1100 (William Last tweet)
Stanstead Innings: 4 Egyptian Goose 2pr, Oystercatcher display flight, Cetti's Warbler (Murray Orchard via Herts BC)
Stanwell Moor: 8 House Martin, Swallow, 7 Fieldfare, Cetti's Warbler, 2 Blackcap, Red Kite (Tim Rymer)
Totteridge Valley: 7 Hawfinch, 4 singing Blackcap, 10 singing Chiffchaff (Tony Clancy); Belmont Fm - 11 Canada Geese, Mandarin Duck, Red-legged Partridge, 4 Cormorant, Swallow, Nuthatch, singing Goldcrest, 2 singing Chiffchaff, singing Blackcap, 11 Starling, Pied Wagtail (Samuel Levy)
Trent Park: 4 Teal pr upper lake & pr lower lake, 5 Mandarin 4m f, leucistic Grey Heron, 4 Tufted Duck 2m 2f, Chiffchaff, 2 Blackcap, 3 Song Thrush (Pete Lowman)
Tyttenhanger GPs: m Common Scoter 0815 (Rick Flesher tweet); still 1025 (Rupert Evershed tweet); CS still 1215 at least, also 2 Egyptian Goose, 2 Oystercatcher, 2 Little Ringed Plover, 6+ Snipe, 2 Redshank, 7 Great Black-backed Gull [recent pr & 5 off NE by 0800], 6+ Redwing all on main gp, 22+ Swallow (Rupert Evershed via Herts BC); CS still main gp 1745-1815, 30+ Swallow, House Martin (Simon West via Herts BC/Twitter)
Walthamstow Marshes: 2 Sand Martin over Leyton Marsh; 9 Linnet, 2 Egyptian Geese & 2 Stock Dove rear paddocks plus 2 Shelduck over N; 1 Meadow Pipit & 1 Reed Bunting m Bomb Crater Field (Alastair Dent)
Walthamstow Reservoirs: 2 Common Scoter e warwick 1725, 2 Little Ringed Plover, White Wagtail (David Darrell-Lambert per ELBF FB / BirdGuides)
Wanstead Flats: 2m Ring Ouzel (Wanstead Birding tweets); Redwing, Swallow, 3 Linnet, Kestrel, 10+ Meadow Pipit, up to 6 singing Skylark, 7 Shoveler, 2 Pochard, pr Little Grebe (Wanstead Birders)
Wimbledon Common: Cuckoo at Ladies Mile presume same bird calling c2pm in woodland north of windmill c/p [LE-H], 2 Redpoll, 6 Blackcap, 6 Chiffchaff, 29 Tufted Duck on Queensmere (Adrian Podmore)
Worcester Park: gdn KT4- 3 Swallow N (Isaiah Rowe)
Saturday 7th April 2018Edit
Alexandra Park: 6m Blackcap, m Tufted x Pochard Boating Lake (Bob Watts)
Amwell NR: 2ad Little Gull fr viewpt 0810 (Barry Reed tweet); still 1820 but not after 1900 when roosting gulls flushed (Ron Cousins tweets); 2 Little Gull still, 2 Sand Martin, Swallow, pr Raven (Laurence Drummond tweet)
Battersea Park: 5 singing Blackcap 1 with very varied call song/subsong could easily have been confused for other species but for fact clearly visible, Chaffinch, drumming Great Spotted Woodpecker, pr Mandarin, 4 Gadwall, Stock Dove at nest (Michael Mac)
Brent Reservoir: singing Sedge Warbler [Brent foy], Little Ringed Plover, 3 Green Sandpiper, 8 Common Snipe, 8 Blackcap, 5 Chiffchaff, 4 Cetti's Warbler, f Reed Bunting, Water Rail; also Comma, Peacock, Brimstone and 160+ Yellow Dung Fly (Brent Birders)
Brookmill Park: Stock Dove, Great Spotted Woodpecker, 2 Song Thrush, singing Blackcap, Chiffchaff, Goldcrest (Conrad Ellam)
Bury Lake: Common Tern still 0730 (Gordon Cox via Herts BC)
Canons Farm: Ring Ouzel still (Roy Weller per KJM/CF tweets); Hobby drifting N catching insects 1615 (Steve Gale tweet)
Crayford Marshes: Brambling, Willow Warbler, Common Tern, 2 Blackcap, 2 Chiffchaff, 3 Common Sandpiper, 2 Little Egret, 5 Cetti's Warbler, Oystercatcher, 32 Redshank (Kev Jarvis)
Finchley: gdn N3 - m Sparrowhawk, Collared Dove, 5 Stock Dove (Samuel Levy)
Greenwich Peninsula Ecology Park: 2 Little Grebe, 4 Sand Martin, 1 Blackcap, 2 Chiffchaff (Richard Green, John Bushall)
Hook nr Kingston: 2 Brent Goose W 1530 (Geoff Barter tweet)
Ingrebourne Valley: 3 Swallow, Willow Warbler, Sedge Warbler (Shaun Harvey tweet)
Kensal Green Cemetery and St Mary's Cemetery: 5 Blackcap, 1 Chiffchaff, pr Coal Tit, Green Woodpecker, 3 Stock Dove; 1 Brimstone butterfly (Charlie Farrell)
KGV Reservoir: Scaup m, Goosander, 5 Common Buzzard, 2 Sparrowhawk, 4 Kestrel, Arctic Tern, Common Tern, 2 Swallow, 2 House Martin, 10+ Sand Martin, Yellow Wagtail S, 3 Cetti's Warbler, 5 Blackcap, Whitethroat, 3 Reed Bunting (Neville Smith)
Lamorbey Park: 2 Egyptian Geese, 11 Tufted Duck, Green Woodpecker, Great Spotted Woodpecker, 2 Nuthatch, 4 singing Coal Tit, 6+ singing Goldcrest, singing Chiffchaff, 4 Blackcap 3m f, Jackdaw (Mike Amos)
London Wetland Centre: 4 Pintail, Goldeneye, 5 Redshank, 6 Snipe, 12+ Sand Martin, Sedge Warbler, 4 Blackcap (WWT website); 1 Yellow Wagtail, 2 Jack Snipe, 4 Common Snipe, Goldeneye, 2 Shelduck, 8 Blackcap, Willow Warbler, Linnet, also apparent Viking Gull 2cy again (Oscar Dewhurst, Simon Fogg); also 2 Norwegian-ringed Lesser Black-backed Gulls (Peter Gray)
Manor Park, Lewisham: Mandarin drake, Song Thrush (Tom Moulton)
Paddington: mainline stn - Grey Wagtail singing 0620 (Des McKenzie tweet)
Queen Mary Res: m Common Scoter, Swallow, Willow Warbler, 12 Blackcap am (Steve Chastell tweet)
Rainham RSPB: f Garganey & 2 Ruffs flooded ouzel_field, ad Mediterranean Gull calling overhead, Barn Owl, Swallow (Ian Bradshaw); also 7 Pintail, 4 Marsh Harrier 2m2f, 2 Buzzard, Great Egret still, 7 Little Egret, 2 Water Rail, 7 Curlew, 4 Ruff, 7 Snipe, ad Little Gull upriver, Iceland Gull juv, 2 Yellow-legged Gull, 20 Common Tern, Barn Owl, 2 Bearded Tit, 6 Swallow, 5m Chiffchaff, 4m Blackcap, 4 Sedge Warbler, Reed Warbler, 5 Yellow Wagtail, Water Pipit (per ELBF FB); 3 Arctic Tern, Corn Bunting (Martin Jordan via ELBF FB); also Great Egret still on purfleet scrape fr VC, 3 Redshank, 2 Common Gull, 2 Great Black-backed Gull, ad Iceland Gull flying close to bay at far end of river wall w Herring Gulls, 2 Lesser Black-backed Gull, Kestrel, 10+ Skylark many singing, 2 Meadow Pipit, 6+ Cetti's Warbler singing, 5 Linnet (Ben Mapp via EBwS BN)
Richmond Park: m Wheatear, 3 Swallow, House Martin, m Blackcap, 4 Chiffchaff, 1 Willow Warbler, 1 Skylark [last 3 species all singing], 6 Buzzard, 2 Red KIte (P Pentek)
Rye Meads RSPB: Marsh Harrier (RSPB tweet); 3 Shelduck, Oystercatcher, 3 Green Sandpiper, 3 Redshank (Graham Canny tweet)
Staines Moor: m Ring Ouzel, m Wheatear (Luke Harrison, Gordon Shaw)
Staines Reservoir: 4 Black-necked Grebe, Avocet, Little Gull 1w, AMERICAN HORNED LARK causeway still [s basin midpoint], Yellow Wagtail (Dom Pia tweet); also 2 Little Ringed Plover, Mediterranean Gull, Common Tern (Dave Kenrick tweet); 4 Black-necked Grebe, Goldeneye, 2 Shelduck, Avocet swimming w gulls on n basin, Dunlin, 2 Little Ringed Plover, Common Tern, Sparrowhawk, 2 Red Kite, Barn Swallow, Mistle Thrush, Horned Lark foraging on causeway path towards east end - 3pm (Tom Jordan)
Ten Acre Wood area: 6 Pheasant 4 seen, 2 Buzzard together, m Kestrel, 2 Lapwing, 3 Snipe, 15+ Stock Dove 11 together, 5+ Skylark 2-3 singing, c4 Redwing, 3 singing Chiffchaff, 2 singing Blackcap, 3m Reed Bunting 1 singing (Neil Anderson); 12 Pheasant, 2 Goldcrest, 1 Fieldfare, 6 Song Thrush, 2 Mistle Thrush, Cormorant over (Deiniol Owen)
Thorndon CP: n section - 7+ Nuthatch [6 territories - pr at nest hole plastering mud & 5+ males h singing], Treecreeper singing (Andrew Cox via EBwS BN)
Totteridge Valley/Darlands Lake: 8 Canada Geese, 2 Egyptian Geese, f Garganey still, 8 Teal, Cormorant, 3 Sparrowhawk, 2 Common Buzzard, Coot, 2 Black-headed Gull, 12 Common Gull, 34 Stock Dove, Collared Dove, 22+ Rook, 3 Swallow, Coal Tit, 5 Nuthatch, 16 singing Chiffchaff, 10 singing Blackcap, 10 Redwing, 6 Song Thrush, 2 Mistle Thrush, 17 Starling, 2 Grey Wagtail, 2 Pied Wagtail, 4 Meadow Pipit, singing Reed Bunting, 13 Hawfinch, 2 Bullfinch, 8 Linnet, 3 Greenfinch; also Tortoiseshell, Peacock (Samuel Levy & Simon Worsfold)
Tower Hamlets Cemetery: Blackcap 1m singing, Chiffchaff 1m singing (Rhys Evans)
Trent Park: 5 Mandarin Duck 3m 2f, 2 Eurasian Teal m f upper lake, 2 Common Pochard m f lower lake, 5 Tufted Duck 3m 2f upper lake, 3 Common Buzzard, 3 singing m Blackcap, 6 singing Chiffchaff, 5 Nuthatch 3m 2f, 2 Treecreeper incl 1 nest building; 21 Common Toad spawning lower & upper lakes (Robert Callf); also Kestrel, Sparrowhawk, 4 Teal a pr on each lake, 7 Tufted Duck 4m 3f, leucistic Grey Heron (Pete Lowman)
Tyttenhanger GPs and Willows Farm: Great Egret SE over Plant'n Wd 0945; main gp - 2 Oystercatcher, 2 Little Ringed Plover, 1+ Snipe, 4+ Tree Sparrow, Yellowhammer; also in area - 4+ Sand Martin, 6+ Swallow, Willow Warbler, 3+ Chiffchaff, Sedge Warbler, 3+ Blackcap, 22 Fieldfare (Tyttenhanger Birders via Herts BC/Twitter)
Verulamium Park: incl 4 Little Egret on heron_island, 3+ Red Kite, 5 Swallow (Dan Fletcher per Herts BC)
Vicarage Road Stadium, Watford: Peregrine and Red Kite over while watching the match (Jonathan Nasir)
Walthamstow Marshes: 3 Sand Martin (Jon Agar)
Walthamstow Reservoirs: Hoopoe [1st seen y'day pm but local birders didn't hear until this morning. Seen 3 times around south end of No3 by old hide c9.45 but not since despite searches of all reservoirs] (Lol Cummings, Terry Rawlings, David Bradshaw, Lol Bodini); Swallow, 4 Sand Martins, 2 Green Sandpipers on No1, Yellow Wagtail over, 4 Goldeneye on No5 (Walthamstow Birders); 2 Goldeneye (Jon Agar); Cetti's Warbler showed well in vegetation adj to Coppermill stream c15.30 (R. Moorhead) *Wanstead Flats: 13 Swallow, 2 Sand Martin, Red Kite, 3-4 Sparrowhawk, 2 Kestrel, Peregrine Falcon, 4 Little Owl, Shelduck, 2 Gadwall, 5 Shoveler, 2 Pochard, 20 Tufted Duck, 3 Little Grebe, 11 Lesser Black-backed Gull, 2 Linnet, Reed Bunting, 3 singing Skylark, 7 Meadow Pipit 3 singing & 4 others (Wanstead Birders)
Waterlow Park: pr Blackcap, Chiffchaff and Goldcrest (Allan Stewart)
Waterworks NR: Reed Warbler singing [PW tweet] I think 1-2 have been there for a couple of days - PW [updated - thx!], also 2 Willow Warbler, 3+ Blackcap, Willow Warbler on paddocks north of Lea Bridge Rd and 2 Fieldfare (Paul Whiteman)
Winchmore Hill: [N21] Large, pale, and cream-coloured gull flew briefly along the New River at Carpenter Gardens then flew roughly E at 18:15. Direct direction of flight not seen, viewed from the 329 bus and it had gone once I jumped off. Local large gulls are all adult LBB Gulls and Herring Gulls, hence why this one stood out. I will look again tomorrow and check the nearby local gull loafing spots at Clowes Sports Ground and Firs Farm Wetlands. (Katy McGilvray)
Worcester Park: Redwing (Bob Smith)
Yeading Brook Meadows: 3 Pheasant h, 2 sightings 1-2 Little Egret low in flight [possibly same bird], Kestrel, Sparrowhawk, singing Skylark, 2 Meadow Pipit, 4 singing Chiffchaff (Neil Anderson)
Friday 6th April 2018Edit
Alexandra Park: Linnet singing from small tree nr filter beds 1745 (Bob Watts)
Amwell NR: Sandwich Tern on post opp viewpt 0600-0625 then flew off (Barry Reed tweet)
Arnos Park: Cormorant over, 4+ Stock Dove, Great Spotted Woodpecker, f Grey Wagtail nest building, 3 singing m Blackcap, Goldcrest nest building, 3 Long-tailed Tit nest building, 2m Nuthatch (Robert Callf)
Balham: f Pheasant in my back garden 1.30 today - a first (Nick Moll)
Belhus Woods CP: 11 Egyptian Goose, 13 Shoveler, 4 Gadwall, 6 Teal, 4 Pochard, 42 Tufted Duck, 10 Little Grebe, 6 Great Crested Grebe, 9 Cormorant, Sparrowhawk, 2 Buzzard, Water Rail, Barn Owl, Kingfisher, 3 Great Spotted Woodpecker, Lesser Spotted Woodpecker, 6 Green Woodpecker, 3 Cetti's Warbler, 15 Chiffchaff, 16 Blackcap, Whitethroat [Ldn foy], Nuthatch, 32 Starling, 10 Blackbird, 3 Redwing, 11 Song Thrush, 3 Mistle Thrush, 2 Bullfinch, 3 Greenfinch, 3 Lesser Redpoll, 6 Siskin, 2 Reed Bunting (Alan Shearman per ELBF FB)
Blackfriars Bridge: Yellow-legged Gull 3cy (N P Senior)
Bow Creek Ecology Park: incl 2-3 Cetti's Warbler (Charlie Farrell tweet)
Brent Reservoir: Hoopoe flew E past main hide 14:25 in good sunshine c2m over the water at distance of the furthest raft out but still close to them. A search failed to re-find it. Longest day of birding very unusual for us with coverage from 07:20 to sunset 19:42 - 12 hrs 22 mins; best of other spp. seen - 2 Red Kites S together, pr Peregrines N only seen by rare visitor Eddie Wang, f Sparrowhawk, m Kestrel, 3 Little Ringed Plover pr & m most of day, Green Sandpiper, 4 Common Snipe, 6 Shoveler 3pr, 2 Water Rail, 7+ Chiffchaff, 6 Blackcap 5m 1f (Magnus Andersson, Simon Worsfold, Andrew Verrall, then joined later in evening by James ----).
Brookmill Park: 2 Kingfisher, Great Spotted Woodpecker, Song Thrush, 2 Blackcap m&f, Chiffchaff (Conrad Ellam)
Broomfield Park: 2 Egyptian Goose pr, m Mandarin Duck, 8 Shoveler 4m 4f, 15 Tufted Duck 9m 6f, m Grey Wagtail, 2 Nuthatch pr copulating (Robert Callf)
Bury Lake: Common Tern (Charlie Ramsay via Herts BC)
Canons Farm: 1 Ring Ouzel (Steve Gale)
East India Dock Basin NR: Egyptian Goose, 6 Shelduck, 2 Gadwall, 16 Teal, 2 Oystercatcher flyover from Bow Creek Ecology Park, 2 Little Ringed Plover, Cetti's Warbler (Tom Speller tweet); also 13 Shelduck, 20 Teal, Cetti's Warbler (Charlie Farrell tweet)
Harefield: GPs Moorhall Rd entrance - 2 Kestrel, Buzzard circling high, Chiffchaff, pr Great Crested Grebe, pr Tufted Ducks, 3f Chaffinch, calling Green Woodpecker (Nigel Barratt)
Ingrebourne Valley: Red-crested Pochard, 4 Sparrowhawk displaying, Buzzard, Willow Warbler, 5 Blackcap, Hawfinch again, 2 Siskin (Dave Morrison tweet)
Kentish Town: pr Blackcaps Gaisford St (Pete Mantle)
KGV Reservoir: 6 Sandwich Tern S 0840, Arctic Tern, 2 Common Tern, Swallow, 2 House Martin, 5 Blackcap (Neville Smith)
Kingston-upon-Thames: Swallow feeding low over riverside nr Canbury Gdns (Phil Davies)
Lamorbey Park: 2 Egyptian Geese, Little Grebe sp, Great Spotted Woodpecker, Green Woodpecker, m Blackcap hawking insects over lake, singing Chiffchaff, Song Thrush, Jackdaw, 2 Stock Dove, 4 Goldcrest, Coal Tit, 2 Herring Gull on school field. Cool breeze-no butterflies but abundant bees. (Eric Brown).
Lincoln's Inn Fields: 1 Goldcrest (A Casey)
London Wetland Centre: 4m Reed Bunting, 8 Blackcap 7m 1f, 3 singing Chiffchaff, probably 2 Jack Snipe, 2 Shelduck 1m 1f, 1 Great Spotted Woodpecker, 1 Sedge Warbler singing sporadically from the reed bed, 2 Mandarin mating 1m 1f, 2 Lesser Redpoll, 2 Swallows, 1 Russian colour-ringed Great Black-backed Gull (Martin Honey & S. Fogg); also 3 Shelduck, 4 Pintail, f Goldeneye still, 7 Redshank, Kestrel, 10 Sand Martin wader scrape, 6 Chiffchaff, 9 Blackcap (WWT website)
Mill Hill: [NW7] singing Blackcap; Brimstone butterfly [both gdn foy] (Andrew Haynes)
New Change: [EC2] 3 Common Buzzard NW (N P Senior)
Oxleas Wood:4Nuthatch,3Treecreeper,6Jackdaw,Sparrowhawke,5Greatspottedwoodpecker,Goldcrest 5Stockdove,5Blackcap(1fm),Chiffchaff,3Greenwoodpecker,2Kestrel,6Goldfinch,Chaffinch,Songthrush Mallard(pr),WillowWarbler.(Ron Turner)
Ponders End Lake: Little Gull ad wp, Glaucous Gull [or Viking Gull per ELBF FB] 2w (Neville Smith tweets)
Rainham Marshes RSPB: 1 Willow Warbler singing, 1 Blackcap singing c13:00 (Toni Piccolo); Great Egret still, 2 Marsh Harrier, Red Kite, 2 Mediterranean Gull, Iceland Gull 2cy, Arctic Tern, Swallow (Dominic Mitchell tweet); also 5 Marsh Harrier, 4 Buzzard, Whimbrel, 9 Curlew, 8 Ruff, 8 Snipe, 5 Mediterranean Gull, 30 Common Tern, Peregrine, 4 Bearded Tit (per ELBF FB)
Richmond: Eastern race Lesser Whitethroat still in back gardens of Selwyn & Pagoda Avenues. Parking charges apply Mon-Sat. Park only in visitors bays. (Franko J Maroevic)
Richmond Park: Yellow Wagtail NE, Swallow, 12 Fieldfare W (J.Wilczur); Little Egret, Peregrine, 14 Shoveler incl 11 high NE (P.Pentek); 7 Buzzard, 3+ Red Kite, 3m Blackcap, 20+ Lesser Redpoll (Friday Group et al)
Roding Valley Meadows LNR: 2 Buzzard, 60 Common Gull, Arctic Tern, 5 Chiffchaff, 10m Blackcap, 11 Pied Wagtail (Barry Jones per ELBF FB)
Rye Meads RSPB: 3 Shelduck, 3 Green Sandpiper, 3 Redshank (Allan Meadows via Herts BC)
Sevenoaks WR: 0 Water Rail [survey], Ringed Plover, 2 Little Ringed Plover fr tyler hide, 3 Siskin, Reed Bunting (per Susanna Clerici via Kent OS)
Shrewsbury Park: 2 Redwing, Blackcap, 3 Chiffchaff, 2 Nuthatch, 2 Kestrel, 2 Green Woodpecker, Great Spotted Woodpecker, 2 Jay, 2 Song Thrush (Tim Rymer)
Staines Moor: 1 Swallow, 4+ Water Pipit swamp [se cnr] & R Colne all in summer plumage, 2-3 Shelduck, 1 Water Rail Colne, 1 Tufted Duck Colne, 3 Red Kite, 2-4 Common Buzzard, 3 Kestrel, 5 Reed Bunting, 1 Lapwing, 1 Little Egret (Lee Dingain); also Kingfisher, Cetti's Warbler, 3 Chiffchaff, 4 Blackcap (Robert Martin tweet)
Staines Reservoirs: AMERICAN HORNED LARK still w end causeway early am, 1 Sandwich Tern, 1 Common Tern both through am, 4 Black-necked Grebe; s basin - 1 Yellow Wagtail, 1 Swallow (Bob Warden et al per FJM)
Stanwell Moor: 5 Gadwall, 2 Red Kite, 2 Buzzard, Cetti's Warbler, 3 Chiffchaff, 5 Blackcap (Robert Martin tweet)
Tooting Common: 4 Blackcap, 3 Chiffchaff, 2 Redwing E (James Hudson)
Totteridge Valley/Darlands Lake: 9 Canada Geese, 2 Egyptian Geese, Mandarin Duck, f Garganey still, 5 Teal, 3 Cormorant, Grey Heron, 3 Sparrowhawk, 5 Common Buzzard, Coot, Lapwing, 15 Stock Dove, Collared Dove, Lesser Spotted Woodpecker drumming, 4 Great Spotted Woodpecker, 2 Green Woodpecker, Kestrel, 22+ Rook, Coal Tit, Nuthatch, 4 Goldcrest, 13 singing Chiffchaff, 6 singing Blackcap, 14 Fieldfare, 3 Redwing, 2 Song Thrush, 83+ Starling, 2 Grey Wagtail, 4 Pied Wagtail, 4 Meadow Pipit, 5 Hawfinch, 6 Greenfinch (Samuel Levy)
Tower Hamlets Cemetery Park: Linnet W 0740, m Goldcrest, m Blackcap, m Chiffchaff (Bob Watts)
Trent Park: 2 Common Buzzard, Kestrel, Nuthatch, Blackcap, Chiffchaff, 5 Mandarin 4m f, 4 Teal [pr on each lake], leucistic Grey Heron, 6 Tufted Duck 4m 2f, m Pochard, 2 Swallow, 2 Treecreeper (Pete Lowman)
Tyttenhanger GPs and Willows Farm: 4 Egyptian Goose, 2 Oystercatcher 1 found dead, Little Ringed Plover, Redshank, 2 Great Black-backed Gull, Little Owl, Kingfisher, 4 Sand Martin, 4 Swallow, House Martin, Fieldfare, 4 Chiffchaff, 4 Blackcap, 12+ Redwing, 6+ Tree Sparrow, 4+ Redpoll, 6+ Siskin (TyttGP tweet)
Walthamstow Reservoirs: 4 Sand Martins, Green Sandpiper - Lockwood 16.00 (Lol Bodini); Hoopoe seen c1545 by 'non-local' birder (per John Cantelo/Paul Whiteman tweets)
Wimbledon Common: Blackcap & Chiffchaff Thatched Cottage (Les Evans-Hill)
Wanstead Flats: BLACK KITE SE 15:50, probable Hobby, Buzzard, 2 Sparrowhawk, 2 Kestrel, Little Owl, Yellow Wagtail, 3 Redpoll, 2 Linnet, singing Reed Bunting, 2 Little Grebe, 7 Shoveler, Pochard (Nick Croft); 2 Redwing, 4 singing Skylark, 3 singing Meadow Pipit, 5 Chiffchaff, 4 singing Blackcap (Wanstead Birders)
Wanstead Park: 5 Buzzard, up to 5 Sparrowhawk, Kestrel, Peregrine Falcon, Linnet, Fieldfare still in OSW, 16 singing Blackcap, 9 singing Chiffchaff, 19 Shoveler, 8 Teal, 3 Gadwall, 3 Little Grebe (Nick Croft/Mike Messenger); 2 Swallow over OSW (Rob Sheldon)
Watercress LNR: 3+ Chiffchaff, 2+ Blackcap, 15+ Lesser Redpoll, 5+ Siskin (Andrew Steele via Herts BC)
Wormwood Scrubs: Kestrel, pr Jackdaw, 2 Chiffchaff, Linnet (Charlie Farrell tweet)
Thursday 5th April 2018Edit
Alexandra Park: 4 male Blackcap, 2 Aythya hybrid Boating Lake (APOG Birders)
Amwell NR: incl Redshank S, Peregrine, 3 Sand Martin, Swallow (William Bishop tweet)
Barn Elms Playing Fields: 10 Cormorant - migrants high E, Peregrine, 2 Kestrel, 3 Sparrowhawk, Red Kite, 20 Buzzard, Grey Heron high E, 2 Meadow Pipit N, 2 Grey Wagtail SW, 10 Sand Martin, Linnet E (Rupert Kaye)
Barnes Thames Path: singing Cetti's Warbler, Chiffchaff; 2m Brimstone (Neil Anderson)
Beddington Farmlands: m Sedge Warbler am (BirdGuides) not Ldn foy as Walthamstow had 2 on Monday, just not on wiki MA - many thx for update, duly added below
Blackfriars: beach - 2 Great Black-backed Gulls, 3 Lesser Black-backed Gulls, 1 Herring Gull, 4 Common Gulls [all adults] (D Bates)
Brent Reservoir: Green Sandpiper, Common Snipe, Little Egret, 5 Chiffchaff, 2 Blackcap, Common Buzzard, 2 Sparrowhawk, 49 Common Gull, 3 Cetti's Warbler, Grey Wagtail, Linnet N; also Comma, Small Tortoiseshell and 5 Brimstone (Andrew Haynes, Magnus Andersson)
Brockwell Park: singing Chiffchaffs, 5 Greenfinch, 2 Jackdaw, 1 Song Thrush (Charlie Kitchen & Paul Collins); Swallow, Blackcap, House Sparrows in walled garden (Michael Mac)
Brookmill Park: Sparrowhawk, Stock Dove, Kingfisher, Song Thrush, Blackcap, Chiffchaff (Conrad Ellam)
Buckland: Hobby [Ldn foy] through Park Pit 1210, also Common Sandpiper, Raven, 3 Sand Martin, Swallow, House Martin, Blackcap; 14 Buzzard over Box Hill ridge to north & east (Wes Attridge tweet)
Cassiobury Park: no sign of Mandarins, Treecreeper, 4-5 Chiffchaff around marsh, Blackcap, 2 Bullfinch (Ralph Darvill tweet)
Clerkenwell: 2 Buzzard over (Will Rose tweet)
Dartford Marshes: Water Pipit (BirdGuides)
Dollis Brook: BBS square highlights incl 4 Meadow Pipit N 07:05, 3 Goldcrest, 2 Blackcap, singing Chiffchaff, 3 Coal Tit, Pied Wagtail, 10 Stock Dove; also 2 Brimstone (Samuel Levy & Joan Arnold)
Dulwich Park: singing Blackcap, 2 singing Chiffchaffs, 2 Jackdaw, 5 Shovelers 3m 2f; also Small Tortoiseshell butterfly (Paul Collins & Charlie Kitchen)
Finchley: gdn N3 - 4m Blackcap, 5 Stock Dove, f Peregrine circling 10:45-10:50 then E, f Sparrowhawk (Samuel Levy)
Finchley Central: 2 Redwing over Dollis Park Rd 06:50 (Samuel Levy)
Foots Cray Meadows: f Sparrowhawk, 2 Buzzard, 4 Skylark (Donna Zimmer tweet)
Fortune Street Park: singing Chiffchaff (Tom Smith)
Frays Farm Meadows: Sparrowhawk, 5 Buzzard, 2 Kingfisher, Kestrel (Dilshan Muthalib tweet)
Gallions Reach: 2 Little Ringed Plover, 2 Curlew, 2 Redshank, 10+ Common Tern, 2 Arctic Tern, Chiffchaff am (Gary James via EBwS BN)
Greenwich Ecology Park: Egyptian Goose, pr Little Grebe, Buzzard S 1100, juv Iceland Gull high over [Twitter pic of SH's Beckton Creekside bird of 25 Mar w missing 7th primary on L wing], 3 Sand Martin, m Willow Warbler, 2 Chiffchaff, 3 Blackcap 2m f, 5 Linnet O2 (Richard Green tweets)
Hampstead Heath: Red Kite circling over Parliament Hill am, also Common Buzzard SW, now up to 4 singing Blackcaps around south Heath and 3 Chiffchaffs (Pete Mantle)
Hyde Park: Peregrine over serpentine diving SW 8.00am, Chiffchaff calling on serpentine island 7.00 onwards (Malachi Yarker)
Ingrebourne Valley: Buzzard, Water Rail, Willow Warbler, 12 Chiffchaff, 6 Blackcap, Redwing, Bullfinch (Martin Jordan per ELBF FB)
Kew Gardens: 2 Sparrowhawks, 1 Golden Pheasant 10:30-11:30 (Toni Piccolo)
KGV Reservoir: Arctic Tern, Swallow, 3 Blackcap (Neville Smith); still feeding on S Basin - 9 Goldeneye 3m, 3 Goosander m 2f, 2 Sand Martin, pr Buzzard, Sparrowhawk, 2 singing Chiffchaff 1.15pm (Davey Leach)
KGVI Res: Osprey high N over KGV1/Staines Res 1020 fr Wraysbury GPs, 4 Red Kite, 16+ Buzzard (Roger Morton tweet)
Kingston: 2 Red Kite circling each other courting I guess over North Kingston heading towards Teddington Lock 1815 (Mike Foster)
Lamorbey Park: 5 Tufted Duck, Sparrowhawk, Great Spotted Woodpecker, 2 Stock Dove, 2-3 m Blackcap, 1 singing Chiffchaff, 3+ Goldcrest, Nuthatch, 2 Coal Tit, House Sparrow, Goldfinch (Mike Amos); no sign of Willow Warbler by 18.02 but Greylag Goose, Green Woodpecker, Grey Wagtail, pr Jackdaw on school fields (Mike Amos)
Leatherhead: Randalls Way - 6 Common Buzzard 2 circling very high to northeast & another 4 circling to northwest; 1 Brimstone butterfly on the wing (Neil Batten)
Little Woodcote: Black Redstart in paddock by no5 oaks track (Ian Jones tweet)
London Wetland Centre: 2 Jack Snipe, 6 Common Snipe, 17 Buzzard mostly N/NW, 2 Kestrel, 3 Sparrowhawk, 2 Swallow, 16 Sand Martin, 2 Blackcap, 3 Pintail (Oscar Dewhurst, Simon Fogg); 5m Blackcap southern route/sheltered lagoon; Red Kite NW am, 12 Chiffchaff, 9 Blackcap (WWT website); 1 Yellow-bellied Slider on wader scrape (Martin Honey); 4+ male Brimstone and 1 Small Tortoiseshell seen (OD/SF/MH). Sand_Martin nest-bank now closed till 3 May (WWT Ldn tweet)
London Zoo: 1 Blackcap singing; also Brimstone, Comma and a Pipistrelle bat flying around Regents Canal in the sunshine (Sam Jones)
Orsett Fen: 3 Buzzard, Barn Owl 4 Kestrel, 16 Skylark, 2 House Martin, 2 Cetti's Warbler, 3 Blackcap, 4 Chiffchaff, Redwing, 5 Fieldfare, 6 House Sparrow, 5 Reed Bunting, 19 Chaffinch, 15 Yellowhammer (Alan Shearman per ELBF FB)
Oxleas Wood: 5 Nuthatch, 3 Treecreeper, 2 Sparrowhawk, 3m Blackcap, 3 Green Woodpecker, 4 Jackdaw, 4 Great Spotted Woodpecker, 5 Stock Dove, 2 Kestrel f m, 2 Song Thrush, 4 Chiffchaff, Pied Wagtail, 2 Common Buzzard pr, ???Garden Warbler??? Very Early?, Goldcrest, Coal Tit, Chaffinch (Ron Turner)
Pinner: [HA5] f Sparrowhawk flying into bush after prey (Nigel Barratt)
Ponders End Lake: ad Kittiwake on lake 1230, plus 2 Common Tern (Neville Smith); Kw still 1630 (Connor Rand tweet)
Rainham RSPB: Great Egret still target pools am, Short-eared Owl fr serin_mound, Sedge Warbler am (BirdGuides); also 12 Common Tern, 2 Arctic Tern, m Corn Bunting (Howard Vaughan via ELBF FB); 6 Little Egret, 7 Marsh Harrier 4f3m, 12 Buzzard, 7 Ruff, Spotted Redshank, 2 Short-eared Owl, 4 Mediterranean Gull 3 ad & 2s, 2m Blackcap (per ELBF FB)
Rammey Marsh: 4 Buzzards in a courtship display along trees and watercourse, 2 singing Blackcaps and 4+ Chiffchaffs (Brian Dawton)
Ravenor Park: displaying Sparrowhawk (Neil Anderson)
Richmond: Eastern race Lesser Whitethroat still in back gardens of Selwyn & Pagoda Avenues. Parking charges apply Mon-Sat. Park only in visitors bays. (Franko J Maroevic)
Richmond Park: 1 Black Redstart cattle enclosure, 1 Fieldfare, 2 Stonechat (Hugh Bradshaw); 5 Sparrowhawk, 11 Red Kite mostly SE, 19+ Buzzard mostly NW incl 6 local birds, m Shoveler, 12 Pochard, 2 Red-crested Pochard pr, 3 Swallow, Sand Martin, 5 Stonechat (J.Wilczur, B.Marsh, P.Pentek, P.Redmond)
Ruislip Woods: 26+ Hawfinch 6+ in Fore St/Salisbury Rd area 07:30 & 20+ north of 'The Waters Meet' c/p 08:00 (Richard Francis)
St James's Park: Common Buzzard drifted N from c14:30, singing Blackcap; Brimstone (Frank Nugent)
Sevenoaks WR: 2 Little Ringed Plover fr tyler hide pm, also 2 Egyptian Goose, Treecreeper, 3 Chiffchaff, Blackcap (Jack Headley tweet)
Sewardstone Marsh: Osprey circled then N 0925 (Neville Smith)
Shrewsbury Park: 5 Chiffchaff, 2 Blackcap, 2 Great Spotted Woodpecker, Nuthatch, Kestrel, 2 Jay, 2 Song Thrush, Green Woodpecker, Grey Heron W, Cormorant S, Tawny Owl h (Tim Rymer)
Springwell Lake: pr Goldeneye (Chris Sharp tweet)
Staines Reservoirs: 1 Yellow Wagtail [Ldn foy] early am, no sign of Manx Shearwater early am (Bob Warden per FJM); also 2 Black-necked Grebe still, Little Ringed Plover, Curlew, AMERICAN HORNED LARK still (Dom Pia tweet)
Stocker's Lake: 10 Little Egret (Geoff Lapworth via Herts BC)
Sutcliffe Park: Common Snipe, Song Thrush, Chiffchaff (Conrad Ellam)
Swanscombe Marsh: 17 Gadwall, 12 Shelduck, 3 Chiffchaff, 1 Willow Warbler, 1 Wheatear, 1 Reed Bunting, 8 Greylag Goose, 2 Marsh Harrier, 4 Buzzard, 1 Mediterranean Gull over, 1 Water Rail, 2 Kestrel, 3 Skylark, 9 Teal, 2 Canada Goose, 5 Cetti's Warbler, 2 Oystercatcher, 12 Turnstone, 1 Common Sandpiper, 26 Redshank; 4 Brimstone, 1 Peacock & 1 Small Tortoiseshell butterfly 9.00-12.30 (Roger Keith)
Sydenham Hill Wood: Willow Warbler (Dave Clark per SHW tweet)
Totteridge Valley/Darlands Lake: Woodcock flushed from 'owl'_field, Red Kite, 2 Buzzard, 9 Teal, 2 Egyptian Goose, 8 Rook, 9 singing Chiffchaff, 1 singing Blackcap, Treecreeper singing, pr Bullfinch and still 5 Common Gull [usually gone by now]; also Weasel (John Colmans); also 1 Raven, 1 Garganey, 1 Wheatear, 1 Red-legged Partridge, 2 Eygptian Goose, 2 Common Buzzard mating in big Oak tree Folly Farm; 3 Comma, 1 Small Tortoiseshell (Tony Clancy)
Tower Hamlets Cemetery Park: singing Blackcap and Chiffchaff; 4 Brimstone (Bob Watts)
Trent Park: 3 Mandarin Duck 2m f, 4 Eurasian Teal 2m 2f upper lake, 4 Tufted Duck 3m f, 3 Common Buzzard, 2 m Kestrel, 8 Stock Dove, 2 Green Woodpecker, 4 Great Spotted Woodpecker, 4 singing Blackcap, 9 singing Chiffchaff, 4 Coal Tit, 7 Nuthatch 5m 2f, Treecreeper singing; 2 Red Admiral, 3 Comma, Peacock, f Brimstone (Robert Callf); also 5 Common Buzzard, leucistic Grey Heron, Goldfinch (Pete Lowman)
Tufnell Park: [N7] 5 Jay and 3 Magpie chasing each other around on Huddleston Rd 9:00 (Reuben Braddock)
Tyttenhanger GPs and Willows Farm: 5+ Sand Martin main pit, 2 Swallow & Willow Warbler tytt fm, 3 Yellow Wagtail over willows fm (Rupert Evershed tweet); also Oystercatcher, 2 Great Black-backed Gull, Little Owl, 5+ Chiffchaff, 3 Blackcap, Redwing (TyttGP tweet)
Victoria Park: 2 singing Willow Warbler, 4 Chiffchaff 2 singing, 2m Blackcap, m Red-crested Pochard, 25+ Tufted Duck, 3 Gadwall, 1 Great Crested Grebe, 5 Mistle Thrush, Great Spotted Woodpecker, Goldcrest, Egyptian Goose pr & 5 goslings (Jan Dobbie)
Walthamstow Reservoirs: LITTLE BUNTING still, 2 Common Terns, House Martin, Goosander, Willow Warbler, 7 Blackcaps, Green Sandpiper, 8 Buzzards (Walthamstow Birders)
Wanstead Flats: Redstart sp [not a Ldn foy that's still up for grabs. Really couldn't say which species it was as I was distracted by a second bird that turned out to be nothing more exciting than a Dunnock - NC] flew from Long Wd to Brooms c1125 (Wanstead Birders tweet); 5 Snipe, Fieldfare, Redpoll, Linnet, Reed Bunting, 7 Blackcap 5m 2f, 5 Chiffchaff, Buzzard, Sparrowhawk, Kestrel, Sand Martin, 7 Shoveler, 2 Gadwall, Pochard, Little Grebe, 6 Meadow Pipit, 5 Skylark (Wanstead Birders)
Waterworks NR: 1-2 Reed Warbler [Ldn foy] (per Paul Whiteman)
Wick Woodland: pm walk in rare sunshine no birds of note but 3 Comma, 2 Brimstone, 2 Peacock and 2 Small Tortoiseshell (Harry Harrison)
Woodberry Wetlands: 2 Shelduck, 2 Snipe, Peregrine, Kestrel, Sparrowhawk, 3 Chiffchaff, 2 Blackcap, 4 Reed Bunting (Chris Farthing)
Woodoaks Farm: m Wheatear still on rubble pile (Chris Sharp tweet)
Wormwood Scrubs: 1m Ring Ouzel in grasslands, pr Kestrel displaying, 1 Blackcap, 2 Chiffchaff (Charlie Farrell)
Wednesday 4th April 2018Edit
Alexandra Park: m Blackcap, m Chiffchaff, Greylag, 3 Great Crested Grebe Wood Green Res 2 fighting (Bob Watts)
Amwell NR: Osprey w damaged primary on R wing fishing Great Hardmead L fr viewpt 1910-1925 then S (Phil Ball & Ron Cousins via Twitter)
Barn Elms Playing Fields: pr Egyptian Goose with one downy young, Herring Gull x Lesser Black-backed Gull hybrid 4cy, m Wheatear (Rupert Kaye)
Beckton Sewage Works: 3 Buzzard, 2 Oystercatcher, Curlew, Ringed Plover, Common Sandpiper, 2 Green Sandpiper, 4 Common Tern, Blackcap, 3 Chiffchaff (Dave Morrison tweet)
Brent Reservoir: Little Egret, Grey Heron standing on a nest for an hour - strange - they have attempted but not bred yet, drake Shoveler, singles of Common Snipe, Lapwing, Green Sandpiper, m Kestrel, 3 Chiffchaff, Blackcap, 3 Cetti's Warbler, Nuthatch (Andrew Verrall)
Brookmill Park: Sparrowhawk, Song Thrush, Blackcap (Conrad Ellam)
Dagenham Chase: Shelduck, Red Kite, 5 Sand Martin, 2 Swallow, 3 Fieldfare, 3 Redwing (DC website)
Finchley: gdn N3 - 2m Blackcap incl 1 singing, 5 Stock Dove (Samuel Levy)
Hampstead Heath: 4 Redpolls N then S 0900, Rook S, 2 Woodpigeons N, both Blackcap and Chiffchaff h singing from Parliament Hill (Pete Mantle)
Heathrow: Willow Warbler (Adam Cheeseman); Little Owl back of Polar Park calling 2am (Wendy Marks)
Heston: area - Buzzard low over M4 betw Osterley & Heston (Neil Anderson)
Holyfield Hall Farm: 1 Pink-footed Goose in stubble field w of Fm, 4 Egyptian Geese, 2 Red-legged Partridge, Peregrine, Kestrel 5pm (Davey Leach)
Home Park: 1 Willow Warbler, 1 Cetti's Warbler, 2 Chiffchaff, 1 Little Owl, 1 Blackcap, 2 Shelduck sw, 3 Stock Dove (John Herbert) Where was the Little Owl, John? [Mat Hare] hi mat it was on the northern edge of the wall pond in an oak
Hyde Park/Kensington Gardens: 2 Redwing, 5 Chiffchaff, 3 Blackcap, 3 Treecreeper (N P Senior)
KGV Reservoir: Smew, Arctic Tern, House Martin, 5 Sand Martin, 2 Wheatear (Neville Smith)
Ladywell Fields: Mandarin, Stock Dove, Song Thrush, Chiffchaff (Conrad Ellam)
Little Britain Lake: 2 well-grown Grey Heron chicks in heronry, pr Mandarin, pr Grey Wagtail, 1 Common Tern, several Coot nests [1 young], 1 Great Crested Grebe (Roger Dewey)
London Wetland Centre: 4 Pintail, 3 Snipe, 5 Redshank, 5 Chiffchaff, 2 Blackcap, 7 Sand Martin, Swallow (WWT website); 3 Blackcap 2m f, 1 Willow Warbler, 1 Jack Snipe (Martin Honey et al.)
London Zoo: f Peregrine 1330 (Sam Jones)
Mayesbrook Park: Great Crested Grebe, 1 Stock Dove, 1 Green Woodpecker, 1 Great Spotted Woodpecker, 2 Blackcap (G. Harding)
Pinner (The Croft): Red Kite circling low over park and neighbouring gardens 1pm (Nigel Barratt)
Rainham RSPB: 24 Brent Goose flew downriver 08:30, 4 singing Chiffchaff, 111 Shelduck, 45 Teal, 20 Gadwall, 2 Oystercatcher, Avocet, 5 Marsh Harrier 3m 2f, 8 Cetti's Warbler, 27 Tufted Duck, 232 Wigeon, 10 Little Grebe, 9 Black-tailed Godwit, 7 Little Egret, 149 Shoveler, Great Egret still, 24+ Skylark, 3 Peregrine 2f m, 6 Common Tern, Sandwich Tern, 20 Pochard, 7 Pintail, Dunlin, Spotted Redshank, 2 Sand Martin, 2 Kestrel, 3 Pied Wagtail, Barn Owl, Whimbrel, singing Blackcap, 5 Common Snipe, 10 Stock Dove, 7 Jackdaw, 5 Rook (Samuel Levy et al)
Richmond Park: singing Chiffchaff and Skylark, Fieldfare, 2 Redwing, 3 Buzzard, 4 Wigeon, 3 Shoveler, 20 Lesser Redpoll, 5 Greylag, 2 well-grown Grey Heron chicks old enough to be left in nest between parental feeding trips (P Pentek)
Ruxley: Honeydale Farm DQ14 - pr Red-legged Partridge, singing Skylark, 3 Buzzard (Ian Stewart)
Sevenoaks WR: 4 Little Ringed Plover, Common Tern (James King per Mathew Bournat); 4 Little Ringed Plover, Common Tern, Swallow, 4 Chiffchaff, 2 Blackcap, 9 Redwing (per Susanna Clerici via Kent OS)
Shrewsbury Park: 4 Chiffchaff, Kestrel, Nuthatch, 2 Green Woodpecker, Great Spotted Woodpecker, Goldcrest, 2 Jay, 2 Song Thrush (Tim Rymer)
Shooters Hill: GC - Peregrine w Ring-necked Parakeet kill fr Shrewsbury Pk 06:30 (Tim Rymer)
Staines Reservoir: v distant MANX SHEARWATER on s basin till 1945 at least [found by Ken Purdey], 2 Sandwich Tern over n basin (Dom Pia tweet)
Swaines Green: Red Kite, Common Gull, 2 Skylark, Chiffchaff, 16 House Sparrow, Bullfinch, 2 Linnet (Roger Emmens via EBwS BN)
Tower Hamlets Cemetery Park: 2m Goldcrest, Chiffchaff (Bob Watts)
Tyttenhanger GPs: tytt fm - Grey Partridge chasing Red-legged Partridge in bean field Coursers Rd side 0900, Willow Warbler (TyttGP tweets)
Vanbrugh Pits, Blackheath: singing Chiffchaff, Song Thrush (Mike Paice)
Walthamstow Reservoirs: LITTLE BUNTING still around seed tray am, 2 singing Blackcaps, 6 Red-crested Pochard on No1, Oystercatcher, Green Sandpiper, Sand Martin (Walthamstow Birders); single Swallow over No4 13:20 (Callum Farrell-Morris)
Wanstead Flats: 3 Ring Ouzel c08:00 not afterwards, 8+ Meadow Pipit, 4 singing Skylark, 2 singing Blackcap, 3 singing Chiffchaff, 40+ Herring Gull, Common Gull, 2 Shoveler, 2 Gadwall, 2 Little Grebe (Wanstead Birders)
Wanstead Park: 7+ singing Blackcap, 8 Chiffchaff, singing Goldcrest, 4 Coal Tit, 2 Nuthatch, 20+ Stock Dove, Sparrowhawk, Kestrel, 19 Shoveler, 17 Teal, 3 Gadwall, Pochard, 6 Little Grebe, 1-2 Fieldfare (Nick Croft)
West Finchley: Stn - 3 Cormorant over 07:05 (Samuel Levy)
Tuesday 3rd April 2018Edit
Alexandra Park: Wheatear p/f, 3m Chiffchaff, Litthe Grebe Wood Green Res (APOG Birders)
Amwell NR: 3 Red-breasted Merganser 2m f Gt Hardmead L fr viewpt briefly 0730-0740 (Barry Reed tweets); Osprey N 1820 (William Bishop tweet)
Boston Manor Park: Kingfisher at pond (Michael Robinson)
Brent Reservoir: fem Sparrowhawk, m Kestrel, 3 Little Ringed Plover flew in & fed on mud 13.17, 2 Black-headed Gull, Yellow-legged Gull 3cy, Great Black-backed Gull 2cy, Swallow N [Brent foy], 5 Chiffchaff, Blackcap, 3 Cetti's Warbler, m Reed Bunting (Magnus Andersson, Andrew Verrall)
Brockley Nature Reserve: Chiffchaff singing (Keith Chambers)
Brookmill Park: 2 Kingfisher, singing Blackcap, singing Goldcrest; melanic Brown Rat (Mike Paice)
Canons Farm: 4 Red Kite, 2 Chiffchaff, 4 Fieldfare, 2 Brambling, 80 Linnet, 8 Yellowhammer (Steve Gale tweet)
Dagenham Chase: 25 Wigeon, m Pochard, Water Rail, 2 Kestrel, Peregrine, 4 Jackdaw, 11 Sand Martin, Swallow, 4 Blackcap, House Sparrow, Bullfinch (DC website)
Finchley: gdn N3 - m Blackcap (Samuel Levy)
Gallions Reach: m Black Redstart (Kevin J McManus)
Greenwich Ecology Park: 2 Sand Martin, singing Chiffchaff (Conrad Ellam)
Gunpowder Park: Raven 13:20 battling Common Buzzard above Avey Ln area (Neville Smith)
Highgate Woods: Hawfinch in group of 4 finch sp. in oak canopy 12.15 (Jo Edwards)
Hilly Fields: Singing Blackcap (Conrad Ellam)
Island Barn Resevoir: 2 Wheatear and 2 Swallow (Chris Turner)
London Wetland Centre: 2 Shelduck, 4 Pintail, 3 Jack Snipe, 7 Snipe, 5 Redshank, 6 Sand Martin, Willow Warbler, 3 Chiffchaff, 2 Blackcap (WWT website); 5 Chiffchaff, 9 Sand Martin, 1 Swallow, 2 Little Ringed Plover, 1 'Commic' Tern [probably Common but very distant across main lake] (Martin Honey et al.)
Queen Mother Reservoir: Curlew on gravel works to east side 0630-0930 then N, also Oystercatcher over (Andy Tomczynski via Berks BN); ad Greenshank [Ldn fos] on north bank then SSE 0755 (Derek Barker via Berks BN)
Rainham RSPB: Great Egret still, Spotted Redshank, Sandwich Tern, 3 Common Tern, Arctic Tern [Ldn foy], 4 Sand Martin (Howard Vaughan tweets); 2 Wheatear, Swallow, 7 Ruff, 3 Marsh Harrier, 2 Common Buzzard (James Hudson)
Richmond: Eastern race Lesser Whitethroat still in back gardens of Selwyn & Pagoda Avenues. Parking charges apply Mon-Sat. Park only in visitors bays. (Franko J Maroevic)
Richmond Park: m Wheatear (M.Lewis)
Ruislip Woods: 5+ Hawfinch close to bridle path heading north from Fore St/Salisbury Rd entrance 10:00 (Richard Francis)
Rye Meads RSPB: fr gadwall_hide - 2 Shelduck, Little Ringed Plover, 2 Green Sandpiper, Redshank; also Oystercatcher, 2 Snipe over, 2 Blackcap singing, f Wheatear on meadow 1000 (Allan Meadows via Herts BC)
St James's Park: 2 singing Blackcap (Frank Nugent)
Sevenoaks WR: Common Tern east lake, Lesser Redpoll, Redwing, 20 Siskin (per Susanna Clerici via Kent OS)
Seventy Acres Lake: 2 Egyptian Goose, 20+ Shoveler, 6+ Pochard, Peregrine Falcon, 1-2 Swallow, 4+ singing Chiffchaff, 2 Cetti's Warbler, 4+ Reed Bunting (Simon Papps)
Shrewsbury Park: Chiffchaff, Nuthatch, 2 Kestrel, Green Woodpecker, Great Spotted Woodpecker, 2 Jay, 2 Song Thrush (Tim Rymer)
South Lodge Farm: 111+ Woodpigeon, f Northern Wheatear (Robert Callf)
Stave Hill: 1 Willow Warbler (Richard Page-Jones)
Stocker's Lake: Osprey circling lake 1320 (Herts BN); later flew E along R Colne (Lee Evans tweet)
Totteridge Valley/Darlands Lake: 2 Egyptian Geese, 3 Mandarin Duck, 12 Teal, 2 Pheasant, Sparrowhawk, 6 Common Buzzard, 28 Black-headed Gull, 18 Stock Dove, Kestrel, 22 Rook, House Martin hawking insects over Cricket Pavilion, 6 singing Chiffchaff, f Blackcap, 113 Starling, 4 Pied Wagtail, Meadow Pipit, 9+ Hawfinch 4 Darlands & 5+ path to Laurel Pond, Bullfinch, Linnet (Samuel Levy)
Tower Hamlets Cemetery Park: Blackcap male singing near entrance am, also Goldcrest singing Sanctuary Wd pm (Bob Watts)
Trent Park: Little Grebe lower lake, 2 Grey Heron incl leucistic bird, 5 Mandarin Duck 4m f, 2 Eurasian Teal m f upper lake, 8 Tufted Duck 5m 3f lower lake, Chiffchaff, 3m Nuthatch, Treecreeper, 6 Chaffinch (Robert Callf)
Troy Mill Lake: 2 Swallow straight through heading north aft (John Edwards)
Walthamstow Reservoirs: 5 Red-crested Pochard, Green Sandpiper, 6 Sand Martin, 2 Wheatear, LITTLE BUNTING still (David Bradshaw tweet); Lockwood pm - pr Goldeneye, 2 Swallow S 17.50 & 18.45 (Lol Bodini)
Wanstead Flats: f Ring Ouzel late am [2nd earliest record], Redwing, 7 Song Thrush, Swallow, 4-5 singing Chiffchaff, Siskin, 4 Linnet, 20+ Greenfinch, Reed Bunting, Peregrine Falcon, Kestrel, 2-3 Sparrowhawk, Little Owl, 10+ Meadow Pipit [up to 5 singing birds], 9 Skylark, 6 Shoveler, 2 Pochard, Little Grebe, 30 Herring Gull, 7 Lesser Black-backed Gull, 2 Black-headed Gull, Common Gull all appearing to have moved on over the weekend (Wanstead Birders)
Wanstead Park: 5 singing Chiffchaff, singing Blackcap, 2 Coal Tit, Shoveler, Little Grebe, 2-3 Sparrowhawk, Kestrel (Nick Croft)
William Girling Reservoir: relief channel - Red-legged Partridge, 3 Pheasant, 4 Little Egret, 2 Sand Martin, 2 Grey Wagtail, 4 Greenfinch (Barry Jones per ELBF FB)
Woodberry Wetlands: 2 Water Rail, Willow Warbler, Chiffchaff, 8 Shoveler, 3 Lesser Redpoll, Reed Bunting (Chris Farthing & Tony Butler)
Monday 2nd April 2018Edit
Alexandra Park: Red Kite drifting E 17.15 (Brian Milligan)
Brent Reservoir: Egyptian Goose, 60+ Tufted Duck, 15 Pochard, 5 Common Snipe, Peregrine, Kingfisher, 3 Sand Martin, 3 Cetti's Warbler, 2 Reed Bunting m f (Roy Beddard); pr Coal Tits from garden conifers came to tree by muddy path to hide (A. Verrall)
Brookmill Park: singing Blackcap, singing Willow Warbler (Conrad Ellam)
Bushy Park: 4+ Chiffchaff, 2 Great Spotted Woodpecker, 5 Green Woodpecker, Kestrel, 4 Song Thrush (Ian R Watson)
Canons Farm: f Merlin (Roy Weller per KJM)
Coopers Green GPs: Stanborough GP - Little Ringed Plover, 5 Green Sandpiper, m Wheatear (Steven Pearce via Herts BC)
Crayford Marshes: Common Buzzard, 2 Chiffchaff, Yellow-legged Gull, 2 Oystercatcher, 4 Cetti's Warbler, Little Egret, 38 Redshank, 28 Wigeon, 40 Teal (Kev Jarvis)
Eltham Park North: singing Blackcap, Stock Dove, Great Spotted Woodpecker, Green Woodpecker (Tim Rymer)
Ewell: 4 Swallow se over dw fitness 12.55, also 1 Common Buzzard (Neil Batten)
Finchley: gdn N3 - m Blackcap (Samuel Levy)
Greenford: [UB6] m Blackcap in front garden trying to get on feeders (Neil Anderson)
Hilfield Park Reservoir: Avocet in centre of res and still there 15.45, m Commom Scoter 2cy still (Tony Blake); 1 Swallow, 13 Sand Martin (Lee Evans tweet) AV's post combined w/ TB's
Kentish Town: [NW5] Peregrine E 18:10 (Frank Nugent)
KGV Res: 3 Wheatear, 2 Swallow, 2 House Martin, 12 Sand Martin, 2 Green Sandpiper, m Smew, 7 Goosander, 10+ Goldeneye (Andrew Middleton)
Leyton: [E15] Hawfinch Drapers Field 0930 (Stephen Harris tweet)
London Wetland Centre: Little Ringed Plover, 5 Redshank, 3 Siskin, 3 Jack Snipe, 6 Snipe, 2 Shelduck, 2 Pintail, Swallow, Willow Warbler, 3 Chiffchaff, 3 Blackcap (WWT website); 6 Jack Snipe, 5 Sand Martin, f Goldeneye (Oscar Dewhurst)
Mad Bess Wood: 2 Hawfinch m f 13.00 feeding in leaf litter just north of Hillingdon Trail betew c/p & trail. Showed extremely well for 5 mins. (Matthew J. Bradbury)
Northaw Great Wood: 4 Marsh Tit, c6 Brambling, c7 Hawfinch (per Herts BC)
Oxleas Woods: Treecreeper, 3 Chiffchaff, 7 Goldcrest, Kestrel, 3 Nuthatch, 3 Stock Dove, 6 Great Spotted Woodpecker, 2 Green Woodpecker, 7 Jay, Song Thrush, Cormorant S (Tim Rymer)
Rainham RSPB: Great White Egret, Ruff, Barn Owl (Bob Husband & NW London RSPB Grp); also 6 Little Egret, 4 Marsh Harrier, Buzzard, Avocet, 3 Curlew, 2 Grey Plover, 2 Ringed Plover, 7 Ruff, 103 Black-tailed Godwit, Peregrine, Wheatear (Howard Vaughan, Andy Tweed, Alan Shearman per ELBF FB)
Richmond: Eastern race Lesser Whitethroat still in back gardens of Selwyn & Pagoda Avenues. Parking charges apply Mon-Sat. Park only in visitors parking bays. (Franko J Maroevic)
Sevenoaks WR: Sand Martin, 3 Swallow, Willow Warbler, 6 Lesser Redpoll, 12 Siskin (Barry Wright tweet); Egyptian Goose, Shelduck, Blackcap (Mathew Bournat tweet); also Shelduck, 10 Shoveler, 4 Gadwall, 8 Wigeon, 20 Teal, 11 Pochard, 4 Grey Heron [3 nests occupied], 16 Great Crested Grebe, 2 Sparrowhawk m f, 2 Buzzard, 9 Lapwing, Little Ringed Plover, 2 Common Snipe, Redshank, 26 Common Gull, Coal Tit, 6 Sand Martin, 2 Swallow, 5 Chiffchaff, Blackcap, 8 Redwing, Grey Wagtail (per Susanna Clerici via Kent OS)
Sewardstone Marsh: Curlew 10:00, Wheatear, Treecreeper singing 15:50, m Pintail 18:00 (Neville Smith)
Shrewsbury Park: Chiffchaff, Nuthatch, Kestrel, 2 Great Spotted Woodpecker (Tim Rymer)
Staines Moor: Red Kite, Chiffchaff (Jon Agar)
Staines Reservoir: AMERICAN HORNED LARK, 2 Little Ringed Plover, 3 Meadow Pipit, 2 Shelduck (Shailesh Patel); 2 Black-necked Grebe, 3 Little Ringed Plover, White Wagtail (Dom Pia tweet) Please note suspicious behaviour at Staines Res Sunday PM, I and another birder were approached by two fairly well dressed lads 15 to 17 years old who asked us to "tie their shoelaces for them, as they couldn't do it themselves". A little unnerving but not threatening, refused and they left. Not sure if it was an attempted mugging or a happy slapping type prank but be warned. [Gordon Shaw] Updated please contact Surrey Police and try to get a photo if you see them.
Stanstead Abbotts Lakes - N lake: 2 Swallow (Jane Free via Herts BC)
Tooting: 1 Swallow (D.Peers)
Totteridge Valley: 10 Hawfinch, 1 Lapwing, 4 Pheasant, 1 Chiffchaff. High water levels in Valley very muddy. (T.Clancy, B.Dawton, G. Crabtree)
Tyttenhanger GPs and Willows Farm: fishing lake - Great Black-backed Gull, 2 Sand Martin, 2 Swallow; willows fm - Barnacle Goose, 5 Egyptian Goose (per Herts BN); [pm] main gp - Little Ringed Plover, 3+ Snipe, 10+ Sand Martin, Chiffchaff, 20+ Fieldfare; fishing lake - Oystercatcher (Rupert Evershed tweet)
Walthamstow Reservoirs: LITTLE BUNTING still, Osprey N then W c08.50, 4 Wheatear, Rock Pipit, Little Ringed Plover, 3 Green Sandpipers, 5 Red-crested Pochard 4m f (Paul Whiteman/Stuart Fisher/David Bradshaw)
Wandsworth Common: Kestrel, Sparrowhawk, 2 singing Chiffchaff, 3 Siskin, Jackdaw, Greenfinch, 12 Shoveler (Nick Rutter)
Wanstead: m Blackcap singing in gdn Nightingale_Lane c7.59 (Geoff Gram)
Waterworks NR: 2 Sedge Warbler [Ldn foy] (per Magnus Andersson)
Woodberry Wetlands: 2 Jack Snipe, Water Rail, 3 Lesser Redpoll (Tony Butler)
Sunday 1st April 2018Edit
Addlestone: Osprey at quarry then N 0945 (BirdGuides)
Alexandra Park: 10 Linnet filter beds, pr Eurasian Teal Wood Green Res, m Blackcap, 2m Chiffchaff (APOG Birders)
Beckton Creekside NR: 25 Redshank, singing Willow Warbler, 8 Chiffchaff, Grey Wagtail (Shaun Harvey tweet)
Bramblehall Wood: 200 Hawfinch still (Steve Gale tweet)
Brent Reservoir: 8 Common Snipe, Red Kite, Peregrine, 4 Cetti's Warbler, pr Reed Bunting (Roy Beddard, Andrew Verrall, Magnus Andersson); 2m Nuthatch 1 in churchyard responding to 2nd bird further away (Francis O'Sullivan)
Brookmill Park: Little Egret, Great Spotted Woodpecker, Song Thrush, singing Chiffchaff (Conrad Ellam)
Bushy Park: Chiffchaff, 2 Great Spotted Woodpecker, 2 Green Woodpecker (Ian R Watson)
Canons Park: Firecrest 12.15 & 13.25 Canons Dr end of The Spinney, Treecreeper, Nuthatch pr building mud nest hole (Bob Husband & NW London RSPB Grp)
Collier Row: Green Woodpecker 'yaffling' from tree 8:30 (G J Francis)
Colney Heath: Yellowhammer in fields by Roestock (Steven Pearce via Herts BC) TL207060
Copped Hall: 2 Red Kite, 7 Common Buzzard, 2 Kestrel, 15 Skylark, 14 Linnet, 28 Yellowhammer, 5 Fieldfare, 2 Green Woodpecker; 5 Hares (Chris Baldwin)
Crayford Marshes: 2 Wheatear, Common Buzzard, 2 Green Sandpiper, 2 Curlew, 2 Oystercatcher, 5 Dunlin, Mediterranean Gull, 8 Skylark, 6 Meadow Pipit, 33 Wigeon, 6 Gadwall, 30 Teal (Kev Jarvis); Great to see you Kev. All I can add of note - 2 Snipe, Little Owl and m Reed Bunting (Ralph Todd)
Dagenham Chase: Green Sandpiper, Peregrine (DC website)
Fairlop Waters: south workings 1 Little Ringed Plover, 3 Common Snipe, 2 Lapwing, 1 Reed Bunting, 25 Teal, 2 Shoveler, 6 Gadwall, Little Grebe (Steve Bacon)
Finchley: gdn N3 - Tawny Owl calling 21:35 (Samuel Levy)
Greenwich Ecology Park: Little Grebe, Kestrel, Blackcap, Chiffchaff, Reed Bunting (John Bushell, Conrad Ellam & Richard Green)
Hampstead Heath: Wheatear m on running track, 6 Siskins E (Pete Mantle)
Hilfield Park Reservoir: m Common Scoter 2cy still, Goldeneye, 2 Sand Martin (Tony Blake via Herts BC)
Holyfield Park Farm: Pink-footed Goose still in field east of farm (Lol Cumming tweet)
Isle of Dogs: Yellow-legged Gull 3cy Thames shore at Saunders Ness (Sean Huggins)
Juniper Bottom: 8 Hawfinch (Steve Gale tweet)
Lodge Hill: 17 Hawfinch (Steve Gale tweet)
London Wetland Centre: m Wheatear, 2 Shelduck, 2 Pintail, 3 Jack Snipe, 5 Snipe, 5 Redshank, 3 Chiffchaff, Water Pipit & Rock Pipit wader scrape, 3 Siskin (WWT website); 6 Jack Snipe, 7 Common Snipe, Willow Warbler, Meadow Pipit on marsh, 3 Blackcap (Oscar Dewhurst)
Mad Bess Wood: 20+ Hawfinch in middle of site 09:40 (Richard Francis)
Mardyke, Stifford-Aveley; incl f Red-crested Pochard, 40 Gadwall, 59 Teal, 2 Buzzard, Water Rail, 55 Black-headed Gull, Kingfisher, 2 Cetti's Warbler, 6 Chiffchaff, Blackcap, Treecreeper, 55 Redwing, Grey Wagtail, 3 Lesser Redpoll, Siskin, Reed Bunting (Alan Shearman per ELBF FB)
Mickleham Downs: 1 Hawfinch (Steve Gale tweet)
Mile End: Antill Rd E3 - f Sparrowhawk predates Starling in back gdn (Harry Harrison)
Morden Hall Park: Kingfisher, 4 Grey Wagtail, Little Egret, 2 Sparrowhawk in display flight, Kestrel, Peregrine, 3+ Chiffchaff (MHP Nature Grp)
Newton Park West: Grey Wagtail, Green Woodpecker, 2 Great Spotted Woodpecker (Tim Rymer)
Oxleas Wood:7Nuthatch,4Treecreeper,3Chiffchaff,5Stockdove,5Jackdaw,6Greatspottedwoodpecker 2CommonBuzzard(pr),7Goldcrest,2Kestrel(fm),Coaltit,2Greenwoodpecker,3Goldfinch,2Mallard(pr) Sparrowhawke(fm),(Ron Turner)
Oxleas Wood: 7 Nuthatch, 4 Treecreeper, 3 Chiffchaff, 5 Stock Dove, 5 Jackdaw, 6 Great Spotted Woodpecker, 2 Common Buzzard (pr), 7 Goldcrest, 2 Kestrel (from), Coal Tit, 2 Green Woodpecker, 3 Goldfinch, 2 Mallard (pr), Sparrowhawk (fm) (Ron Turner) Is this what you meant, Ron?
Pimlico Gardens: Caspian Gull 3cy late aft (N P Senior)
Priest Hill: singing Blackcap, 3 Meadow Pipit (Neil Batten)
Purfleet: 12 Shelduck, 18 Gadwall, 72 Wigeon, 23 Teal, ad m Marsh Harrier, Avocet, 6 Oystercatcher, 2 Curlew, 42 Black-tailed Godwit, 4 Snipe, ad Kittiwake, Yellow-legged Gull, 23 Fieldfare, Stonechat, m Wheatear (Fraser Simpson tweet)
Pymmes Park: 2 Nuthatch (Andrew Middleton)
Rainham RSPB: 400 Wigeon, 32 Pintail, Great Egret aveley marsh still, 6 Little Egret, Sparrowhawk, 6 Marsh Harrier 3m 3f, 2 Buzzard, m Wheatear, Avocet, 2 Oystercatcher, Little Ringed Plover, 6 Curlew, 50 Black-tailed Godwit, 12 Ruff, Jack Snipe, 19 Snipe, 9 Dunlin, Barn Owl, Short-eared Owl, 2 Kestrel, f Peregrine, 6 Bearded Tit, 3m Chiffchaff, Water Pipit (per ELBF FB)
Raynes Park: gdn - Grey Heron E 1515 - 3rd in 2 days quite unusual for Coombe Ln (Paula Redmond)
Richmond: Eastern race Lesser Whitethroat still in back gardens of Selwyn & Pagoda Avenues. No parking charges on bank holidays. (Franko J Maroevic)
Richmond Hill: 3 Red Kite and 1 Buzzard in thermals (Hugh Bradshaw)
Richmond Park: m Wheatear (H.Bradshaw); 2m Skylark, 17 Meadow Pipit, 2 Stonechat, 32 Redwing, no sign of yesterday's Redpoll flock - all Holly Lodge area (J.Wilczur); 12 Lesser Redpoll still in Hawthorn Valley late am (Franko J Maroevic); 2 Wheatear, 1 Snipe betw Spankers Hill Wood & White Lodge, 1 Red Kite (Peter Carlill)
River Brent, Greenford: 2 Teal, 2 Red Kites circling 11:05, Chiffchaff, Goldcrest. TQ1481 (Phil Belman)
Roxbourne Park: 2 Little Egret, Green Woodpecker, Song Thrush (Tim Rymer) [new site for LNHS gazetteer TQ121874]
Ruislip Woods: 33+ Hawfinch 25+ adj to car park north of 'The Waters Meet' 09:10 & 8+ betw Fore St & Wiltshire Ln 10:05 (Richard Francis) Is this The Waters Edge by the Lido please?
Sevenoaks WR: Black-tailed Godwit fr tyler hide still, 4 Chiffchaff, 30 Siskin (Susanna Clerici via Kent OS)
Sewardstone Marsh: Blackcap, m Pintail on pattypool mead 09:20 (Martin Shepherd)
Shrewsbury Park: 20+ Lesser Redpoll, singing Chiffchaff, 3 Stock Dove, 2 Great Spotted Woodpecker, Green Woodpecker, Kestrel, 4 Jay, Goldcrest, 4 Song Thrush, Nuthatch (Tim Rymer)
Staines Reservoir: AMERICAN HORNED LARK causeway still [south basin eastern end] (Dom Pia tweet); also 2 Black-necked Grebe still, Wheatear (Dave Carlsson tweet); 7 Goldeneye, Little Ringed Plover, Common Tern [Ldn foy], Swallow (Jim Sweetland tweet)
Ten Acre Wood area: 3 Teal, 8 Pheasant, Buzzard, f Sparrowhawk, m Kestrel, 6 Snipe, 6 Stock Dove, 4 Skylark, 2 Wheatear pr, Chiffchaff, 2 Reed Bunting (Neil Anderson)
Thames Barrier Park: Curlew and 2 Oystercatcher feeding (Frank Nugent)
Totteridge Valley/Darlands Lake: f Garganey still at Darlands, 2 Hawfinch, 4 Lesser Redpoll on usual feeder, 5 singing Chiffchaff, 15 Rook, 9 Teal, Kestrel (John Colmans); Belmont Fm - 26 Canada Geese, 2 Mandarin Duck, 2 Red-legged Partridge, 4 Pheasant, 3 Cormorant, 2 Sparrowhawk, 11 Stock Dove, Nuthatch, Song Thrush, 3 Mistle Thrush, 7 Starling, 3 Pied Wagtail (Samuel Levy)
Trent Park: 3 Mandarin Duck 2m f, 2 Eurasian Teal m f upper lake, m Common Pochard, 3 Tufted Duck 2m f, 3 singing Chiffchaff, Nuthatch, 2 Raven SE over Rough Lot calling and tussling - one returned NW calling having seen off the other 13:36 (Robert Callf)
Tyttenhanger GPs: 2 Little Ringed Plover main gp (Alan Gardiner tweet); also 4 Buzzard, Willow Warbler tytt'r fm (Rick Flesher tweet)
Walthamstow Reservoirs: LITTLE BUNTING still, Willow Warbler, 3 Green Sandpipers, 7 Goldeneye (Walthamstow Birders)
Wood Farm, Stanmore: Raven W calling 10.05, 4 Linnet, Red Kite, Mandarin over (Tony Blake) TQ168934
Wormwood Scrubs: Woodcock flushed from grassland (Paul Thomas tweet)
Yeading Brook Meadows: 5 Pheasant, 3 Red Kite incl 2 together, f Kestrel, Little Owl, singing Skylark, 36+ Meadow Pipit, singing Chiffchaff, 8 Greenfinch (Neil Anderson)