Reports posted here can be added to the LNHS database for use in the London Bird Report. To make yours eligible, please send your email address to the London Bird Club Data Manager so you can be contacted if a problem arises. A scalable map of the London recording area can be found here. Please follow our standard format to assist automatic compilation of records into the database. (Note: there are some minor changes for records from 2019 onwards.)
Please list sightings alphabetically by site. Only report sightings of wide interest rather than listing all common birds (the latter may be recorded on the General sightings page). DO NOT post details of nesting by scarce breeding birds (those included in Schedule 1 of the Wildlife and Countryside Act 1981, as amended). Any such reports will be removed; please submit them instead to the appropriate LNHS bird recorder.
Saturday 8th February 2020
NB Due to Storm Ciara, tomorrow/Sunday all eight Royal Parks will be CLOSED. [Royal Parks tweet] also to be closed Monday am for safety assessment
Friday 7th February 2020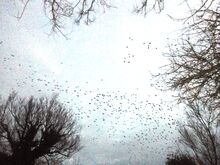 Thursday 6th February 2020
Wednesday 5th February 2020
Tuesday 4th February 2020
Monday 3rd February 2020
Sunday 2nd February 2020
Saturday 1st February 2020
Archived News
Link to previous months
Community content is available under
CC-BY-SA
unless otherwise noted.