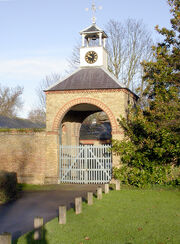 Location. Morden Hall Park is a National Trust property @ 125 acres in size situated in southwest London TQ 259 687, about 5 mins walk from Morden Underground station (Northern Line). and Phipps Bridge Station - Croydon Tramlink is on the eastern boundary See Map: [1]
Description.
The Park contains a good variety of habitats. These include Grassland, Woodland, Scrub and a wide range of wetland habitats (Marsh, Fen, Riverian) associated with the River Wandle which flows through the park, South to North. These habitats in turn support an excellent variety of birds. Around 100 species are recorded annually of which 48 species are regularly recorded as breeding. Notable species include, Spotted Flycatcher, Lesser Spotted Woodpecker, Reed Bunting, Kestrel, Sparrowhawk, Kingfisher, Water Rail, Grey Wagtail and Heron to name but a few.
The Heronry with between 5 - 10 breeding pairs is particularly pleasing and exciting as it has only been established since 2000. The commencement of breeding and establishment of the heronry has followed a steady improvement in river ecology witnessed over the last 20 years and additional habitat improvements carried out by the National Trust. to enhance and restore wetland habitats present at the park.
Rarities.
Notable and rarities in recent years have included Little Egret, Jack Snipe, Tawny Pipit, Firecrest, Pied-Flycatcher, Waxwing and Cetti's Warbler while regular passage birds include Stonechat, Whinchat, Fieldfare, Redwing, Common Snipe, Wheatear, Brambling, Siskin, Redpoll and a good range of warblers and other finches.
2019
Tuesday 29th January: 30 Siskin, Treecreeper, Common Snipe, Collared Dove, Kestrel - Michael Mac
February: Sunday 3rd: 6 Redwing, Nuthatch, Kestrel, calling Water Rail, 50 Black-headed Gull, many people 'clattering' across the boardwalk built through the marsh, not great for quiet birdwatching - Michael Mac
Thursday 7th: 6 Meadow Pipit and 1 Common Snipe in the marsh, 30 Redwing, Kestrel, 200 Jackdaw over, 250 Ring-necked Parakeets, Great-spotted Woodpecker - Michael Mac
Thursday 14th: 5 Common Snipe in Marsh, f Peregrine on Pylon, 2 Nuthatch, Egyptian Geese, Sparrowhawk, 20 Redwing - Michael Mac
March: Monday 4th: Little Egret, Grey Wagtail, Kestrel, 5 Canada Geese, Mallard - Michael Mac. Monday 18th - singing Chiffchaff, Little Egret, pr Greenfinch, pr Kestrel, pr Egyptian Geese and 7 young. 1 male House Sparrow near Deen City Farm. Monday 25th - Green Sandpiper, Kingfisher, Little Egret, pr Reed Bunting, singing Chiffchaff, calling Water Rail
Best time to visit.
ALL YEAR ROUND INTEREST - (Mornings being the most productive as the park can get very busy).
Additional information, history and events and much more can be found at the following National Trust link...
http://www.nationaltrust.org.uk/main/w-mordenhallpark-2
For the latest bird sightings and other observations of natural history interest visit my Blogs page at - User blog:Malcolm Riddler/Morden Hall Park 2010
Community content is available under
CC-BY-SA
unless otherwise noted.