Bird of the Month: Hawfinch (again)

[

]
For the second month running, London's outstanding bird has been the Hawfinch. The unprecedented irruption of birds from the beech woods of central Europe produced even more sightings in November than in October, when I first labelled it as my Bird of the Month.
For many years, autumn sightings of Hawfinch in London have only made it into single figures. But this year an amazing 65 or so records of Hawfinch in October were followed by more than 100 reports in November.
Most of these birds were just just passing through — although maybe stopping off for a snack here and there — but a few North London sites seem to have tempted them to stay longer. Notable areas have included Trent Park, Bayhurst Wood/Mad Bess Wood (Ruislip), Totteridge Valley and Bentley Priory. With luck, some may linger throughout the winter. And might they even stay to breed next year? The Hawfinch is a scarce resident in Britain, with only about 800 breeding pairs, and none in the London area. But after this massive irruption, who knows?
November has also been good for other migrant finches, with Brambling in much larger numbers than usual and more Siskin and Lesser Redpoll reported than in any year since 2012. A Twite at Beddington Farmlands on the 22nd was the first for London since October 2015.
American Horned Lark

[

]
I could perhaps have made my bird-of-the-month the "Shore Lark showing features of American Horned Lark" that was first reported at Staines Reservoir on the 19th and hung around until the 28th (having apparently already spent three weeks at the nearby permit-only Queen Mary Reservoir). A consensus seems to have been reached that this little charmer is a Canadian subspecies, either Eremophila alpestris hoyti or E. a. alpestris. Both these races, unusually for the species, are long-distance migrants and so could conceivably make it across the Atlantic. But the Horned/Shore Lark has 42 recognised subspecies, plus a proposed split into six separate species. Without DNA testing it may not be possible to assign the Staines bird to a specific post-split species.
Winter waterbirds

[

]
On the day the Shore Lark was first seen at Staines, the reservoir also had a visit from 10 Whooper Swan, which flew off mid-morning and dropped in half an hour later at Hilfield Park Reservoir. London also had the occasional sighting of Brent Goose, while Goldeneye and Goosander began to appear, with up to 25 of the latter settling in at Trent Park's lower lake. The autumn's first Smew was not seen until the last day of the month, when a redhead appeared at Friday Lake.
Inland seabirds were in short supply except on the 25th, when a Great Northern Diver was at KGV Res and a Leach's Petrel graced William Girling Reservoir.
Great White Egret seem to be taking a liking to London's northern edge. One was at Maple Lodge NR (Rickmansworth) for three weeks, another spent a fortnight at Tyttenhanger GPs and one was at Fairlop Waters from the 25th through into December. A Spoonbill was at KGV Res on the 1st and a Cattle Egret at Rainham Marshes on the 2nd.
Birds of Prey

[

]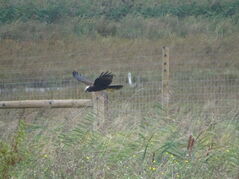 A ringtail Hen Harrier was reported at Rainham Marshes on the 1st and up to four Marsh Harrier were there on several dates. Away from the Thames wetlands, a Marsh Harrier drifted over Mill Hill on the 15th. November's only sightings of Merlin were over Hampstead Heath and KGV Res early in the month. Goshawk were reported from Kensal Green (17th) and Bayhurst Wood (25th).
Waders and larids

[

]
A couple of dozen reports of Woodcock included further Inner London casualties — three birds seen crashing into buildings and one picked up dead. Otherwise there was little of note among the waders. Apart from a Sabine's Gull seen flying downriver at Gallions Reach (12th), November also produced little in the way of notable larids.
It's nice to see some images being uploaded to the wiki again. Thanks to Samuel Levy, Charlie Farrell and John Edwards, and also to Michael Mac, who has posted a well-illustrated blog piece about the last Kestrels to breed in Stockwell.
(Contributed by Andrew Haynes, who accepts full responsibility for any errors. Historical information is mainly based on archived reports on this wiki and on 'The Birds of London' by Andrew Self.)
---
Thursday 30th November 2017

[

]
Bexleyheath: Martens Grove - 4 Great Spotted Woodpecker, 19 Redwing, Song Thrush, Goldcrest, Coal Tit, 2 Nuthatch amongst the 17 common species seen (Ralph and Brenda Todd)
Brent Reservoir: 7 Snipe, Water Rail, 2 Great Black-backed Gull on raft, Chiffchaff; 21 Starling, 46 Redwing, 10 Fieldfare, 7 Chaffinch, Bullfinch, Goldfinch, 3 Lesser Redpoll - last vis-mig 07:15-08:35 (Magnus Andersson, Andrew Verrall) The year's last vis-mig? I wish I could have joined you. But thanks to Andrew V, Magnus A, Andrew S and other early morning vis-miggers for some great records of Hawfinch and other rare passerines over the past couple of months [AH]
Greenford UB6: male Plum-headed Parakeet on sunflower feeder in garden seen & photographed by my partner K. Bull (Neil Anderson)
Greenwich Ecology Park: Little Grebe, 2 Gadwall, 4 Teal, Pheasant, Kingfisher, 2 Goldcrest, Jay (John Bushell)
Hackney Marshes: 35+ Teal, 22 Gadwall, 25 Tufted Duck, 12 Little Grebe, Grey Heron (JW Davies)
Lee Valley, Friday Lake: red-head Smew, 60+ Wigeon, 2 Siskin, Lesser Redpoll (Simon Papps)
London Wetland Centre: 5 Shelduck, 1 Bittern, 2 Pintail, 1 Kestrel, 15 Redwing, 3 Skylark and 4 Redpoll (Twitter); 3 Pintail 2m f, 2 Stonechat m f, 2 Common Snipe, 1 Song Thrush and 1 Fieldfare by Duck Tales, 2 Peregrine; Kingfisher also seen (Martin Honey)
Richmond Park: 4 Lapwing, 3 Fieldfare, 4 Redwing, 20 Lesser Redpoll, Stonechat and Little Owl (P&S Pentek); 7 Redwing (P. Redmond); 13 Fieldfare early morning Cambrian Gate, and 'grey' Stonechat still (Hugh Bradshaw)
Staines Reservoirs: Again no sign of Horned Lark, 1 Peregrine, 1 Black-necked Grebe, 5 Pintail, 11 Goldeneye, 9 Shelduck (Dominic Pia-Twitter)
Stocker's Lake: 6 Goldeneye 1m 5f (Twitter)
Surrey Water: 46 Tufted Duck, Chiffchaff (John Cadera)
Swanscombe Marsh: 1 Green Sandpiper, 3 Redwing, 1 Grey Wagtail, 42 Redshank, 2 Curlew, 3 Little Egret, 7 Lapwing, 2 Kestrel 07.30-09.15 (Roger Keith)
The Ridgeway, Mill Hill: 41 Redwing, Goldcrest, 2 Kestrel, Siskin, 2 Pied Wagtail. (Samuel Levy)
Trent Park: 25 Goosander 11m 14f/imm, 2 Kingfisher, 4 Goldfinch, 2m Pochard, f Tufted Duck, Common Buzzard, Great Spotted Woodpecker (Pete Lowman); f Teal, male Pochard, f Tufted Duck, 22 Goosander 7 ad male 15 f/imm lower lake, 2 Common Buzzard, Kestrel, 2 Woodcock, 3 Green Woodpecker, 7 Song Thrush, 10 Redwing, singing male Mistle Thrush, 2 Nuthatch, 3 Treecreeper, f Hawfinch perched in top of ash near Triangular Wood (Robert Callf)
Walthamstow Reservoirs: 1f Wigeon, 3 Goldeneye, 10 Little Egret, 1 Sparrowhawk, 1 Green Sandpiper, 4 Common Gull, 2 Great Black-backed Gull, 3 Kingfisher, 1 Peregrine, 2 Cettis Warbler, 2 Chiffchaff, 3 Song Thrush, 1 Meadow Pipit, 40 Goldfinch. (Daniel Whitelegg)
West Norwood Cemetery: 15 Redwing (Michael Mac)
Woodford Green: female Tawny Owl calling at 6.15am, c8 Siskin on feeders 10.30am plus Little Egret over at 11am., Wren and Common Buzzard over at 12am. (Ken Murray)
Wednesday 29th November 2017

[

]
Brent Reservoir: 64 Starling, 22 Redwing, 12 Fieldfare, 10 Chaffinch, 2 Siskin - vis-mig 07:15-08:45 (Andrew Verrall)
Brookmill Park: Little Egret, Kingfisher, Redwing, 3 Chiffchaff, 2 Goldcrest (Conrad Ellam)
Crossness: 2 Mute Swan, 75 Mallard, 15 Gadwall, 1 Tufted Duck, 210 Teal, 30 Wigeon, 28 Shoveler, 320 Shelduck, 6 Grey Heron, 13 Cormorant, 23 Black-tailed Godwit, 1 Curlew, 45 Redshank, 500 Dunlin, 12 Lapwing, Kingfisher, 1000 Black-headed Gulls, 1 Great Black-backed Gull, 1 Lesser Black-backed Gull, 2 Jackdaw, 36 Fieldfare, 3 Chaffinch, 32 Goldfinch, 1 Pied Wagtail, 1 Sparrowhawk, 1 Peregrine. Total 38 species (Eric Brown and Ian Moffatt)
Greenwich Ecology Park: Little Grebe, 4 Teal 2m 2f, Water Rail, Kestrel, Kingfisher, Grey Wagtail, 2 Siskin f (John Bushell)
Hyde Park and Kensington Gardens: 2 Red-crested Pochard, c50 Pochard, 4 Shoveler, Green Woodpecker, Coal Tit (Charlie Farrell); Yellow-legged Gull 2cy, Kingfisher (N.Senior)
London Wetland Centre: Bittern, 2 Pintail, 83 Gadwall, 95 Wigeon, 7 Snipe, 14 Fieldfare, Grey Wagtail (WWT Website)
Motspur Park, Station: 1000+ Herring Gull and Black-headed Gull, several Great Black-backed Gulls seen in a space of 5 minutes thermalling and moving west to roost sites at reservoirs (Samuel Levy)
Raynes Park: Grey Heron flying low over gardens Coombe Lane West, 3 Collared Dove (P. Redmond)
St James's Park: Water Rail, Chiffchaff, Peregrine (Frank Nugent).
Staines Reservoirs: No sign of American Horned Lark all day. (Justin Quail et al per FJM)
The Ridgway, Mill Hill: 48 Redwing, 2 Goldcrest, 2 Pied Wagtail, Sparrowhawk. (Samuel Levy)
Thames Barrier Park: 33 Redshank, 50 Teal, 20 Shelduck, Kingfisher, Curlew, Grey Seal (Simon Worsfold)
Trent Park: 4 Mandarin Duck, 3 male Pochard, f Tufted Duck, 17 Goosander 5 adult males 12 f/imm lower lake, 2 Sparrowhawk ad male and f/imm, male Kestrel, Kingfisher, 4 Song Thrush, 2 Redwing, Treecreeper, Siskin, Bullfinch, Hawfinch, Weasel (Robert Callf)
Walthamstow Marshes: 2 Fieldfare, 1 Redwing front paddocks, 1 Stonechat f, 1 Meadow Pipit, 1 Reed Bunting m Leyton Marsh all NW corner 09:30-10:00 (Alastair Dent)
Walthamstow Reservoirs: 3 Shelduck, 2 Egyptian Goose, 4 Goldeneye, 2 Common Gull, 2 Peregrine, 3 Goldcrest, 2 Cettis Warbler, 1 Chiffchaff. (Daniel Whitelegg)
Tuesday 28th November 2017

[

]
Brent Reservoir: 2 Little Egret flew W over Dam (Andrew Self)
Brockwell Park: 1 Little Grebe, 16 Tufted Duck, 9 Mallard, 5 Moorhen, 1 Cormorant; 14 Starling, c. 80 Goldfinch, Great Spotted Woodpecker (Tony Stones)
Brookmill Park: Kingfisher, Great Spotted Woodpecker, Redwing, 3 Song Thrush, Chiffchaff, 2 Firecrest, Goldcrest (Conrad Ellam)
Broxbourne Woods: 7 Hawfinch between 2.15-45pm (A Middleton)
Hampstead, Agincourt Rd (Nr South End Green): Fem Peregrine carrying prey low over road at 1530. Another individual has been harrying local Feral Pigeons and perching on the hospital recently, occasionally giving great if brief views (Pete Mantle)
Kensington Gardens: Mediterranean Gull 1cy Round Pond late aft (N. Senior)
London Wetland Centre: 1 Red Kite W 13.05, 2 Shelduck, 6 Snipe (grazing marsh, wader scrape), 1 Water Pipit, 10+ Fieldfare entrance lake south route, 6 Siskin over NE (LWC website);2 Stonechat m f grazing marsh, 1f Sparrowhawk reservoir lagoon, 1m Peregrine (Ch. X. Hosp.), 1 Snipe main lake (Martin Honey)
Maple Lodge NR: (members only) Great White Egret present for over three weeks now (W.Marks) photos on my blog post here
Mayflower Park: 2 Bullfinches at entrance to Park(Bob Smith) Hi Bob, just wondering are Bullfinches quite rare around here, I have never seen one around Worcester park area I cant seem to find where they would be? [Isaiah Rowe] Hi Isaiah, yes they are. We havent seen any on the Hamptons for a year or so. I've heard them recently and got a brief glimpse on Tuesday just along the hedgerow up from Green Lane School towards the stables. Sometimes just inside the side gate into the Hamptons along the same stretch of hedgerow. Best wishes Bob
Raynes Park: Blackcap m, Collared Dove pr, 4 Fieldfare (P. Redmond)
St James's Park: Water Rail, Chiffchaff (Frank Nugent).
Southwark Park: Firecrest briefly at 07:30 in Ada Salter Garden, 4 Tufted Duck, 2m Shoveler (John Cadera)
Staines Reservoirs: AMERICAN HORNED LARK still present 10.39. (per Birdguides, FJM)
Stanwell Moor: 1 Jack Snipe, 1 Short-eared Owl, 2 Water Pipit (C Lamsdell)
Stoneleigh Station KT17: 164 Herring Gull ne, 4 Pied Wagtail, 5 Collared Dove (Neil Batten)
Sutcliffe Park: Little Egret, 30 Chaffinch (Conrad Ellam)
Tate Modern: Peregrine on chimney, also Great Black-backed Gull on shore (John Colmans)
The Ridgeway, Mill Hill: Sparrowhawk, 5 Redwing, 4 Goldcrest, Pied Wagtail (Samuel Levy)
Waterworks NR: 4-5 Firecrests (Paul Whiteman, Susan Huckle)
Worcester Park: Peregrine on pylon (Bob Smith)
Monday 27th November 2017

[

]
Brixton: Grey Wagtail over tube station (Tony Stones). 
Brookmill Park: Little Egret, Sparrowhawk, Kingfisher, Great Spotted Woodpecker, Redwing, Song Thrush, Chiffchaff, Firecrest, 2 Goldcrest (Conrad Ellam) 
Maze Hill Station, Greenwich: 2-3 Firecrests in ivy (Joe Beale) 
St James's Park: Water Rail (Frank Nugent).
Staines Reservoirs: AMERICAN HORNED LARK still on N basin favouring W bank this am. (Bill Haines per FJM); Black-necked Grebe in NE corner of S basin (Bill Haines).
The Ridgeway, Mill Hill: 10 Hawfinch in trees by Mill Hill School Sports Centre until they were flushed by a magpie 08:58, 3 Goldcrest, 2 Fieldfare, 74 Redwing, 2 Pied Wagtail (Samuel Levy)
Trent Park: 4 Mandarin Duck 2m 2f, male Pochard, fem Tufted Duck, 15 Goosander 2 ad male and 13 f/imm lower lake 13:15 - 13:30 before being disturbed by workmen, Woodcock flew low over 'New Fields' 13:00 - superb views incl 'string vest', Kingfisher, 2 Nuthatch, Treecreeper, f Bullfinch, Hawfinch flew from 'New Clump' 12:45 (Robert Callf)
Sunday 26th November 2017

[

]
Bayhurst Wood: Hawfinch seen perched on the branch of a hornbeam at 12.20pm (Jeremy Soane)
Bexley: Coldblow Fields - c40 Chaffinch, 2 Redpoll, 5 Goldfinch (Ralph Todd)
Brent Reservoir: Red Kite SE 08:40, 3 Wigeon, 3 Egyptian Goose, 4 Common Snipe, Chiffchaff, 3 Cetti's Warbler; 57 Starling, 33 Redwing, 2 Fieldfare, 6 Chaffinch - vis-mig 07:15-08:50 (Brent Birders)
Broadwater GP: 3 Little Egret, 2 Egyptian Geese, 4 Goldeneye, 2 Cetti's Warbler, 7 Chiffchaff, 3 Bullfinch, 20+ Siskin (Simon Buckingham)
Fairlop Waters: 1 Great White Egret, 1 Little Egret, 1 Fieldfare (Charlie Farrell)
Greenwich Peninsula Ecology Park: 4 Teal 2 pairs, Little Grebe, Pheasant male, Kingfisher, Meadow Pipit (John Bushall)
Grovelands Park: 2 Little Grebe, 12 Cormorant roosting on island 16:00, 5 Mute Swan pr and three 1st-winter, 2 Egyptian Goose, 58 Mandarin Duck 38m 20f at 16:00, 2 Shoveler, 28 Tufted Duck 15m 13f, 3 Stock Dove, singing male Mistle Thrush, Goldcrest (Robert Callf)
Hampstead Heath: flyover Oystercatcher 0700 (Matt Evans)
Hyde Park: Firecrest male near Cavalry Monument, 4 Redwing, 9 Linnet W (N Senior)
Ickenham Marsh: 75 Redwing, Buzzard, Red Kite, Grey Wagtail, Kingfisher, Little Egret, Bullfinch (Nigel Dodd)
KGV Reservoir: (drake) Scaup, 3 Pintail, Goosander, 10+ Goldeneye, 2 Common Buzzard, Sparrowhawk, Water Rail in flood relief channel, 2 Stonechat (Neville Smith).
Mudchute, Isle of Dogs: Firecrest near anti-aircraft gun (Sean Huggins)
Richmond Park: 2 Dartford Warbler, 10 Siskin (S Woolfenden); Dartford Warbler 3rd just north of gorse enclosures (Hugh Bradshaw)
Ruislip Woods: 7 Hawfinch feeding in tree tops in Mad Bess Wood; none seen in Bayhurst where Buzzard, Sparrowhawk, 40+ Redwing, Fieldfare & pr Stonechat outside wood towards Harefield (Neil Anderson/K. Bull)
Saunders Ness, Isle of Dogs: First-winter Caspian Gull (unringed) late am (Sean Huggins)
Staines Moor: 4 Water Pipit, Meadow Pipit, Cetti's Warbler, Stonechat, Reed Bunting, Little Owl, Little Egret, Grey Heron, Red Kite, Kestrel (J. Francik, B. Francik, D. Livingstone)
Staines Reservoirs: AMERICAN HORNED LARK still on N basin along W bank midday. (Dom Pia per FJM); Water Pipit, 5 Pintail (Thomas Gibson)
Ten Acre Wood Area: Snipe, 2 Lapwing, 4 Meadow Pipit, 4 Skylark, Kestrel, Sparrowhawk, Buzzard, Peregrine perched in the open, 30 Redwing, 2 Fieldfare, Little Egret, pr Stonechat, Bullfinch, Reed Bunting (Nigel Dodd)
Totteridge Valley/ Darlands Lake: 436 Redwing, Tawny Owl, 4 Goldcrest, 4 Bullfinch, 21 Goldfinch, Teal, 40 Stock Dove, 26 Common Gull, 4 Chaffinch, 51 Starling, Hawfinch 07:40 came in from SE and appeared to drop down in trees surrounding Darlands Lake, 47 Fieldfare, Song Thrush, Siskin, 2 Greenfinch, 11 Lesser Redpoll, Cormorant, Common Buzzard, 5 Lesser Black-backed Gulls, 8 Rook, 6 Black-headed Gull, 2 Herring Gull, 2 Meadow Pipit, 16 Canada Geese, Grey Heron, 2 Greylag with the 3 white squeaky ones on long pond (Samuel Levy)
Walthamstow Reservoirs (N side): pr Goosander Banbury, 3 Green Sandpipers Lockwood relief channel (L Bodini, P Lambert, P Whiteman); Lockwood - 1f Goldeneye, 1f Sparrowhawk, 1 Kingfisher, 8 Goldfinch, 2 Chaffinch; High Maynard - 42 Teal, 19 Pochard, 2 Egyptian Goose, 5 Little Egret; Low Maynard - 1 Kingfisher; Flood Relief Channel - 2 Meadow Pipit, 8 Grey Wagtail, 13 Pied Wagtail (Daniel Whitelegg)
Wanstead Flats: 16 Fieldfare, Stonechat, Meadow Pipit, 12 Tufted Duck, 3 Pochard, 8 Shoveler, Kestrel (Nick Croft/James Heal)
Wanstead Park: 116 Gadwall, 42 Shoveler, 18 Teal, 2 Little Grebe, 17 Siskin, Grey Wagtail, Coal Tit, Nuthatch, Sprrowhawk, Redwing (Nick Croft/James Heal)
Saturday 25th November 2017

[

]
Battersea Park: Great Black-backed Gull on barge, Goldcrest, 70 Cormorant, 20 Shoveler, 5 Gadwall (Michael Mac)
Bayhurst Wood: Goshawk (adult f.) seeing off Raven, 5+ Hawfinch (Michael Robinson, Michael Hammond)
Brent Reservoir 13 Stock Dove, 31 Starling, 81 Redwing, 20 Fieldfare, 3 Chaffinch, 4 Goldfinch - vis-mig 07:15-09:30 (Andrew Self, Andrew Verrall)
Bromley (South): Just had absolutely stonking views of a Peregrine chasing pigeons around the roof of the Police Station 11.45 (A.Skinner)
Brookmill Park: Firecrest in strawberry tree within pond enclosure 9.50, 3 Goldcrest, 2 Redwing, Kingfisher (Conrad Ellam)
Fairlop Waters and surrounding fields: Great White Egret, Little Egret, 3 Golden Plover, Grey Wagtail, Kingfisher, Chiffchaff, Fieldfare, Redwing, Buzzard, Little Owl, Kestrel, Sparrowhawk (Alan Thomas/Neil Twyford)
Finchley: Garden N3 - 11 Redwing, 2 Starling, Song Thrush, Grey Wagtail SW (Samuel Levy)
Fir & Pond Woods near Potters Bar: male Blackcap, Red Admiral (Robert Callf)
Greenwich Peninsula Ecology Park: Water Rail, Little Grebe, Teal female, Tufted Duck female, Pheasant, Kingfisher, Chiffchaff (John Bushall)
KGV Reservoir: Scaup, Great Northern Diver, 13 Goldeneye, Common Buzzard, Cetti's Warbler (Neville Smith).
Lamorbey Park: 2 Little Grebe, 2 Mute Swan, 13 Cormorant, Grey Heron, 4 Egyptian Geese, 18 Canada Geese, 4 Teal 1m 3f, 11 Tufted Duck, Peregrine, Kingfisher, Grey Wagtail, Green Woodpecker, 2 Great Spotted Woodpecker, 30+ Redwing over, Mistle Thrush, 10+ Goldcrest, 2 prob Firecrest heard, Nuthatch, 4+ Jay, 2 Jackdaw, 4 Greenfinch (Mike Amos).
Mayflower Park: Bullfinch (Bob Smith)
Millwall Docks: 5 Egyptian Geese (Sean Huggins)
Oakmere Park (Potters Bar): 8 Mandarin Duck 5m 3f (Robert Callf)
Staines Reservoirs: NORTH AMERICAN HORNED LARK still on N basin along causeway bank, early am till late pm. Seen along causeway most of today and even on S basin mud in pm. (Shaun Ferguson photos on Surrey Bird Sightings very useful) It has rufous lesser and median coverts but it is difficult to see lesser coverts in field. (Bob Warden, Franko J Maroevic et al); Black-necked Grebe, Woodcock flew over east end of causeway and appeared to land in Bedfont Lakes area, Water Pipit (R.Kaye, J.Wilczur). 1 Black-necked Grebe, 5 Shelduck (C Lamsdell)
Stanwell Moor: Buzzard with white underparts and rump (R.Kaye, J.Wilczur)
Totteridge Valley: c50-60 Redwing, 3 Fieldfare, Kingfisher, Grey Wagtail, Sparrowhawk, 13 Rook (John Colmans)
Trent Park: Hawfinch, 12 Goosander 3m 9f/imm, 2 Kestrel, 3 Greenfinch, Green Woodpecker, Kingfisher, 2f Tufted Duck, 2 Mandarin m f, 4m Pochard, 3 Bullfinch, 10 Goldfinch, Cormorant (Pete Lowman)
Tyttenhanger GP: 2 Hawfinch coppice wood, Stonechat pumpkin field, 3 Green Sandpiper, 11 Little Egret, Water Rail, 2 Kingfisher, 2 Egyptian Goose, Barnacle Goose (Steve Blake)
Walthamstow Marshes: Fieldfare on front paddocks (Jon Agar)
Walthamstow Reservoirs: 2 Grey Wagtail, Kingfisher (Jon Agar)
Wanstead Flats: Woodcock (Tony Brown); 41 Fieldfare, Redwing, singing Song Thrush, Skylark, Kestrel, 23 Goldfinch (Nick Croft)
William Girling Reservoir: Leach's Storm Petrel 08:03-09:00 (Harry Lacey); 4+ Black-necked Grebe (Leach's Dippers)
Friday 24th November 2017

[

]
Bayhurst Wood, Harefield: 8 Hawfinch near the dried up pond on the western edge of the wood, another Hawfinch in nearby Mad Bess Wood and 100 Redwing feeding on the Holly bushes in both woods (John Edwards)
Boxer's Lake, Enfield: adult Mute Swan, 4 Shoveler 1m 3f, 7 Tufted Duck 4m 3f, imm male Sparrowhawk, 8 Moorhen, 2 Common Gull first-winter and second-winter, imm Lesser Black-backed Gull, Great Spotted Woodpecker (Robert
Brent Reservoir: Little Egret, Redshank heard, 2 Green Sandpiper, 14 Snipe, 4 Cetti's Warbler, 4 Chiffchaff; 49 Woodpigeon, 22 Stock Dove, 37 Starling, Pied Wagtail, 47 Redwing, 23 Fieldfare, 2 Song Thrush, Blackbird, 17 Chaffinch, Greenfinch, 7 Goldfinch, Siskin, 4 Lesser Redpoll, 2 Bullfinch, Reed Bunting - vis-mig 07:15-09:20 (Magnus Andersson, Andrew Verrall)
Crayford Marshes: Brambling, 46 Chaffinch, 20 Linnet, 8 Skylark, 15 Fieldfare, 6 Redwing, 8 Jackdaw, 5 Stonechat, 2 Cetti's Warbler, Marsh Harrier, 2 Kestrel, 2 Common Sandpiper, 5 Snipe, Pheasant, Grey Plover, 70 Golden Plover, 350 Dunlin, 366 Lapwing, 16 Wigeon, 17 Teal, Curlew, Little Egret, 8 Stock Dove, 8 Meadow Pipit, Little Grebe, Green Woodpecker, 25 Redshank, 4 Black-tailed Godwit, Yellow-legged Gull, 7 Pied Wagtail, 6 Goldfinch. (Donna Zimmer, Steve Carter)
Finchley: Garden N3 - 5 Redwing out of Roost 06:52. (Samuel Levy)
Frays Farm Meadows LWT: Redwing, Tawny Owl, Buzzard, Barn Owl 7am, Water Rail, Stonechat, Reed Bunting, 4 Lesser Redpoll, Siskin, 8 Fieldfare, 2 Kingfisher, Bullfinch, Green Woodpecker, Meadow Pipit (Dan Pinkham)
Greenwich Peninsula Ecology Park: Water Rail, Teal 1f, Pheasant 1m, Kingfisher 1f, Goldcrest, Chiffchaff, Siskin 1f (John Bushell)
Kensington Gardens: 3 Little Owls seen of the 12+ Ralph Hancock says are there - thanks Ralph for pointing them out (Quentin Given)
Ladywell Fields: Kingfisher f, 2 Nuthatch, 2 Goldcrest, 2 Mistle Thrush, Song Thrush singing, Grey Wagtail (Tom Moulton/Sue Gore/Judith Simmons)
London Wetland Centre: Bittern (Twitter)
Queen Mary Reservoir: 1 Common Scoter fem. E bank with Tufted Duck, 2 Peregrine pair, 1 Grey Wagtail. (Franko J Maroevic)
Rainham: female Snow Bunting briefly with Linnets near stone barges c11:20 but flew N and lost to view, also 10+ Yellow-legged Gulls in area (Dominic Mitchell); Grey Plover, 40 Golden Plover, 20 Curlew, 30 Black-tailed Godwit, 50 Redshank, 100 Dunlin, 2 Snipe, 4 Ruff, 2 Marsh Harrier, Peregrine, Barn Owl, Swallow, 2 Water Pipit, 10 Stonechat (Conrad Ellam, Andrew Thompson & Ron Turner)
Regent's Park: Water Rail (Tony Duckett).
Staines Moor: 1 Water Pipit, 1 Little Egret, 1 Cetti's Warbler, 1 Stonechat, 1 Redpoll over (Lee Dingain)
Staines Reservoirs: Shore Lark showing features of American Horned Lark in photos, refound on N basin, at E end of causeway bank then moved to W end late pm. It prefers middle section of bank amongst weeds, not on grass near top and often feeds close to observers. DO NOT STAND OVERLOOKING BIRD. (John Rowland, Dom Pia, Franko J Maroevic); Black-necked Grebe, 5 Pintail, 5 Goldeneye, 150 Teal, 80 Wigeon, 1 Water Pipit.
Thames Barrier Park: 14 Redshank, Black-tailed Godwit, 40+ Teal, 30 Shelduck, Fieldfare, Siskin, Goldcrest, 12+ Greenfinch, 5 Yellow-legged Gull, 2 Caspian Gull (2nd cy) (Jacky Foot, P Kite)
The Ridgeway, Mill Hill: 10 Redwing, 12 Goldcrest, 2 Pied Wagtail, Grey Wagtail, 8 Fieldfare, Greylag over in a flock with a Canada Goose and 3 pure white hybrids towards Belmont Farm (presumably a family group and the origin of the one at Belmont Farm on Sunday). (Samuel Levy)
Trent Park: 9 f/imm Goosander, 30-35 Siskin and 10-15 Goldfinch in mixed feeding flock in Water Garden, Kestrel, Cormorant, 9 Mandarin 5m 4f, 5 Tufted Duck 3m 2f, 4m Pochard, Kingfisher, 20 Black-headed Gull, Song Thrush, Nuthatch (Pete Lowman)
Tyttenhanger: Hawfinch in Coppice Wood (Twitter)
Wandsworth Common: 3 Hawfinch in tree at council yard (Peter White via Twitter)
Woodberry Wetlands: Shelduck, 5 Shoveler, Water Rail, Snipe, Yellow-legged Gull (8th consecutive day for same bird), 4 Meadow Pipit over S, Coal Tit, displaying pair of Cetti's Warblers (Chris Farthing)
Worcester Park - Little Egret in tree by Beverley Brook at end of Lincoln Rd (Julie Drewett)
Thursday 23rd November 2017

[

]
Amwell: Bittern Pool - Bittern; Great Hardmead Lake - Woodcock, Raven (Twitter)
Antill Road E3: a pair of Goldcrests in residence in garden (Harry Harrison)
Brent Reservoir: Stock Dove, 98 Starling, 69 Redwing, Song Thrush, 4 Chaffinch, Greenfinch, 7 Goldfinch - vis-mig 07:15-09:25; also 14 Snipe, Water Rail, 2 Chiffchaff (Magnus Andersson, Andrew Verrall)
Brookmill Park: Firecrest, Goldcrest, Chiffchaff, 2 Redwing (Conrad Ellam)
Crossness Foreshore Jetty-Outfall: 65 Shelduck, 8 Wigeon, 40 Gadwall, c300 Teal, 26 Mallard, 6 Cormorant, 72 Lapwing, c300 Dunlin, 24 Black-tailed Godwit, Common Sandpiper, c70 Redshank, c300 Black-headed Gull, Grey Wagtail (Ralph Todd)
Greenwich Peninsula: 37 Black-tailed Godwit on the foreshore by the yacht club (John Bushell & Richard Green)
London Wetland Centre: 1 Peregrine (one on main lake island & one on Ch X Hosp), 2 Pintail (female on main lake & male on grazing marsh), 18 Grey Heron (16 main lake & 2 grazing marsh), 1 Fieldfare in bushes near Dulverton hide, 2 Stonechat m f also seen (Martin Honey)
St James's Park: Water Rail (Frank Nugent); adult Caspian Gull mid afternoon on 'Pelican' rocks (Bill Haines)
Thamesmead Golf Range: foreshore - 17 Shelduck, 13 Teal, Common Buzzard, 42 Lapwing, 35 Dunlin, 14 Black-tailed Godwit, 572 Black-headed Gull, 4 Common Gull, 26 Lesser Black-backed Gull, 4 Herring Gull, 3 Great Black-backed Gull, 2 Rock Pipit (Ralph Todd)
The Ridgeway, Mill Hill: 3 Redwing, 4 Pied Wagtail. (Samuel Levy)
Stave Hill Ecology Park: Firecrest, 2 Goldcrest, Chiffchaff (Conrad Ellam)
Tottenham Marshes: M Stonechat on Clendish Marsh, N end. very battered Comma on allotments.(Quentin Given).
Trent Park: 12 Mandarin Duck 7m 5f, 4 male Pochard, 3 Tufted Duck 1m 2f, 6 Goosander adult male and 5 fem/imm, Common Buzzard, Kingfisher, Treecreeper, Red Admiral (Robert Callf)
Walthamstow Reservoirs: Common Sandpiper on No 4, Stonechat on West Warwick, 5 Goldeneye (females on Lockwood / W Warwick / No 5 & pair on No 4) (Paul Whiteman, David Bradshaw, Neil Botterill); plus f Goosander over Lockwood 15.00 (Lol Bodini); Siberian Chiffchaff seen and heard south of Lockwood c.11.00am (Nick Moll)
Woodberry Wetlands: 2 Peregrine (unringed female with first winter male at 09:20 departed south), Kingfisher, Teal, Coal Tit (Chris Farthing)
Worcester Park: Little Egret on horse field (Bob Smith, Bill Reid)
Wednesday 22nd November 2017

[

]
Beddington Farm: Colour-ringed Twite on landfill found by David Campbell & Magnus Andersson (Twitter)
Brent Reservoir: 5 Stock Dove, 59 Starling, 102 Redwing, 4 Chaffinch, Goldfinch, Greenfinch - vis-mig 07:15-09:30 (Andrew Verrall); 37 Pochard, 14 Snipe, 3 Goldcrest, Cetti's Warbler (Roy Beddard)
Brookmill Park: Firecrest with tit flock near pond, Little Egret, Kingfisher, Great Spotted Woodpecker, Redwing, Goldcrest, Coal Tit (Conrad Ellam & Tom Moulton)
Hackney Marshes: 26 Mallard, 45 Teal, 20 Gadwall, 19 Tufted Duck, 42 Coot, 31 Moorhen, 4 Egyptian Goose, 4 Canada Goose, 4 Mute Swan, 6 Little Grebe, 3 Grey Heron, 1 Little Egret, 50 Black-headed Gull, 2 Stock Dove, 1 Kingfisher (Marcin Kempa)
Hyde Park/Kensington Gardens: 77 Pochard, 2 Lapwing SW, Yellow-legged Gull 2cy, Kingfisher, 6 Blackbird S, 2 Blackcap, 1 Chiffchaff, 1 Siskin W (N Senior)
London Wetland Centre: 1 Bittern (N shore main lake), 1m Pintail, 1f Goldeneye, Common Snipe, Goldcrest, Song Thrush (Martin Honey, B. Page); Stonechat (pair) on wader scrape (Mike Wheeler)
Motspur Park: Female Pheasant flew across Joseph Hood Park (Bob Smith)
Oxleas Woods (SE9 1YG): 3 Peregrines quarrelling 10.35-10.45 (John Reid) same 3 as at Woodberry wetlands below?? Population of Peregrines in London is probably well in excess of 100 individuals so very unlikely to be same birds
Purfleet: Firecrest at station platform 2 (Fraser Simpson-Twitter)
St James's Park: Water Rail and Peregrine (Frank Nugent).
Stave Hill: Kingfisher on Downtown Pond, 3 Goldcrest, Great Spotted Woodpecker, 10+ Long-tailed Tits (John Cadera)
The Ridgeway, Mill Hill: 7 Redwing, 4 Pied Wagtail, Hawfinch over heading W tried to drop down on trees by Sports Centre but was blown back SE 16:15; also Pipistrelle Bat feeding on the Northern Edge of Finchley Golf Club 07:00 (Samuel Levy)
Trent Park: 13 Mandarin Duck 8m 5f, f Teal, 4 m Pochard, 11 Tufted Duck 6m 5f, 6 f/imm Goosander, f Kestrel carrying prey, 32 Black-headed Gull, Kingfisher, Peacock butterfly (Robert Callf)
Walthamstow Marshes: 4 Stonechat (m f NW corner of Bomb Crater Field & m f NW corner of Leyton Marsh), paddocks quiet - 2 Mistle Thrush, 5 Starling, 7 Pied Wagtail, 1 Linnet over 10:00-11:00 (Alastair Dent)
Woodberry Wetlands: 3 Peregrine (08:50-09:00 adult male scrapping with probable 1st winter male & female in close attendance), Yellow-legged Gull, Sparrowhawk (Chris Farthing & Tony Butler) peregrines cover lot of distance? From Oxleas Wood if the same birds? [See comment above]
Woodford Green: 15 Goldfinch, 5 Siskin, 2 Sparrowhawk m f, male Blackcap (first for a month), Common Buzzard, 7 Redwing, 2 Chaffinch, also Heron, Little Egret and Mistle Thrush over (Ken Murray)
Tuesday 21st November 2017

[

]
Bentley Priory: 6 Hawfinch 09:40 in Spring meadow area (Richard Francis).
Brent Reservoir: 42 Starling, 86 Redwing, 4 Fieldfare, 11 Chaffinch, Linnet, Lesser Redpoll - vis-mig 07:00-09:30; Little Egret behind dam (Andrew Self, Andrew Verrall); 11 Common Snipe, Green Sandpiper, Bullfinch, Kestrel 11.00-13.00 (Simon Worsfold)
Brookmill Park: Kingfisher, Great Spotted Woodpecker, Song Thrush, Goldcrest, 2 Chiffchaff (Conrad Ellam)
Broxbourne Woods/Common area: 23+ Hawfinch going to roost mainly 2-2.30pm (A Middleton) Where does one park and view from? Park Danemead car park Cock Lane here. Walk along road or Spitalbrook/Danemead Reserve, view from bridleway, pls do not enter traditional roost area, view poplars at bottom of field beyond conifers, from here [1]
Dollis Brook: Holders Hill/Finchley Tennis Club - 4 Grey Wagtail, 8 Goldcrest, Kingfisher perched behind Gordon Road allotments then downriver, Nuthatch, 3 Redwing, 9 Moorhen, Sparrowhawk. (Samuel Levy)
Finchley: Garden N3 - 2 Tawny Owl calling 06:52 (Samuel Levy)
Forty Hall CP: Little Egret along Turkey Brook (Robert Callf)
Frays Farm Meadows LWT: Tawny Owl, Buzzard, Kestrel 7am (Dan Pinkham)
Guy Lodge Farm, Enfield: female Stonechat (Robert Callf)
Hackney Marshes: Kingfisher, Little Egret, 2 Grey Heron, 19 Gadwall, 20+ Teal, 3 Little Grebe, 2 Egyptian Goose, 900+ Ring-necked Parakeet at roost (JW Davies)
Maze Hill Station, Greenwich: Firecrest in ivy by eastbound platform (Joe Beale)
Queen Mary Reservoir: Black Redstart fem near yacht pier on E side of causeway on mussel beds (Franko J Maroevic)
Rainham Marshes: Woodcock, Grey Plover Avely bay, 13 Golden Plover over, 65 Black-tailed Godwit, 8 Curlew, 23 Yellow-legged Gull, 2 Caspian Gull 1cy Target Pools & 3cy Coldharbour Pt, 2 Marsh Harrier, 4 Rock Pipit, 2 Water Pipit, 20 Fieldfare SW, 10 Stonechat, Corn Bunting over Serin Mound (N Senior)
St James's Park: Water Rail (Frank Nugent).
Staines Reservoirs: 1 Black-necked Grebe, 5 Pintail, 6 Goldeneye, 1 Water Pipit, 230 Linnet, 1 Mediterranean Gull ad on rooftops at Stanwell Moor village (Ken Purdey, Franko J Maroevic)
Trent Park: 4 f/imm Goosander, 2 Kingfisher, 3 m Pochard, 5 Tufted Duck 2m 3f, m Mandarin, f Teal, 5 Bullfinch, 16 Greenfinch, Kestrel, 4 Goldfinch, 2 Redwing, 2 Song Thrush, Green Woodpecker, Common Buzzard (Pete Lowman)
Woodford Green: 12 Siskin on feeders, 2 Redwings, 3 Sparrowhawks 2 imm. male interacting & female over by 10.30 am. (Ken Murray); 1 Treecreeper, 3 Nuthatch, 2 Great Spotted Woodpecker, 6 Goldcrest, 1 Coal Tit, 10+ Long-tailed Tit in woods behind Haven House. (Daniel Whitelegg)
Worcester Park: Little Egret in horse paddock (Bill Reid per Bob Smith)
Monday 20th November 2017

[

]
Bayhurst Wood, Ruislip: 2+ Hawfinch still, north of car park (David Bradshaw-Twitter)
Berrylands: Short-eared Owl north at 16:02 (Nick Tanner).
Brent Reservoir: 7 Stock Dove, 33 Starling, 119 Redwing, 11 Fieldfare, 12 Chaffinch, 19 Goldfinch - vis-mig 07:30-09:30 (Andrew Verrall); also 16 Common Snipe at 11.15 (Simon Worsfold)
Chiswick: 1cy Yellow-legged Gull at Chiswick Eyot (Josh Jones)
Cornmill Gardens: Little Egret (Tom Moulton/Anita Gwynn/Conrad Ellam)
Dollis Brook, Finchley Tennis Club: Little Owl calling 06:55. (Samuel Levy)
Ladywell Fields: Little Egret (Tom Moulton)
Regent's Park: Woodcock feeding under the trees in area 1 at 6.10am (Tony Duckett).
Sidcup Lamorbey Park: 2 Mute Swan, 27 Canada Geese, 5 Egyptian Geese, 5 Tufted Duck 3m 2f, 12 Mallard, 2 Teal, 2 Little Grebe, 5 Cormorant, Little Egret, 2 Grey Heron (mobbed noisily in flight by 30 Ring-necked Parakeets), 50 Black-headed Gull, 3 Common Gull, Green Woodpecker, Great Tit, Blue Tit, Coal Tit, 5 Long-tailed Tit, 31 Starling, 10+ Goldcrest, 3 Goldfinch, 2 Peregrine. 31 species Total. (Eric Brown)
Southwark Park Road SE16: m Sparrowhawk mobbed by 2 Herring Gull (John Cadera)
Staines Reservoirs: Black-necked Grebe, 2 Dunlin, 5 Pintail, 8 Goldeneye (Dominic Pia-Twitter); 29 Lapwing on large tern raft late pm, 1 Peregrine ad landed on mud prior to dusk (Franko J Maroevic)
The Ridgeway, Mill Hill: Common Buzzard, Redwing (Samuel Levy)
Trent Park: 6 Mandarin Duck, 2 Shoveler m f, 9 f/imm Goosander lower lake, 4 m Pochard, 4 Tufted Duck 1m 3f, adult Common Gull, Tawny Owl hooting 12:52, Kingfisher, 2 Song Thrush, 5 Redwing, 2 Goldcrest, 2 Chaffinch, 15 Greenfinch, 12+ Goldfinch, Bullfinch, Hawfinch feeding on field maple 'New Clump' 15:10 (Robert Callf)
Wanstead Flats: 10 Linnet, 3 Meadow Pipit, Skylark, 3 Goldcrest, Great Black-backed Gull, 400+ Common Gull, 5 Shoveler, 3 Pochard, 11 Fieldfare, Redwing, singing Song Thrush, 2 Mistle Thrush, Kestrel (Nick Croft)
Woodford Green: Lesser Spotted Woodpecker (male) in woods near Haven House/Highams Park Lake. (Joe and Alexander Dickens)
Sunday 19th November 2017

[

]
Alexandra Park: Common Buzzard over reservoir. Moved on NE by several assorted gulls 11.45 (Greg Smith)
Bayhurst Wood: up to 4 Hawfinch viewed intermittently between 09:30 & 12:45. Favoured area is the southern end of the site. Follow the main path from car park for approx 600m until a junction is reached. Birds can be in the upper canopy both sides of path. Quite visible (Richard Francis).
Brent Reservoir: Caspian Gull 1st W, 17 Common Snipe, 3+ Water Rail, 3 Cetti's Warbler; 6 Stock Dove, 59 Starling, 3 Redwing, 14 Fieldfare, 6 Chaffinch - vis-mig 07:00-09:00 (Andrew Self, Roy Beddard, Andrew Verrall)
Ewell, Banstead Rd: 8 Brambling in large Chaffinch flock on edge of DW Fitness car park 15:00 (easy parking and viewing) (Neil Batten)
Fulham: 1cy Yellow-legged Gull on Thames off Lysia St (Josh Jones)
Greenwich: 3 Grey Wagtail over Blackwall Lane. (Richard Green)
Greenwich Peninsula Ecology Park: 2 Water Rail, 2f Teal, m Pheasant, Kingfisher, Jay, 6 Goldcrest, Song Thrush (John Bushell, Richard Green)
Hall Place Bexley: Kingfisher and Grey Heron & usual Geese
Hilfield Park Reservoir: 10 Whooper Swans 2ad 8juvs dropped in at 11.05. Still present on east side of res at 13.30 - view from Hogg Lane viewing platform. (Tony Blake).
Hyde Park/Kensington Gardens: Woodcock, 52 Common Gulls, 1 Yellow-legged Gull 2cy, 10 Redwings, 31 Fieldfares SW, 8 Chaffinches WNW, 1 Brambling W (N Senior)
London Wetland Centre: Bittern, Jack Snipe, Goldeneye, 3 Pintail, 11 Snipe, 8 Water Rail, 102 Wigeon, 55 Gadwall, 94 Shoveler, 151 Mallard, 42 Pochard, 38 Teal, 65 Tufted Duck, 36 Lapwing, 3 Siskin, 2 Redpoll, 2 Stonechat, 273 Coot (WWT Website); Caspian Gull (2cy ringed in the Netherlands in November 2016 and reported at Beddington and Thames Barrier Park earlier this year) (Peter Gray)
Mad Bess Wood: 4+ Hawfinch 08.00-09.00 (Tim Rymer).
Oakwood Park: Tawny Owl hooting after dusk (Helen Shore per RM Callf)
Rainham Marshes RSPB: 7 Avocets Aveley Pool, 27 Golden Plovers Target Pools, 8 Curlews Purfleet Scrape, Black Redstart on electric fence by Shooting Butts Hide, 2 m/f Marsh Harriers, Rock Pipit Stone Barges (Ian Bradshaw)
Sewardstone Marsh: 2 Stonechat (Neville Smith).
Staines Reservoirs: 10 Whooper Swans 2 ad & 8 juvs on N basin then flew off N at 10.30 (Bob Warden per FJM); Shore Lark - north side and east end of causeway but no sign after 10.40 (Glen Longstaff per FJM)
Thames Barrier Park: 1st-winter Caspian Gull (unringed) mid-morning (Richard Bonser)
Totteridge Valley, Belmont Farm: Cormorant over, 78 Redwing, Grey Wagtail, 3 Pied Wagtail, 4 Goldcrest, 2 Egyptian Geese, 34 Canada Geese, Chiffchaff, Great Spotted Woodpecker, Green Woodpecker, hybrid pure white canadalag, 2 Common Gull, 14 Stock Dove, 3 Pheasant 2m f, Grey Heron, Kestrel. (Samuel Levy)
Totteridge Valley/ Darlands Lake: Little Owl, Common Buzzard, Kestrel, 2 Bullfinch 4 Mandarin, 3 Teal, 3 Siskin, Lesser Redpoll, 5 Meadow Pipit (Simon Worsfold, Mick Lewis, Nick S)
Trent Park: f Teal, 3 male Pochard, 9 Tufted Duck 4m 5f, 9 fem/imm Goosander lower lake, Kingfisher, Siskin, 3 Bullfinch 2m 1f (Robert Callf); Woodcock, Hawfinch (Frank Nugent per RM Callf)
Uxbridge Alderglade HWT: 2 Brambling over to NW, 4 Redwing, Cetti's Warbler, 2 Bullfinch, Green Woodpecker 7.30am (Dan Pinkham)
Wallington area: 2 Hawfinch SW, 3 Lesser Redpoll, 4 species of gull in half an hour between 10-1030am. (Arjun Dutta)
Walthamstow Marshes: 2 Stonechat m f Bomb Crater Field, 1 Meadow Pipit over 10:30 (Alastair Dent)
Walthamstow Wetlands: 3 Goldeneye 2f m on Lockwood (Quentin Given).
Wanstead Flats: Short-eared Owl, 2 Stonechat, 3 Bullfinch, Linnet, 14 Shoveler, 4 Pochard (James Heal/Nick Croft)
Woodberry Wetlands: Water Rail, Snipe, Yellow-legged Gull, f Teal, Coal Tit (Chris Farthing)
Wormwood Scrubs: 3 Meadow Pipit, f Reed Bunting, 1 Song Thrush (Charlie Farrell)
Saturday 18th November 2017

[

]
Bayhurst Wood: 3+ Hawfinch single bird sighted on top of the highest tree when viewed from field west of the site 10:30am. Group of 3 located feeding in tree tops in centre of the wood 11:30am (Richard Francis).
Bushy Park: White Stork??? a friend of mine (non-birder, but sensible chap) described to me a bird larger than a heron, mostly white, with some black, and ruffled front (not smooth) standing near Diana fountain on 18/9. Definitely had black, so not egret, nor gw egret. Any other sightings? Keith Watts
Brent Reservoir: 16 Common Snipe, 2+ Water Rail, 3 Egyptian Goose, 2 Cetti's Warbler; 16 Stock Dove, Skylark, 115 Starling, 75 Redwing, 83 Fieldfare, 21 Chaffinch, 3 Siskin - vis-mig 07:00-09:00 (Andrew Self, Andrew Verrall, Andrew Haynes, Francis O'Sullivan)
Finchley: Garden N3 - 2 Stock Dove, Song Thrush, Goldcrest. (Samuel Levy)
Greenwich Ecology Park: Little Grebe, 2 Teal f, Pheasant m, Kingfisher, Song Thrush, Chiffchaff, Goldcrest, 2 Siskin m & f with flock of 60 Goldfinch (John Bushell & Conrad Ellam)
Hackney Downs Park: Redpoll, 22 Fieldfare, 5 Chaffinch, 80 Common Gull, Great Spotted Woodpecker, 3 Mistle Thrush (Jonathan Nasir)
Highams Park: Hawfinch calling near station 8:30am (A Middleton)
KGV Reservoir: Water Rail seen in the flood relief channel from off the North bank, 9 Goldeneye (2 drakes), 8 Goosander (2 drakes), 35 Fieldfare (over West), Stonechat seen on Sewardstone Marsh, Cetti's Warbler calling from canal (Neville Smith).
Lamorbey Park: Little Grebe, 5 Egyptian Goose, c30 Canada Goose, 11 Cormorant, 2 Teal, 8 Tufted Duck, Sparrowhawk, 2 Peregrine, Lesser Black-backed Gull, 10+ Common Gull, Green Woodpecker, Great Spotted Woodpecker, 2 Pied Wagtail, c10 Redwing over, Goldcrest, Jay, Jackdaw, Siskin (Mike Amos)
Lee Valley, Seventy Acres: 2 Bittern together and calling, 2 Water Rail, 1 Brambling, 1 Common Treecreeper, 4 Reed Buntings, 2 Chiffchaff (Mark Braun)
Leyton Flats/Snaresbrook: Hawfinch N, 32 Lesser Redpoll in birches near Hollow Pond, 10 Chaffinch over, 90 Fieldfare over, 40 Redwing, Nuthatch, Treecreeper, 8+ Goldcrest (Stuart Fisher)
Lewisham High Street: Kingfisher fishing in the Quaggy by St Stephen's Grove (Conrad Ellam)
Mad Bess Wood and Bayhurst Wood: 7+ Hawfinch seen late morning (John Edwards, Mark Morgan, Paul Lewis) nb. a pager report of 35 Hawfinch in Mad Bess also
Perivale Wood: (ringing visit) 2 Firecrest (Phil Belman)
Richmond Park: 1 Woodcock, 2+ Stonechat and 2 Kestrel (Isaiah Rowe); Short-eared Owl low S at 09.50, 21 Redwing in woodland, 5 Redpoll (S.Woolfenden); 15 Greylag Goose, Snipe, 4 Stock Dove W, 6 Skylark SW, Grey Wagtail, 360 Redwing W, 340 Fieldfare W, 30 Chaffinch W, Hawfinch NW (J.Wilczur, S.Woolfenden)
Sewardstone Marsh: 4 Water Rail, Woodcock (Neville Smith).
Staines Moor: 4 Water Pipits (Ann and Alan Rix, Jim Fell)
Trent Park: 23 Mandarin Duck 14m 9f, f Teal lower lake, 4 male Pochard, 10 Goosander 1 adult male and 9 fem/imm lower lake, 5 Bullfinch bushes near Water Garden, 3 Hawfinch (Robert Callf/Frank Nugent/Stephen Witherford el al)
Walthamstow Marshes: 3 Stonechat on Bomb Crater Field (m & f NW corner / m near pond), 1 Goldcrest in shrubs on canal, 1 Redwing rear paddocks plus c40 Starling, 10 Linnet, 4 Mistle Thrush 10:30-11:30 (Alastair Dent)
Wanstead Flats: 1st-winter male Stonechat, 4 Bullfinch (1m 1f 2 juv/1st-winter), c50 Fieldfare W (Tony Brown).
Woodberry Wetands: Water Rail, Peregrine, Yellow-legged Gull, Sparrowhawk, Reed Bunting (Chris Farthing)
Woodford Green: c12 Siskin, 6 Chaffinch, c12 Goldfinch, Goldcrest, 2 Nuthatch, 6 Long-tailed Tits; 5 Fieldfare, Common Buzzard, 2 Redwing, Grey Wagtail all over N (Ken Murray)
Worcester Park: Peregrine on pylons (Bob Smith)
Friday 17th November 2017

[

]
Bentley Priory: 2 Hawfinch m f at 7:50 am & again at 10:00am feeding in Hornbeams in Herriots Wood to the left of the path just before the deer park. Single female also at lower end of Spring Common 8:55am, m Goosander on lake - 47 species recorded today (Richard Francis).
Brent Reservoir: 8 Common Snipe, 2+ Water Rail, Greylag Goose, Chiffchaff, 1+ Cetti's Warbler; 41 Woodpigeon, 25 Stock Dove, 21 Starling, 17 Redwing, 26 Fieldfare, 4 Chaffinch, 2 Lesser Redpoll, 3 Siskin vis-mig 07:00-09:00 (Andrew Self, Andrew Verrall, Stephen Branley)
Canons Farm: 1 Short-eared Owl, 1 Great Black-backed Gull, 1 Reed Bunting, 1 Grey Heron, 1 Rook, 35 Skylark, 34 Fieldfare, 7 Redwing, 300 Starling, 3 Little Owl, 1 Tawny Owl, 1 Mistle Thrush, 2 Meadow Pipit, 19 Linnet, 2 Buzzard (CFBWBG).
Dollis Brook: Holders Hill - Goldcrest, Grey Wagtail dropped in from high 07:04; Viaduct/Finchley Tennis Club - 8+ Goldcrest, 9 Moorhen, 10 Redwing, Fieldfare, 2 Nuthatch, 4 Mistle Thrush, Hawfinch perched in Oak near tennis club calling before flying NW 15:50, 3 Lesser Redpoll. (Samuel Levy)
Finchley: Garden N3 - Tawny Owl calling from 06:13-06:33 when it flew along the back of the garden towards Nether Close, also 5 Redwing NW 06:55, Pied Wagtail W 16:12. (Samuel Levy)
Heathrow: 52 Golden Plover in field opposite Compass Centre 09.30 (Adam Cheeseman)
Hogsmill Riverside Open Space: Goldcrest, Grey Wagtail, 10+ Redwings (Julie Drewett)
Kensal Green Cemetery and St Mary's Cemetery: Goshawk heading north at 11:00, 2 Stock Dove, 2+ Goldcrest (Charlie Farrell)

King George V Res: 3 Hawfinch 2 W and 3rd turned back E 11:05, c25 Meadow Pipits, Goosander (A Middleton); 1 Red Kite (scoped drifting N over Epping Forest), now 50+ Meadow Pipit moving N along E Embankment, 2 Rock Pipit on C. Causeway, 1 m Goldeneye on S. Basin, pr Green Woodpecker 1-2pm (Davey Leach).
Mad Bess Woods, Ruislip: 15+ Hawfinch in canopy feeding but mobile on west side of wood (John Newson).
Priory Park N8: Song Thrush singing this morning - my first of the winter (Quentin Given).
Rainham RSPB: 12 Common Snipe, 7 Avocet, 6 Little Egret, 2 Marsh Harrier, 3 Curlew, 14 Black-tailed Godwit, 12 Brent Goose over at 11:00, 6 Little Egret, Water Pipit, Black Redstart, 3 Goldcrest (John & Janet Cadera)
Rayners Lane (HA2): male Blackcap in garden (Tim Rymer)
Richmond Park: f Blackcap, f Dartford Warbler, Little Owl, 7+ Meadow Pipit, two small flocks of Siskins, 10 Stonechat, Skylark (Friday Bird Group); Brambling - Dann's valley (S.Read)
St James's Park: Kingfisher (Frank Nugent).
Swanscombe Marsh: 6 Stonechat, 4 Cetti's Warbler, 24 Meadow Pipit, 1 Green Sandpiper, 11 Fieldfare, 2 Ring-necked Parakeet, 14 Gadwall, 29 Lapwing, 2 Little Egret, 1 Rock Pipit, 2 Marsh Harrier, 2 Kestrel, 2 Greylag Goose, 1 Song Thrush, 22 Redshank - 13.30-17.30 (Roger Keith).
The Ridgeway, Mill Hill: 41 Redwing, 5 Fieldfare, Hawfinch N 10:17, Sparrowhawk, 3 Pied Wagtail (Samuel Levy)
Trent Park: Hawfinch in tree at south end of cemetery by tube station at 10.30 possibly feeding in yew tree (Quentin Given); 3 Hawfinch inc 2 males showing well in trees 3 fields beyond cemetery / Bp footpath (J.Murray); 10 Goosander possibly more including 1 drake (Jim Fell); 8 Goosander m 7f, 4m Pochard, 7 Tufted Duck 2m 5f,5 Mandarin 3m 2f, f Shoveler, 2 Redwing, Song Thrush, Kestrel (Pete Lowman)
Tyttenhanger GPs and Willows Farm: Great White Egret, Caspian Gull 2w, fem Goosander, Green Sandpiper, 3 Water Rail, 10 Common Snipe, 12 Little Egret, Kingfisher, Raven, 9 Rook, 8 Skylark, 7 Redpoll, 2 Siskin, 6 Tree Sparrow, Brambling, Stonechat (Tyttenhanger Birders)
Walthamstow Wetlands: 4 Pheasant flushed from allotments, 4 Shelduck, 16 Teal (HM), Sparrowhawk, 3 Kingfisher, 2 Chiffchaff, Reed Bunting (Peter Beckenham); 2 Snipe (No5), 1 Kestrel, 2 Goldcrest, 1 Cetti's Warbler (h), 35 Greylag Goose (Daniel Whitelegg)
West Norwood Cemetery: Woodcock flushed twice c3pm (Michael Mac)
Wilson's School, Wallington: 1cy Great Black-backed Gull harassing other gulls mostly LBB and Herring, also 15 Black-headed Gulls, 3 Common Gulls, 2 Fieldfare, 2 Redwing, 11 Pied Wagtail and flyover Grey Wagtail (Arjun Dutta)
Worcester Park: Peregrine on pylon, 10 Redwing west (Bob Smith)
Thursday 16th November 2017

[

]
Brent Reservoir: 16 Common Snipe, 2 Cetti's Warbler, Black Swan, Little Egret, Water Rail; 124 Starling, 114 Redwing, 51 Fieldfare, 41 Chaffinch, 4 Hawfinch landed top of Hornbeam then S 07:58, 6 Lesser Redpoll, Siskin, Bullfinch, Meadow Pipit - vis-mig 07:00-10:00 (Magnus Andersson, Andrew Verrall, Stephen Branley)
Brookmill Park: Little Egret, Kingfisher, Chiffchaff, Goldcrest (Conrad Ellam)
Canons Farm: 1 Woodcock (CFBWBG).
Deptford: Peregrine low over Grove Road, Lower Pepys Park 07:45 (Gus Wilson)
Heathrow: 23 Golden Plover in field opposite Compass Centre at 14.10 (Wendy Marks)
Lambeth Walk (near Lambeth Bridge): Woodcock flew into window 8:30am
London Wetland Centre: 1 Firecrest, 11 Redwing, 27 Fieldfare and 2 Chiffchaff (Twitter)
Rainham Marshes: Yellow-browed Warbler (Rare Bird Alert)
St James' Park: 2 Peregrine flyover 14:40, 6 Gadwall, 5 Black Swan (Paul Collins)
Staines Moor: 2 Water Pipits, 5+ Stonechat (Jim Fell, C Youell)
Stoneleigh Station KT17: 24 Redwing w, 31 Ring-necked Parakeet, 154 Herring Gull ne (Neil Batten)
The Ridgeway, Mill Hill: 4 Hawfinch (1 SE towards the Totteridge Valley 08:55 & 3 09:35 W towards Mill Hill Broadway), 19 Goldfinch, 2 Pied Wagtail, Redwing, Sparrowhawk. (Samuel Levy)
Town Park, Enfield: 7 Cormorant Carr's Basin, 3 Mute Swan pr and one juv, male Shoveler, male Pochard, 7 Tufted Duck 6m 1f, 3 Common Gull 2 adults and 1 first-winter, 8 Stock Dove pre-roost gathering 14:50, male Kingfisher, 30+ Starling, 2 Jay, Coal Tit, 4 Greenfinch (Robert Callf)
Trent Park: 11 Goosander m 10f, 5 Tufted Duck 2m 3f, 3m Pochard, 5 Mandarin 3m 2f, Kingfisher, Kestrel (Pete Lowman)
Wandsworth Common: Peregrine, 6 Redwing, 2 Fieldfare (Nick Rutter)
Woodberry Wetlands: Peregrine, Kingfisher, Coal Tit (Chris Farthing)
Wednesday 15th November 2017

[

]
Bentley Priory: Hawfinch at last - flying around scrub area at top of Spring Common 9:00am (Richard Francis).
Brookmill Park: Kingfisher, Chiffchaff, Goldcrest (Conrad Ellam)
Dollis Brook, Holders Hill: Goldcrest, 2 Redwing (Samuel Levy)
Edmonton/Pymmes Park: Shoveler m in pond off main road. (Simon Worsfold)
Ewell, Hogsmill Open Space: 1 Little Egret perched in trees 08:30 (Neil Batten)
Fairlop: 7 Little Egret (James Palmer)
Gidea Park, Romford: Yellow-browed Warbler (Rare Bird Alert)
Grovelands Park: 10 Cormorant roosting in trees on island, 5 Mute Swan pr and three 1st-winter, 2 Egyptian Goose, 59 Mandarin Duck 38m 21f at 16:10, 27 Tufted Duck 15m 12f, 2 Common Gull adult and 1st-winter, Tawny Owl hooting, Grey Wagtail, Redwing, 3 Goldcrest, 2 Coal Tit, Nuthatch, 6 Goldfinch, Siskin (Robert Callf)
London Wall, The City: Woodcock being rescued by RSPCA after crashing into the Lloyds Building 10am (Simon Robinson)
London Wetland Centre: Yellow-legged Gull 1cy (J.Wilczur)
Mayflower Park: 2 Water Rails calling (Bob Smith, Bill and Janis Reid)
Mill Hill NW7: fem Brambling tempted by garden feeders (Steve Blake)
Oxleas Woods: Firecrest SE9 1YG in yew 08.10, also Coal Tit (John Reid)
Rainham Marshes: Yellow-browed Warbler (Rare Bird Alert)
St John's Wood: Abbey Road Studios - Siskin over, Goldcrest, Coal Tit (Stuart Fisher)
St Pancras Hotel: Pair of Peregrines hunting (successfully - first time I've seen a Peregrine taking a pigeon in London) and then perching on E Tower of hotel overlooking King's Cross piazza (Francis Tusa).
Stave Hill: 2 Brambling over at 10:10, Sparrowhawk, Great Spotted Woodpecker, 1 Chiffchaff, 2 Goldcrest, 2 Mistle Thrush, 10+ Long-tailed Tit (John Cadera)
Stoneleigh Station KT17: 168 Herring Gull ne, 8 Redwing sw, 12 Ring-necked Parakeet (Neil Batten)
Surrey Water: pair Red-crested Pochard, 28 Tufted Duck, 2 Egyptian Goose (John Cadera & Richard Page-Jones)
Totteridge Valley: 2 Tawny Owl calling, 2 Little Owl, 5 Mandarin, 5 Teal (Simon Worsfold); also Grey Wagtail, 6 Goldcrest, 5 Redwing, f Marsh Harrier drifted from Long Field (Mill Hill School grounds on the boarder of Arrendene) towards 'Cow' field 15:00. (Samuel Levy)
Trent Park: male Hawfinch showing well in trees at the end of & south of footpath between cemetery & BP garage. (J.Murray); 2 Hawfinch New Fields, Goldfinch, 6 Greenfinch, 6 Fieldfare, 24 Redwing, Common Gull, Green Woodpecker, Great Spotted Woodpecker, 20 Jackdaw (Pete Lowman)
Vauxhall Bridge: Caspian Gull 1cy same bird seen at Waterloo Bridge 8th Nov (N Senior)
Walthamstow Reservoirs: 2 Redshank and Goldeneye on Lockwood. (Lol Bodini, David Bradshaw)
Wembley Park: Tawny Owl hooting in gardens at 01:35 (Joe Taylor)
West Putney, Huntingfield Road: Hawfinch SE 11.02 (R.Kaye)
Worcester Park: 15 Fieldfare in fields then west(Bob Smith)
Tuesday 14th November 2017

[

]
Barnes (Trinity Church Rd): 165+ Fieldfare & 85+ Redwing over in 3 main flocks, smaller numbers of Starling & Chaffinch (Neil Anderson)
Bayhurst Wood: west fields Harefield - 9 Stonechat (4prs. plus a single); over the fields south of the wood - 210 Jackdaw and 50 Redwing also (John Edwards)
Brent Reservoir: 11 Common Snipe, Green Sandpiper, Cetti's Warbler, Black Swan, Little Egret, 2 Goldcrest; 288 Starling, 129 Redwing, 210 Fieldfare, 41 Chaffinch, Brambling, Lesser Redpoll, 2 Siskin - vis-mig 07:00-10:15 (Simon Worsfold, Andrew Verrall)
Brookmill Park: Common Gull, 2 Kingfisher, Fieldfare, 2 Chiffchaff, Goldcrest (Conrad Ellam)
Danson Park: Bexleyheath Little Egret, 3 Pochard 2m f, Green Woodpecker, 4 Great Spotted Woodpecker, Grey Wagtail amongst 33 species seen (Ralph Todd) 
Dollis Brook, Holders Hill: 2 Goldcrest (Samuel Levy)
Finchley: Garden N3 - 2 Tawny Owl calling at 06:53. (Samuel Levy)
Finsbury Park, Harringay: 20 Redwing on south-western slopes c08:00 (Harringay Birder)
Greenwich Park: 245 Redwings through, 135 Fieldfares, 1 Hawfinch W, 1 Woodcock, 110 Starlings W (Joe Beale)
Hornsey (Crouch End Playing Fields): 20 Fieldfare (James Palmer)
Hyde Park: Hawfinch perched in trees in SE corner by Achilles Statue 09:00. (Louis Freeland-Haynes)
Kensington Gardens: Hawfinch flying over at 7.30am heading SW (Twitter)
Kentish Town: Arctic Street - 150 Fieldfares and 20 Redwing NW 08:45-09:15 (Pete Mantle)
Leatherhead Station: 24 Redwing w (Neil Batten)
Mayflower Park: Bullfinch, 3 Goldcrests, Little Egret (Bob Smith)
Montrose Ave, Welling: Blackcap m, Goldcrest, Chaffinch m f in garden (Ron Turner)
Plumstead: flock of c15 Fieldfare low heading north west at 08:45 (Gus Wilson)
Regent's Park: 1180 Fieldfares, 60 Redwings, 32 Chaffinches, 14 Siskins, Lesser Redpolls, 44 Starlings and 63 Woodpigeons (Tony Duckett)
Richmond Park: Dartford Warbler Pond Slade, c12 Siskin alders alongside Upper Pen Pond (Paula Redmond, Peter Carlill)
South Norwood Country Park: 34 Greylag Goose, 2 Egyptian & 4 young, 4 Shoveler, Cormorant, Little Grebe, Sparrowhawk, 8 Water Rail, 6 Common Gull, 6 Stock Dove, 4 Collared Dove, 2 Kestrel, 2 Goldcrest, Chiffchaff, 38 Fieldfare, 152 Redwing, Mistle Thrush, 23 Redpoll (record site count). (Croydon Birders)
Stoneleigh Station KT17: 19 Redwing sw (Neil Batten)
Thames Barrier Visitor Centre, Charlton: Mediterranean Gull adult, Yellow-legged Gull adult. (Mike Pennington); also Common Seal on sandbank beside the O2
The Ridgeway, Mill Hill: Hawfinch 07:30 perched in trees next to Mill Hill School Sports Centre, 2 Coal Tit, 2 Goldcrest. (Samuel Levy)
Totteridge Valley/Darlands Lake: c110 Redwing mostly over N/W, 8 Fieldfare, 4 Meadow Pipit, 20 Rook, Sparrowhawk, Kestrel, 7 Herring Gull, 6 Teal, fem Mandarin (John Colmans)
Tower Hamlets Cemetery Park: 2 Firecrest m & f showing very well Linden Graves opposite Soanes Centre 1300 (Bob Watts)
Trent Park: 11 Mandarin Duck 6m 5f, 2 male Common Pochard, 8 Tufted Duck 4m 4f, male Goosander lower lake, 2 Kestrel m and f perched together edge of Moat Wood, 5 Goldcrest, 3 Nuthatch, Treecreeper, Lesser Redpoll, 5 Bullfinch 2m 3f bushes near Water Garden, 2 Hawfinch m and f perched in tree tops near Cemetery (Robert Callf)
Tyttenhanger GPs: Great White Egret, Caspian Gull 2w, fem Goosander, Water Rail, 15 Little Egret, Wigeon, 3 Green Sandpiper, Little Owl, Fieldfare & Redwing present. (S Blake T Smith)
Walthamstow Wetlands: 1 Kingfisher, 3 Goldcrest, 2 Chiffchaff, 2 Cettis Warbler (h). (Daniel Whitelegg)
Woodford Green: Goldcrest, 6 Chaffinch, flyover Little Egret, male Sparrowhawk and c70 Fieldfare North by 8.25 am. (Ken Murray)
Monday 13th November 2017

[

]
Barn Elms Playing Fields, Barnes: 3 very distant wild geese possibly Whitefront W 08.30, 2 Peregrine, juv Marsh Harrier heavily mobbed by crows then high E 10.20, Snipe, Tawny Owl, 350 Woodpigeon SW, 4 Collared Dove SW/NE, 299 Fieldfare NW/W, 4 Redwing NW, 1 continental Song Thrush dropped in, 240 Starling W, Chiffchaff, 24 Chaffinch W/NW, Lesser Redpoll S, 5 Siskin S, 2 Brambling NW, 7 Goldfinch W/SW, 4 Hawfinch W 08.50 (R.Kaye)
Bexleyheath: The Warren - 5 Stock Dove, 26 Woodpigeon, 15 Magpie, 2 Great Spotted Woodpecker, Wren, 2 Robin, 3 Blackbird, 2 Chaffinch, 3 Goldcrest, Coal Tit, 10 Great Tit, 12 Blue Tit, 10+ Long-tailed Tit. (Ralph Todd)
Brent Reservoir: 103 Starling, 39 Redwing, 10 Fieldfare, Song Thrush, Mistle Thrush, 2 Blackbird, 16 Woodpigeon, 3 Stock Dove, Meadow Pipit, 9 Chaffinch, 2 Greenfinch, 2 Goldfinch, Lesser Redpoll, 6 Siskin - vis-mig 06:55-09:00 (Andrew Self, Andrew Verrall)
Brookmill Park: Little Egret, 2 Kingfisher (Conrad Ellam)
Clerkenwell,Spa Fields: Great Spotted Woodpecker (Francis O'Sullivan)
Dollis Brook, Holders Hill: 4 Goldcrest, 8 Redwing. (Samuel Levy)
Ewell, Hogsmill Open Space: 1 Little Egret perched in trees 08:45 (Neil Batten)
Gospel Oak: 2 Red Kites flew E over the train station at 1125 (Pete Mantle)
Greenwich Park: Tawny Owl (Ray Crouch); also female Shoveler (rare here) (Joe Beale)
Hayes (Uxbridge Rd/Coldharbour Lane): low quartering Red Kite (Neil Anderson)
Kensington Gardens: vocal Kingfisher at dawn Long Water (D. McKenzie via Twitter).
Lamorbey Park, Sidcup: 2 Mute Swan, 5 Egyptian Goose, 21 Canada Goose, 12 Mallard, 5 Tufted Duck 3f 2m, 2 Little Grebe, 3 Cormorant, Grey Heron, Great Spotted Woodpecker, 2 Stock Dove, Dunnock, Chaffinch, Nuthatch, Wren, Goldcrest, Peregrine - 31 species total (Eric Brown)
London Wetland Centre: female Marsh Harrier, male Brambling, female Goldeneye, 7 Water Rail, 36 Redwing SW/W, 8 Siskin SW/S/N/E, 5 Redpoll SW, 22 Meadow Pipit S (WWT Website); Redshank (R Dunne)
Nunhead Cemetery: 1 Firecrest (male showing well at Figgins Tomb/The Beeches at 10:30), 1 Lesser Redpoll (flyover), 1 Redwing, 8 Goldcrest, 2 Great Spotted Woodpecker and 25 Ring-necked Parakeet (Niall T. Keogh)
Regent's Park: Hawfinch on call and Brambling briefly perched in the SW corner of the park, Redwing, Fieldfare, Siskin, Lesser Redpoll and a colour-ringed Black-headed Gull were also of note (Elliot Montieth)
St James's Park: Yellow-browed Warbler 09:30 in north-west corner moving along line of trees south of Mall towards Palace calling a lot seen briefly hovering on edge of leaves, also Treecreeper, Chiffchaff, Shoveler, 2 Teal, Common Gull, also a drake Wigeon dabbling with Gadwalls towards west end of lake - not sure if it is a wild bird or part of collection (Tom Jordan) There are Wigeon in the collection [AS] There are also apparently two captive Green-winged Teal here in the collection [Bill Haines]
Staines Reservoirs: 1 Curlew Sandpiper, 8 Dunlin on S basin, 1 Water Pipit and 1 Rock Pipit on E bank of N basin mid am at least (Dave Morris per FJM)
Surbiton: Red Kite high over Sainsburys 14:45 heading towards the river (Kate Dykes)
The Ridgeway, Mill Hill: 4 Goldcrest, 2 Blackbird, Common Buzzard, 18 Redwing, 3 Hawfinch briefly perched by the Mill Hill School Sports Centre before flying E towards Totteridge Valley, 2 Stock Dove, 2 Kestrel, 2 Sparrowhawk, 4 Pied Wagtail. (Samuel Levy)
Tower Hamlets Cemetery Park: 2 Firecrest m & f showing well 1300 Sanctuary Wood, also 3 Redwing north (Bob Watts)
Town Park, Enfield: 8 Stock Dove pre-roost gathering at Carr's Basin 15:30 (Robert Callf)
Trent Park: f Shoveler, 5 Common Pochard 4m 1f, 7 Tufted Duck 2m 5f, 3 Goosander 2m 1f lower lake, Kingfisher, f Hawfinch perched in blackthorn hedgerow near Triangular Wood 10:35, f Common Darter, Small Copper (Robert Callf); Noon - 2 Hawfinch in flight, 12 Fieldfare west 12.45 then 3 perched before flying off west, Sparrowhawk, 2 Common Buzzard (Bob Husband, Fay Broom, Mike Cawthorne, Robin Morden); 2 Hawfinch 1 in 'new clump' & 1 perched in bare tree to the west, 11 Greenfinch, Great Spotted Woodpecker, Green Woodpecker, 35 Redwing (Pete Lowman).
Wimbledon Common: Firecrest 10.15-11.15 in holly understory c200m in from Putney Vale Cemetery (Peter Carlill)
Wraysbury GPs: 20 Little Egret in roost, 18 Fieldfare, 26 Redwing, 5 Heron (Thomas Gibson)
Sunday 12th November 2017

[

]
Amwell: 2 Raven and Peregrine from viewpoint (Twitter)
Banstead Woods: 1 Stonechat, 2 Rook, 1 Fieldfare, 1 Pied Wagtail, 6 Meadow Pipit, 1 Sparrowhawk, 1 Buzzard (CFBWBG)
Beckton (Gallions Reach): Sabine's Gull (juv) downriver towards Barking 09.14, 19 Black-tailed Godwit, 3 Curlew, 50 Redshank, 2 Dunlin, 9 Fieldfare, 1 Hawfinch west 09.30, 4 Siskin, 2 Redpoll. (Gary A James & Paul Davis).
Beddington Park: Short-eared Owl (Roy Weller)
Bentley Priory: 1 Hawfinch at 9.45am. Perched briefly at east end of Ridge Wood Meadow TQ162926 then flew NW to Heriots Wood (Tony Blake).
Brent Reservoir: Little Egret north marsh, 10 Snipe, 18 Redwing, 11 Fieldfare, 5 Lesser Redpoll (Brent Birders)
Broomfield Park, Palmers Green: 11 Shoveler 5m 6f, 250+ Black-headed Gull (Robert Callf)
Hall Place Bexley: Kingfisher and Little Grebe rare here & usual Geese
Hampstead Heath: Blackcap near the bandstand, 6 Fieldfares NW, 8 Redwings NW, 3 Siskins NW, also 12 Shoveler and 2 Gadwall on High No.1 (Pete Mantle)
London Wetland Centre: Ring Ouzel, 2 Goldeneye, 1 Bittern, 2 Stonechat, 1 Little Egret, 2 Redwing, 1 Shelduck, 1 Pintail, 1 Common Sandpiper (WWT website)
Margravine Cemetery: Redwing, Goldcrest, 2 Peregrine Falcon, Coal Tit (Nathalie Mahieu, Ruth Savery, John Boorman)
Norbury Hill nr Biggin Wood: 1 Hawfinch over gardens at 13:30 (Michael Mac)
Norbury Park: 10 House Sparrows in back garden (Michael Mac)
Putney Heath: c20 Lesser Redpoll, c12 Fieldfare, c12 Redwing (Les Evans-Hill)
Rainham: Black Redstart at Ferry Lane South in ditch by road at the car parking area (Sean Huggins)
Richmond Park: Raven (H.Bradshaw)
Rotherhithe: 2 Yellow-legged Gulls (2nd-winter and 1st-winter), 8 Great Black-backed Gulls & 150+ Herring Gulls on beach by Hilton Hotel (Richard Bonser, Dante Shepherd)
Ten Acre Wood area: 4 young female Pheasant together, 3 Buzzard down together, 2 Sparrowhawk, 2 Kestrel, 26 Lapwing, 16 Skylark, 15+ Meadow Pipit, 32 Redwing S, 7 Fieldfare S, 4 Rook, 5 Linnet, 2 Reed Bunting (Neil Anderson/G. Westley)
Thames Barrier Park: adult Yellow-legged Gull though otherwise toilet (Richard Bonser, Dante Shepherd)
Tottenham Lock: Little Grebe 150m south of the lock along the canal path (Callum Farrell-Morris)
Tottenham Marsh: 12 Fieldfare W, Lesser Redpoll over, 4 Goldcrest (Stuart Fisher)
Totteridge Valley/ Darlands Lake: 127 Redwing, 17 Goldfinch, 6 Blackbird, Siskin circled Darlands twice calling before flying N, 3 Lesser Redpoll, 9 Meadow Pipit, 21 Chaffinch, 6 Greenfinch, 2 Skylark N, 5 Linnet, 2 Pied Wagtail, Grey Wagtail, 7 Hawfinch (1S 07:46 / 1N 08:07 / 1WNW 08:28 / 4SE 09:26), 30 Fieldfare, Song Thrush, 24 Starling - vis-mig 07:15-09:45; also Brambling, 9 Rook, Coal Tit, Teal, Kestrel, 2 Common Buzzard, 8 Common Gull, 2 Little Owl, 4 Bullfinch, 3 Mandarin Duck, 23 Canada Geese, 2 Cormorant, 7 Goldcrest, Tawny Owl, 6 Pheasant 3m 3f (Samuel Levy & Simon Worsfold)
Tower Hamlets Cemetery Park: 2 Firecrest m f Railway Grove clearing and environs east of 'the Triangle' (Nick S, M Lewis)
Uxbridge: Sparrowhawk hunting very early murk River Frays Braybourne Close so nearly took a blackbird (Dan Pinkham)
Wanstead: Mediterranean Gull 2w on Alex late morning (Richard Bonser, Dante Shepherd); earlier on adjacent football pitches (Tony Brown)
Wimbledon Common: Firecrest (my 1st ever) in Holly Bushes close to cemetery, Treecreeper (P. Redmond); 3 Meadow Pipit, 2 Sparrowhawk m f, Kestrel (Les Evans-Hill)
Woodford Green: 2 Little Egret over, and 7 Siskin on feeders by 09.40. (Ken Murray)
Wyvil Housing Estate, Stockwell: 24 Goldfinch around feeder on a wall (Michael Mac)
Saturday 11th November 2017

[

]
Brent Reservoir: 2 Water Rail, Grey Wagtail, Cetti's Warbler, 11 Common Snipe, Chiffchaff, Little Egret; 21 Starling, 6 Stock Dove, 13 Redwing, 6 Song Thrush, 2 Mistle Thrush, 2 Blackbird, 20 Chaffinch, 12 Goldfinch, 2 Siskin - vis-mig 07:30-09:30 (Brent Birders)
Brookmill Park: Kingfisher, Great Spotted Woodpecker, Chiffchaff, Goldcrest (Conrad Ellam)
Canons Farm: 1 Woodcock (CFBWBG)
Finchley: N3 - Hawfinch perched at the top of a large Oak tree at the top of my road calling loudly 09:00 (Samuel Levy)
Isleworth: c50 Teal on shore in front of Syon Park at low tide at 1200 (Mike Foster)
KGV Reservoir: Scaup, Caspian Gull, Lesser Redpoll (Neville Smith).
Lamorbey Park: adult Mediterranean Gull on Hurstmere school playing fields despite sports activity, 2 Little Grebe, 6 Cormorant, Grey Heron, 2 Mute Swan, 3 Egyptian Goose, 6 Tufted Duck, c100 Black-headed Gulls, 14+ Common Gull, Lesser Black-backed Gull, 2 Herring Gulls, Meadow Pipit over, 2+ Goldcrest, 2 Pied Wagtail, 2 Jackdaw (Most gulls now dispersed 12.55) (Mike Amos).
London Wetland Centre: female Ring Ouzel, 2 Red-crested Pochard m f, Goldeneye f, Dunlin, Shelduck, Water Rail, Redwing, Fieldfare (Shailesh Patel)
Middlesex Filter Beds: Cetti's Warbler in sub-song in bed nearest the pond at 12:30, also 3 Goldcrest nearby in yew on bank of Old River Lea (Alastair Dent)
North Finchley: 5 Mistle Thrush (John Colmans)
Northolt & Greenford CP (Marnham Fields): m Blackcap, Chiffchaff & Goldcrest with tit flock, f Bullfinch (Neil Anderson/K. Bull)
Putney Heath: Kestrel, 12+ Redwing, 12+ Lesser Redpoll (Les Evans-Hill)
Rammey Marsh: Water Rail, Sparrowhawk (f), Kestrel, 3 Meadow Pipit, 3 Stonechat (2m), 5 Goldcrest, Cetti's Warbler, 3 Bullfinch (1m), Siskin, 3 Reed Bunting (Neville Smith).
Stockwell: Ring-necked Parakeet going in hole high up on block of flats wall, seems not only are they taking over tree holes but also wall nest sites (Michael Mac)
Thames Barrier Park: 47 Teal, 9 Shelduck, 34 Cormorant, 2 Little Egret, 16 Redshank, Song Thrush, 6 Greenfinch, Kestrel, 5 Yellow-legged Gull. (Samuel Levy, Rich Bonser, Dante Shepherd, Elliot Montieth)
Tottenham Marsh East: m Firecrest, 4 Goldcrest, 5 Chiffchaff, 4 Fieldfare, 18 Blackbird, Redwing (Stuart Fisher)
Trent Park: Black Swan lower lake - site tick, 6 Mandarin Duck 4m 2f, 4 Common Pochard 3m 1f, 9 Tufted Duck 4m 5f, Sparrowhawk, Common Buzzard, 7 Redwing, 2 Mistle Thrush, Nuthatch, Treecreeper, 2 Bullfinch, 2 Hawfinch perched together 13:45 and in flight together 15:08 - one perched up in ash until 15:24 (Robert Callf) Hi Robert ; saw the Black Swan . Were the Hawfinches in the usual area? Rgds Pete Yes, the Hawfinches were in the usual area [RC]
Tyttenhanger GPs: Great White Egret, 12 Snipe main pit (Twitter)
Wimbledon Common: 2 Sparrowhawk, Kestrel (Les Evans-Hill)
Friday 10th November 2017

[

]
Bexley: Riverside Road Field - small flock of Chaffinches, amongst which I glimpsed a Brambling, 1 Stonechat in adjacent scrubland (Patrick English)
Brent Reservoir: 11 Common Snipe, 3 Egyptian Goose, 2 Cetti's Warbler, Chiffchaff, 2 Kestrel; 79 Starling, 19 Woodpigeon, 2 Stock Dove, 23 Redwing, 9 Fieldfare, 2 Song Thrush, Blackbird, Pied Wagtail, 2 Meadow Pipit, 9 Chaffinch, 15 Goldfinch, Greenfinch, 2 Lesser Redpoll, Siskin, 2 Bullfinch - vis-mig 06:30-08:00 then rain (Andrew Self, Magnus Andersson, Andrew Haynes, Andrew Verrall)
Brookmill Park: 2 Kingfisher, 2 Goldcrest (Conrad Ellam)
Canons Farm: 2 Red-legged Partridge, 7 Redpoll, 1 Meadow Pipit, 1 Pied Wagtail, 9 Fieldfare, 53 Redwing, 15 Skylark, 2 Yellowhammer, 35 Linnet, 1 Greenfinch, 15 Chaffinch, 3 Buzzard, 1 Kestrel, 2 Common Gull (CFBWBG).
Dollis Brook: Holders Hill - 4 Goldcrest, singing Chiffchaff; Barnet Lane / Totteridge Station - 30 Redwing, 4 Goldcrest (Samuel Levy)
Gallions Reach: Still lots of Redshank & Black-tailed Godwit & 4 Curlew, Redpoll and Common Buzzard. (KJM)
KGV Reservoir: N. Basin - 1 Black-necked Grebe, 4 Goldeneye (all fem./1st- winters), 3 Goosander (1m & 2 red-heads), 2 Meadow Pipit, M. Peregrine flew over - 13.15-14.00 (Davey Leach).
London Wetland Centre: 2 Pintail, 2 Red-crested Pochard, 1 Goldeneye, 1 Stonechat, 5 Common Snipe and 7 Redwing (Twitter); 1 Bittern middle channel reedbed, 4 Red-crested Pochard reservoir lagoon, 7 Snipe grazing marsh (LWC website)
Mayflower Park: 20 Stock Doves south (Bob Smith)
Middlesex Filter Beds: Cetti's Warbler singing in the bed closest to the pond at 09:30 (Alastair Dent)
Rainham Marshes: 1 Whinchat (Late record. 1st-winter at Marquee Field), 1 Firecrest, 1 Water Pipit, 2 Rock Pipit, 1 Chiffchaff, 1 Woodcock, 4 Avocet, 4 Ruff, 48 Black-tailed Godwit, 1 Water Rail, 7 Yellow-legged Gull, 4 Marsh Harrier (1m 1f 2juvs), 1 Barn Owl and 4 Rook (Niall T. Keogh)
Southwark Park: 3 Little Grebe (John Cadera)
The Ridgeway, Mill Hill: 7 Fieldfare W, 76 Redwing W/NW, Mistle Thrush, 2 Kestrel, 2 Sparrowhawk, 2 Collared Dove, Song Thrush - vis mig looking towards Totteridge Valley 07:30-11:30; also 4 Goldcrest (Samuel Levy)
Totteridge Valley/Darlands Lake - 1 Hawfinch (11.00am), 3 or 4 Redwing, 8 Teal (Nick Moll) Hi Nick - could you provide a bit more info on the Hawfinch please... Thank you [SL] It was in a large bare (willow?) tree about 100m due north of Darlands Lake for about 30 seconds before dropping down into one of a line of blackthorn bushes below the tree. Despite hanging around for over 30 mins I failed to pick it up again [NM]. Thank you - will add it to our records [SL]
Tower Hamlets Cemetery Park: Firecrest male, Holly Blue (Bob Watts, Terry Lyle)
Tyttenhanger: Great White Egret main pit (Twitter)
Thursday 9th November 2017

[

]
Alexandra Park: Common Buzzard pursued NE at 0705 by 3 Crows, also Little Grebe Wood Green Res, 2 Redwing west by 0710 (Bob Watts); Blackcap f in E. hedgerow 08:15 (Trevor Wyatt)
Bayhurst Wood area: 2 Tawny Owl 6.15am, Stonechat, 7+ Hawfinch (group and later couples or singles), 3 Siskin, 2 Bullfinch, 2 Nuthatch, Goldcrest, Treecreeper, Kestrel, Great Spotted Woodpecker, Fieldfare, 30+ Redwing (Dan Pinkham)
Brent Reservoir: 2 Cetti's Warbler, 12 Common Snipe, Chiffchaff, male Peregrine over Dump; 65 Starling, 55 Woodpigeon, 6 Stock Dove, 119 Redwing, 3 Song Thrush, 4 Mistle Thrush, 4 Blackbird, 2 Pied Wagtail, Brambling, 62 Chaffinch, 41 Goldfinch, 3 Linnet, Greenfinch, 3 Lesser Redpoll - vis-mig 07:00-09:30 (Magnus Andersson, Andrew Verrall)
Canons Farm: 4 Little Owl, 1 Tawny Owl, 5 Redwing, 2 Red-legged Partridge, 1 Meadow Pipit, 2 Common Gull, 1 Yellowhammer (CFBWBG)
Dollis Brook, Holders Hill: 3 Redwing W, Goldcrest. (Samuel Levy)
Mayflower Park: Common Snipe flying over, first for 10 years (Bob Smith) Hi Bob, interestingly I had one fly over my garden KT4 on 21 of November 2015 [Isaiah Rowe]
Middlesex Filter Beds: 3 Little Egret on river, 2 Goldcrest, 2 Mistle Thrush, 1 Redwing over W, 6 Common Gull nearby on Millfields cricket pitch 08:30-09:30 (Alastair Dent)
Southwark St SE1: deceased Woodcock on the pavement. Assume same bird seen locally earlier in the week (Rob Tomalin)
The Ridgeway, Mill Hill: 10 Redwing W, 2 Goldcrest, Hawfinch flew over 14:10 heading West, 150 Woodpigeon S, 2 Pied Wagtail, Grey Wagtail, 2 Fieldfare W (Samuel Levy)
Tolworth, Derby Rd: 2 Tawny Owls in trees interacted and then flew off (Isaiah Rowe)
Totteridge Valley/Darlands Lake: Brambling calling high up over the bottom of the Owl field at 10.55, Siskin, Sparrowhawk, Common Buzzard, 2 Lesser Redpoll, 27 Redwing, 4 Mistle Thrush, 3 Bullfinch, Linnet, Meadow Pipit, 9 Teal (Simon Worsfold)
Tower Hamlets Cemetery Park: Firecrest at entrance to Horse Chestnut Glade with flock 0820, also 10+ Goldcrest, 10 Redwing west (Bob Watts)
Town Park, Enfield: 10 Tufted Duck 7m 3f, male Kingfisher Carr's Basin 16:26-16:35, Grey Wagtail 1st-winter, 6 Redwing, 7 Mistle Thrush, Goldcrest, 10 Grey Squirrel (Robert Callf)
Trent Park: 19 Mandarin Duck 10m 9f lower lake, f Shoveler, 4 Pochard 2m 2f, 5 Tufted Duck 2m 3f, 2 Common Buzzard, f Kestrel, male Kingfisher perched lower lake, 5 Song Thrush, 10 Redwing, 2 Mistle Thrush, Goldcrest, Firecrest foraging in laurel SW edge of Rough Lot, 2 Treecreeper, 2 Chaffinch, 8+ Greenfinch, Goldfinch, Lesser Redpoll, Bullfinch (Robert Callf)
Walthamstow Wetlands: 11 Lapwing high S over no.1 1417, 5 Linnet NW (P Beckenham, T Wileman)
Worcester Park: Peregrine hunting from pylons(Bob Smith)
Wednesday 8th November 2017

[

]
Alexandra Park: 93 Redwing west by 0830, also Song Thrush (Bruce Carson, Bob Watts)
Brent Reservoir: 8 Snipe, 2 Cetti's Warbler, Chiffchaff, 4 Bullfinch, Kingfisher; 92 Starling, 182 Redwing, 2 Fieldfare, 4 Song Thrush, 5 Mistle Thrush, 2 Pied Wagtail, Meadow Pipit, 10 Chaffinch, 26 Goldfinch, Lesser Redpoll - vis-mig 06:55-10:30 (last hour main hide) (Magnus Andersson, Simon Worsfold, Andrew Verrall); female Wigeon (Bill Haines).
Dollis Brook, Holders Hill: 17 Redwing NW/W (One Redwing was all wing and head and had lost the lower part of its body and tail, but was still keeping up with the group and looked in good shape otherwise), 2 Goldcrest (Samuel Levy) perhaps it was a robot Redwing? Apparently scientists in China have worked out how to control pigeons with remote control/implants
Greenwich Ecology Park: 20 Lapwing W 12:50, Little Grebe, Kingfisher, Redwing, Song Thrush, Chiffchaff, 40 Goldfinch (John Bushell) 
Greenwich Park: 270 Redwings W before 08.30, also Brambling over, m Firecrest, 2 Hawfinches low W, f Sparrowhawk attempted to catch f Green Woodpecker (Joe Beale)
Hampstead Heath: Still 10+ Shoveler on High Pond 1, Common Snipe flushed on Parliament Hill (Will Hitchins)
KGV Reservoir: Hawfinch flew calling S then landed in gardens behind sailing club 13.25pm, m Goosander (N Basin), Pr. Goldeneye (S Basin), 6+ Meadow Pipits, 2 Grey Wagtails, Sparrowhawk. (Davey Leach).
London Wetland Centre: 1f Goldeneye, 6 Red-crested Pochard (4m 2f), 9 Snipe on grazing marsh, 1m Pintail, 1f Sparrowhawk chased S by crows, 2 Peregrine in Ch X, 1 Goldcrest (Martin Honey)
Mill Hill East, Millbrook Park: Rock Pipit seen in flight on the wasteland at Inglis Way/Bittacy Hill for 3rd day. (Samuel Levy)
Olympic Park: tennis courts scrub field - 10+ Meadow Pipits, 20+ Pied Wagtail (JW Davies)
Rammey Marsh: Common Buzzard, Kestrel (m), Water Rail, Great Spotted Woodpecker, 2 Skylark (over S), 4 Meadow Pipit, 115+ Redwing (100+ over N/W & 15+ foraging on grass path), 66 Fieldfare (over N/W), Treecreeper, Brambling, 3 Lesser Redpoll, Siskin, Greenfinch, 2 Bullfinch (Neville Smith)
Regent's Park: 3 Hawfinches (1 & 2), 1 Brambling, 80 Redwings, 12 Fieldfares, 1 Woodcock (Twitter)
Richmond Park: Short-eared Owl in flight at 11.00 (C.Ratcliffe per Twitter)
Southwark Park: 2 Shoveler, 2 Little Grebe, 2 Egyptian Goose, Grey Heron, Lesser Black-backed Gull (John Cadera)
Staines Reservoirs: 2 Dunlin flew over then NW 15.00, 25 Lapwing, 4 Pintail, 5 Goldeneye, 5 Shelduck, 1 Black-necked Grebe, 1 Water Pipit causeway. (Dom Pia, Franko J Maroevic )
Stave Hill: Grey Wagtail, 6 Greenfinch, 2 Chaffinch, 2 Jay, Great Spotted Woodpecker, 4 Goldcrest, 1 Chiffchaff (John Cadera & Richard Page-Jones)
Stoneleigh Station KT17: 172 Herring Gull ne, 4 Pied Wagtail, 23 Ring-necked Parakeet (Neil Batten)
Surrey Water: 20 Tufted Duck (John Cadera & Richard Page-Jones)
Tottenham Marshes: c25 Redwings in allotment S hedge at 07:00 (Quentin Given)
Totteridge Valley/Darlands Lake: Sparrowhawk, Redwing, 2 Fieldfare, 3 Bullfinch, pair Mandarin, 10 Teal (John Colmans); also 4 Goldcrest, Kestrel, 4 Redwing, 3 Pied Wagtail, Grey Wagtail (Sheepwash Pond) (Samuel Levy)
Town Park, Enfield: 11 Tufted Duck 7m 4f, male Kingfisher perched Carr's Basin 16:06-16:23, 3 Goldcrest, 13 Long-tailed Tit, 2 Nuthatch pair, 5 Grey Squirrel (Robert Callf)
Trent Park: 27 Mandarin Duck 16m 11f lower lake, 5 Common Pochard 4m 1f, 3 Tufted Duck 1m 2f, 11 Northern Lapwing flew W 'New Fields' 11:17, 17 Magpie, Nuthatch, Hawfinch in flight and perched up in trees 11:06-11:08 and 11:15-11:17 (Robert Callf)
Tyttenhanger: Great White Egret still on main pit (Twitter)
Walthamstow Reservoirs: Rock Pipit over Lockwood, 110 Redwing and 11 Fieldfare W, Female Goosander and Wigeon on East Warwick, 2 Stonechat on West Warwick (David Bradshaw, Lol Bodini)
Waterloo Bridge: Caspian Gull 1cy north side jetty (N Senior)
West Putney, Huntingfield Road: Red Kite S, 3 Skylark NW, Meadow Pipit N, 45 Fieldfare NW, 350 Redwing NW, 190 Starling NW, 11 Chaffinch NW, 3 Siskin SW, 5 Goldfinch SW, Red Admiral S. (R.Kaye, J.Wilczur)
Tuesday 7th November 2017

[

]
Alexandra Park: 57 Fieldfare, 13 Redwing, 44 Woodpigeon west - viz mig 06:50-08:05 (Bruce Carson, Bob Watts); Peregrine flying around transmitter 08:45 (Trevor Wyatt)
Brent Reservoir: 12 Snipe, Water Rail, 105 Common Gull, Cetti's Warbler, 2 Chiffchaff; 51 Woodpigeon S, Stock Dove, 122 Starling W, 581 Redwing, 3 Fieldfare, 6 Song Thrush, 5 Mistle Thrush, Pied Wagtail, Meadow Pipit, 2 Hawfinch, Brambling, 19 Chaffinch, 26 Goldfinch, 16 Lesser Redpoll, 5 Siskin - vis-mig 06:55-09:20; 32 Lapwing SW later (Andrew Self, Magnus Andersson, Andrew Verrall)
Brockwell Park: 67 Fieldfare, 70 Redwing, 305 Starling, 53 Woodpigeon, 43 Chaffinch, 3 Finch sp west, also 2 Mistle Thrush, 2 Jay, 1 Pied Wagtail, 6 Long-tailed Tit, 31 Black-headed Gull 9 west & 22 feeding; Upper Pond - 1 Little Grebe, 1 Kingfisher (Tony Stones).
Brookmill Park: Kingfisher, Goldcrest, Coal Tit (Conrad Ellam)
Canons Farm: 5 Lapwing, 1 Brambling, 1 Redpoll, 59 Fieldfare, 2 Mistle Thrush, 53 Redwing, 1 Pied Wagtail, 3 Meadow Pipit, 1 Grey Heron, 15 Black-headed Gull, 1 Little Owl, 2 Buzzard, 1 Kestrel, 20 Skylark, 260 Starling, 1 Yellowhammer (CFBWBG)
Farringdon: Kestrel (Charlie Farrell)
Finchley: Garden N3 - Brambling SW 06:54 calling loudly (Samuel Levy)
Fryent Country Park: Common Snipe, c150 Redwing, 18 Fieldfare (Joe Taylor)
Gallions Reach: 3 Sanderling, 15 Black-tailed Godwit, 50 Redshank, Fieldfare, Redwings (KJM)
Grovelands Park: Little Grebe, 7 Cormorant, 5 Mute Swan pr and three first-winter, 78+ Canada Goose, 2 Egyptian Goose, 45 Mandarin Duck 28m 17f, 17 Tufted Duck 7m 10f, adult Common Gull, Grey Wagtail 1st-winter, Redwing, Mistle Thrush, 2 Goldcrest, Treecreeper (Robert Callf)
Hampstead Heath: Parliament Hill - 22 Lapwing NW at 1020, 150 Redwing NW, 40 Fieldfare W, 2 Blackbirds W, 10 Shoveler on High No.1 (Pete Mantle)
Hyde Park/Kensington Gardens: 8 Red-crested Pochard, 40 Woodpigeon SW, 4 Blackbirds W, 3 Redwing, 20 Fieldfare W (oddly few moving thrushes noted), 1 Blackcap, 4 Chiffchaff 2 singing, 1 Cetti's Warbler, Firecrest male south side of Serpentine Bridge, 9 Greenfinches, 2 Hawfinches in Hornbeam near Cavalry Monument at dawn calling then off N (N Senior)
Kensal Green: c60 Fieldfare over (Charlie Farrell)
London Wetland Centre: 1 Hawfinch flew over E then turned S at 07:05, Lesser Redpoll and c6 Siskin (Bill Haines); 1 Brambling, 1 Coal Tit, 2 Goldcrest, 3 Redwing entrance, 1 Goldeneye female reservoir lagoon, 9 Common Snipe grazing marsh, 1 Skylark flew over grazing marsh, 2 Stonechat grazing marsh, 6 Red-crested Pochard (4m 2f) main lake, 1 Siskin flew over (Martin Parker John Cass); Bittern seen by others from Headley Hide, 2 Chiffchaff (Martin Honey); Firecrest (WWT website)
Motspur Park: 25 Fieldfare west (Bob Smith)
Regent's Park: 2 Hawfinches, 3 Bramblings, 500 Redwings, 30 Fieldfares 6.50am to 7.18 and still coming (Twitter)
Ruislip Lido: 30 Shoveler, 4 Little Egret (Martin Smith) 
South Bank SE1: 1 Woodcock flew up from riverside vegetation, circled, crashed into the windows of the ITV building and fell at the feet of two surprised security guards 10.15am — bird seemed OK and moved to cover nearby (Rich Petley).
St James's Park: 3 Teal, 2 Redwings (Tom Jordan)
Snaresbrook Crown Court: Hawfinch (h) over at 7.15 ish, 70 Fieldfare over and a few Redwing (Stuart Fisher)
Stoneleigh Station KT17: 31 Redwing S, 1 Grey Heron N am (Neil Batten)
The Ridgeway, Mill Hill: 48 Redwing S/W, Song Thrush, 7 Goldcrest (Samuel Levy)
Tower Hamlets Cemetery Park: 2 Firecrest male and female (pair?) in holly at entrance to Horse Chesnut Glade opposite Soanes Centre 1300, also 16 Ring-necked Parakeets (Bob Watts)
Trent Park: 6 Lesser Redpoll, Kingfisher, 2 f Tufted Duck, 3 m Pochard, 10 Mandarin 6m 4f (Pete Lowman).
Tufnell Park: Flock of 25-30 Fieldfare over c0945, and 3-5 Redwing feeding on berries off Junction Rd (Francis Tusa)
Tyttenhanger: Great White Egret still in area (Twitter)
Walthamstow Reservoirs: 9 Wigeon off Lockwood south, Goosander W Warwick, Water Rail, Goldeneye, Green Sandpiper, 2 Common Sandpiper, steady stream of finches and thrushes early over high going SW. (David Bradshaw); Goosander (f) flew from W Warwick 1220 going N over visitor centre - same or another bird seen on E Warwick c1300, 2 Stonechat (m/f) on fence between E Warwick and railway line, Goldeneye (f) on No 5 Res (Peter Charles/ Keith Cutting)
Woodford Green: 5 Siskin, 2 Redwing, Goldcrest, Fieldfare, 3 Chaffinch and a Buzzard over up to 09.15. (Ken Murray)
Woodlands Farm: 2 Hawfinch W 9.30, 50 Fieldfare, 20 Redwing, Goldcrest, Coal Tit (Conrad Ellam)
Worcester Park, Garden KT4: 4+ Siskin S c15:40 (Isaiah Rowe)
Monday 6th November 2017

[

]
Alexandra Park: 150 Woodpigeon W, Stock Dove W - viz mig 06:50-07:10; Egyptian Goose honking, Shoveler Wood Green Res (Bruce Carson, Bob Watts)
Barn Elms Playing Fields: Red Kite W, 5 Snipe circled, 3 Stock Dove SW with wpigs, 1300 Woodpigeon SW, Kingfisher, Magpie SW, 140 Starling W, 42 Redwing mostly W, 105 Fieldfare NW, 28 Skylark various directions, just 17 Chaffinch W, 2 Brambling W/SW, Bullfinch S, 10 Goldfinch SW, 2 Lesser Redpoll NW, 4 Hawfinch W 10.10, 2 Red Admiral S. (R.Kaye)
Bexley Riverside Road: 2 Brambling with a flock of 30+ Chaffinches, 5 Linnets, 2 Green Woodpecker, Skylark, Common Buzzard, Sparrowhawk and m Kestrel (Donna Zimmer, Eric Brown, Bernie Weight and Patrick English); also 10 Redwing over, 5 Fieldfare feeding in trees (Eric Brown)
Brent Reservoir: 475 Woodpigeon S, 2 Stock Dove, 18 Starling, 4 Redwing, 9 Fieldfare, Song Thrush, 5 Mistle Thrush, Pied Wagtail, 22 Chaffinch, 13 Goldfinch - vis-mig 06:55-09:00 (Andrew Verrall)
Brookmill Park: Little Egret, Kingfisher, Goldcrest (Conrad Ellam) 
Bruce Castle Park: 2 Nuthatch (James Palmer)
Canons Farm: 42 Skylark, 4 Meadow Pipit, 25 Linnet, 1 Tawny Owl, 2 Little Owl, 1 Sparrowhawk, 1 Kestrel, 3 Buzzard, 1 Yellowhammer (CFBWBG)
Collier Row, Romford: 4+ Fieldfare NW at 0740 (G J Francis)
Dollis Brook, Holders Hill: 4 Redwing NW, Mistle Thrush (Samuel Levy)
Eltham (SE9): Buzzard over Eltham Palace flying E (Peter Charles)
Finchley: Garden N3 - 3 Redwing SE, Grey Heron NE (Samuel Levy)
Ewell, Hogsmill Open Space: 1 Little Egret perched in trees above river Hogsmill 08:35 (Neil Batten)
Fulham (Kilmaine Rd): Grey Wagtail feeding on small lawn (Neil Anderson)
Gunpowder Park: Stonechat (James Palmer)
Harringay: c40 Woodpigeon west high over Green Lanes at 08:15 and a Goldcrest low over my garden an hour later - garden life tick (Harringay Birder)
Hornchurch: Hawfinch over my garden 06:58 (Paul Hawkins)
Kensington Gardens/Hyde Park: Woodcock, Common Sandpiper, 2 Fieldfare, Peregrine (John & Janet Cadera)
London Wetland Centre: 2 Stonechat, 1 Bearded Tit, 14 Fieldfare, 7 Redpoll and 4 Siskin (Twitter); Bullfinch reported wildside, Bittern 12.40pm (Les McCallum)
Primrose Hill: juv Brent Goose ssp bernicla (personal patch tick) ESE c30m above Hill viewpt toward Thames at Canary Wharf 0825 - notes sent to LBC Inner London recorder, Egyptian Goose ESE 0810, red-head Goosander NNW 0835, 4 Stock Dove, 560 Woodpigeon S, Starling SW, 12 Fieldfare W, Song Thrush, 16 Redwing SW, Pied Wagtail, 7 Brambling W, 52 Chaffinch W, 15 Goldfinch, 2 Siskin E - vismig 06:55-08:55 (Twitter)
Richmond Park: 8 Red-crested Pochard 6m 2f (R Dunne)
Ruislip Woods, Poor's Field: Hawfinch 14:20 perched on birch then dropped down out of sight (Deiniol Owen)
Rye Meads RSPB: 62 Lapwing, 7 Snipe, 2m Wigeon, 1 Buzzard, 2 Pied Wagtail, 2 Grey Heron (Daniel Whitelegg)
St James's Park: Kingfisher (Frank Nugent).
South Norwood Country Park: 4 Egyptian Goose & 4 young, 2 Teal, Mallard with new brood of seven, 10 Water Rail - a site record count with five seen, Kingfisher, Kestrel, 3 Goldcrest, Chiffchaff, 2 Fieldfare, 18 Redwing, Mistle Thrush, 5 Redpoll 14:00-15:45, 4 Hawfinches landed in top of Larch tree before flying off S/West at 1455. (Croydon Birders)
Stanstead Innings GPs: Bittern, 1m Goldeneye, 4 Pochard 2f 2m, 65 Tufted Duck, 10 Mute Swan, 160 Black-headed Gulls, 4m Teal. (Daniel Whitelegg)
The Ridgeway, Mill Hill: 36 Redwing N/NW, Skylark, 3 Canada Geese, 500 Woodpigeon S/SW. (Samuel Levy)
Tower Hamlets Cemetery Park: 125 Woodpigeon W or NW, 3 Chaffinch N, Collared Dove N - viz mig 07:55-08:15 (Bob Watts)
Trent Park: juv Little Grebe lower lake, 19 Mandarin Duck 12m 7f, 7 Common Pochard 5m 2f, 4 Tufted Duck 2m 2f, 7 Moorhen 2 ad 5 imm, Kingfisher, Green Woodpecker, 2 Great Spotted Woodpecker, 2 Nuthatch, Treecreeper, 5-6 Small Copper (Robert Callf); Hawfinch briefly at 15:40 pm perched in bare tree east of 'new clump' before flying west, also 6 Greenfinch, 2 Goldfinch, Green Woodpecker, 2+ Stock Doves S (Pete Lowman)
Tufnell Park N19: c20 Redwings flew over T Park Playing Field at 2pm (Mavis Pilbeam)
Tyttenhanger: Great White Egret on main pit again (Twitter)
Walthamstow E17 (Chaucer Rd): 1 Coal Tit. (Daniel Whitelegg)
Walthamstow Reservoirs: 600+ Woodpigeons SW 06:45-08:45, couldn't find Black-necked Grebe on Lockwood, but suspiciously tame red-head Goosander now on West Warwick. (David Bradshaw); also Green Sandpiper in Lockwood relief channel, pair of Stonechat south end of West Warwick, 3 Shelduck on No. 5 (Chris Farthing)
Woodford Green: Hawfinch and Siskin 08.52 (Ken Murray)
Wormwood Scrubs: f Sparrowhawk, 2 Redwing, c80 Woodpigeon over West, Bullfinch calling (Charlie Farrell)
Sunday 5th November 2017

[

]
Albany Park Sidcup Riverside Road: 40+ Chaffinch, 5+ Brambling 3m 2f, 3 Redpoll, 4 Skylark (Ralph Todd)
Alexandra Park: Fieldfare north, 7 Meadow Pipit north, 150 Woodpigeon west, 50+ Chaffinch mostly north, Skylark, 20+ Starling, c200 Black-headed Gull - viz mig 07:00-10:00 (APOG Birders); Kingfisher reservoir 10:30; Red Admiral just outside conservation woods (Greg Smith)
Banstead Woods: 2 Hawfinch, 2 Stonechat, 1 Meadow Pipit, 2 Siskin, 3 Skylark, 1 Pheasant, 3 Buzzard, 1 Kestrel (CFBWBG)
Bentley Priory: 3 Hawfinches over south east at 8.30am, 2 Bullfinches, 4 Greenfinches, 1 Kestrel (Tony Blake)
Brent Reservoir: 2 Little Egret, 11 Snipe, 2 Cetti's Warbler, Chiffchaff; vis-mig - 400+ Woodpigeon, 53 Starling, 26 Redwing, Fieldfare, 4 Song Thrush, 10 Mistle Thrush, 3 Pied Wagtail, Brambling, 24 Chaffinch, 9 Goldfinch, 3 Linnet, 4 Lesser Redpoll, 3 Siskin, Hawfinch, Reed Bunting 06:55-09:20 (Brent Birders)
Brockwell Park: male Kingfisher still on top pond, Water Rail visible across from platform at 14:30, 1 Little Grebe (Michael Mac)
Brookmill Park: 2 Kingfisher, Great Spotted Woodpecker (Conrad Ellam)
Canons Park & Seven Acre Lake, Edgware, Middx HA8: Common Buzzard (flying over), Goldcrest, Nuthatch, Red Admiral butterfly, Shoveler 2f m on Seven Acre (private) Lake (NW London RSPB Group & Harrow NHS Birdwalk, Bob Husband, RSPB Group Leader)
Epping Forest: Buzzard (Jon Agar)
Fairlop Waters: Red Kite, Treecreeper, Buzzard, 2 Little Owl, Stonechat, Chiffchaff, Grey Wagtail, Fieldfare, Little Egret (Alan Thomas/Neil Twyford)
Foots Cray Meadows: Water Rail, Jay, Little Egret, Little Grebe, 18 Black-headed Gulls, Wren, 3 Long-tailed Tits (Jack Headley)
Hackney Downs Park: Brambling, Redpoll, 320 Woodpigeon, 35 Chaffinch, Greenfinch, 14 Redwing, 11 Fieldfare, Meadow Pipit, Great Spotted Woodpecker, Goldcrest, 57 Common Gull (Jonathan Nasir)
Hall Place Bexley: 5+ Siskin feeding on an alder tree by the hide
Higham's Park Lake: Firecrest, 10 Pochard (Joe Dickens)
Home (Hampton Court) Park: c10 Mistle Thrush, Nuthatch, m Kestrel, Buzzard mobbed by crows, 4 Red-crested Pochard 3m f, m Teal (Mat Hare)
Hyde Park/Kensington Gardens: Woodcock, 800 Woodpigeon SW, 14 Redwings, 2 Blackcap, Cetti's Warbler, Chiffchaff, 4 Lesser Redpolls, 17 Siskins (N Senior)
KGV Reservoir: 6 Goosander (2 drake 1 fem 3 imm), 8+ Goldeneye, 2 Kestrel, 5 Common Buzzard, Common Sandpiper, Great Black-backed Gull (adult), Common Sandpiper, 4 Skylark (south), 4 Mistle Thrush, 2 Stonechat, 2 Cetti's Warbler (heard), Siskin (Neville Smith).
Kingston: Red Kite N from around Kingston College seen from Home Park 1235 (Mat Hare)
London Wetland Centre: Bittern, female Goldeneye, Water Pipit, 5 Snipe, 5 Chiffchaff, male Pintail, 2 Stonechat (WWT Website/Twitter)
Morden Hall Park: 2 Hawfinch, Redpoll, Siskin, 15+ Redwing over, 3 Kingfisher, 4 Grey Wagtail, Cetti's Warbler, Little Egret, Peregrine, Buzzard, Sparrowhawk, Kestrel (Morden Hall Park Nature Group)
Paddington Rec: Grey Wagtail (Francis O'Sullivan)
Palmers Green, N13: 100+ Ring-necked Parakeets moving E in separate flocks around 16:25 - my highest count here for some time (Katy McGilvray)
Pinner (HA5): Sparrowhawk, Siskin at last, 8 Goldfinch, 2 Coal Tit, Goldcrest, 3 Jay, 12 Jackdaw including 8 south-west, Redwing, Green Woodpecker, 4 House Sparrow (Jon Ridge)
Queens Wood: Common Buzzard soaring 1220 but no sign of Hawfinch in extensive hornbeam (Bob Watts)
Rainham Marshes RSPB: 6 Avocets, Rock Pipit (Aveley Bay), 3 Ruffs (Target Pools), f Marsh Harrier, Firecrest (Cordite) (Ian Bradshaw)
Raynes Park: 2 Tawny Owls calling 04:50am - first for garden (P. Redmond)
Regent's Park: Yellowhammer 7.10am SW, Skylark 8.10am, 6 Lesser Redpolls, Linnet, 30 Redwings, 350 Woodpigeons, 1 Collared Dove, pr Firecrests in area 41 (Tony Duckett).
Richmond Park: 2 Buzzard, Snipe, Mistle Thrush singing (S.Woolfenden, J.Wilczur); 1 Little Owl, 1 Treecreeper with mixed flock of Nuthatches and tits (Isaiah Rowe)
Rotherhithe - Stave Hill: Firecrest showing well and calling at 9.00am by small chalk pond just down from main entrance from Stave Hill, Sparrowhawk, Great Spotted Woodpecker, 4 Goldcrest, 8 Fieldfare overhead, but no sign of yesterday's Woodcock (Richard Page-Jones, Rich Bonser, Dante Shepherd)
Staines Moor: Brent Goose (reported with photos by Staines Moor Preservation - APSM, on facebook, submitted here by Thomas Gibson)
Ten Acre Wood area: 5 young female Pheasant took off together, 2 Buzzard, Red Kite, Sparrowhawk, Kestrel, 21 Lapwing, 18 Skylark, 16+ Meadow Pipit, m Stonechat, 13 Fieldfare, 10+ Redwing, c130 feeding Starling, 3 Rook, 5 Linnet, 10 Chaffinch (Neil Anderson/G. Westley); Peregrine, Snipe, Little Egret, 3 Pied Wagtail (Deiniol Owen)
Thames Barrier Park: adult Yellow-legged Gull and Little Egret otherwise it was toilet (Rich Bonser, Dante Shepherd)
Totteridge Valley, Belmont Farm: 9 Hawfinch SE 08:50 calling loudly, Chiffchaff, 8 Collared Dove, Sparrowhawk, 17+ Starling, 3 Common Gull, 6 Pied Wagtail, 13 Redwing, 3 Greenfinch, Mistle Thrush, Kestrel, 2 Common Buzzard, 25 Canada Geese, 2 Grey Heron, 2 Egyptian Geese, 20 Stock Dove (Samuel Levy); 9 Hawfinch again this evening at 16:30 circling over Darlands Lake then headed West (Ian Ellis)
Trent Park: Hawfinch feeding on ash (Stephen Witherford per RM Callf)
Walthamstow Reservoirs: Black-necked Grebe on Lockwood, female Goosander on East Warwick, Goldeneye on West Warwick (Walthamstow Birders)
Wanstead Flats: 700+ Woodpigeon south, 23 Fieldfare, 14 Redwing, 5 Skylark, 5 Meadow Pipit, 2 Bullfinch, Redpoll, Linnet, 6 Shoveler, 4 Teal, Sparrowhawk, 2 Kestrel, 150+ Common Gull, 2 Goldcrest (Nick Croft/Bob Vaughan)
Wanstead Park: 120+ Gadwall, 10 Wigeon, 21 Teal, 5 Pochard, 2 Little Grebe, imm Great Crested Grebe, Little Egret, Kingfisher, Siskin, Peregrine Falcon, Chiffchaff, Goldcrest (Nick Croft)
Worcester Park: garden KT4 - 2 Siskin N, 1 Grey Wagtail SW, 7 Chaffinch 6W 1N, 1 Geenfinch W and 5 Redwing - vis-mig 7:00-08:10 (Isaiah Rowe)
Wormwood Scrubs: 2 Stonechat m f, 1 Lesser Redpoll over Little Scrubs (Charlie Farrell)
Saturday 4th November 2017

[

]
Bow Creek: 13 Redshank, 3 Common Sandpiper, Little Egret [the East India Dock bird], Kestrel (Frank Nugent).
Brent Reservoir: 268 Starling, 22 Redwing, 19 Fieldfare, 6 Song Thrush, Mistle Thrush, 4 Pied Wagtail, 15 Chaffinch, 21 Goldfinch, Lesser Redpoll, Siskin - vis-mig 07:15-08:45; present around res - Common Sandpiper, 2 Green Sandpiper, 2 Lapwing, 16 Snipe, Water Rail, 3 Cetti's Warbler (Brent Birders)
Charing Cross Hospital: Black Redstart (on Peregrine Falcon nest ledge) (Nathalie Mahieu).
East India Dock: Kingfisher, Little Egret [the Bow Creek bird], Cetti's Warbler, 3 Gadwall, 9 Shelduck, Little Grebe, 2 Pied Wagtail, Chiffchaff, 92 Teal (Frank Nugent).
Fishers Green: Bittern, 2-3 Water Rail, Egyptian Goose, 2 Reed Bunting, Cetti's Warbler, 5+ Goldcrests (Mark Braun); 2 Brambling by bittern/otter sculpture (Simon Papps)
Footscray Meadows: 2 Little Grebe, Little Egret, 4 Mute Swan, 4 Tufted Duck, Sparrowhawk, Kestrel, Pheasant, Water Rail, Stock Dove, Green Woodpecker, Great Spotted Woodpecker, Grey Wagtail, Mistle Thrush, 4 Jay, 12+ Jackdaw, 6+ Brambling with c40 Chaffinches at Riverside Road, 4 Linnet (Mike Amos).
Greenwich Park: Brambling S over, 2 Firecrests, 6+ Goldcrests, Meadow Pipit, small number of Fieldfares, Redwings (Joe Beale)
Hackney Downs Park: Brambling, Siskin, 105 Redwing, 2 Goldcrest, Great Spotted Woodpecker, 13 Common Gull, 4 Pied Wagtail - 07:00-08:00 (Jonathan Nasir)
Hampstead Heath: 8 Cormorant, Chiffchaff, Lesser Redpoll, Kingfisher, 14 Redwing, 4 Greenfinch, 29 Tufted Duck, 13 Shoveler, 3 Common Gull, 36 Herring Gull, Mistle Thrush, 2 Green Woodpecker, Great Spotted Woodpecker, Kestrel, Great Crested Grebe, 34 Mandarin Duck into roost. (Samuel Levy)
Hyde Park: Short-eared Owl SW 15.35, 6 Fieldfare (Nick Senior)
Island Barn Res: Fem/imm Scaup (Chris Turner)
KGV Reservoir: 8 Goldeneye, 2 Common Buzzard, 1st win Yellow-legged Gull, Common Sandpiper, 4 Lapwing, 2 Fieldfare, Mistle Thrush, Rock Pipit, 2 Cetti's Warbler, 2 Chiffchaff, Brambling, 2 Reed Bunting (Neville Smith).
London Wetland Centre: 1f Goldeneye, 1 Water Pipit, 3 Stonechat, 2 Common Gull (O. Dewhurst, C. Dewhurst, J. Wilczur)
Raynes Park: gdn - Collared Dove pr - male singing, 2 Coal Tit, 3 Long-tailed Tit, 2 Goldcrest, 55 Starling, a distinctly yellow Parakeet, f House Sparrow, big passage of tits and Goldfinches through the garden throughout the day (P. Redmond)
Regent's Park Lake: 2f Wigeon briefly, calling Golden Plover SW to west of lake foy, ad Yellow-legged Gull - 0800 betw showers (Twitter)
Rye Meads: Water Pipit from Gadwall Hide (Twitter)
Sewardstone Marsh: 2 Water Rail in flood relief channel (Neville Smith).
Trent Park: Hawfinch perched in top of ash near Cemetery with Greenfinches and Goldfinch, f Blackcap, 12 Greenfinch, male Bullfinch (Robert Callf)
Tyttenhanger: Great White Egret on main pit again (Twitter)
Walthamstow Reservoirs: Black-necked Grebe on Lockwood, 3 Green Sandpipers off relief channel, Stonechat and Goldeneye on West Warwick (David Bradshaw); 1 female Goosander on East Warwick and 1 female Goldeneye on West Warwick - stood out from regulars; Smooth Newt tiny eft crossing the pavement on Ferry lane bridge - late in the year (Malachi)
Wanstead Flats: Hawfinch west 0712 (Twitter); 2 Brambling, 4 Linnet, 2 Goldcrest, 2 Blackcap, 2 Little Egret, 16 Teal, 2 Shoveler, 3 Gadwall, 3 Pochard, 2 Kestrel, 6 Redwing (Wanstead Birders)
Wanstead Park: 116 Gadwall, 9 Wigeon, 29 Shoveler, 17 Teal, Pochard, 2 Little Grebe, imm Great Crested Grebe, White Wagtail (James Heal)
Friday 3rd November 2017

[

]
Alexandra Park: 11 Redwing and 20+ Woodpigeon west 0650 to 0720 but viewing hampered by restricted access due to fireworks display (Bob Watts)
Banstead Woods: 1 Firecrest, 3 Hawfinch, 2 Brambling, 19 Greylag Goose, 1 Grey Heron, 2 Stonechat, 17 Redpoll, 9 Siskin, 2 Pied Wagtail, 35 Chaffinch, 130 Redwing, 55 Fieldfare, 2 Mistle Thrush, 18 Skylark, 200 Woodpigeon, 3 Yellowhammer, 8 Bullfinch, 4 Common Gull, 140 Black-headed Gull, 300 Herring Gull, 2 Sparrowhawk, 3 Buzzard, 4 Greenfinch, 7 Meadow Pipit, 10 Song Thrush (CFBWBG)
Battersea Park Lake: 48 Gadwall, 1 drake Pochard, 11 Shoveler, 55 Cormorants, pr Goldcrests - in walk round before dusk (Michael Mac)
Brent Reservoir: 104 Woodpigeon, 4 Stock Dove, 95 Starling, Great Spotted Woodpecker, 2 Redwing, 6 Fieldfare, 6 Song Thrush, Blackbird, 44 Chaffinch, 11 Goldfinch, Bullfinch, 2 Siskin - vis-mig 07.00-09.30 (Andrew Verrall, Stephen Branley)
Brookmill Park: Little Egret, 2 Kingfisher (Conrad Ellam)
Canons Farm: Hither Field - 3 Hawfinches 2 over 08:15 & 1 at 10:05 over Hither Field landed in Chipstead Bottom, Firecrest earlier, 2+ Bramblings over (Twitter)
East India Dock Basin NR: Little Egret, 40 Teal, 6 Shelduck, very dark fem Mallard/Black Duck??? - opinions welcome (Charlie Farrell)

Finsbury Park: Common Gull first of the season with growing Black-headed Gull flock. (Ann Feltham)
Foots Cray Meadows: 2 Water Rail (Andy Meaton)
Gallions Reach: Short-eared Owl, 20 Black-tailed Godwits, 40+ Redshank, Skylarks still moving through. (KJM)
Greenwich Park: 6+ Skylarks over, 4 Meadow Pipits over, 3+ Siskins over, 2 Hawfinches over, c70 Redwings, 13 Fieldfares over, 2 Song Thrushes over, c130 Woodpigeons over, 25 Chaffinches over, 2+ Bramblings, 1 Chiffchaff, 2 Firecrests with tit flock and 4 Goldcrests (Joe Beale)
Leyton Flats/Snarebrook: 3 Bullfinch early am, Brambling, Siskin N, 5 Redwing, Reed Bunting NW, c500 Starling NW, Nuthatch, Treecreeper (Stuart Fisher)
London Wetland Centre: 7 Snipe grazing marsh, 2 Stonechat m f wader scrape, 2f Sparrowhawk, 2 Peregrine m f (latter hunting over marsh/wader scrape then joined male on Charing Cross Hospital), Bittern viewed from WWF hide in SE cormer main lake, 1f Goldeneye seen by others (Martin Honey); Firecrest (WWT website)
Mayflower Park: Bullfinch (Bob Smith)
Morden Cemetery: Little Owl (Bob Smith) Hi Bob, where abouts in the cemetery are you seeing the Little Owl? [JA].Hi JA its quite tricky because theres no guarantee seeing it. Most often in the south of Morden Cemetery. Go in through the small gate off of Joseph Hood Park and take second small right path on right and look in pollarded willows. In will be easier to find when leaves are off. The one yesterday was heard calling nearer the main entrance. There are probably three or so birds in area. I've seen them late morning. Evening is probably best but the cemetery is closed then. Best of luck let me know how you get on-Bob
Oxleas Woods (SE9 1YG): Firecrest 07.30, Tawny Owl calling 05.30 (John Reid)
Primrose Hill: 4 Brambling W, Hawfinch W 09:40 (Birdman Euston-Twitter)
Purfleet: 5 Avocet, 151 Lapwing, 2 Curlew, 3 Black-tailed Godwit, 226 Dunlin, 25 Redshank, 2 Yellow-legged Gull, Rock Pipit, 2 Lesser Redpoll (Fraser Simpson)
Rainham Marshes: 4 Hawfinch (Howard Vaughan-Twitter)
Regent's Park: 2 Hawfinch, 1 Bullfinch, 1 Brambling, 1 Skylark, 230 Fieldfares, 90 Redwings, 80 Starlings, 550 Woodpigeons (Twitter)
Richmond Park: 7 Dartford Warbler including 3 males, 32 Stonechat, 10 Little Owl heard, 6 Skylark, 10 Meadow Pipit, 17 Fieldfare W, 39 Redwing, 12 Redpoll, 8 Reed Bunting, 4 Red Admiral (J.Wilczur, S.Woolfenden); 2 Raven (P.Redmond per JW)
Ruislip Woods, Poor's Field: 16 Redpoll, 5-6 Bullfinch, 6 Redwing, 2 Goldcrest (Deiniol Owen)
St James's Park: Kingfisher, 1 Fieldfare, Sparrowhawk, 10 Shoveler, Red Admiral (Frank Nugent)
Staines Moor: 1 Red Kite, 8 Stonechat, 2 Water Pipit (C Lamsdell)
Stanwell Moor: 1 Water Rail, 1 Kingfisher, 2 Cetti's Warbler, 2 Chiffchaff, 2 Firecrest (C Lamsdell)
Swanscombe Marsh: Hawfinch over 08:48, 3 Little Egret, Marsh Harrier, 14 Skylark, Water Pipit, 10 Stonechat, 23 Cetti's Warbler, 8 Bearded Tit; Common Blue butterfly, 3 Holly Blue, 2 Speckled Wood, 3 Red Admiral (Andrew Self); 2 Reed Bunting, 22 Redshank, 1 Curlew, 1 Turnstone, 2 Little Grebe, 1 Common Sandpiper, 20 Lapwing, 2 Greylag Goose, 9 Gadwall, 6 Mute Swan (3 juv's), 2 Raven, 1 Kestrel, 30 Fieldfare (over west), 2 Ring-necked Parakeet, 8 Shoveler, 5 Teal, 1 Chiffchaff, 4 Grey Heron, 15 Meadow Pipit - 13.30-17.30 (Roger Keith)
Tottenham Marsh East: Swallow south, Bullfinch, 30 Fieldfare w, 3 Skylarks over (Lol Bodini, David Bradshaw, Paul Whiteman)
Totteridge Valley/ Darlands Lake: 12 Teal, 6 Tawny Owl, 7 Little Owl, Barn Owl, 15 Hawfinch E 15:30 - 16:45, 26 Canada Geese & 39 Mallard into roost, 3 Skylark, Grey Wagtail, 93+ Starling, 53+ Stock Dove, 21 Meadow Pipit, Greenfinch, 4 Common Gull, m Peregrine, 2 Common Buzzard, 26 Rook, 4 Goldcrest, 3 Mandarin Duck, 52 Redwing, 2 Nuthatch, 8 Song Thrush, Grey Heron, 2 Linnet, 3 Bullfinch. (Totteridge Valley Birders et al)
Trent Park: male Hawfinch feeding low down in field maple with two Greenfinches 12:36 - 12:38 (seen thro 25x 'scope) before flying off towards Triangular Wood, 15+ Greenfinch, 4 Redwing, 2 Common Buzzard, 2 Small Copper, 3 Red Admiral (Robert Callf/Bob Husband/Pete Lowman)
Tyttenhanger: Great White Egret on main pit (Twitter)
Woodford Green: Tawny Owl flew into garden 8.25am, c12 Fieldfare West, 2m Siskins on the feeders my first this winter, Red Kite high and South 11.55am. (Ken Murray).
Worcester Park: Little Egret Beverley Brook in trees by sports ground 08.30 (Simon Osborn)
Wormwood Scrubs: 2 Stonechat, 3 Mistle Thrush, 8 Song Thrush, 20 Redwing (Charlie Farrell)
Thursday 2nd November 2017

[

]
Alexandra Park: Redpoll just south of site 0650, 6 Redwing & 35 Woodpigeon west by 0715 (Bob Watts)
Brent Reservoir: Skylark, 3 Brambling, 17 Lesser Redpoll, 89 Starling, 24 Woodpigeon, 4 Song Thrush, 8 Mistle Thrush, 17 Redwing, 4 Fieldfare, 44 Chaffinch, 20 Goldfinch, 4 Greenfinch, 2 Bullfinch - vis-mig 07.15-10.00 (Simon Worsfold and Stephen Branley); Common Sandpiper, 2 Green Sandpiper, Lapwing, 8 Common Snipe, 3 noisy Egyptian Goose, Grey Wagtail (Andrew Haynes)
Brockwell Park: Water Rail heard 13:30 according to Susy Hogarth first for about 4 years, Kingfisher not seen and again apparently first time species here ever, Pheasant also reported yesterday (Michael Mac) Movements W/SW unless stated 1 Hawfinch W 7.40, 8 Goldfinch, 21 Chaffinch, 3 Greenfinch, 268 Woodpigeon, 10 Fieldfare, 7 Redwing, 9 Song Thrush, 57 Starling - 06.30-08.00; also Great Spotted Woodpecker, Pied Wagtail E, 2 Herring Gull E, 9+ House Sparrow (Brixton Water Lane gate) (Tony Stones).
Brookmill Park: Little Egret, 2 Kingfisher, 2 Goldcrest (Conrad Ellam)
Broomfield Park , N13: 3 Egyptian Goose, 6 Shoveler 5m 1f, 5 Tufted Duck 2m 3f, 43 Black-headed Gull, first-winter Common Gull, 2 Pied Wagtail, Song Thrush, 11 Greenfinch pre-roost gathering 15:35 hrs (Robert Callf)
Finchley: Garden N3 - Tawny Owl alarm calling 18:30 (Samuel Levy)
Gallions Reach: Red Kite, 5 Black-tailed Godwit, 40 Redshank, Curlew (KJM)
Greenwich Peninsula Ecology Park: Kingfisher, 2 Chiffchaff, 2 Goldcrest, Redwing, Song Thrush, Grey Wagtail, Reed Bunting f (John Bushall, Richard Green)
Grovelands Park: 28 Mandarin Duck 19m 9f, adult Common Gull, Great Spotted Woodpecker, Fieldfare, Redwing, Nuthatch, Treecreeper, 11 Goldfinch (Robert Callf)
KGV Reservoir: Merlin (Female) flew over N. Basin - 13.14pm, 1 Rock Pipit flushed from C. Causeway, Fem. Goldeneye, 1 Little Egret, Buzzard, 2 Sparrowhawk pr, 3 Goldcrests. Lunchtime Visit (Davey Leach).
Mayflower Park: 6 Goldcrests, 2 Reed Buntings (Bob Smith)
Motspur Park: Peregrine on gas holder (Bob Smith)
Oxleas Wood: 5 Song Thrush, 18 Redwing, 13 Jackdaw, 3 Firecrest, Common Buzzard, 13 Goldfinch, 5 Goldcrest, 6 Coal Tit, 2 Nuthatch, 3 Great Spotted Woodpecker, Sparrowhawk [fm], 3 Green Woodpecker (Ron Turner)
Purfleet: Marsh Harrier, Avocet, 163 Lapwing, 2 Curlew, 7 Black-tailed Godwit, 283 Dunlin, 72 Redshank, Yellow-legged Gull, Rock Pipit (Fraser Simpson)
Rainham Marshes: Cattle Egret now on Wennington with cattle (Howard Vaughan-Twitter)
Regent's Park: 600 Woodpigeon, 1 Meadow Pipit, 60 Fieldfare, 65 Redwing, 6 Blackbird, 6 Song Thrush, Bullfinch NW at 7.20am, 3 Brambling, 70 Chaffinch, 2 Siskin, 2 Lesser Redpoll, 1m Reed Bunting (Tony Duckett).
Richmond Park: Raven in flight (M.Lewis, S.Read)
St James's Park: Kingfisher (Frank Nugent); 2 Kingfisher around Duck Island (east end of Park) 07:15 - one seen and another heard calling, 1 Brambling heard calling from island at west end of lake 09:30. (Bill Haines).
Tottenham Marshes, Wild Marsh East: 6-7 Redwing, Meadow Pipit, calling Chiffchaff, Pheasant (Harringay Birder)
Tower Hamlets Cemetery Park: Firecrest male still Monument Glade 1300, also Coal Tit (Bob Watts)
Tower of London: Buzzard c.13:00 circling over the pool of London went West over City with attendant Crow. (Paul Whiteman)
Victoria Park: Nuthatch (Twitter)
Walthamstow Marsh: Brambling NW, 2 Redpoll S, 4 Skylark N, 200 Chaffinch W, 75 Redwing, 4 Stonechat bomb crater field (Jamie Partridge)
Walthamstow Reservoirs: Black-necked Grebe still, Brambling west with Chaffinches, Siskin S, c100 Redwing, c40 Fieldfare, 25 Meadow Pipit (Jamie Partridge, Lol Bodini, David Callaghan, David Bradshaw); fem Goosander on East Warwick (Peter Beckenham)
West Finchley Station: 6 Redwing West 10:10. (Samuel Levy)
Worcester Park: 35 Fieldfare from horse fields to west (Bob Smith)
Wraysbury GPs: 14 Little Egret (Thomas Gibson)
Wednesday 1st November 2017

[

]
Alexandra Park: 3 Chiffchaff, viz mig - 4 Redwing, 65 Woodpigeon and 40 Goldfinch around Campsbourne 06:50-08:00 (negligible compared to last two days) (Bob Watts, Gareth Richards); 2 Teal on Wood Green Reservoir (James Palmer); c12 Skylarks (inc. group of 8) N. 08:20-08:45 (Trevor Wyatt)
Amwell: 4 Hawfinch W 07:42 {Twitter)
Banstead Woods: 1 Peregrine, 1 Red Kite, 1 Redpoll, 15 Meadow Pipit, 200 Redwing, 8 Fieldfare, 1 Sparrowhawk, 1 Kestrel, 1 Buzzard (CFBWBG)
Brent Reservoir: 7 Hawfinch S 08:22 landed fairly close top of leafless tree by fields walked even closer great views then on south, 76 Starling, 126 Woodpigeon, 61 Redwing, 8 Fieldfare, 94 Chaffinch, 13 Goldfinch, f Sparrowhawk high W - vis-mig 06:45-09:45 - c1000 less than 31st (Andrew Verrall)
Brockwell Park: Kingfisher and Water Rail on upper pond at dusk - latter came out of bankside vegetation near viewing platform and then flew across pond (Tony Stones)
Cleveland Park, West Ealing: 190 Fieldfare mainly W (including an impressive flock of c.150 at 07:50), 28 Redwing W/SW, 5 Goldfinch (4W & 1E), 1 Linnet S, 18 Chaffinch (mainly W or S), 1 Siskin S, 1 Mistle Thrush SE, 1 Cormorant NE - vis-mig 06:50-08:35 (Bill Haines)
Foots Cray Meadows: 4 Mute Swan, 2 Tufted Duck, 2 m Pheasant, 4-6 Little Grebe, 2 Little Egret, Water Rail, Kingfisher, Green Woodpecker, 2 Great Spotted Woodpecker, 2 Skylark, Grey Wagtail, c10 Goldcrest, 3+ Jay, c40 Chaffinch, 3+ Brambling with Chaffinches at Riverside Road, 3+ Linnet, Redpoll, 2+ Siskin (Mike Amos)
Greenwich Park: 2+ Firecrest among 4-5 birds possibly all this species in woods on direct path from ornamental garden to deer park, also 4 Goldcrest, 4 Coal Tit elsewhere in park (Mike Paice); also 630 Starlings W, 70+ Chaffinch W, Skylark over, 6 Siskins W, 6 Blackbirds W, 1 Song Thrush W, 1 Linnet NW, 17+ Redwings, 3 Fieldfares W (Joe Beale)
Greenwich Peninsula Ecology Park: Kingfisher, Chiffchaff, Great Spotted Woodpecker, 12 Fieldfare, Redwing (John Bushell)
Hampstead Heath: 14 Hawfinch over Parliament Hill at 0745 - 8 went E the rest appeared to drop down into clump of trees, Merlin (female) flew W over Pryors Field at 1215, Firecrest with large tit flock at Cohen's Field, female Bullfinch with 15 Greenfinches in Hedge 2; Vis mig - all W unless stated 500+ Woodpigeon, 50 Redwing, 300 Chaffinch, 50 Greenfinch, 10 Linnet, 10 Siskin, 25 Redpoll (mostly E), 4 Blackbirds (all males), 5 Common Gull, 25 Black-headed Gulls, 2 Skylarks and single Fieldfare. Also large bat sp feeding (60ft +) over the Mixed Pond at midday - I'm guessing Noctule (Pete Mantle)
Headley Heath, Surrey: minimum of 26 Hawfinch, possibly up to 35. Largest flock 7 (Steve Gale- Twitter)
King George V Reservoir: juvenile Spoonbill 1057hr (Neville Smith-Twitter)
Lamorbey Park: 2 Mute Swan, 13 Egyptian Geese, f Shoveler, 2 f Teal, 5 Tufted Duck, Little Grebe, Little Egret, Sparrowhawk, 2 Peregrine, 8+ Common Gull, Kingfisher, Green Woodpecker, 2+ Great Spotted Woodpecker, 2 Skylark NW, 1+ Pied Wagtail, 3+ Song Thrush, Mistle Thrush, c40 Fieldfare NW + 1SW, Redwing, 12+ Goldcrest, Coal Tit, 2+ Nuthatch, Jay, 20+ Chaffinch W, Redpoll heard (Mike Amos)
Northolt, Islip Manor Park: 1-2 Tawny Owl heard 18:00 (Deiniol Owen)
Pinner (HA5): Sparrowhawk, Great Spotted Woodpecker, Green Woodpecker, Jay, Coal Tit, Song Thrush & 10 Goldfinch; also one Red Admiral butterfly (Jon Ridge)
Primrose Hill: 228 Woodpigeon SW, Goldcrest low S, 2 Skylark W/N, 27 Starling W, Ring Ouzel ESE 08:00, 7 Blackbird SW, Song Thrush W, 3 Redwing NW, 2 Grey Wagtail W, Pied Wagtail E, 53 Chaffinch W, 4 Greenfinch, 9 Goldfinch NW, 2 Siskin S - vismig 06:45-08:45 (Twitter)
Purfleet: 4 Pintail, 135 Lapwing, Curlew, 64 Black-tailed Godwit, 311 Dunlin, 60 Redshank, 24 Magpie, Lesser Redpoll (Fraser Simpson)
Putney, River Thames: Common Dolphin showing well off Putney railway bridge from at least 10.45 to 13.00 when it drifted downriver with tide (J.Wilczur, R.Kaye)
Rainham Marshes RSPB: 22 Chaffinch, 92 Goldfinch, 2 Grey Wagtail, 8 Cormorant, 54 Redshank, 200+ Dunlin, 160+ Lapwing, 45 Shelduck, 65 Wigeon, 80+ Teal, 2 Mistle Thrush, 27 Long-tailed Tit (most I have ever seen here), 2 Siskin S, 27 Meadow Pipit, 15 Common Snipe, 20 Skylark, 2 Kingfisher, 19 Cetti's Warbler, 37 Little Egret, 200+ Canada Geese, 4 Greenfinch, 5 Chiffchaff, 13 Redwing, Great Spotted Woodpecker, Sparrowhawk, 3 Lesser Redpoll S, Barn Owl, 4 Curlew, 8 Black-tailed Godwit, 14 Pochard, 55 Shoveler, 14 Gadwall, 3 Tufted Duck, 6 Pintail, 9 Stonechat, 2 Kestrel, 4 Marsh Harrier 1m 1f 2juv, 3 Ruff, 5 Reed Bunting, 5 Goldcrest, 2 Rock Pipit, 2 Water Pipit, Jackdaw, 3 Song Thrush, Water Rail, Ringtail Hen Harrier flew North West onto Wennington being mobbed by at least 6 Crows then appeared to drop over the silts (Samuel Levy)
St James's Park: Kingfisher, Redpoll over NW, Grey Wagtail, 10 Shoveler (Frank Nugent).
Southwark Park: Grey Wagtail, 2 Little Grebe (John Cadera)
Staines Moor: 4 Stonechat, 2 Water Pipit (C Lamsdell)
Stave Hill: 2 Coal Tit (new patch bird) at the end of Long Meadow this afternoon and possibly a third over the Shed at 15:00, 20+ Long-tailed Tit, 1 Redwing, 2 Greenfinch, 6 Goldcrest, fm Sparrowhawk, Grey Wagtail, 1 Mistle Thrush this morning (John Cadera & Richard Page-Jones)
Ten Acre Wood area: 2 Redpoll, flock of 16 Skylark, 12 Linnet, Reed Bunting, 6 Meadow Pipit, 15 Goldfinch, 2 Kestrel, 150+ Starling, 137+ Woodpigeon, 36+ Redwing, 8 Fieldfare, Red Kite, 9 Goldcrest, 22+ Long-tailed Tit, 11 Chaffinch, 4 Great Spotted Woodpecker, Buzzard, Mistle Thrush, Pied Wagtail, Grey Wagtail, 3 Bullfinch f with 2 others heard (Deiniol Owen)
Tower Hamlets Cemetery Park: Firecrest male again Monument Glade 1245 on its own and not calling (Bob Watts)
Trent Park: 6 Mandarin Duck 3m 3f, 6 Common Pochard 4m 2f lower lake, Common Buzzard, Hawfinch perched in top of tree 11:55 poss a second bird seen in flight, Comma - my latest ever (Robert Callf)
Walthamstow Marshes: 2 Stonechat in SW corner of Bomb Crater Field, 1 Little Egret S and 2 Mistle Thrush E over Leyton Marsh, single flock of 80+ finches on rear paddocks, roughly equal split of Linnet, Goldfinch and Chaffinch. All 08:30 - 09:30 (Alastair Dent)
Walthamstow Reservoirs: Short-eared Owl north, Black-necked Grebe still on Lockwood, Common Sandpiper and Green Sandpiper - passage much slower than last two days (Walthamstow Birders)
Waterworks NR: 85 Pied Wagtail S at 4pm, 1 Water Rail, 2 Snipe, 8 Gadwall, 2 Tufted Duck, 7 Teal, 1 Little Grebe, 1 Great Spotted Woodpecker, 1 Green Woodpecker, 2 Goldcrest, 3 Greenfinch, 17 Goldfinch, 1 Cetti's Warbler (Daniel Whitelegg)
Wanstead Flats: Woodlark over calling (Bob Vaughan-Twitter)
Woodberry Wetlands: Peregrine with prey, Kingfisher, Water Rail, 2 Reed Bunting, 4 Teal (Chris Farthing)