Map: [1]
St James's Park and The Green Park are London's most central Royal Parks. They are covered together here because they are close to each other, separated only by The Mall.
The Green Park is easily accessed from its northern end from Green Park underground station. It consists of a large area of open grassland, with lines of trees — mainly London Plane — along some of the paths. The park has no undergrowth, no scrubby areas, no flower beds and no water. Consequently, the diversity of birdlife is poor. One of the few species to breed here is Mistle Thrush, although they are not present all year round. Intensive watching in the 1960s showed that the few hawthorns in the centre of the park offer the best place for migrants, such as Lesser Whitethroat, to turn up. At the southern end of the park is Buckingham Palace and opposite that lies St James's Park.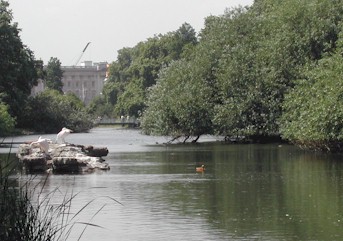 The dominant feature of St James's Park is its lake, complete with two islands (Duck Island and West Island). It is this that adds variety to the park's avifauna. The many trees in the park are mainly London Plane but also include a couple of Alders, some Weeping Willows and exotic pines. Additionally, some good scrubby patches with holly bushes are attractive to migrants such as the Firecrest seen on 9 October 2001 and a pair in 2018. Reed Bunting and Lesser Whitethtroat were both recorded in 2015. Two Spotted Flycatcher were in the Park on August 21st 2018, the first sighting of this species here since a single on August 28th 2015. Common Whitethroat was recorded 2015-2018 but does not breed here. Regular migrants include Chiffchaff, Willow Warbler and Blackcap, which can be heard singing in Spring, usually on the islands, but only Blackcap breed in the Park. Two small reedbeds in the lake attract Reed Warblers while Sedge Warbler is only occasionally found.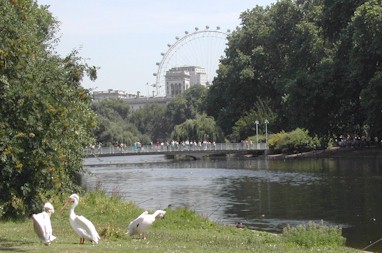 A captive wildfowl collection on the lake includes the famous – and very popular – White Pelicans. One is a free-flying bird that was "rescued" from the Essex coast and released into the park. Other species include Black Swan, Red-crested Pochard and Eider, all of which breed. The presence of these captive birds attracts all manner of wildfowl. Tufted Duck, Gadwall and Pochard are breeding resident here and their numbers increase in winter when they may be joined by occasional Shoveler and Teal. Canada Goose, Greylag and Egyptian Goose can usually be seen here.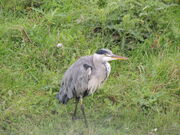 Great Crested Grebe, Little Grebe, Grey Heron, Cormorant, Black-headed Gull, Common Gull, Lesser Black-backed Gull, Great Black-backed Gull, Herring Gull, Coot and Moorhen are all residents.
A Water Rail took up temporary residence at the end of 2015 and again in 2017. Common Tern is very occasionally recorded but as a flyover only. Possibly the first record of Little Egret here occured in July 2018 when one bird fed and joined the Pelicans on the rocks all afternoon.
Common Sandpiper has been recorded 2015-2018, Lapwing on the same date in February 2017 & 2018, Woodcock is annual and Common Snipe occasional.
No raptors breed in the park but Kestrel and Sparrowhawk are seen regularly while Peregrine is regular and Common Buzzard increasingly so at passage time. Red Kite was seen twice in 2016 and two together flew over the Park in May 2018.
Stock Dove can be found if looked for among the ubiquitous Pigeons. Tawny Owl hunt and roost in the Park and they breed in nearby Buckingham Palace Gardens. Swifts are seen in Summer but hirundines are only seen on passage and then only on a few days each year. A Kingfisher was recorded almost every day for 6 months from 1st September 2014, another has been present since 4th July 2016 (with 3 seen on one day) which stayed until December; 2 more birds were present from August 2017. Great Spotted Woodpecker and (rarely) Green Woodpecker can be seen. Jackdaw was recorded twice in the Park in 2015 and Rook in 2017. Nuthatch and Treecreeper are rare visitors to the Park. Starlings feed here, though the large roost of yesteryear is long gone. Winter flocks of Redwing and Fieldfare can be seen flying over and in hard weather feeding on the lawns or in the trees. Grey Wagtail is often seen and occasionally Pied Wagtail too. Meadow Pipits can sometimes be seen on passage.
Breeding birds include Blackbird, Wren, Dunnock, Robin, Goldfinch, Greenfinch, Goldcrest, Blue Tit, Coal Tit and Great Tit. Flocks of Goldfinch and Greenfinch liven up many a lunchtime and may be joined by Siskin in Autumn and Winter. A Lesser Redpoll was recorded in Spring 2016 and a flock fed for a few weeks on some of the Silver Birches in February 2018.
Bats can be seen around the Lake at dusk.
Butterflies:
Painted Lady, Red Admiral, Peacock, Comma, Small Tortoiseshell, Small Copper, Gatekeeper, Meadow Brown, Holly Blue, Common Blue, Brimstone, Small White, Large White and Green-veined White.
Moths include Burnet Companion, Mint and Vapourer.
For additional information see the Royal Parks website.
Community content is available under
CC-BY-SA
unless otherwise noted.